Over the past 24 hours, Mumbai has been experiencing what some authorities are calling its worst downpour since the infamous floods of July 26, 2005.
Almost the entire city has been brought to a halt because of the water-logging.
Since this is now an inevitable annual event, the BMC has rightly been facing a lot of flak over its mismanagement and inability to prepare for these situations.
However, the rains have also brought out the best out of Mumbai's netizens.
1.
Residents have been offering their homes to shelter people who have been left stranded in the downpour.
2.
Even restaurants, offices, and work spaces have offered to help out people stuck with nowhere to go.
3.
Others have been tweeting live traffic updates from different parts of the city to help people plan their routes ahead of time.
4.
And some have been tweeting pictures to inform everyone else of just how bad things are in their area.
5.
Accounts like Ridlr have also constantly been tweeting out information on which roads and stations to avoid.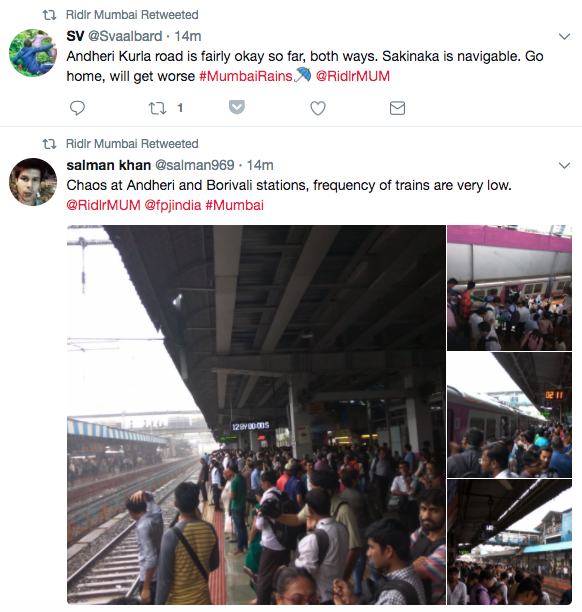 6.
Meanwhile, the Mumbai Police handle has been doing its best to help citizens deal with the situation calmly by posting tips and helpline numbers to call in emergencies.

And their hard work has been appreciated by everyone.
7.
Of course, with this being the entertainment capital of India, some Mumbaikars have just turned to jokes to deal with the helplessness of their situation.
And while "the spirit of Mumbai" is a phrase that is now frowned upon as something which, once invoked, lets authorities off the hook every year...
This year has seen Mumbaikars display their spirit and humanity with a healthy dose of BMC-bashing to boot.
In case you're in Mumbai, here are some tips on how you can stay safe over the next few days.