Here Are The Hilariously Asinine Innuendos The Censor Board Deleted From "Housefull 3"
It's someone's full time job to decide whether phrases like "Tere baap ka London" are suitable for adults.
The Housefull franchise has never been known for its intelligent commentary or sophisticated jokes.
However, the true extent of how juvenile and asinine its jokes are has been demonstrated by its censor certificate, which was made public along with the film's release this weekend.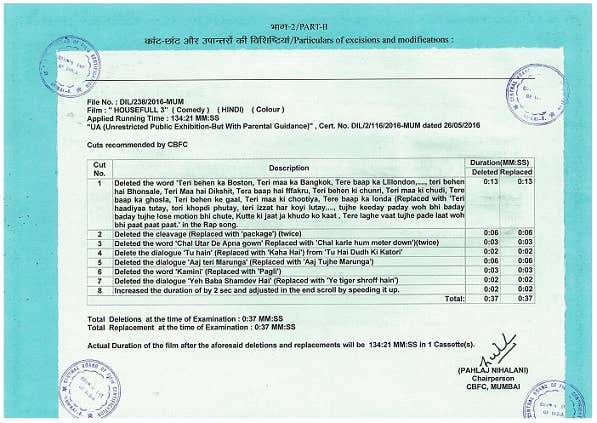 Here's a list of the amazing dialogues that were cut from the film:
1) Deleted the words 'Teri behen ka Boston, teri maa ka Bangkok, tere baap ka Llllondon.... teri behen hai Bhonsale, teri maa hai Dikshit, tera baap hai fffakru, teri behen ki chunri, teri maa ki chudi, tere baap ka ghosla, teri behen ke gaal, teri maa ki chhotiya, tere baap ka londa (Replaced with 'Teri haadiyaa tutay, teri khopdi phutay, teri izzat har koi lutay... tujhe keeday paday woh bhi baday baday, tujhe loose motion bhi chute, kutte ki jaat ja khud ko kaat, tere lagte vaat tujhe pade laat woh bhi paat paat paat.") in the rap song.

2) Deleted the cleavage (Replaced with 'package') (Twice)

3) Delete the words 'Chal utaar de apna gown' (Replaced with 'Chal karle hum meter down') (Twice)

4) Deleted the dialogue 'Tu hai' (Replaced with 'Kaha hain') from "Tu hai doodh ki katori".

5) Deleted the dialogue 'Aaj teri marunga' (Replaced with 'Aaj tujhe marunga')

6) Deleted the word 'Kamini' (Replaced with 'Pagli')

7) Deleted the dialogue "Yeh Baba Shanidev hai" (Replaced with "Ye Tiger Shroff hai")