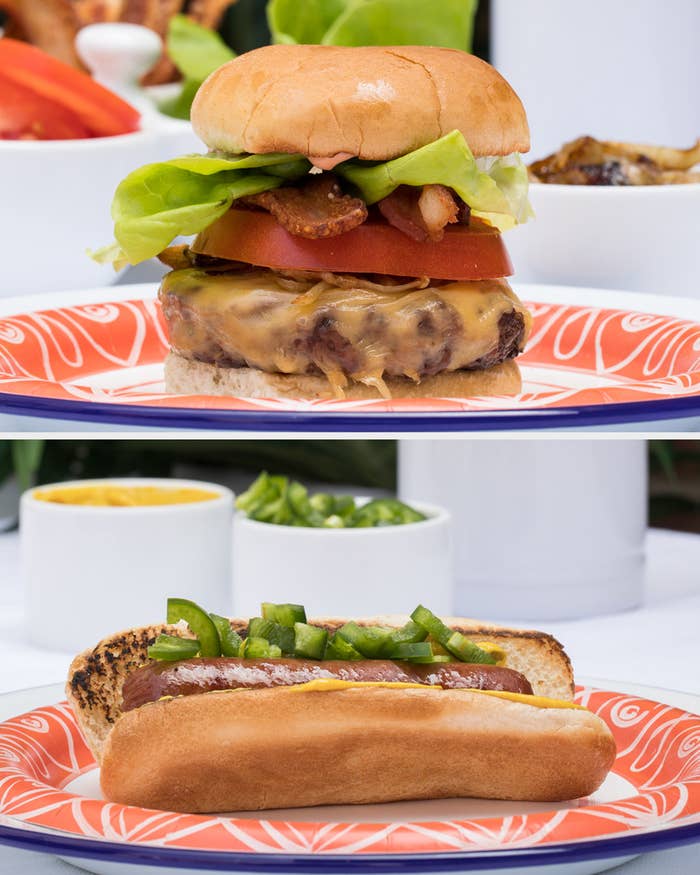 ULTIMATE HOTDOG AND HAMBURGER COOKOUT
Servings 8
BURGER SAUCE
INGREDIENTS:
½ cup relish
½ cup ketchup
½ cup mayo
PREPARATION
Mix together and set aside
JALAPEÑO MUSTARD
INGREDIENTS:
¼ cup pickled jalapeños, plus 1 tablespoon brine
1 cup yellow mustard
PREPARATION:
Chop jalapeños
Mix with mustard and jalapeño brine
HAMBURGERS AND HOT DOGS
INGREDIENTS:
3 large tomatoes
2 large onions
3 pounds ground beef 80% fat
8 pieces thick-cut bacon
1 package Signature SELECT™ beef franks
1 package hamburger buns
1 package hot dog buns
1 head bibb lettuce
Thick sliced American Cheese
Thick sliced jack cheese
PREPARATIONS
Slice tomatoes ¼-inch thick.
Slice onions into thin crescents.
Form beef into ½-pound patties.
Heat all burners on grill to high.
Put bacon in cast-iron skillet and cook for 15 minutes.
Remove from pan and place on paper towels, reserving fat.
Cook onion in remaining bacon fat for 10 minutes, until brown.
On other side of the grill, cook burgers for 5 minutes, until sear marks appear.
Flip burgers, turn down heat to medium high until well done, about 12 minutes.
Remove skillet with onions.
For the final 6 minutes, add hot dogs to grill as well.
Add cheese to burgers.
Toast buns for 5 minutes.
Remove everything from the grill and serve with toppings.