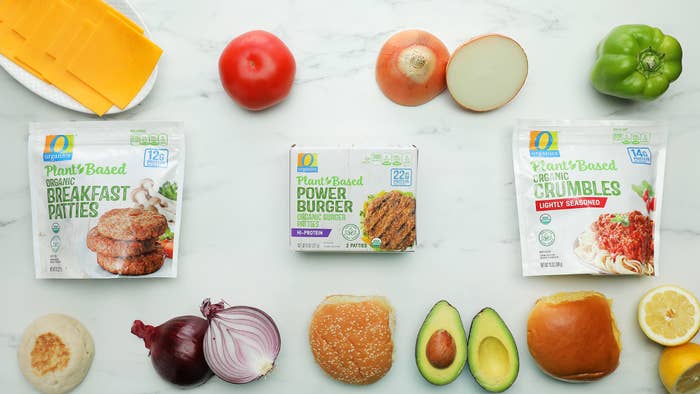 Veggie Sloppy Joes
Servings: 4
3 Easy Vegetarian Sandwiches
INGREDIENTS
2 tablespoons olive oil, divided
1 pound O Organics Veggie Crumbles 1⁄3 cup green bell pepper, minced
1⁄2 yellow onion, minced
3 cloves garlic, minced
1 tablespoon tomato paste
2⁄3 cup ketchup
1⁄3 cup water
1 tablespoon brown sugar
1 teaspoon yellow mustard
3⁄4 teaspoon chili powder
1⁄2 teaspoon Worcestershire sauce
1⁄4 teaspoon red pepper flakes (optional) 1⁄2 teaspoon kosher salt
1⁄4 teaspoon black pepper
4 buns, buttered and toasted
PREPARATION
1. In a large skillet, heat 1 tablespoon olive oil over medium-high heat. Add Veggie
Crumbles and cook until thawed and slightly crisped, about 2 minutes. Remove crumbles
from the skillet and set aside.
2. In the same skillet, heat remaining 1 tablespoon of olive oil. Add green peppers and
onion. ​Sauté​ until soft, 2–3 minutes, then add garlic and cook for an additional minute.
3. Add Veggie Crumbles back in with tomato paste and stir over medium heat until
combined. Add ketchup, water, brown sugar, mustard, chili powder, Worcestershire, red
pepper flakes, salt, and pepper. Stir with a spatula until combined.
4. Turn heat to medium low, cover, and simmer for 10 minutes.
5. Spoon Sloppy Joe mixture on a buttered and toasted bun. Enjoy!
Veggie Burger
Servings: 4
INGREDIENTS
Special Burger Sauce
1⁄2 cup mayonnaise
2 tablespoons yellow mustard
1 tablespoon ketchup
2 tablespoons sweet relish
1 tablespoon apple cider vinegar 1 teaspoon garlic powder
1 teaspoon onion powder
1 teaspoon paprika
Burger
2 tablespoons olive oil, divided
4 O Organics Veggie Power Burger patties Cheddar cheese
4 buns, buttered and toasted
Toppings
Butter lettuce Tomatoes, sliced Red onion, sliced
PREPARATION
1. Special sauce: In a medium bowl, combine all of the special sauce ingredients and set
aside.
2. Burger: Cook the O Organic Power Burger per the instructions, either on a skillet or grill,
adding a slice of cheese on top to melt during the last 2 minutes of cooking.
3. Assembly: On the bottom of a buttered and toasted bun, add a few dollops of special
sauce, then the burger and top with red onion, tomato, lettuce, and top of the bun.
4. Enjoy!
Veggie Breakfast Sandwich
Servings: 4
INGREDIENTS
8 O Organics Veggie Sausage Patties 4 slices of sharp cheddar cheese
4 eggs
Hot sauce (optional)
4 English muffins
Avocado Spread
1 ripe avocado
1⁄4 teaspoon garlic powder 1 tablespoon lemon juice Salt
Pepper
PREPARATION
1. Cook veggie sausage patties per instructions, in a skillet or the oven. Add the cheddar
cheese on top for the last 2 minutes of cooking.
2. While sausages are cooking, melt 2 tablespoons of butter in a frying pan, and fry eggs to
your liking.
3. Prepare the avocado spread by mashing the avocado in a small bowl. Mix in garlic
powder and lemon juice and season to taste with salt and pepper.
4. Assembly: Spread the avocado mixture on one side of a buttered and toasted English
muffin. Add the sausage with melted cheese. Top with an egg, a dash of hot sauce, and
the top of the muffin.
5. Enjoy!