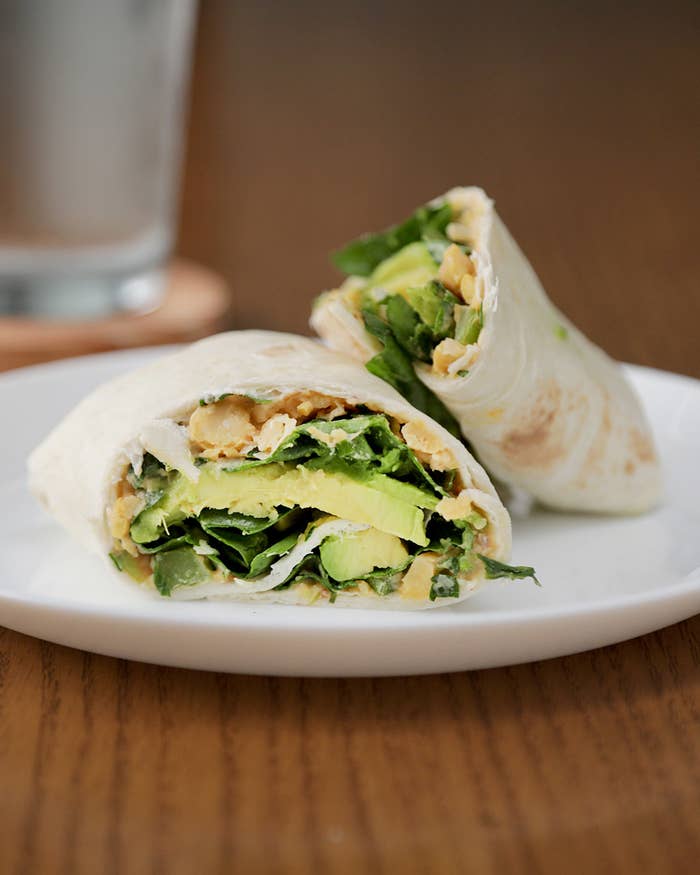 Ingredients
1 15-ounce can chickpeas, drained and rinsed
2 tablespoons chopped parsley
2 tablespoons chopped chives
2 tablespoons chopped basil
1 teaspoon sriracha
1 tablespoon dijon
2 tablespoons tahini
1⁄4 cup Sabra plain hummus
3 tablespoons lemon juice
2 stalks of celery, finely diced
2 tablespoons minced shallot
1⁄4 teaspoon smoked paprika
Pinch of kosher salt
Pinch of black pepper
1 whole avocado, sliced
3 10-inch flour tortillas
11⁄2 cups baby spinach
Preparation
1. In a medium bowl, slightly mash the chickpeas with the back of a fork.
2. Mix in the parsley, chives, basil, sriracha, dijon, tahini, Sabra hummus, lemon juice, celery, shallot, smoked paprika, salt, and pepper using a large spoon.
3. Evenly divide the mixture onto the three flour tortillas and top with avocado and baby spinach. Roll the tortilla up, slice on the bias and enjoy!