We hope you love the products we recommend! All of them were independently selected by our editors. Some may have been sent as samples, but all opinions and reviews are our own. Just so you know, BuzzFeed may collect a share of sales or other compensation from the links on this page if you decide to shop from them. Oh, and FYI — prices are accurate and items in stock as of time of publication.
1.
A folding dog booster car seat so you can easily store it away when your pup and you have completed your daily joy ride.

The framed bars help keep the shape of the seat while in use and it can hold pets under 15 pounds. 

Promising review: "The assembly was very easy. The frame was sturdy and fit perfectly on the seat of my van. I added a square fluffy sofa pillow and my dog is very comfy with plenty of room lay down. I really like the built in safety belt harness attachment — it keeps her in her seat, but gives her room to move around in it." —Harrison Brooks
Get it from Amazon for $17.99+ (available in four styles).
Don't forget to spoil your fur baby more with these pet products.
2.
A padded dog car seat because if you plan on getting through your road trip seamlessly, your pooch definitely needs a soft spot to nap on.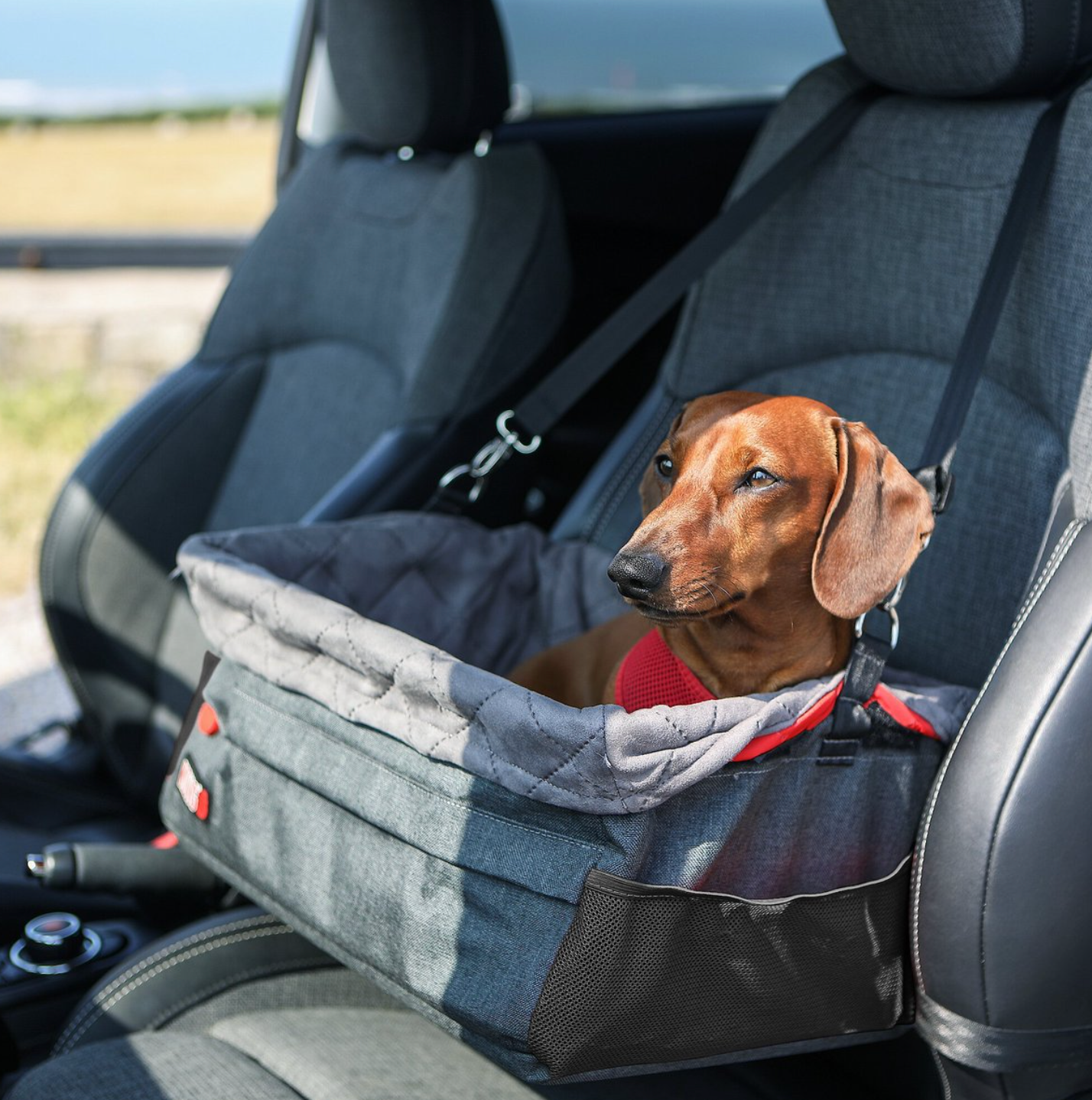 Promising review: "My 7-month-old puppy was scared of the front seat, even with a leash tied to his halter to keep him from falling into the floorboard. This basket is wonderful because he calmed right down and put his head on the side, and just watched me. It appears he feels happy and secure in his enclosed space and he can see what's going on around him. I was pleased that the liner is cotton and washable too. Highly recommend this basket." —Susiebell

Get it from Chewy for $62.99.
3.
A dog car seat with a storage pocket paw-fect for storing poop bags, treats, a leash, and more since it's super stretchy and wide. 

The plush interior will keep you pup comfy and safe, especially with the harness clip that's attached.

Promising review: "My dog used to get very anxious during car rides and I bought this for him prior to going on an eight-hour road trip. He loves it and falls asleep right away. It's easy to clean and install!" —Amazon Customer
Get it from Amazon for $41.99+ (available in two sizes and five colors).
4.
A tube-shaped dog car seat acting as a backpack for your backseat, with straps to secure it and mesh paneling so your pup can admire you from the back.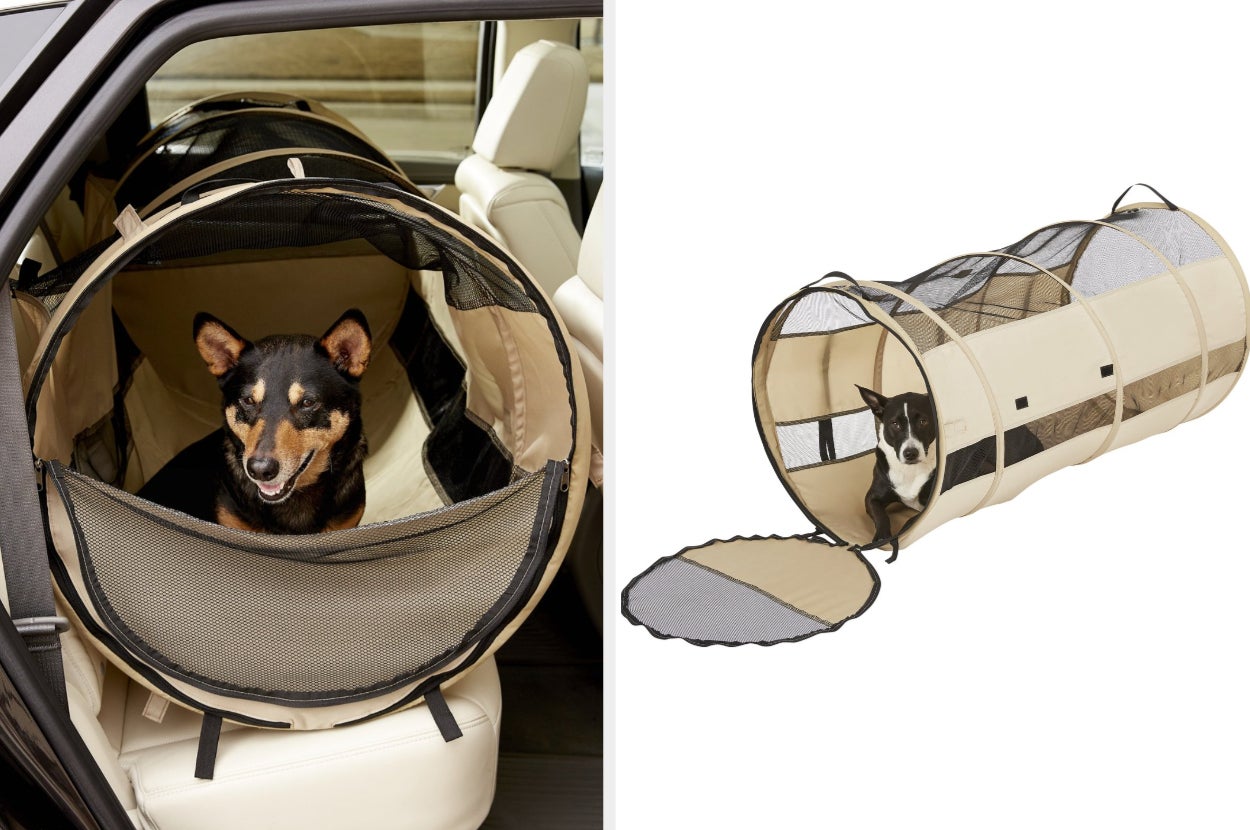 Promising review: "I bought this Item to keep my two very small Chihuahuas in the back of my car. Before I bought this, my dogs were everywhere from my lap to under my seats to up in the back window, It was getting out of control. My only regret about this purchase is I did not buy it much sooner. My dogs actually jump into my car and get in their secured safe place on their own. It is wonderful." —PistolPete

Get it from Chewy for $49.99.
5.
A waterproof dog car seat because accidents happen and when your pooch has gotta go, it's better if it's on this than your precious cloth or leather seats.

It's also large enough to throw some chew toys for puppies in the back to keep them distracted.

Promising review: "My Australian Shepherd is a very nervous car rider. Prior to purchasing this, I purchased a harness and seat belt, which was helpful but this product made things even better. She stays in the back seat and all the mud from the dog park stays in the cover. I either shake it out when the mud dries, or vacuum it out with a little cordless vacuum. It is easy to take out when I have human passengers, too. I have even taken my two grand dogs along with my dog for a ride and it worked great." —Ann
Get it from Amazon for $36.99+ (available in two sizes).
6.
A bucket booster car seat for dogs which will earn a tail wag from you pet baby for its ability to keep them comfy, safe, AND tall enough to stare out the window.

Promising review: "This is the best investment I have made! I have two dachshunds and they each have their own car seat and they love them! They're very soft and also provide height for them to see out window. They are very comfortable and secure with adjustable strap to connect to their harness." —Regina

Get it from Amazon for $80.99+ (available in four sizes and six colors).
You may want to stock up on these essential dog products too.
7.
A quilted dog car seat to ~blanket~ your pooch in safety as it prevents them from falling onto the floor anytime you suddenly have to break.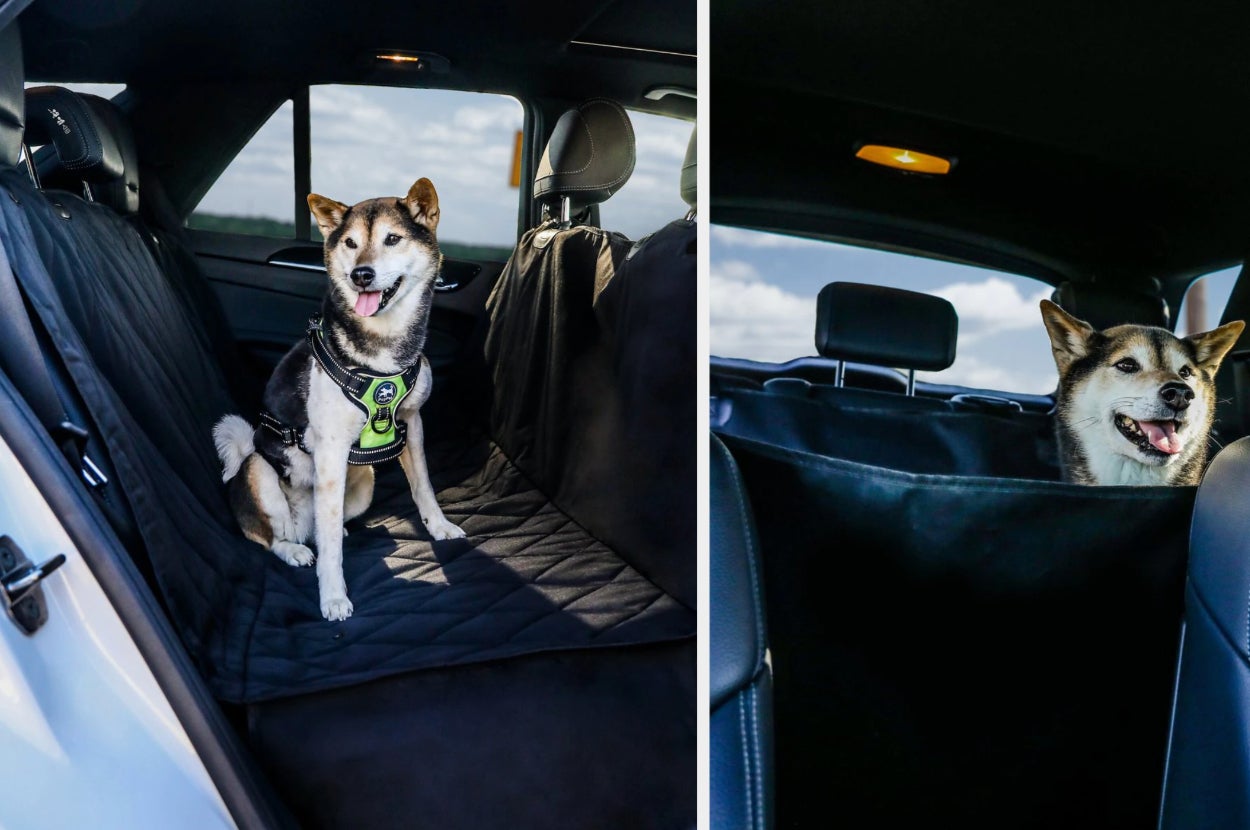 Promising review: "Our dog is a service dog, However no matter how much training she still gets car sick. This is a GREAT product. It's completely waterproof so she has never gotten the seats dirty with her vomit, and if we take her to a muddy park or to the water, it does not leak through. It's easy to clean — we stick it in the washer and then line dry it, or we just spot clean it as needed. There are Velcro slots for clicking a seat belt in place which is great." —Clemmy

Get it from Chewy for $30.95 (available in two sizes).
8.
A clip-on dog car seat small dogs can *finally* feel tall in while it securely hovers above the seat allowing your pupper to take in the view with you.

Promising review: "The metal frame is PEEFECT! It's really strong. The zippers and pockets are great for treats, bowl, and food. I got the medium size for my almost-15-pounds beautiful girl. 100% recommended! Love it. Actually, I am getting another one for our other car." —Michy

Get it from Amazon for $49.99 (available in three colors).
9.
A foldable and portable dog car seat and carrier so you can carry Fido from the house to the car in. And thanks to its plush design you'll be able to hug your pooch's anxiety away.

Fur Room Pets is a small shop on Etsy that specialized in providing dog car seats and pet accessories.

Promising review: "This bed is a game changer. My pet insists on sitting in the passenger seat with me during long road trips. As of today, I no longer have to hold him. Neither of us have ever traveled so comfortably. It's like he brought his own little lazy boy. Smart! Also, the quality is absolutely top notch. 10/10 would recommend to a friend." —Erika
Get it from Fur Room Pets on Etsy for $115 (available in two colors).
10.
A reinforced small dog car seat that over 6,000 (!!!) reviewers are rating two paws up for its strong grip to prevent your fur baby from sliding all over the place.

Can hold up to 30 pounds of pooch! 
Promising review: "Easy to install, this is a must for every lap dog that takes a ride with you . My pet is secure and she no longer jumps to my lap while driving, no more pushing my driving stick to neutral on the road." —Amazon Customer
Get it from Amazon for $24.99 (available in five colors).
11.
A four belted dog car seat spacious enough so your furry friend can still move around, but not enough for them wander up front and distract you while you're changing lanes.

The four fastening straps keep it still, while the waterproof material makes messes easier to clean up.

Promising review: "Everything we were looking for! We got a medium for our corgi baby to grow with. He loves it, even fell asleep majority of our car ride. He doesn't slide around and there's even a leash that buckles into your car so they can't jump out or around. The walls are very sturdy, they didn't budge when he held himself up to look out. It's very safe and really great material. Absolutely recommend." —Caleb Foley
Get it from Amazon for $34.97+ (available in three sizes and four colors).
12.
A small dog car seat you can fasten onto your armrest making precious puppy kisses just a slight head tilt away.

Promising review: "I am so happy with this purchase. I have a little seven pound dog and this has made traveling so easy with her. She absolutely loves sitting in her seat and riding around. She stays calm the whole time, she can see out the window, and the air hits her to keep her cool. I also like that you can attach the seatbelt to the harness to help keep them in it. Seat is on the smaller side, so if you are looking to purchase for any dog over 10 pounds it might not work, but for mine, she has plenty of room to sit or lay down if she wants. Love this dog seat.." —Julie Bondi

Get it from Amazon for $49.99 (available in six styles).
13.
A mesh dog car seat with three openings, making it easier to wrangle your pup into, so you can hit the road faster.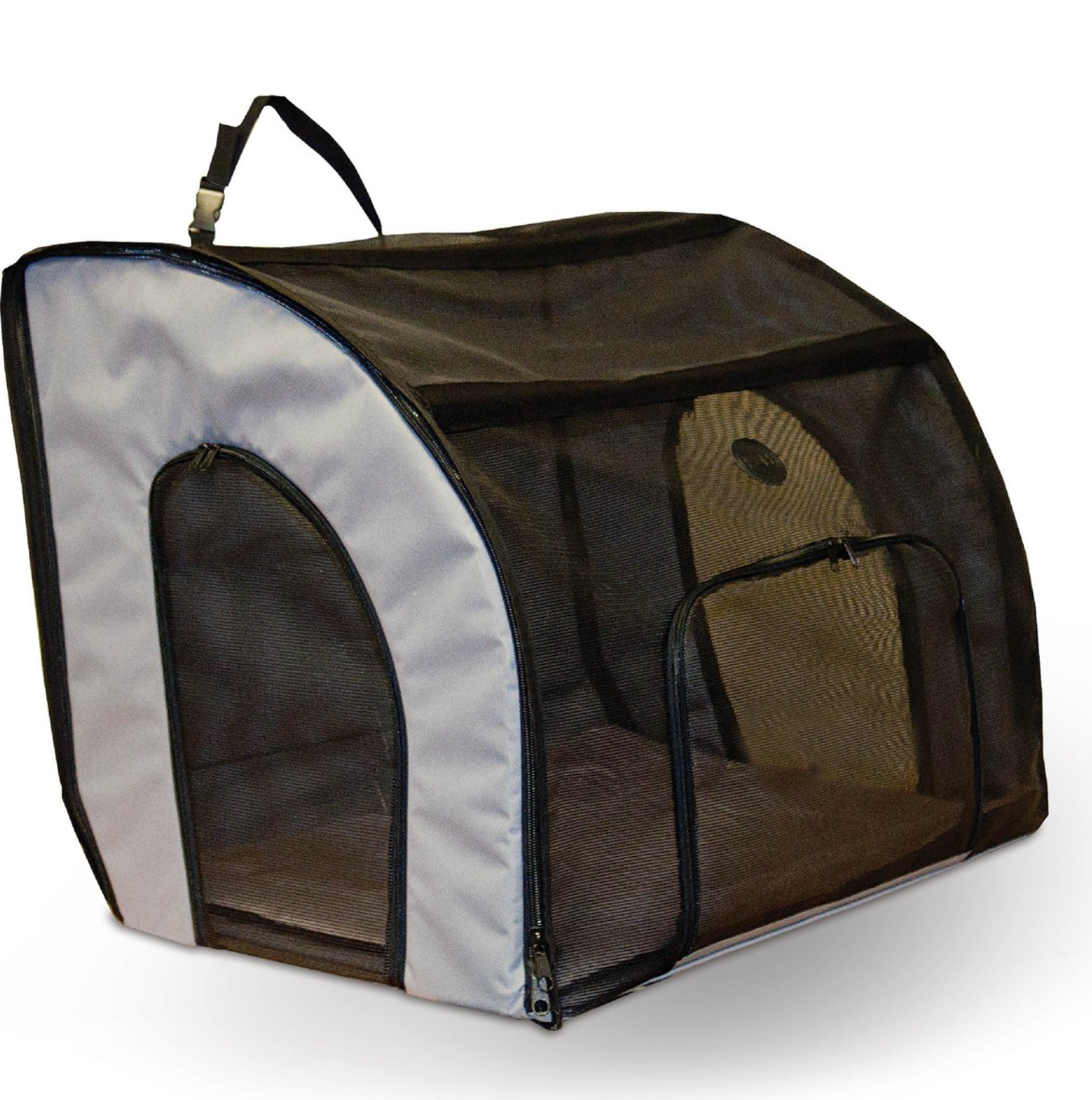 Promising review: "This fits nicely in the backseat of my Subaru Crosstrek. The 50-pound pit bull who I'm fostering goes right into it, and then seems to think it is the perfect place to flip onto his back and work on a back rub. He has room to sit up, turn around, and lay down to nap. The three doors are perfect. Even with the soft sides and collapsible construction, it is holding up beautifully (even when the foster dog is thrashing around rubbing his back). I highly recommend this." —Bolt

Get it from Chewy for $59.99+ (available in three sizes).
Make sure you check out these things to treat your dog to!
Your dog begging to go on *another* ride:
The reviews for this post have been edited for length and clarity.