15 Toys For Kittens That Will Keep Them From Destroying Your Most Prized Possessions
Get ready for some truly hiss-terical moments with these toys.
We hope you love the products we recommend! All of them were independently selected by our editors. Just so you know, BuzzFeed may collect a share of sales or other compensation from the links on this page if you decide to shop from them. Oh, and FYI — prices are accurate and items in stock as of time of publication.
1.
A three-level cat toy you'll probably have to purr-suade your pet to stop playing with. Specifically crafted for the cats that love to play/hunt, the various balls will have them pawing and clawing with delight.
2.
A 2-in-1 cat bed ready to catch your kitten after they crash from a hard day of play. The hanging balls on each end of the tunnel add an interactive component, while the tunnel is an ideal spot for unexpected sneak attacks.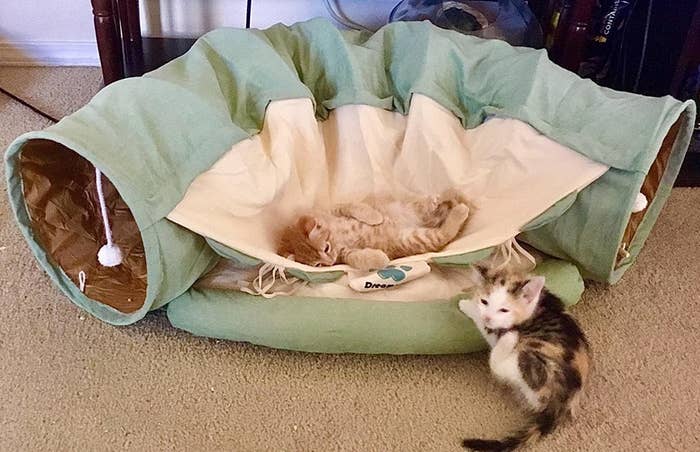 3.
A Frisco Moppy Ball because sometimes the most basic toys can be the most entertaining. Watch as your little pal becomes addicted to pawing and batting this fluffy toy for hours at a time.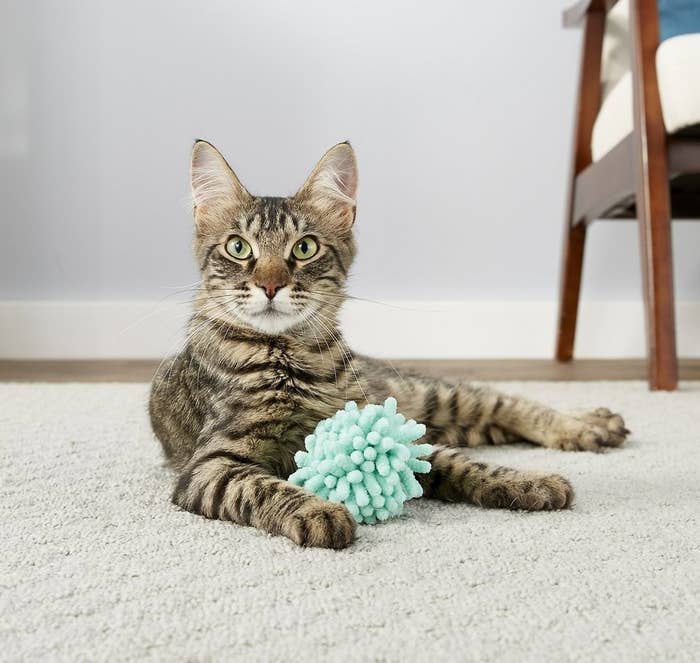 4.
A cat feather wand just too irresistible for your ferocious feline to ignore (as much as they may seemingly want to).
5.
A shimmy shark for the kitty cat in need of a fur-ever friend. This toy will shake and move promoting exercise while helping to bring out the inner hunter in your pet.
6.
A mix of felt catnip-infused balls that are purr-etyy addicting. Not only will your precious fur ball be able to bat and chase after these spheres, but when they're done playing, the tin will ~magically~ recharge them with catnip.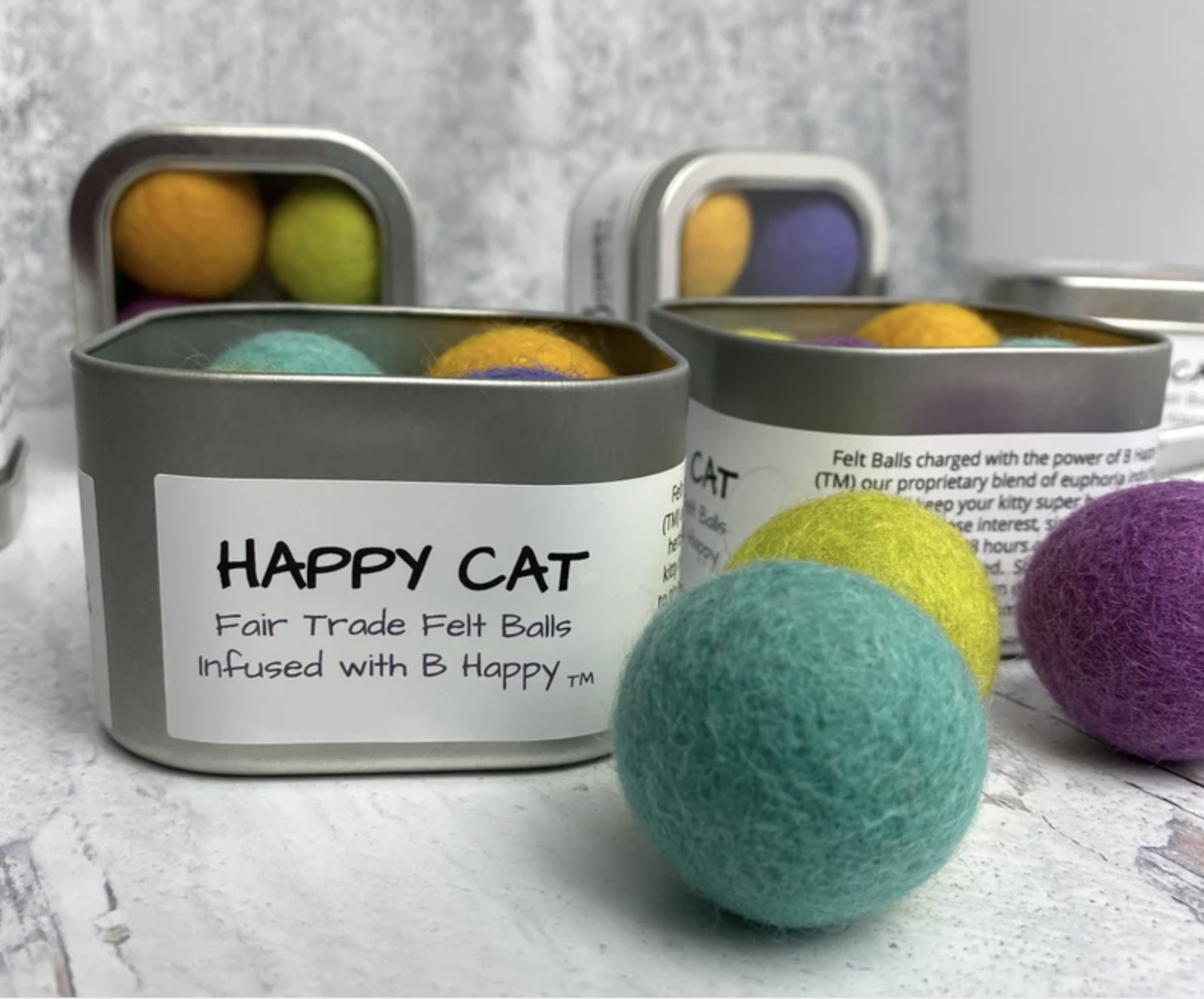 7.
A Frisco Scratch & Roll Scratcher that provides double the fun. The scratch pad can paw-lease them so they're less inclined to destroy your favorite chair, while the added plastic ball will continue to keep them distracted.
8.
A plush octopus fishing rod toy kittens can safely purr-fect their jumping and attacking techniques. They can feel like the big fish of the house as they sprint and pounce after it.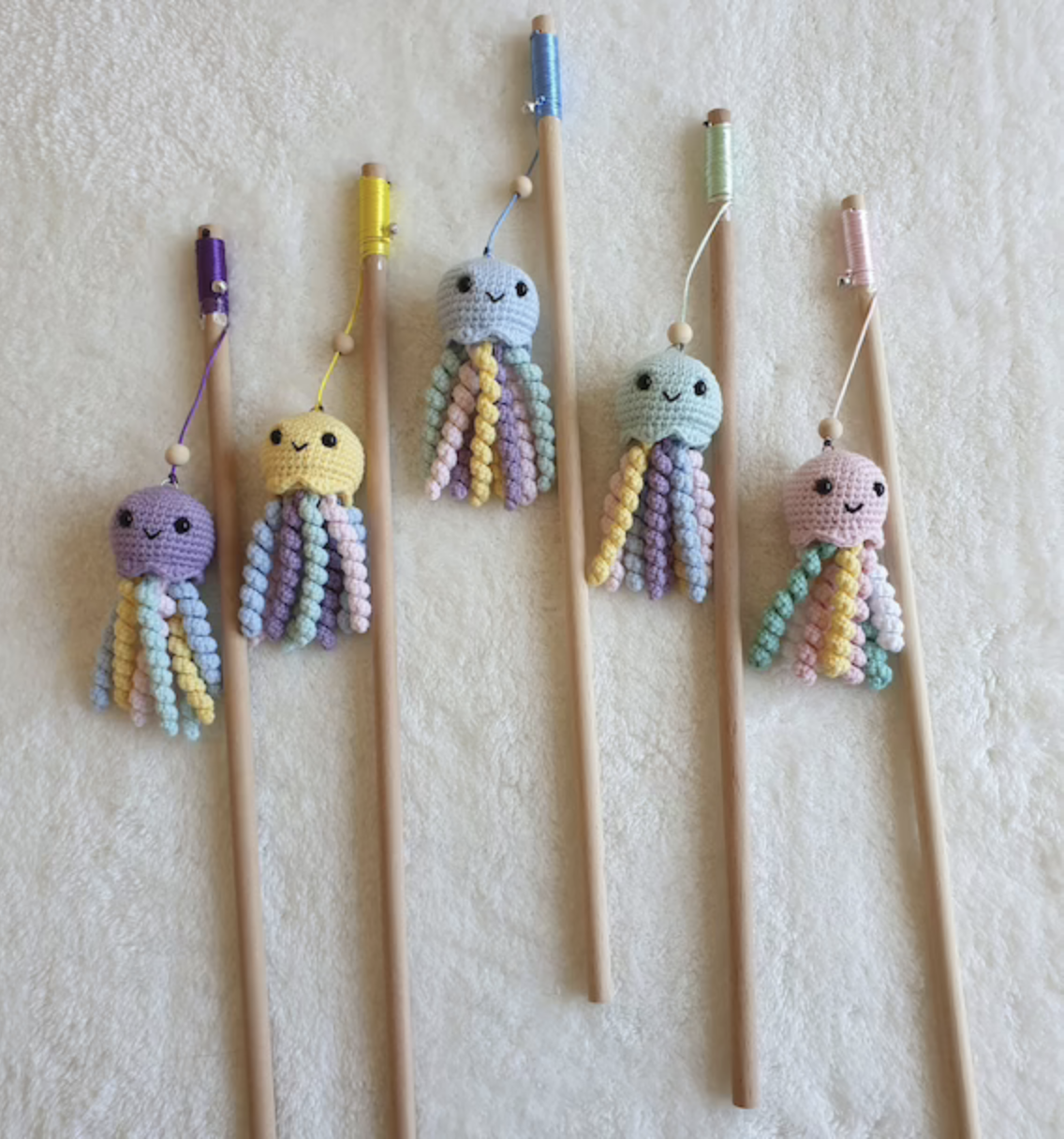 9.
An electric bird to avoid any gross *gifts* your furry friend brings from outside. Rather than a real-life bird, they can enjoy the musical chirps from this electric one.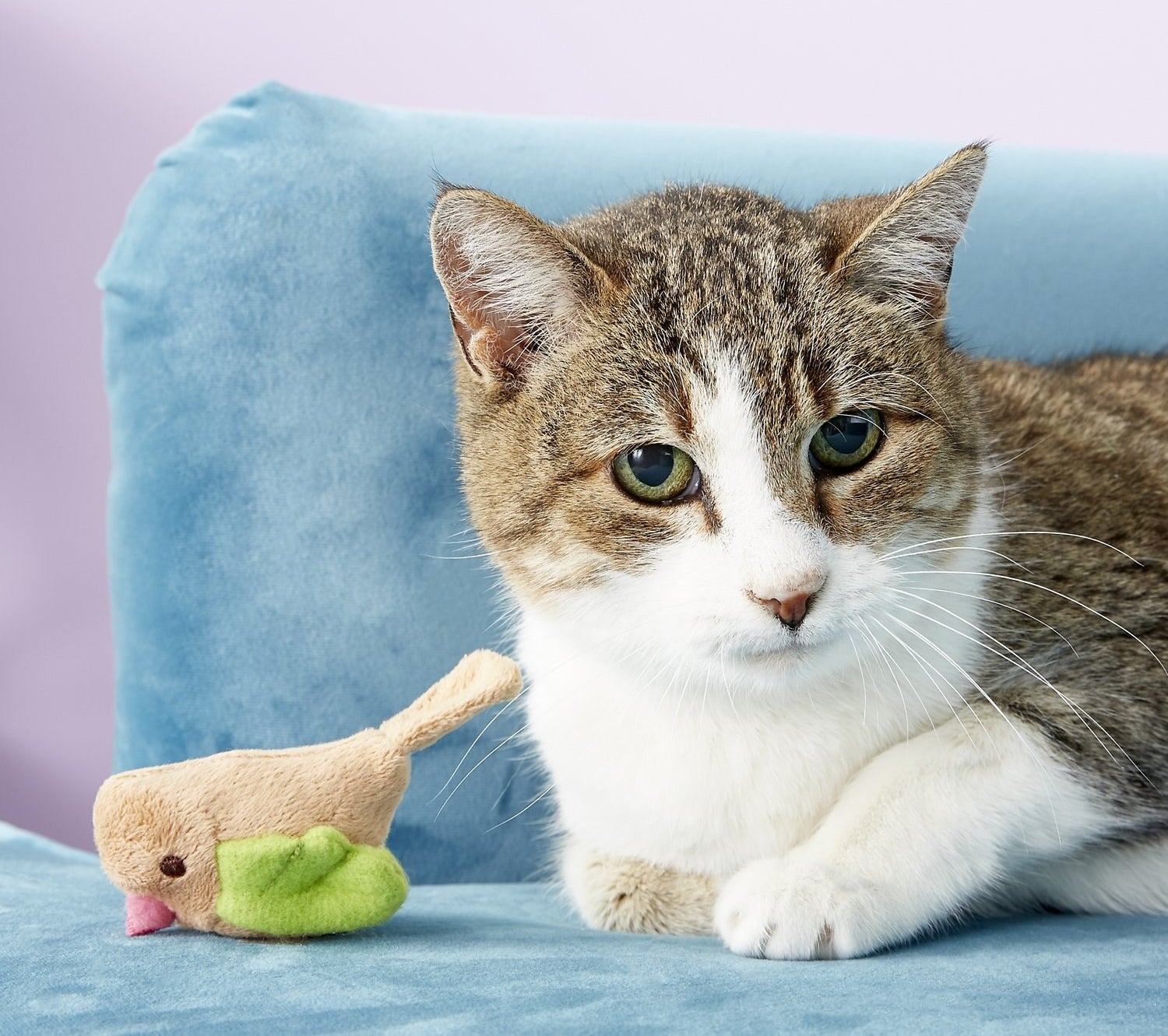 10.
A squeaky mouse your kitty will think is worth the catch. If the RealMouse sound doesn't capture their attention, the catnip scent will definitely have your feline friend leaping after it.
11.
A personalized fish-shaped toy crafted specifically for your fluff ball. Customize it with their name and favorite color and maybe you'll even get some thank-you snuggles.
12.
A wine-bottle-shaped pillow with catnip so rather than hanging out with your ~human~ friends, you and your kitten can enjoy a quiet night in with your favorite bottles of wine instead.
13.
A pet camera with a laser to keep an eye on that fur ball full of cat-titude. The red laser will even allow you to play with your cat when you're not home — or set it on automatic and watch them go on the prowl.
14.
A cat tunnel for small energetic kitties to zoom and crash into. The added peek-a-boo opening is ideal for when you want to sneak up and surprise your furry pal too.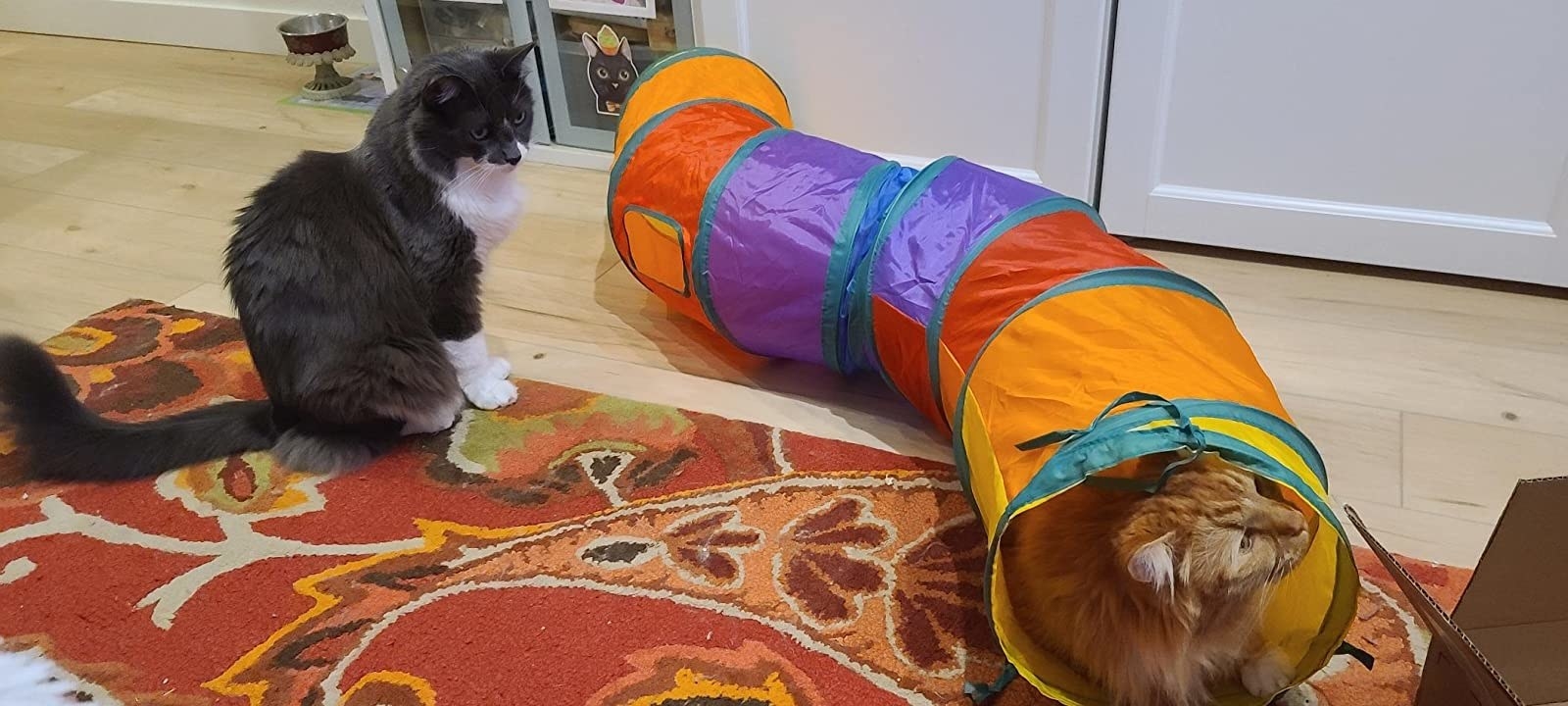 15.
A baguette catnip toy your kitten absolutely kneads! The soft felt material also makes it nice and soft for your young kitty to claw and gnaw on.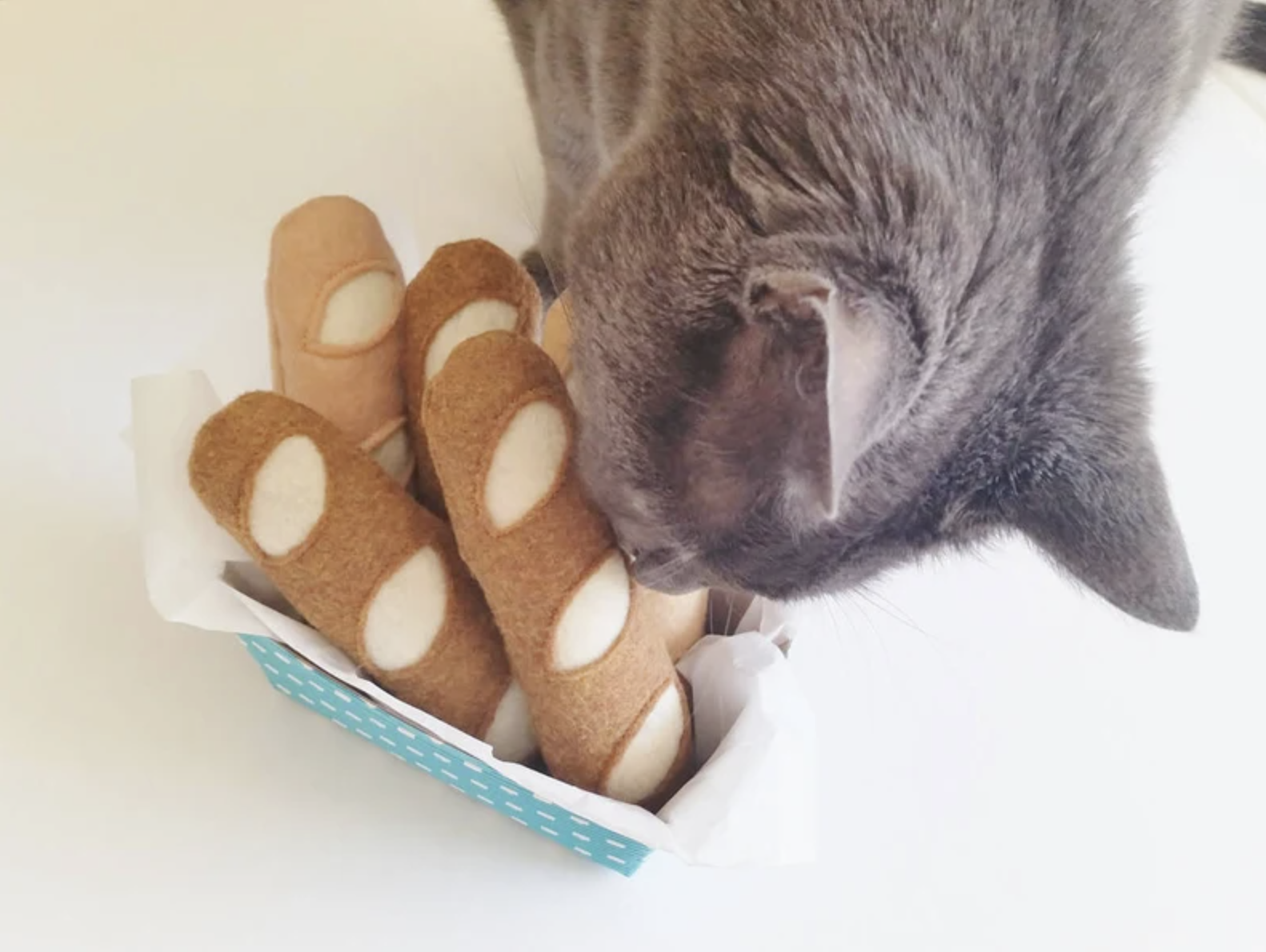 The happy dance you do after surprising your pet with a new toy:
Some reviews have been edited for length and/or clarity.