We hope you love the products we recommend! All of them were independently selected by our editors. Some may have been sent as samples, but all opinions and reviews are our own. Just so you know, BuzzFeed may collect a share of sales or other compensation from the links on this page if you decide to shop from them. Oh, and FYI — prices are accurate and items in stock as of time of publication.
1.
An all terrain hoverboard for kids that can smoothly move across more than just your ~precious~ hardwood floors, including grass and pavement, giving you an excuse to encourage more outside play for your kiddo.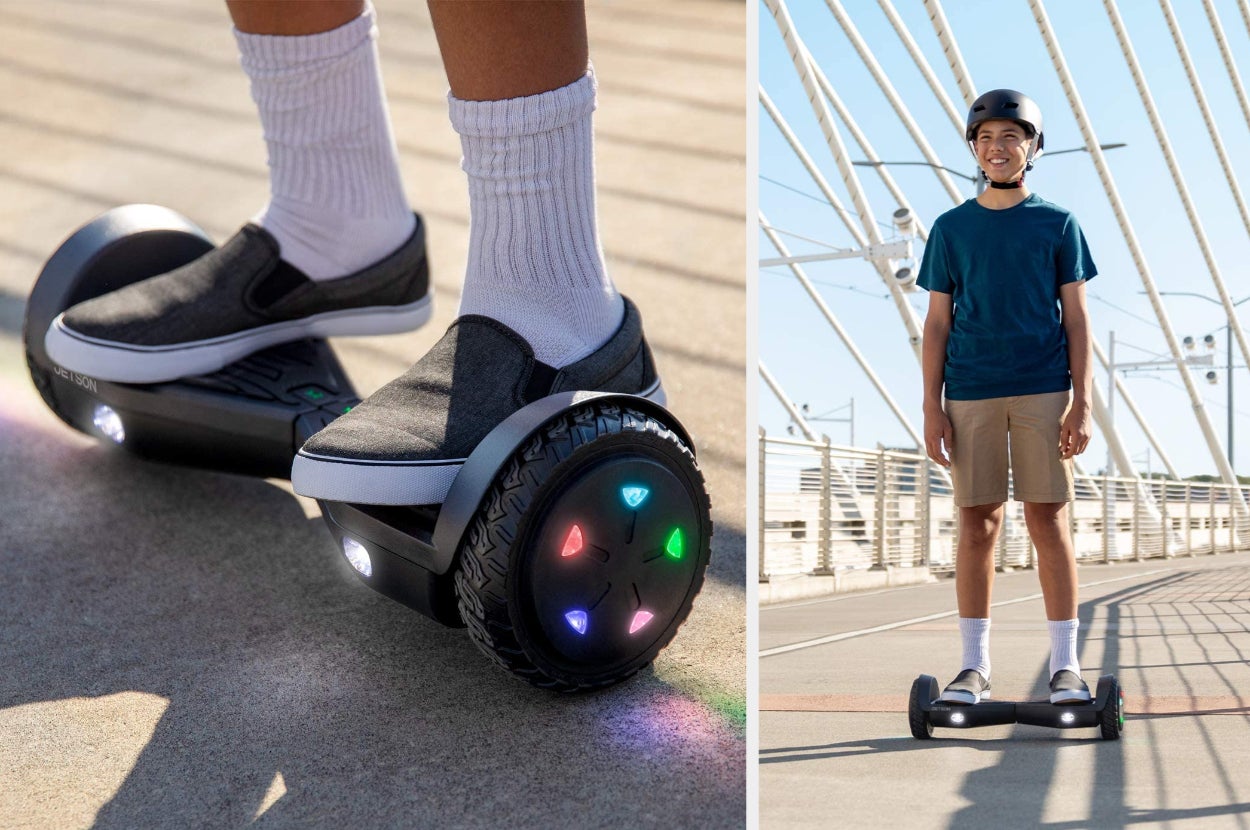 Recommended for ages 13+ and on top of that, it runs on electronic energy, meaning you'll only have to plug it in when the battery gets low.
Looking to keep your children busy? Here are some more ways to keep your kids busy for hours.
Promising review: "My 10-year-old girl adores this hoverboard. She handles it perfectly — even in the house!! No scrapes or scratches on walls or furniture. But there is one big problem: It is so popular that ALL the kids in the neighborhood want turns, which she usually generously allows. But I don't expect you to fix this!! LOL. Thanks for a great product." —Amazon Customer
Get it from Amazon for $147+ (available in four colors).
2.
A hoverboard with LED lights for the kid who ~lights up your world~! And if you're worried about safety, this one's got rubber trackpads that have a good grip so they won't slip.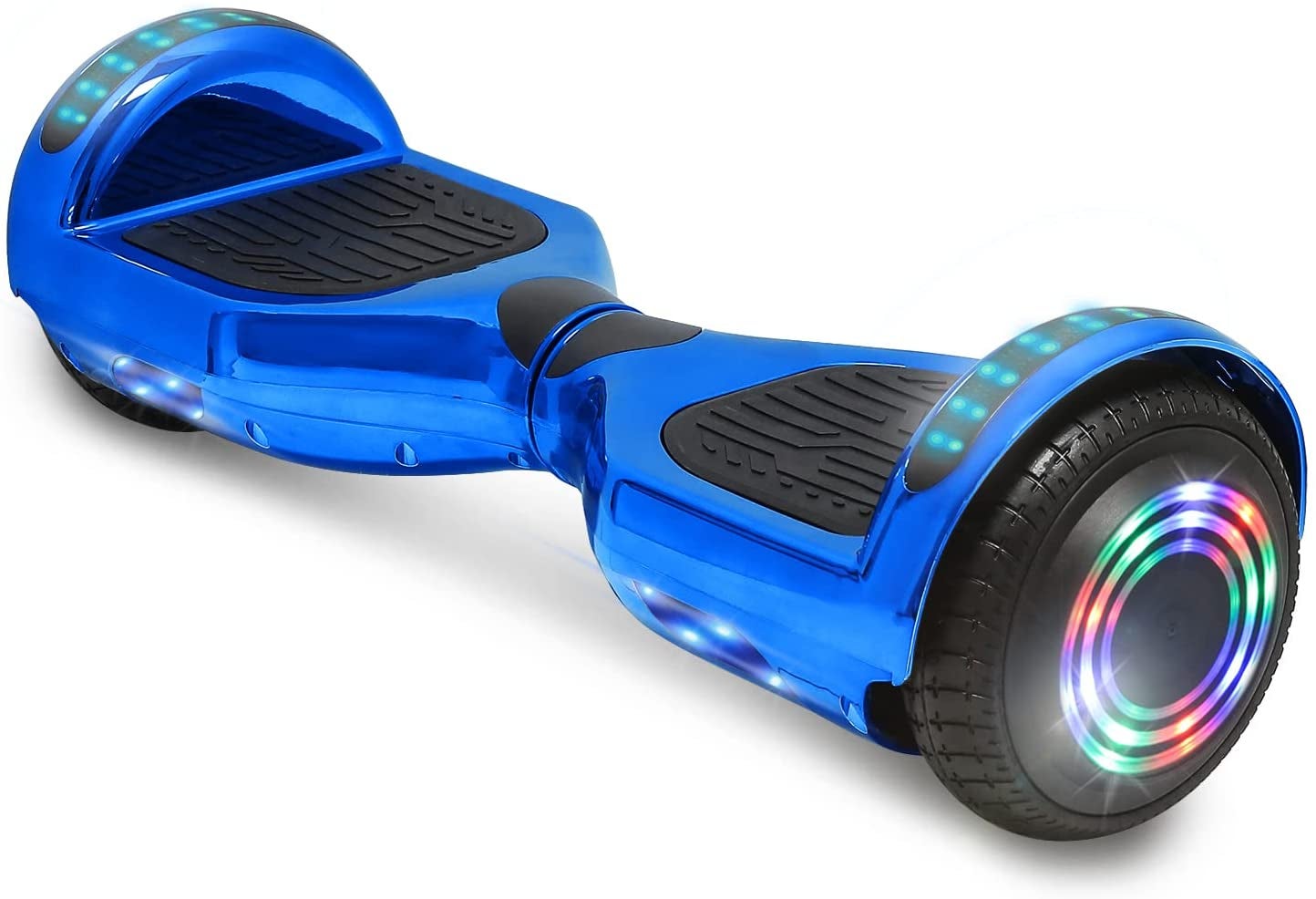 For ages 6+
After seeing this, they'll probably ditch what they thought were the best rollerblades as this model features self-balancing technology to assist first-time users, and even comes with built-in speakers you can connect your phone to through Bluetooth.  
Promising review: "My granddaughter loved this hoverboard. She is 7 and I was afraid that it might be tough to balance on, but within minutes she was a pro. I also enjoy it and I'm 47. Cool ride and well built. It gets a good charge for long-lasting ride time." —Kimberley Willis
Get it from Amazon for $112.18+ (available in six colors).
3.
A chrome hoverboard that's pressure sensitive to make it easier (for them) to turn around and zoom away when you ask them to take the trash out again.
For ages 10+, this also comes in various modes ranging from beginner to expert.
For more playtime upgrades, you should check out these things to make your playroom look expensive.
Promising review: "My 4-year-old is very good at riding his brother's hoverboards, so when he asked for an orange hoverboard searched on Amazon and was thrilled to find one. He loves the thing and I couldn't be more thrilled. My older sons are a bit jealous because this one has pretty cool lights on it. Seems to be sturdy and battery lasts a while. Would recommend." —LH
Get it from Amazon for $201.47+ (available in three colors).
4.
A Jojo Siwa hoverboard for kids decorated with her iconic bows because how else is your little Siwanatorz going to match their new device than with their favorite hair accessory?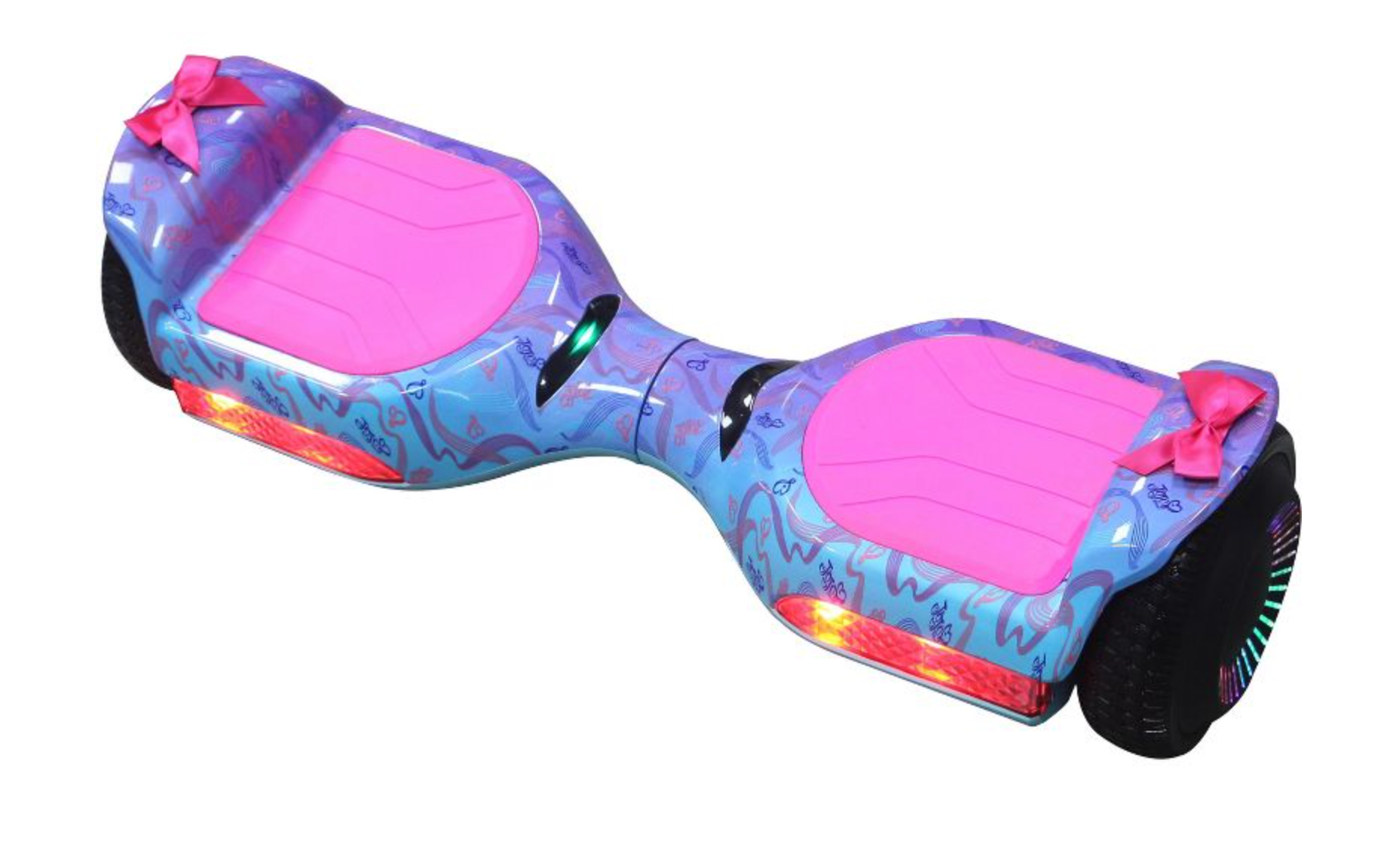 Recommended for all ages and comes designed with a waterproof body and Smart Balance Technology to help keep riders upward. The maximum weight suggested is 200 pounds and has an anti-slip, rubber foot platform that helps make for a steady ride.
For more things that aren't a screen, take a scroll through these toys that cut down on screentime. 
Get it from Target for $149.99.

5.
A "My First Hoverboard" by Hover-1 that only goes up to 5 MPH and will only go as far as three miles in a single charge — meaning they won't be getting too far from you when they threaten to run away *again* when you tell them to eat their veggies.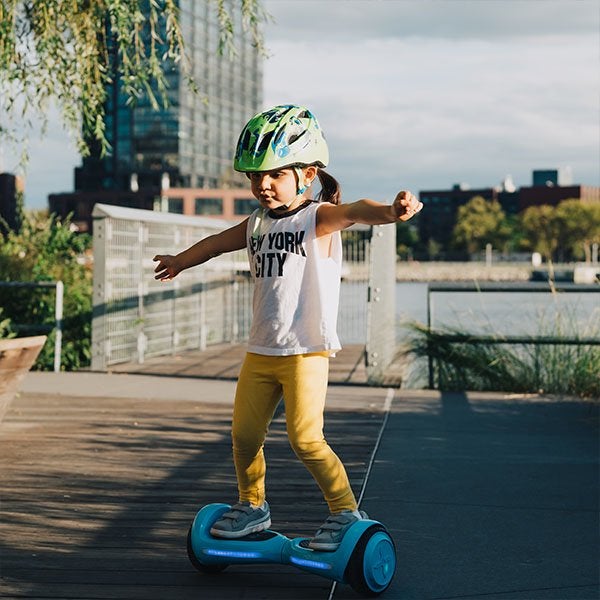 For ages 6+ 
Can carry up to 80 pounds and features light up LED headlights they'll look to as one of their go-to toys when you're stuck indoors.
Promising review: "We bought this for my 2-year-old and he loves it! It's perfect for beginners and the battery life lasts all day. It charges within 4 hours. He's obsessed with his hoverboard; we love it." —Kyla

Get it from Walmart for $88 (available in five colors).
6.
A hoverboard for kids with a light-up battery indicator to make sure you always know how much juice is left in your child's new favorite toy, and it won't be a surprise if it suddenly dies from your kiddo *forgetting* to charge it up.
For ages 10+ and includes self-balancing technology to assist with coordination.
Promising review: "It was the gift my kids loved the most from Christmas. It stimulates them to go out and play and run instead of play on electronic devices." —elsy chacin
Get it from Amazon for $124.99+ (available in 20 colors).
7.
A Razor hoverboard for kids equipped with a "training mode" that's the equivalent of training wheels for this device to get your loved one up and running before they ditch the trainers and get their scooting on.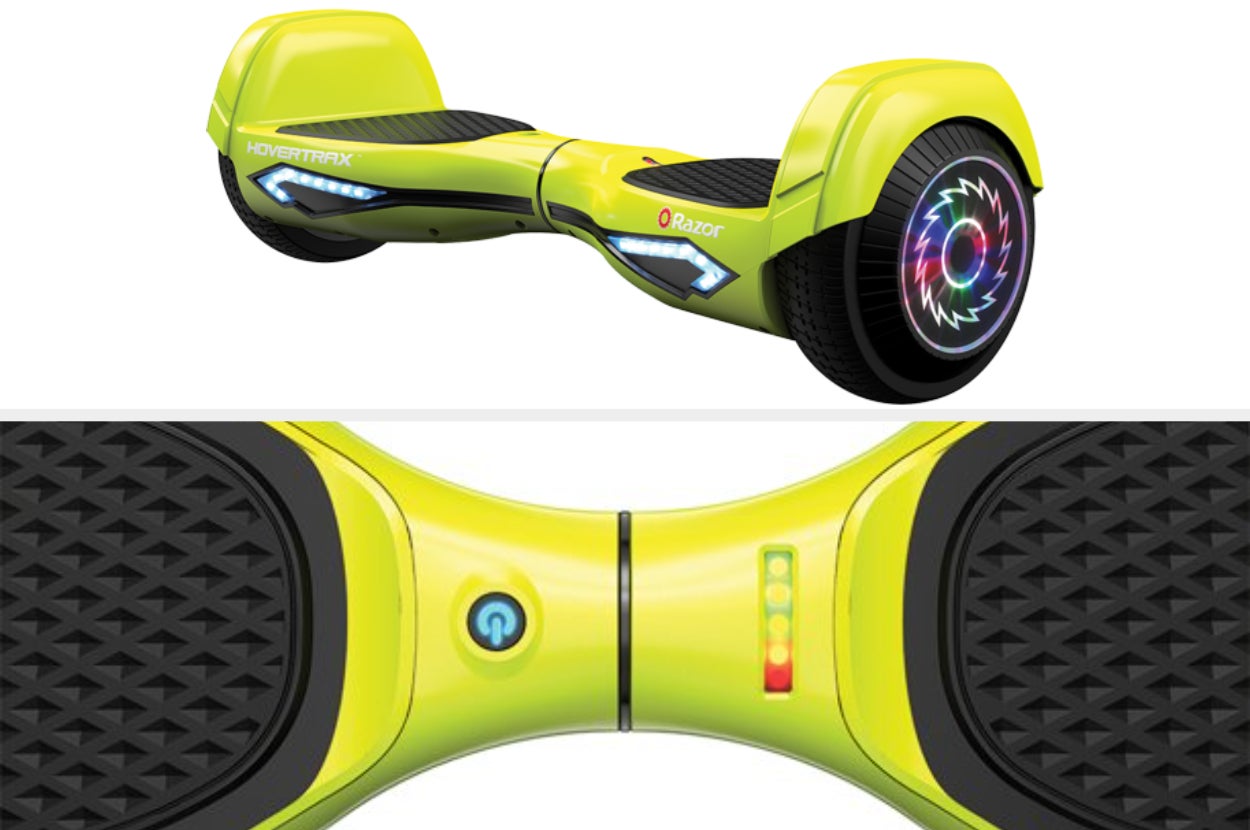 For ages 8+
Reaches up to 8 MPH, features a shatter-resistant frame with bumper protection, and can hold up to 220 pounds.
Promising review: "It is super cool man. Like a dream. You are really hovering around just from gradual movement of your weight between your heels and your toes. The technology involved in this is worth every dollar and you get the UL certification and the legendary brand of Razor behind it — so you know the tech is solid. If you're looking for a Hoverboard THIS is the one." —Christopher
Get it from Walmart for $168+ (available in six colors).
8.
A patterned hoverboard for kids so they can ride in style AND listen to their favorite playlists since it also Bluetooth compatible — you may even find yourself tempted to take it for a spin.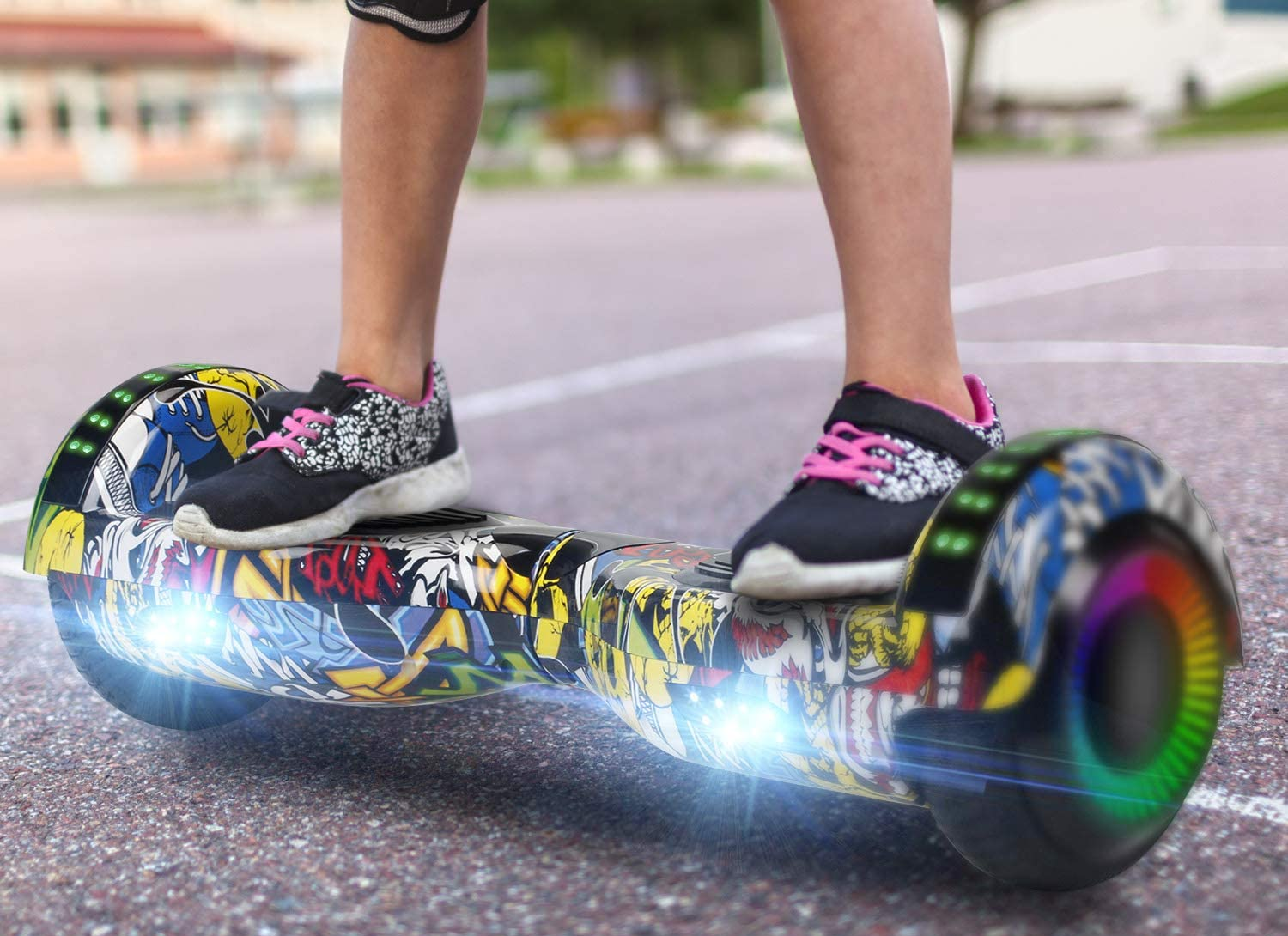 For ages 10+
Promising review: "This hoverboard was bought for my eldest son, but my youngest son liked it very much and learned it very quickly. Its stability is very good, I like its LED lights — very dazzling! The Bluetooth is great because it can play my son's favorite songs. My children are happier with music and after a week's use, the overall feeling is good. It's worth the price." —Sasha
Get it from Amazon for $124.99+ (available in 19 colors).
9.
A dual-motor hoverboard for kids who have a need for speed and are *constantly* looking for their next adrenaline-inducing activity (much to your objections), but at least this model includes traction footpads and a max speed of 6 MPH.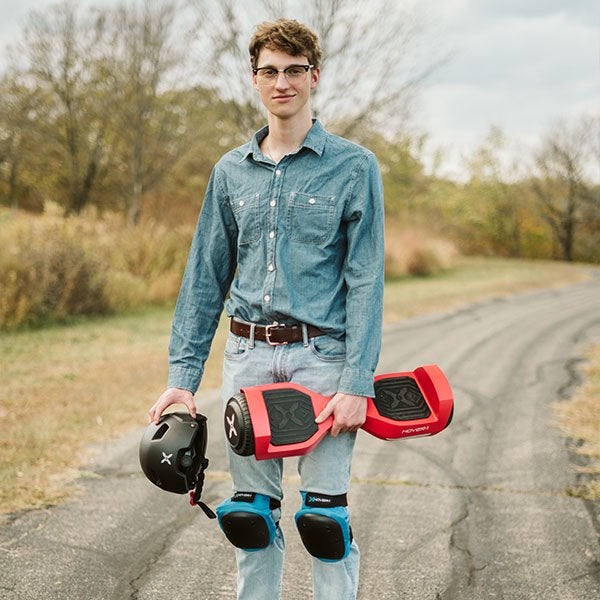 For ages 13+ and also comes with LED lights and can hold up to 130 pounds.
Promising review: "Probably one of the best gifts to give a kid over video games or tablet. My kid was able to learn how to use it within minutes of opening the package, and spends a lot of time outside now instead of sitting on the phone watching videos." —srilatha
Get it from Walmart for $98+ (available in eight colors).
10.
A hoverboard for kids featuring a ~futuristic~ design that looks like something straight out of Back To The Future, and comes with self-balancing technology for both beginners and experienced users to glide with ease.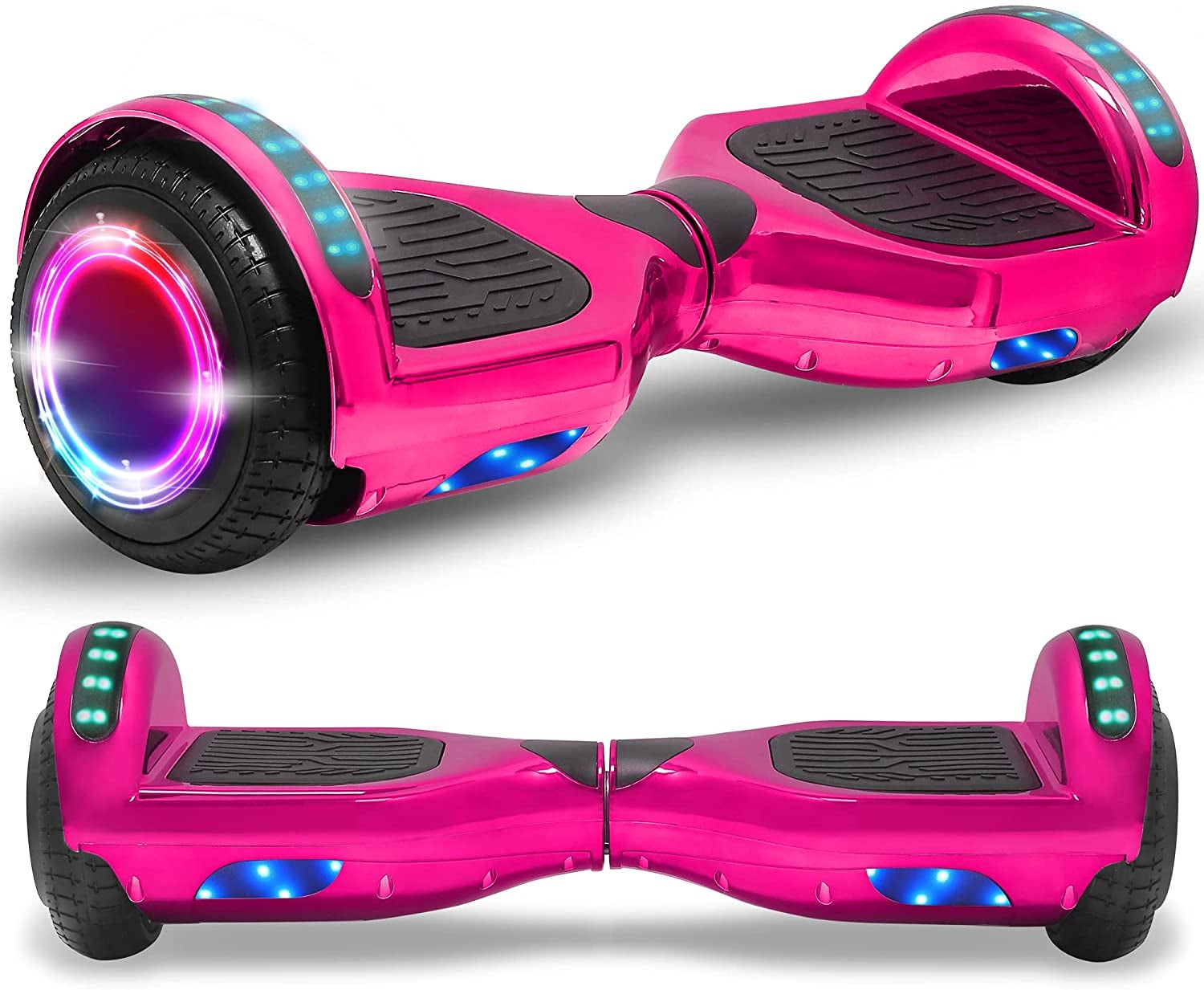 Ages 13+
Promising review: "This is our first hoverboard purchase and my 7-year-old son was begging for one. I was really surprised how easy it was to learn how to use (after about a day) and now two of my other kids want one too! Even my 5-year-old has mastered it. It works fine on walks and hills — my 10-year-old daughter rides it when we go for a walk, and it lasts for about 45 minutes of continued use. They love the lights and the Bluetooth to play music from my phone!" —RB
Get it from Amazon for $148 (available in five other colors).
11.
A hoverboard for kids they'll happily ditch their tablet for, especially since it's Bluetooth compatible and comes with colorful flashing lights — it's basically a nonstop party on wheels.
For ages 6+
Comes with anti-slip footpads and self-balancing technology to help prevent slips and trips.
Promising review: "We bought this for our grandson and he said it was the best Christmas gift ever! His dad and mom enjoyed using it also. It is attractive, well built, quiet, and easy to recharge." —Mark
Get it from Amazon for $129.99+ (available in six colors).
12.
A vibrant hoverboard for kids decked out in flashing LED wheels and headlights making sure you have plenty of time to dive out of the way when they're ~on a roll~.
For ages 10+
Reaches up to 6 MPH and can hold up to 185 pounds.
Promising review: "My son keeps telling me this is the best gift he ever received. He is so happy with it and it took him about 10 minutes to fully master the balance. Now he can ride it freely. It is stable and quiet, and I am very happy to have it too. It took 6 hours to fully charge and one charge can get play for up to three days based on how long he plays with it. Now he won't go anywhere without his hoverboard." —Betty
Get it from Amazon for $139.99 (available in five colors).
13.
A hoverboard for kids that includes speakers you can connect your smartphone to, so they can "pump up the jam" while they come up with *another* spinning routine to show you on their board.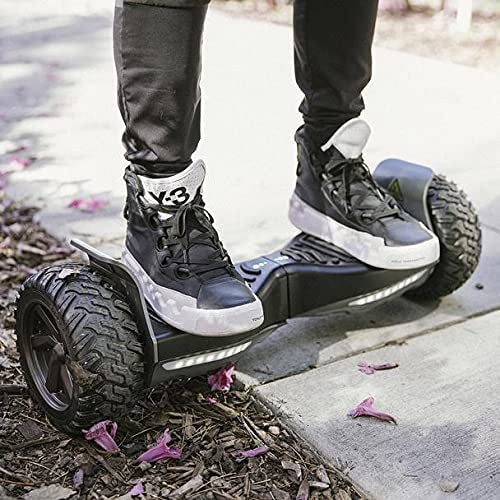 Adult supervision recommended for children under 13. 
Promising review: "Awesome! Kiddos (6 and 9-years-old) love it. They've used these before so it was an easy transition for them. While it functions as well as others on the driveway, it truly is an off-road model. The thing is unstoppable until you hit inclines greater than a 45-degree angle. The Bluetooth speaker is a great bonus and is used far more than I expected." —Buckeye78

Get it from Amazon for $199.95+ (available in nine colors).
14.
An electric scooter for (slightly older) kids built with a knee bar for more precise steering and balance — especially for the kiddos who may need some extra support as they zoom across the sidewalk.
For ages 16+
Promising review: "It is very well built and designed. My son makes it look really easy to balance on and within minutes he was doing Superman flying styled passes in front of me. He was quick to install the Bluetooth iOS app on his iPad mini, which allows you to customize the lights, speed, and can remote control it — much to the excitement of the dog! The battery lasted really well when I took my son down to the local park. From a full charge, his was able to zip around the park paths for over an hour with it only losing two of the five bar charge meter. It's quite fast too. According to the app, he got up to 18 miles an hour, which although exciting for him, I am cringing for when he has his first fall. All around this was a really good buy and turned a lot of heads at the park." —Colin Jeffs

Get it from Amazon for $539.99+ (available in three colors).
The reaction you can expect from your kiddo:
The reviews for this post have been edited for length and clarity.