Throwing things at celebrities, storming the stage they're on, and doing anything that violates their personal space and boundaries IS NOT OK — but it does happen, unfortunately.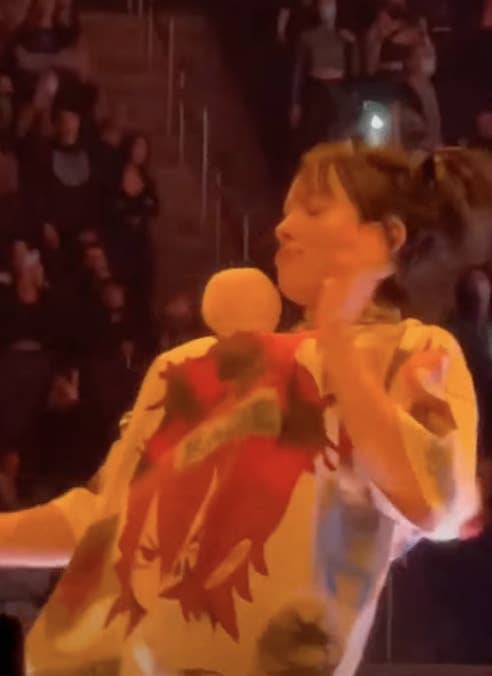 This week, Lady Gaga went viral for seemingly having an invisible force field that prevented her from getting hit with something.
But others aren't always so lucky. Here are 16 other times celebs were attacked, humiliated, sabotaged, or hit by something onstage in front of everyone:
1.
For starters, most recently, Kid Cudi stormed off the stage at the Rolling Loud festival after people kept throwing things at him onstage:
2.
Obviously, Will Smith smacked Chris Rock at the 2022 Oscars:
3.
Justin Bieber was hit with a bag of Sour Patch Kids and a T-shirt at the 107.9 the End's show in 2010:
5.
Someone threw a lemon at Ariana Grande during her 2019 Coachella set:
7.
And another fan slapped Beyoncé on the butt during the same tour in Denmark:
8.
Dave Chappelle was attacked with a replica gun that had a blade during the 2022 Netflix Is a Joke festival:
9.
When Burt Reynolds threw his drink on Marc Summers:

10.
A fan stole Billie Eilish's ring during her ACL Festival show in 2019:
11.
And someone threw a plastic boob at Billie:
14.
And a fan STORMED the stage during Taylor Swift's performance of "We Are Never Ever Getting Back Together" on the Red tour:
15.
Someone threw a shoe at DaBaby while he was onstage at the Rolling Loud festival:
16.
And lastly, someone threw some object at Jack Harlow during his show: