When Taylor Swift says "not a lot going on at the moment," she's got a lot going on at the moment.
Evermore has entered the chat. The follow-up sister album to Taylor's critically acclaimed surprise album, Folklore, showcases Taylor's songwriting and producing prowess in such a powerful way.
Like Folklore, Evermore opens with one of the few songs that could be classified as upbeat, "Willow." The song features a callback to Folklore's "August" when she sings, "I'm begging for you to take my hand / Wreck my plans, that's my man."
"Life was a willow, and it bent right to your wind," Taylor continues on the opener. As if in an all-encompassing willow tree, we are now in Taylor's created space, an extension of the realm of Folklore. It seems so mystical, so esoteric, yet so personal to Taylor's and our current reality — quarantined, contained, yet overwhelming.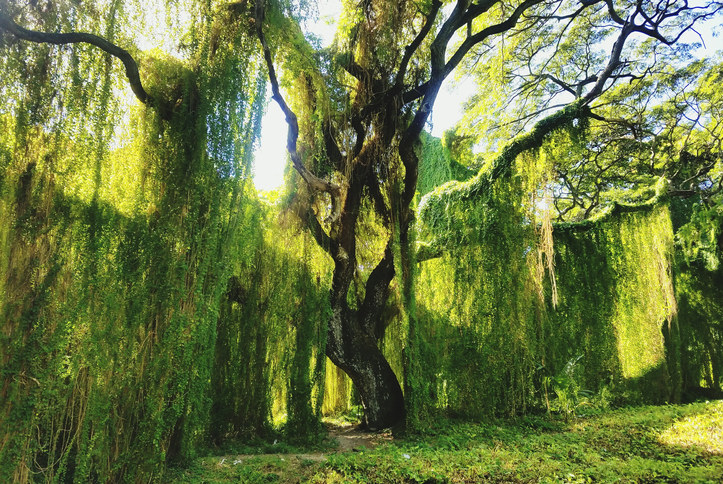 And it's in this world that we get to hear stories the same way we heard on Folklore. Along the way, we meet some new, pseudo-fictional characters — Dorothea, Marjorie, and Este.
The name "Este" refers to Este from the group Haim, the band she collaborates with on "No Body, No Crime." The country folk song is the badass older sister of "Picture to Burn" who curses a lot and watches Dateline.
The speculation is that "Dorothea" is about Selena Gomez, a woman Taylor sings about having made fond memories with, whom she'll always be loyal to. "Marjorie" seems to share the advice that Taylor's late grandmother, Marjorie Finlay, gave her — it's the stuff that meme accounts now would dress up with pretty fonts for posts that friends would tag each other in.
In "Gold Rush," Taylor seems to give a nod to "Lover." She rhetorically asks her partner, "What must it be like to grow up that beautiful?" before singing, "Everybody wants you, but I don't like a gold rush." Just like in the song "Lover," Taylor reveals the inevitable insecurity that comes with falling in love and being in a relationship.
And that's where Evermore shines brightest — when Taylor sings about the things that seem so hyper specific and at times abstract but can still be applied to anyone's life. "'Tis the Damn Season" seems like a cinematic hometown hookup or rekindling with an ex; "Long Story Short" reflects on dating the wrong person, admittedly out of loneliness. "Closure" is 2020 Taylor's outlook on apologies from people who fuck you over: "Yes, I got your letter. Yes, I'm doing better." In other words, save it.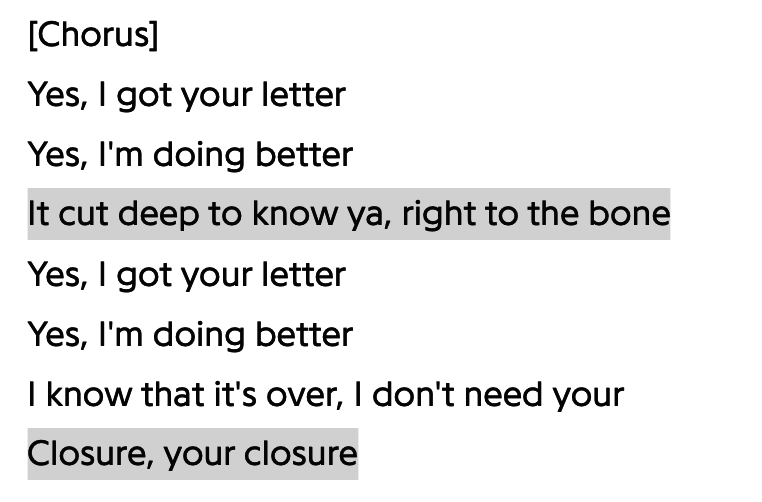 The truest tearjerkers on the album — "Champagne Problems," "Tolerate It," "Coney Island," and "Evermore" — show just how connected Taylor is to the human experience of falling in love, falling out of love, and losing a love. Whether they're drawn from her personal experience or not, the lyrics cut deep.
The super bridge of "Champagne Problems" sounds like an emotional avalanche of spiraling thoughts. It feels like a diary entry, a slam poetry reading, and a heartbreaking inner monologue all in one.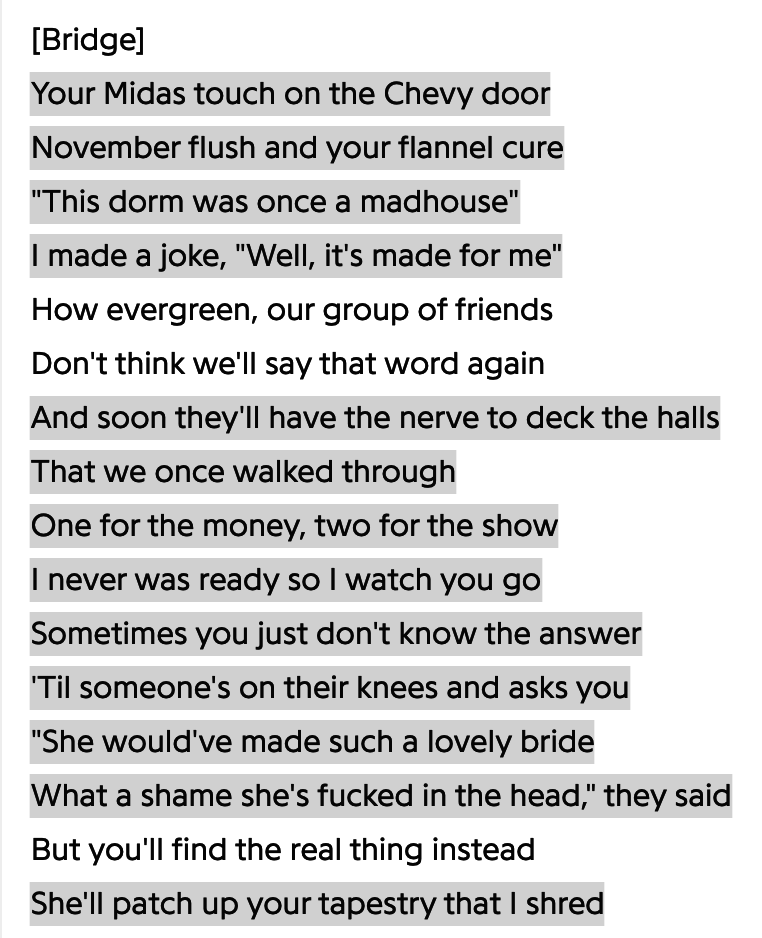 The signature track — number five, "Tolerate It" — is a trademark breakup song with its sadness level amplified by 13 million. The song describes a love that dwindled into a relationship of resentment, and ultimately culminates with a bridge that is sure to rip your heart: "While you were out building other worlds, where was I?"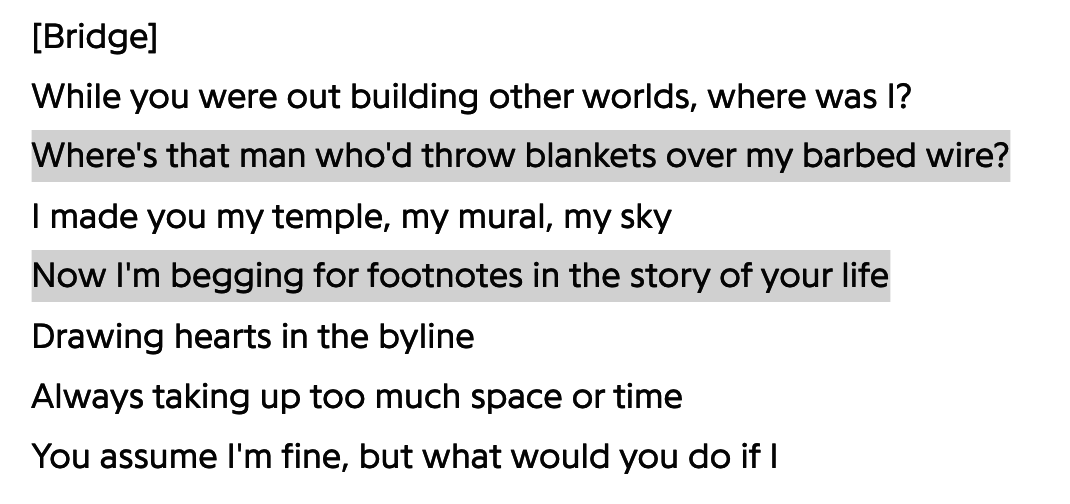 "Coney Island" is one of the most brilliant songs on the album. Almost every verse seems to reference former songs of Taylor's, as one fan pointed out. She reflects on old relationships, old emotions, and old mistakes while sitting on a bench in Coney Island. It's chock-full of metaphors and symbolism as Taylor sings about merry-go-rounds, arcade rings, and more.
The album closes with its title track, "Evermore." Featuring Bon Iver, the song seems to be a continuation of her Folklore collab with the band, "Exile." Taylor sings of the homeland she used to fight for, as well as the signals and signs she gave in a relationship. The pain feels perpetual and inescapable — forevermore — and I'll let you listen to see how she feels about that pain now.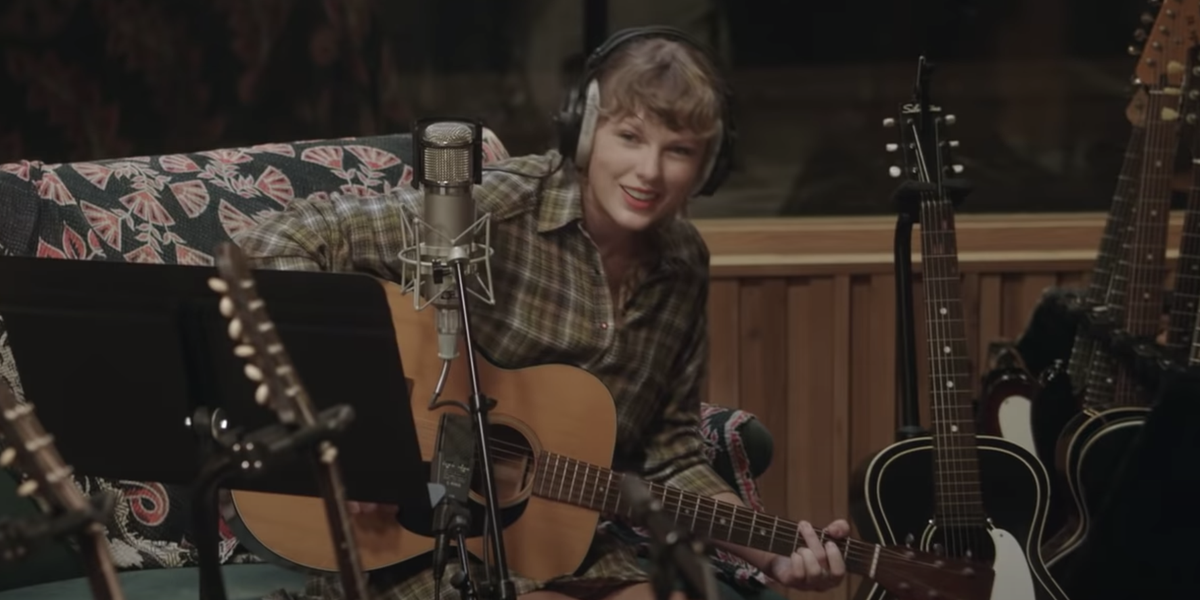 As for Folklore's sister as a whole, Evermore is just another example of Taylor's talents and songwriting aptitude. She's never been more creative, more imaginative, and more natural — despite the format, the rollout, and the content having ostensibly so strayed from her comfort zone.
If Folklore felt like a familiar hug, Evermore feels like a safe shoulder to cry on. Buckle up and get ready to get emotional because, trust me, you will feel everything.
Congrats, Taylor, on another wonderful album, and thank you for the early Christmas gift.