People Are Sharing The Nicest Things Teachers Have Done For Them And I'm Weeping
I'm emotional.
On Tuesday, Chasten Buttigieg (yes, he's married to THAT Pete Buttigieg) asked people to share the nicest thing a teacher has done for them.
The responses warmed my heart, cleansed my soul, and made me want to shout "TEACHERS! ARE! SUPERHEROES!" from every rooftop.
Here are some of the best responses:
1.
His drama teacher created a safe space:
2.
This teacher let her student know he had a place to stay:
3.
This teacher rewarded mature behavior with a unique certificate:
4.
This girl's third-grade teacher helped her social anxiety:
5.
And this girl's teacher helped calm her down when she had a panic attack:
6.
This teacher was supportive outside the classroom:
7.
This girl's teacher helped students understand 9/11:
8.
This girl's mom was bedridden and her teacher took her back-to-school shopping:
9.
This man's former teacher helped him believe in himself again:
10.
This guy's teacher saw he was being bullied and wrote him this beautiful letter: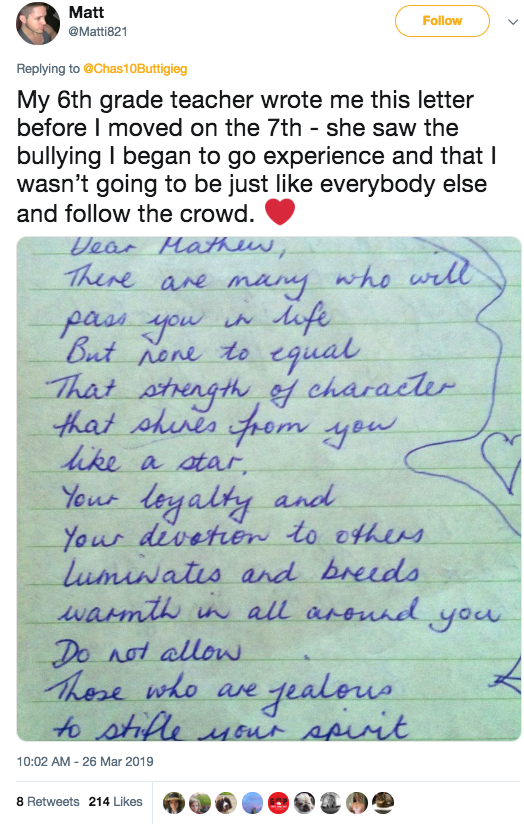 11.
This guy's taught him how to be confident when sharing an opinion:
12.
This person's teacher helped them build a portfolio to get into art school:
13.
This man's English professor introduced him to queer poetry and became the reason he's a professor himself:
14.
And lastly, this guy's teacher helped their student's father, who was overwhelmed with grief:
Teachers: We do not deserve you. Thank you, thank you, thank you.