The Dobre Brothers Were Criticized For Their Behavior At A Meet And Greet And James Charles Responded In The Most YouTube Way
Just some more YouTube drama.
Last week, famous YouTube group the Dobre Brothers caused quite a stir after a video of their very ~underwhelming~ meet and greet went viral. Have a look if you haven't seen:
People criticized them for seeming uninterested and rude to the fan during a meet and greet they probably paid a lot of money for.
The group apologized, citing long hours and no sleep for their behavior during the meet and greet:
Still, people were critical and it even became a little meme:
Well, another YouTuber decided to throw some shade at the Dobre Brothers during his own meet-and-greet. Yup, James Charles.
Yep, so James parodied the Dobre Brothers' during a Morphe meet and greet with a fan:
LOL, they matched their facial expressions and everything.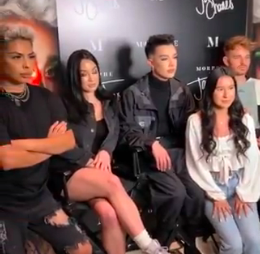 And in the most YouTube-ish way, James matched the Dobre Brothers' apology, writing, "We just wanted to apologize. After a long 48 hours of restless filming and touring then meeting thousands of fans with no sleep we were exhausted by the end of our show. Our true apologies ❤️ we are sincerely sorry."
The Dobre Brothers must've seen James' shade, because they invited the original fan to a new-and-improved meet and greet.
Did you catch the shade in the caption? "We love you Kylee," they wrote. "And James...I'm sure you know what it's like feeling like the whole world is against you."
Love a good YouTube drama. What do you think of it all? The shade, the behavior, and the whole moment? Let me know in the comments below!