Contrary to popular belief, celeb acceptance speeches aren't always a home run — occasionally they can totally miss the mark, draw backlash, spark debate, and make headlines.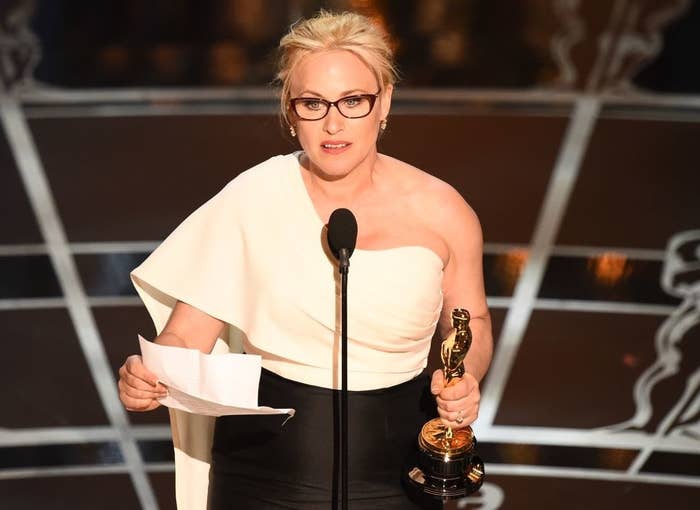 Here are nine times celebs' acceptance speeches were insensitive, controversial, or both:
1.
Jane Campion recently won Best Director at the 2022 Critics Choice Awards and said to Venus and Serena Williams, who were in the audience, "Venus and Serena, you are such marvels. However, you don't play against the guys like I have to."
3.
Patricia Arquette used her 2015 Oscar speech to call for equal pay, but missed the mark. "It is time for us," she said. "It is time for women. It's time for all the women in America, and the men who love women and all the gay people and people of color we've all fought for, to fight for us now."
4.
In 2013, Jared Leto sparked backlash for his acceptance speech at the Screen Actors Guild Awards for Best Supporting Actor, which he won for playing Rayon, a trans woman living with HIV, in Dallas Buyers Club. "I did not ever use any prosthetics in this film. That tiny little Brazilian bubble butt was all mine. It was a very transformative role. I had to do a lot of things to prepare. One of the things I did was wax my entire body, including my eyebrows. I'm just thankful that it wasn't a period piece, so I didn't have to do full Brazilian. Ladies, you know what I'm talking about, and so do some of you men, I think."
5.
James Franco won for Best Actor, Motion Picture Musical or Comedy, at the 2018 Golden Globes for his portrayal of Tommy Wiseau and then pushed Tommy away from the podium and did not let him speak during his acceptance speech.
6.
Adele sparked controversy at the BRIT Awards this year when she said, "I really love being a woman and being a female artist."
7.
Fiona Apple's 1997 Video Music Awards acceptance speech was controversial at the time when she didn't thank anyone and went on a rant.
8.
Ronnie Wood of the Rolling Stones threw a drink at Brandon Block, a DJ who drunkenly kept interrupting his BRIT Awards speech in 2000.
9.
Tom Hiddleston won Best Actor in a Limited Series for The Night Manager at the Golden Globes in 2017 and gave a speech that many viewed as peak white savior complex. In his speech he said, "I recently went to South Sudan, which is the youngest country in the world, in East Africa. With the United Nations Children's Fund. I do a little bit of work with them to spread the word as fast as I can. It's a terrible situation for children there. The Night Manager is about arms dealing, and there are far too many arms coming into South Sudan." He said the workers there would "binge" his show.
Did I miss any? Let me know which celeb acceptance speeches missed the mark in the comments below!