The Guy Who Got In A Physical Altercation With Brother Nature Gave An Interview About What Happened
The person in the altercation gave an exclusive interview to Drama Alert.
If you're familiar with internet culture, you're probably familiar with Brother Nature. He gained popularity on Twitter after his videos interacting with animals consistently went viral in 2016.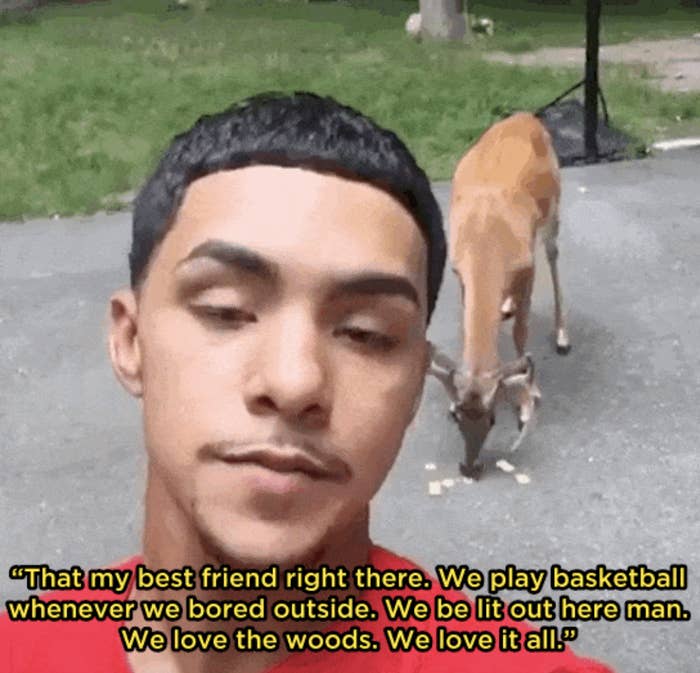 Well, this weekend TMZ reported that Brother Nature was attacked in Miami at a sandwich shop. (WARNING: The video below is violent.)
Since the incident, Brother Nature tweeted that he's aware of the video and how people "literally just watched with their phones out and did nothing."
He also posted a video of him holding an ice pack, dancing, on Instagram.
However, there seems to be more to the story. The person involved in the altercation did an interview with Drama Alert and explained their side of the story.
"First of all, nobody jumped Brother Nature. The only person hitting him was me," the man said. He said that when they got to the sandwich place the employees were calling last call, and that's when Brother Nature showed up.
The man — "D" — said Brother Nature was still allowed to order and that Brother Nature "pulled the chairs down that [employees] cleaned" and insisted that he sit at a table, NOT the bar.
Brother Nature kept arguing with the manager, who eventually told him to leave because he was causing a disruption, D said.
"I pull out my phone and record because he was sounding like an arrogant dickhead. At this point, you could tell he's drunk, belligerent."
D said one of the girls Brother Nature was with told D to stop recording BN and told him hand over his phone. "I told her to take two steps back before I spit her. She don't have to get up in my face for nothing."
The girl told Brother Nature, who starts yelling, "Who's recording?" D said, "He comes right up to me, he gets right in my face, and goes 'Yo, give me your phone right now.' I laughed at him, put my phone on the table, and ask if he knows who's he's speaking to."
D said, "[Brother Nature] goes, 'I don't give a fuck who you are. Give me your phone right now.'" D then told him to back up or he'd "smack the nature" out of him. BN looked D and his cousin up and down, took their picture, and then said, "You two are dead men."
This video that surfaced on Twitter seems to corroborate that claim:
BN went to the car and told D to come outside because he wanted to fight. "We fight...He ripped off my shirt. He grabbed me. He can't fight, I guess."
"We go our separate ways. I go inside to continue eating my sandwich...[Brother Nature] comes inside and hits my cousin. He just kept on looking for problems. He sucker punches my cousin."
"When he does that, I grab him. He tries to hit me. He goes to the floor, and I kick him two times. He still wouldn't stop. He tried to fight me again."
D said he talked to someone at the restaurant, who said the police came and filed the altercation as self-defense. Brother Nature has yet to respond to the interview, but we will update you if he does.