Loaded Chicken Enchilada Nachos
Throwing a snack together has never been easier
by
,
Loaded Chicken Enchilada Nachos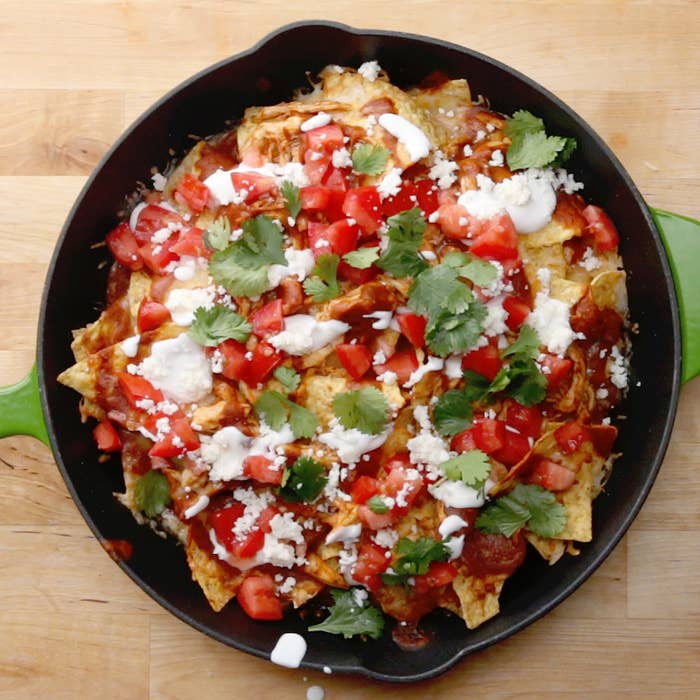 INGREDIENTS
Servings: 6
Sauce
2 tablespoons vegetable oil
2 tablespoons flour
2 tablespoons tomato paste
1¾ cup chicken stock
1 tablespoon chili powder
½ teaspoon oregano
1 teaspoon cumin
1 teaspoon garlic powder
Salt and pepper, to taste
Nachos
2 cups shredded chicken
Tortilla chips
2 cups Mexican cheese blend
Garnishes
½ cup sour cream
1 diced tomato
Cilantro leaves (optional)
Queso fresco (optional)
PREPARATION
1. Preheat oven to 400℉/205°C.

2. Heat a small saucepan over medium heat and add the oil and flour. Whisk together and cook gently until it resembles wet sand, about 1 minute.

3. Add the tomato paste and whisk. Add chicken stock, chili powder, cumin, garlic powder, oregano, salt and pepper. Stir.  

4. Bring up to a simmer and cook about 5 minutes until sauce thickens. Remove from heat and set aside. Reserve ½ cup.  

5. Toss the shredded chicken with about ½ cup of the reserved sauce.

6. Place a layer of tortilla chips in a skillet or bake dish. Add a layer of cheese and half the chicken mixture. Drizzle some enchilada sauce over the top.  

7. Add a second layer of tortilla chips followed by another layer of cheese and the remaining chicken. Drizzle with sauce.

8. Bake for 8-10 minutes until cheese is melted.

9. Top with sour cream, diced tomato, cilantro, and crumbled queso fresco. Serve immediately.