This Creamy Pesto Pasta Bake Is Everything You Need For A Lazy Sunday
Calories don't count on the weekend, right?
Creamy Pesto Pasta Bake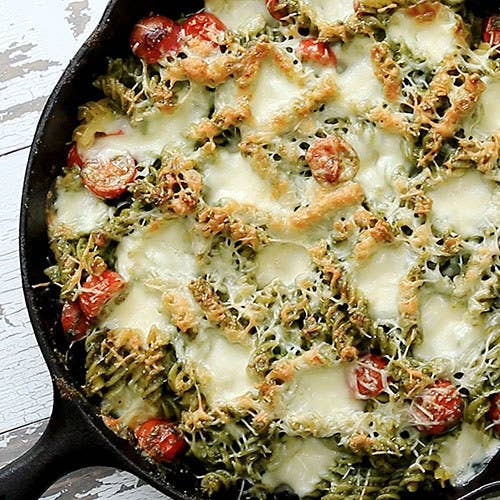 INGREDIENTS
Servings: 4-6
INGREDIENTS
Pesto
4 cups basil
2 cloves garlic
½ cup pine nuts
¾ cup parmesan, grated
¾ cup olive oil
¼ cup cold water
½ cup heavy cream
1 teaspoon salt
½ teaspoon pepper
Pasta Bake
12 ounces fusilli, al dente
1 cup cherry tomatoes, halved
1 cup parmesan, grated
8 ounces mozzarella balls
PREPARATION
1. To make the pesto, mix basil, garlic, pine nuts, parmesan, cold water, heavy cream, salt, and pepper in a food processor for about 30 seconds. Add in olive oil. Process until combined, set aside.
2. Cook fusilli to very al dente, or about 3-4 minutes before the package instructs for cook time, then drain pasta.
2. Halve cherry tomatoes.
3. In a skillet or casserole pan, mix fusilli, cherry tomatoes, and pesto.
4. Top with grated parmesan and mozzarella balls.
5. Bake at 400° Fahrenheit for 10-15 minutes, or until mozzarella has melted.
6. Garnish with additional parmesan and fresh basil. Serve immediately.
Want BuzzFeed Tasty right in your inbox? Sign up for our newsletter!