The Daily Mail Put A 24-Hour Embargo On Photos Taken Minutes Before The Bataclan Shooting
Other news outlets cannot publish two photos online used by the Mail until 1pm GMT. One of the concert photographers at the Bataclan, however, made their own photos freely available and asked that no one use them for commercial use out of respect.
The Daily Mail has placed a 24-hour embargo on these photos of the crowd of the Bataclan minutes before the shootings in Paris on Friday night, BuzzFeed News has learned.
The Mail purchased them from a wire service called Vantage News. Vantage News is charging £500 for each photo. However, the photos cannot be posted by news outlets until after the 24-hour embargo ends at 1pm GMT on Tuesday.
The Mail's article features before and after photos, along with an embed of video taken as right as the shooting broke out.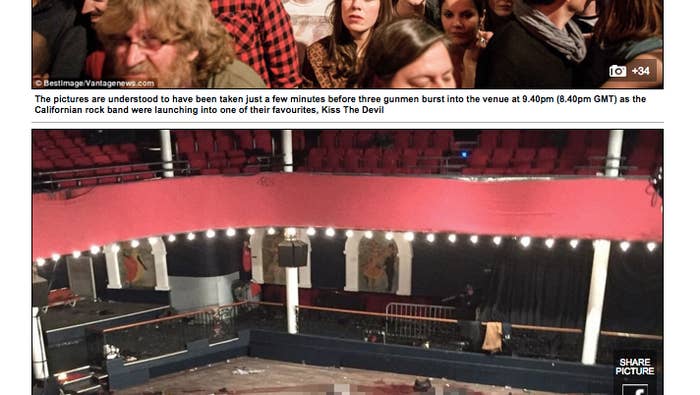 The reactions online to the Mail's coverage of the photos have been mixed. Many found the photos sad and poignant.
While others found the Mail's coverage of the photos "disrespectful" or "disgusting".
Manu Wino, the concert photographer at the Bataclan that night, made his own photos free to use, writing on Facebook: "No commercial use should be done with these pictures by respect to the victims."
Both Vantage News and the Daily Mail would not confirm that they had placed an embargo on the photos.