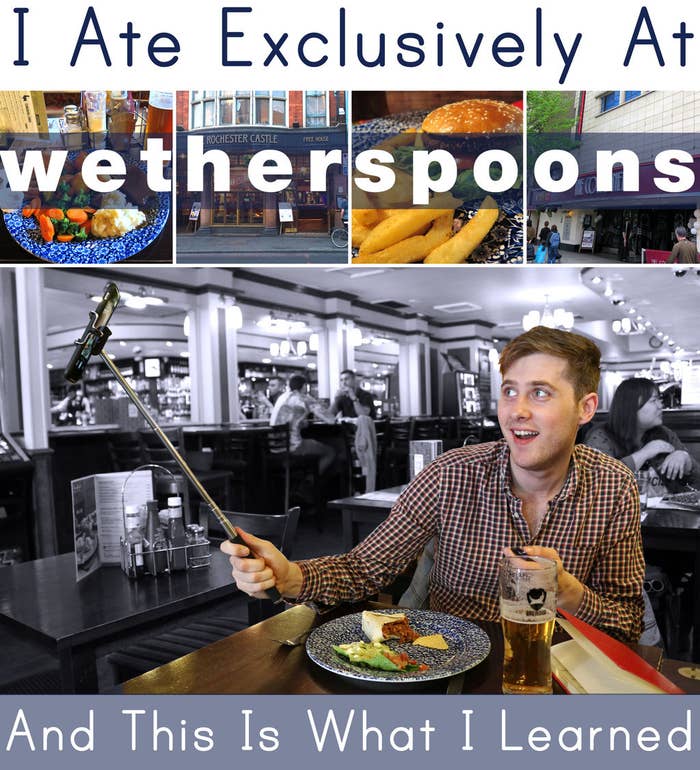 There are currently 920 J.D. Wetherspoon locations. And as of August, there were only 55,000 non-Wetherspoon's pubs still remaining in Britain, with a rate of 31 pubs closing each week.
On the outside, a Wetherspoon's could be camouflaged as an old bank, a classic movie theatre, or a 19th-century police station. On the inside, though, they all have the same carpeting, the same ramshackle furniture scheme, some kind of fruit machine, and, of course, the same menu.
As an American living in London, I'm completely fascinated by this. We have things like Chili's, Applebee's, and T.G.I. Friday's, but they broadcast their promise of casual dining to the world with big bright neon signs. Wetherspoon's just seems content to silently engulf all of Britain like the Borg from Star Trek. Sure they look authentic from the outside, but the inside of a Spoon's is all part of an interconnected industrial gastropub hivemind.
So I decided to spend a week tasting the menu of Britain's brave new world of Wetherspoon's domination. Here's what I learned...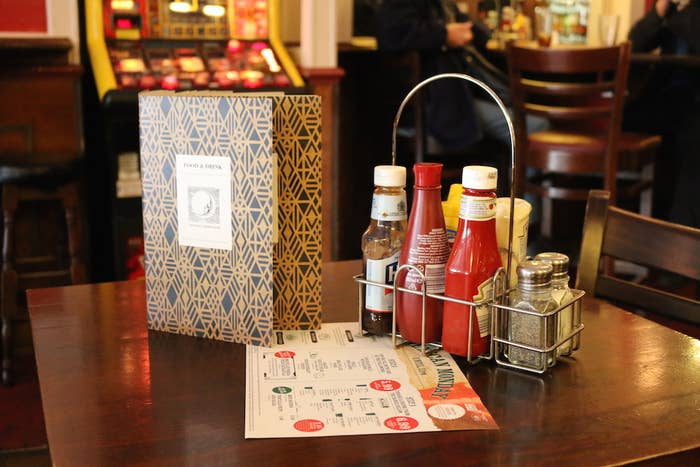 My first Wetherspoon's meal was lunch at a pub named after a George Orwell essay about his ideal pub. I ordered from the Mexican Monday menu.
So this is a real thing. The author George Orwell wrote an essay, titled "The Moon Under Water", in 1946 in which he described the perfect pub. Wetherspoon's has 14 locations named after that essay.
Which is kind of weird! But whatever. I ordered a burrito and a pint: £6.99. Unlike Chipotle, guacamole was not extra, and it came with tortilla chips. So, Wetherspoon's: 1, Chipotle: 0. After my first lunch and a pint, I felt pretty good. I felt optimistic.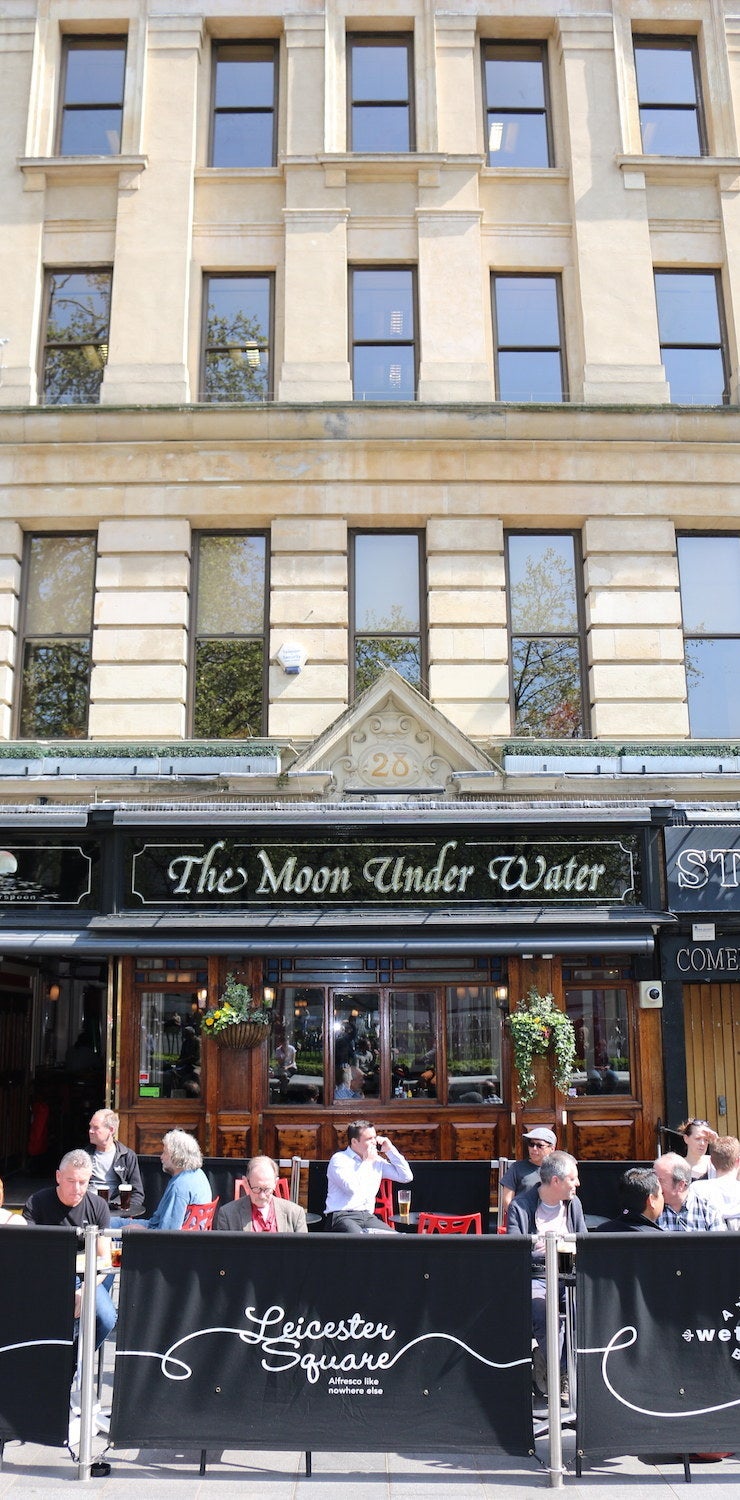 Then I had the Philly cheesesteak.
For my first dinner I went to the oldest surviving Wetherspoon's, The Rochester Castle in Stoke Newington. It was really grim. It had the decor of a disaster relief station that the Red Cross might temporarily set up for victims of a hurricane or something.
I got the Philly cheesesteak for £7.90 with a pint. While ordering, I thought to myself, "What does a Wetherspoon's Philly cheesesteak look like?" Turns out it's mostly onions and wet bread.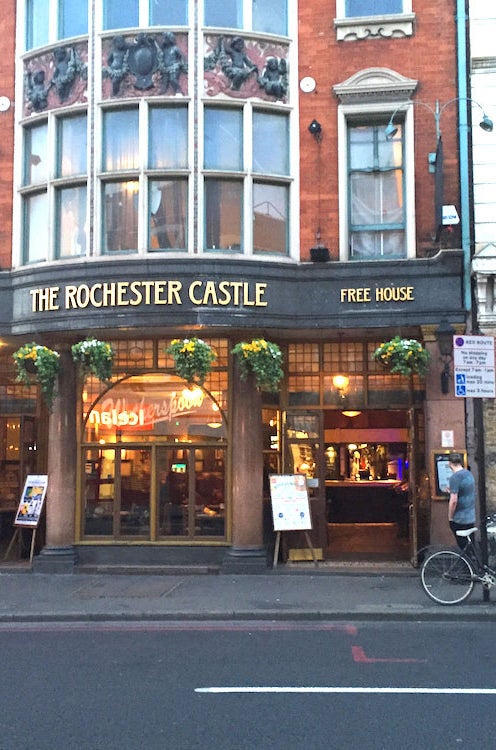 If you're looking for something good though, the chicken and chorizo flatbread is genuinely great.
It only cost £5.69 with a soda, and it was pretty big. I ate it at The Montagu Pyke, which is in an old movie theatre. This bad boy came recommended to me by Twitter user inselaffe86 when I asked the internet for some good stuff to try. It has actual vegetables on it. The chicken's pretty good. And I didn't feel horrible after I ate it. So that's a victory, right?
By dinner time Tuesday, things got a little weird.
As you can see from my notes below, Tuesday night was a tough one. I ended up at a The White Lion of Mortimer in north London, near the Finsbury Park tube station. I got an eight-ounce sirloin and a pint for £6.64, which was OK I guess, except I started to notice that even though I was eating something for every meal, I didn't ever feel full.
I also realised that the further away from public transport a Wetherspoon's was, the weirder and darker it was. When I walked in to get my Steak Club dinner, a guy and his girlfriend were screaming at each other by the door. None of the clientele – mostly men watching movies on iPads – seemed to notice.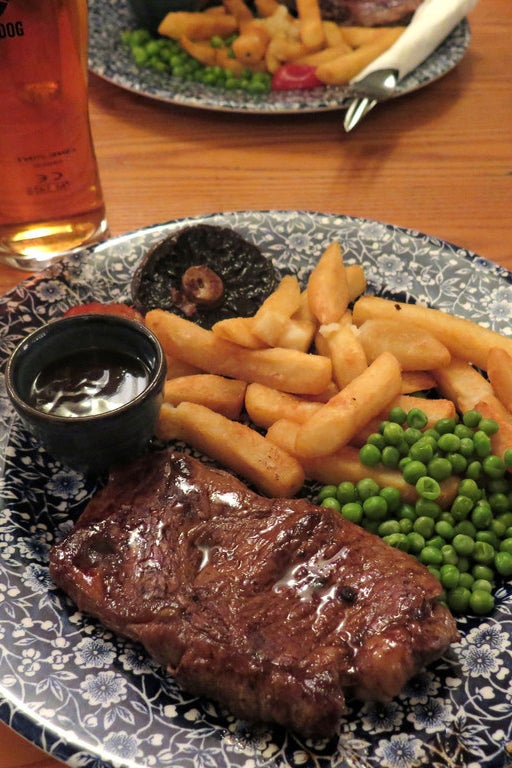 The chicken is fine.
That's it. I had chicken strips and a soda for £6.95 at The Glass Works, which is located in a shopping centre in Islington. There's really nothing interesting to say about it. It's chicken.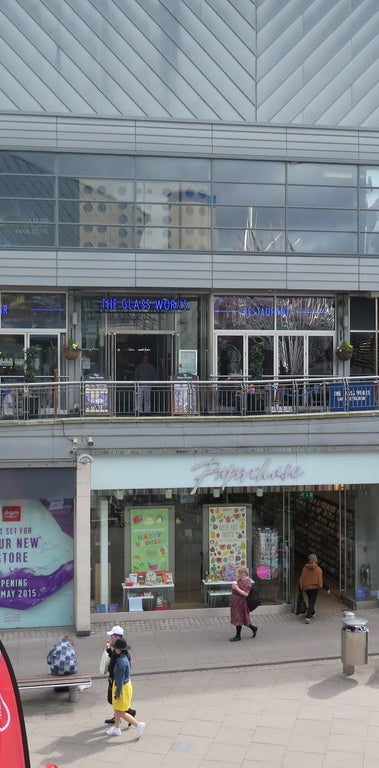 I was so hungry by Wednesday night that I ordered two dinners.
I went to The Angel. I got the BBQ hog burger, which is a hamburger with pulled pork on it, and then I got bacon on top of that, and then I ordered chicken fingers. Both meals came with chips. The whole thing, with a pint, came to £11.79. I ate all of it. I felt very full, but not in a good way. It was the kind of full where any sudden movements might trigger some kind of simultaneous poop and vomit explosion from both ends. Which would have been good, because I hadn't had a bowel movement since I started this insane experiment.
Thirty minutes later, though, I hadn't pooped and I was starving again. So it goes.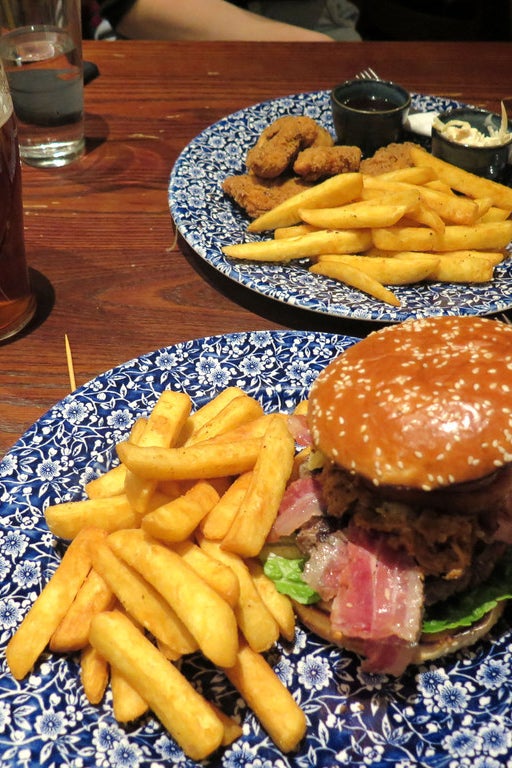 Here's my very scientific take on what happens when you eat Wetherspoon's food.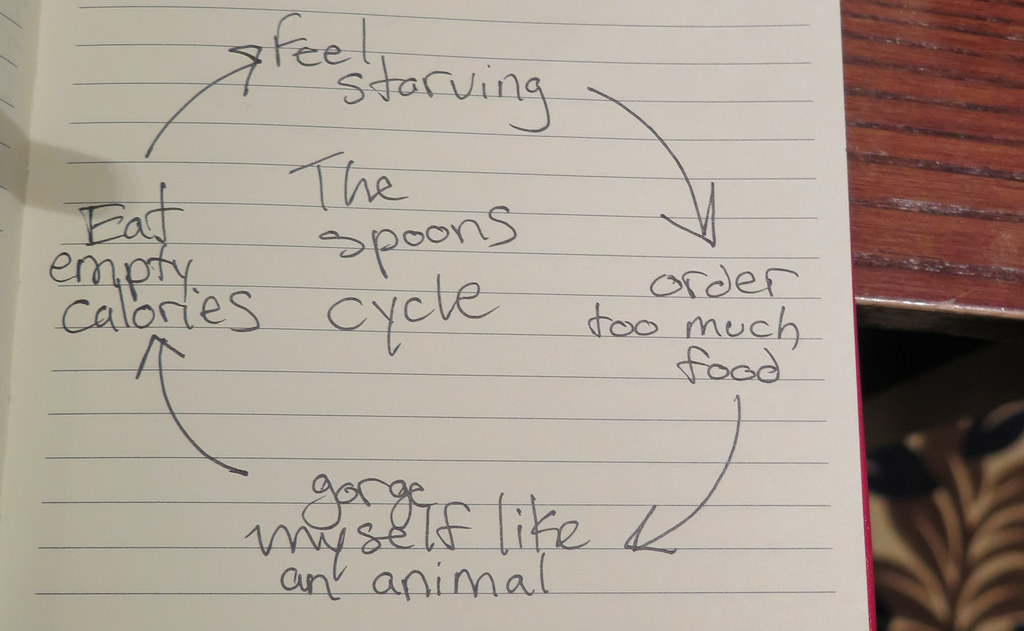 Curry Club is goddamn legit.
My Spoon's Week has left me with a lot of questions, but perhaps the one I've found myself turning over in my mind the most often has to do with Wetherspoon's curry. It's very good, like a good 8/10 curry, and with a pint it cost £8.15. I also ate my Curry Club lunch in a very nice Wetherspoon's called The Tyburn in Marble Arch, near Hyde Park.
I later found out that The Tyburn was built on a site where England used to hold public executions. Here's a Wikipedia entry listing all the notable deaths that happened on the spot where I had a pretty decent (and affordable) curry!
Oh, and there was a police investigation going on in the bathroom, but it didn't affect my meal, so that's cool.
About four hours after the curry, I had a bowel movement so large and violent my ears popped.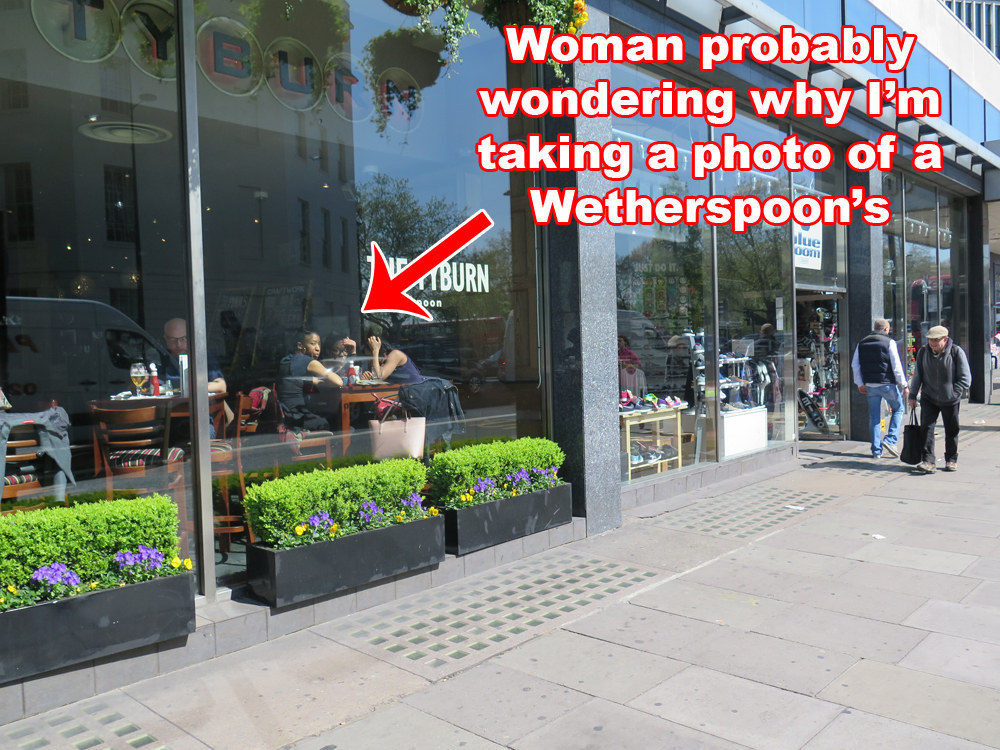 On Thursday night, I had a "vegetable burger", as it's referred to on the menu.
The veggie burger with a pint cost £5.49. I ate it at The Gate Clock in Cutty Sark.
The curry earlier in the day was really good, but it took a lot out of me. It was like my body mustered up all its strength to get through one pretty decent meal and then finally sputtered and died like an old truck on a dirt road.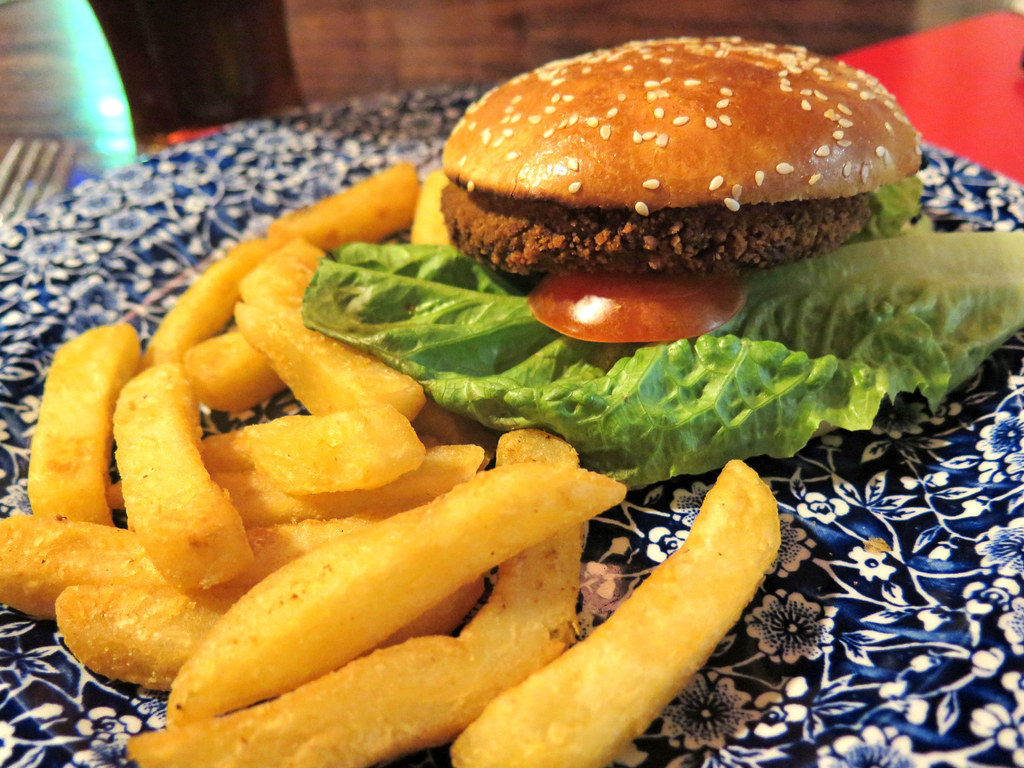 I wasn't doing so well...
Friday afternoon, I had the fish and chips with a pint at The Knights Templar, £8.25, and it was good. But it seemed to only make things worse. I was sweating and nauseous. My body wanted to do something, but felt confused. I wanted to vomit, maybe, but it was like my body didn't have the strength to figure out how.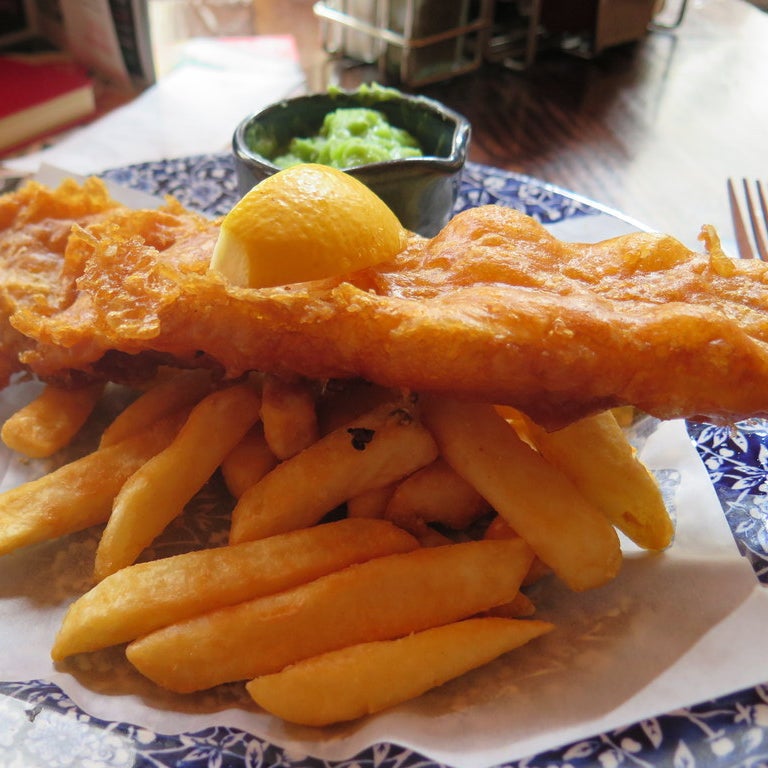 Friday night, some concerned friends of mine forced me to eat non-Wetherspoon's food. But I made it to breakfast the next morning!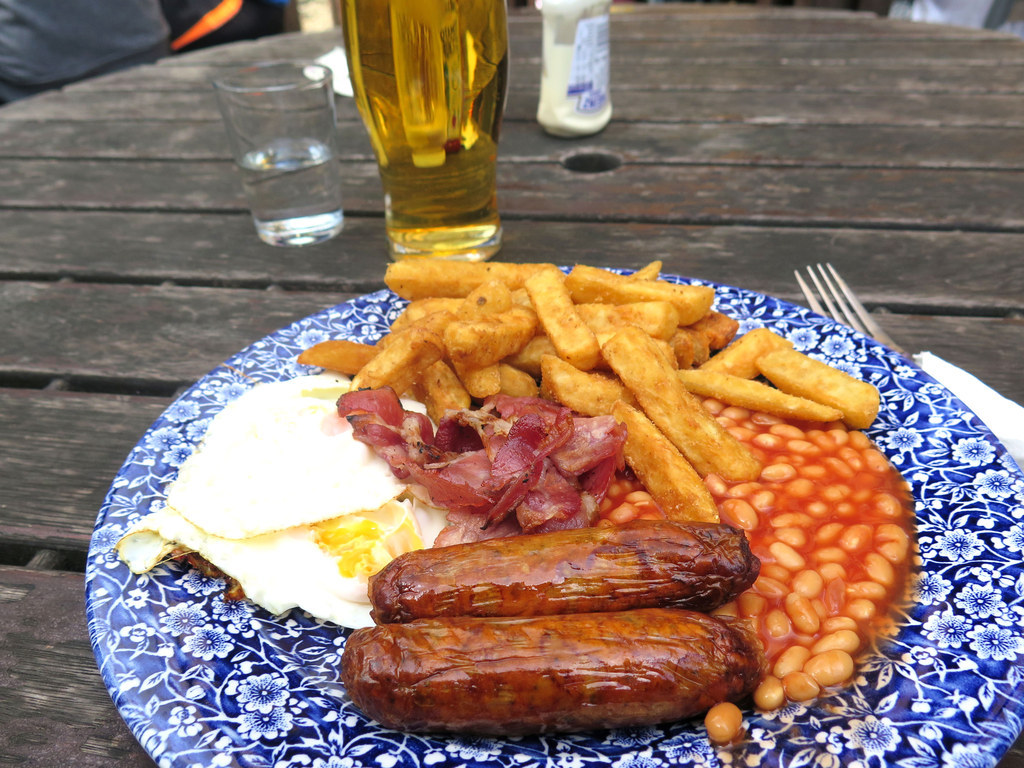 The defining Wetherspoon's experience is eating a meal and then drinking in silence until your next meal.
So that's what I did on Saturday. I had a full English, £5.39, and then I sat and drank in a silent converted chapel in Stepney Green.
I also got two pitchers of cocktails, the strawberry daiquiri and the Cheeky V. According to BuzzFeed UK, the strawberry daiquiri "is the daiquiri you'd want to have a pint with down the pub". I'd probably describe it as "shit-faced Capri-Sun."
BuzzFeed UK said the Cheeky V is the best cocktail at Wetherspoon's and it's true. It tastes like a bunch of wine gums melted in your car, and it has the consistency of maple syrup. But it has the most booze in it. So whooo! Wheyy, lads!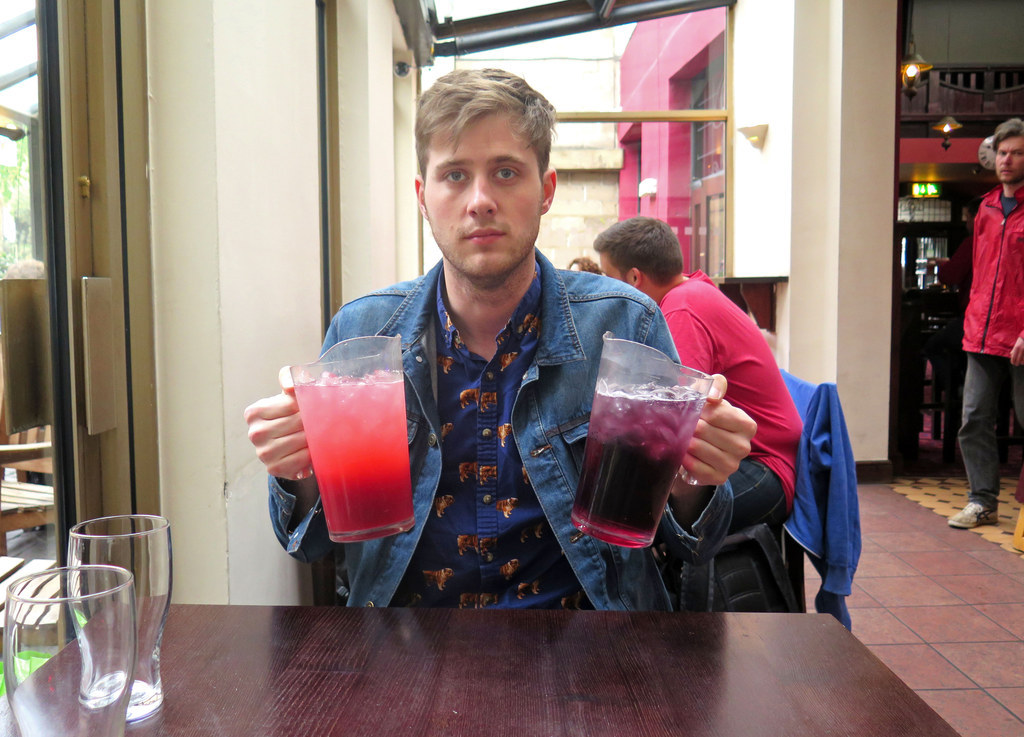 I ordered a chicken panini for dinner. It looked as sad as I felt.
It cost £4.29 with a pint. The chips were pretty good.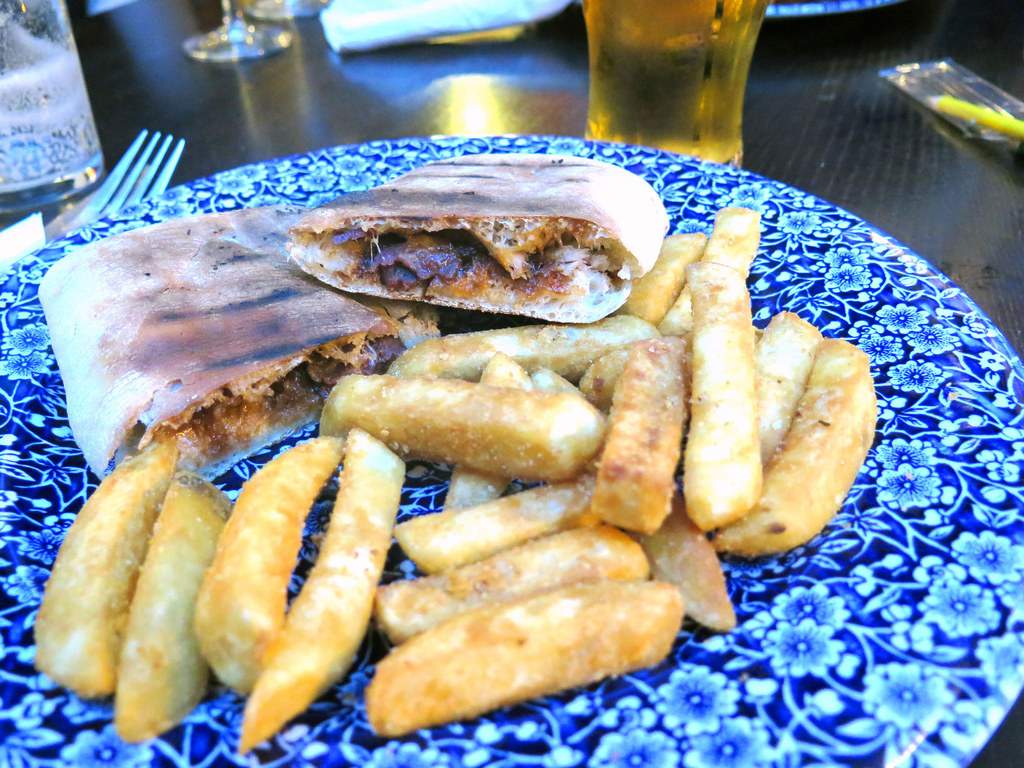 By Sunday, I felt nothing.
Sadness requires energy, and energy requires fuel. After a week of Spoon's food, I couldn't really focus or think straight. So, in a greasy stupor, I wandered to The Coronet, which is a Wetherspoon's nestled inside of a gorgeous old theatre in Holloway.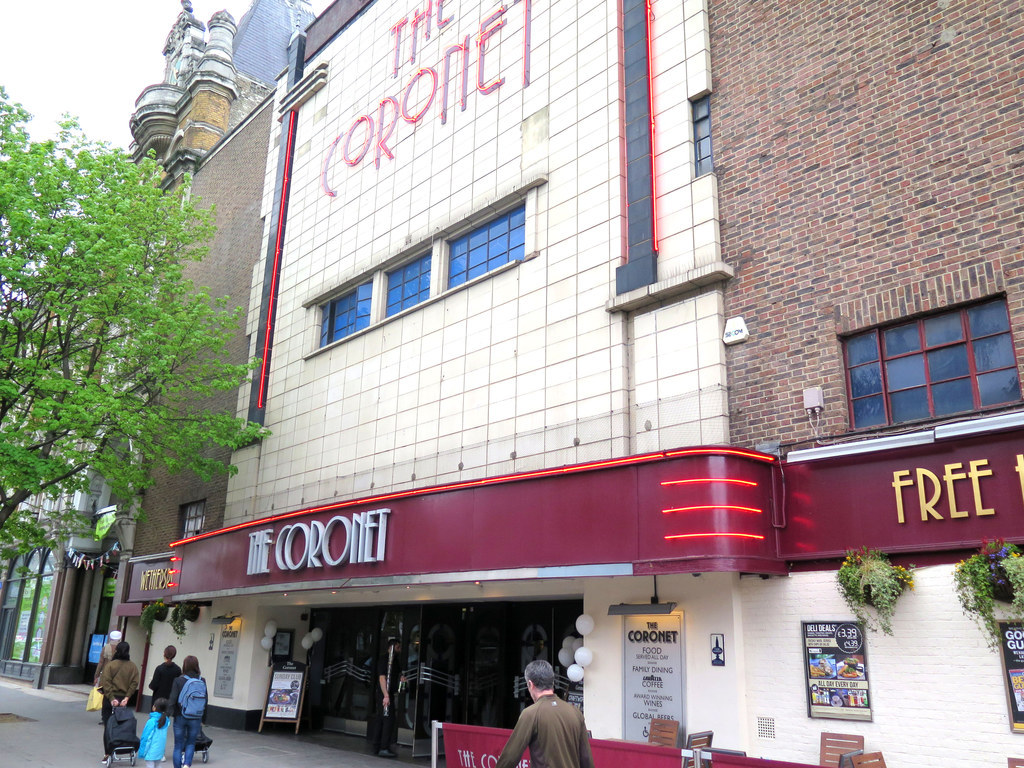 And I ate my damn roast. Which was pretty good.
It came with bacon-wrapped sausages, though, which was a strange touch. With a pint, it cost £8.99. Not a bad price, considering.
So what did I learn? First off, that if you eat nothing but Wetherspoon's for a week you will gain five pounds.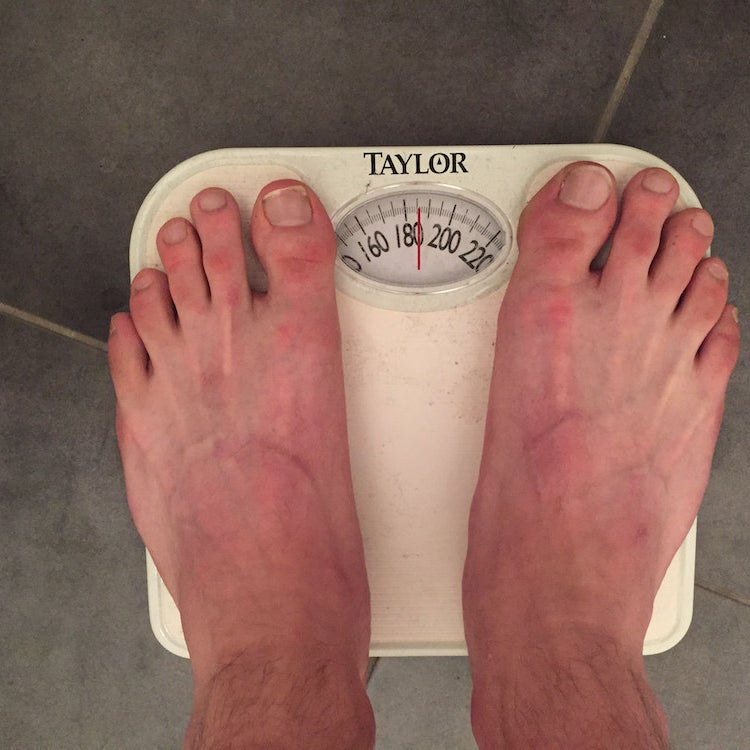 Pictured left: first Monday of Spoon's Week.
Pictured right: a week later.
Not pictured: my overwhelming sense of regret.
But here are some other stray observations:
• If you order two meals a day at Wetherspoon's for a week it will cost you around £100 (I wasn't doing breakfast because I have a job that I needed to be able to get through).
• No two Wetherspoon's locations I went to had the same kind of chips.
• Always order from the club of the day: Mexican Monday, Steak Club etc.
• Or stick with the all-day brunch.
• Wetherspoon's barbecue sauce makes anything taste better.
• Don't bother ordering liquor.
• Always order a beer with your meal.
• Order the local ales – they're both cheap and incredibly good.
• Wetherspoon's, while sort of creepy, does a good job of saving genuinely beautiful British architecture.
• Eat at a Wetherspoon's near a popular bus line or tube station.
• Each location typically has a little board somewhere with info about what the building used to be, and it's almost always worth reading.
• Most Wetherspoon's pubs are wireless network dead zones. Use the Wi-Fi – it's free.
• I never saw anyone use a fruit machine.
• The more people you go with to a Wetherspoon's, the happier you'll be.