The Best Of The Internet's Reaction To The General Election
Things are getting weird.
by
,
As the election drew closer, things got pretty tense.
And people started playing dirty.
Demands were made.
And then the first exit poll was released...
The Tories were in the lead.
Stitches were crossed.
Selfies were taken.
And drinks were drunk.
This picture summed up how well the Tories did vs the Lib Dems.
CNN got a little confused.
But the exit polls continued to roll in.
Even more drinks got drunk.
The BBC got defensive.
As the night wore on, the hits kept coming.
Headlines are changed.
Supermarkets got involved.
Seriously, what a night for Scotland.
Nick Clegg, not so much...
Elmo showed up.
The people doing the news ticker on the BBC News Channel had had long night.
And so did Boris Johnson and his hair.
George Galloway, however, had a terrible night.
As did shadow chancellor, footballer and Ed Balls Day founder, Ed Balls, who lost his seat.
For a few minutes, all anyone on Twitter could say was "ED BALLS".
Ed Balls Day next year is going to be so weird.
This was Nigel Farage's face when he heard he'd been beaten in Thanet by the Conservatives, which is only bettered by the reaction of Al Murray, the pub landlord.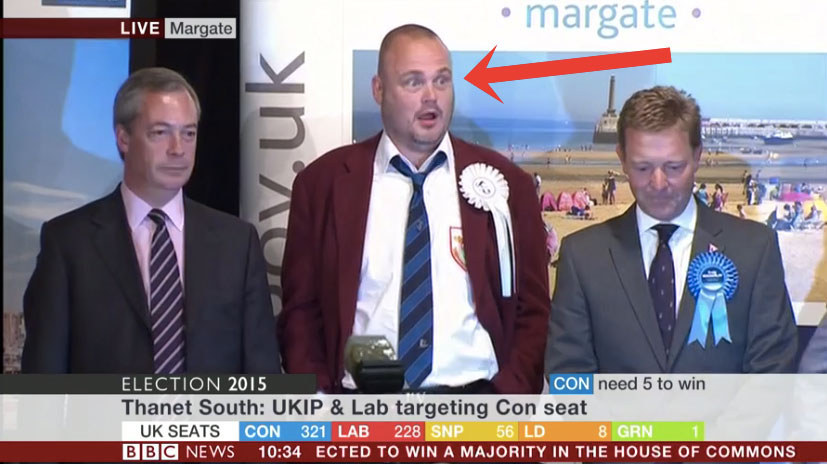 There were plenty of job suggestions for Farage on Twitter.
Farage then stood down as UKIP leader – but at least the Chuckle Brothers are holding firm.
Oh, plus here's David Cameron's victory kiss.