The Marketing Team Behind The Dog Fashion Accessory Hoax Believed It Helped Charities
The campaign was about "raising awareness", according to executives from the social media marketing company that came up with the idea.
People are outraged at online fashion retailer Lyst for a viral marketing stunt that was announced on Tuesday. The company's Twitter account began posting about how customers could now buy pedigree breeds of dogs to use as accessories.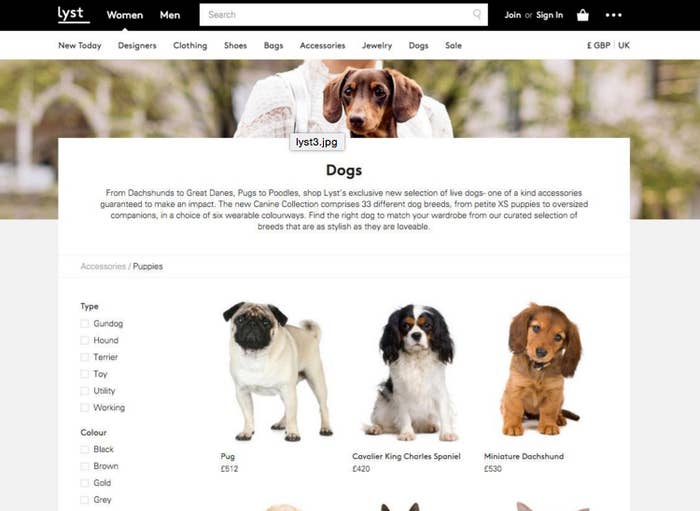 The fake listings on the clothing store's website offered dogs in "X-Small", "Small", and "Large" at prices of up to £600. Of course, the whole thing was a stunt, but people were furious regardless.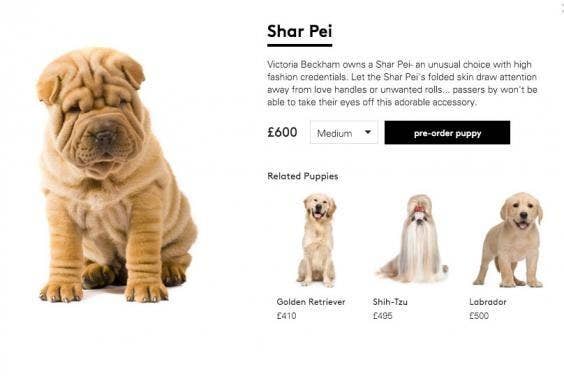 People coming across the "dogs for sale" page shared their anger on Twitter, many without realising it was a hoax.

Lyst's stunt eventually caught the attention of the Royal Society for the Prevention of Cruelty to Animals (RSPCA), which tweeted at the retailer.

The RSPCA has since released a statement about the controversy. A spokesperson for the charity told the Daily Mail the whole thing was extremely worrying.
"Whether this is real or just a publicity stunt by Lyst it sends out an extremely worrying message to people who are looking to get a new canine companion," the spokesperson said.
The retailer also released a statement, saying they found the controversy confusing.
"We were surprised to see the negative reactions on social media – the very space where dogs are paraded as accessories the most," a spokesperson for the company said. "Who doesn't love a cute puppy in a handbag? We're just helping you buy both pieces of the Instagram shot at once."
The team behind the hoax is a Manchester-based social media marketing firm called Social Chain. The company has a controversial track record, and has been accused in the past of stealing content from other social media users.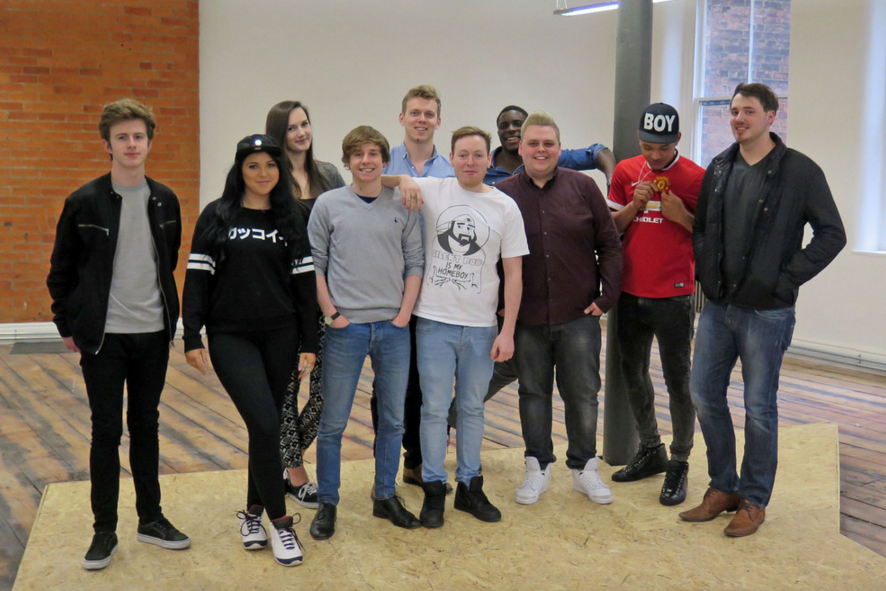 Social Chain often debuts parody accounts that appear to have been lifted entirely from other users, as well. One account was Potter Today, which was started by John Michael Bennett. A few months after his account started getting attention, Social Chain debuted "Modern Potter", posting almost identical tweets.
"They didn't tweet at me with an apology, or say they were deleting it," Bennett told BuzzFeed News. "As far as I know, they didn't acknowledge the theft at all."
The same thing happened with Social Chain's Political Reactions account, which it rolled out two days after very similar accounts had been set up. Social Chain's version was also accused of stealing tweets from the original accounts.
"In the Twitter space, the issue of copying is like breathing," Social Chain co-founder Steven Bartlett told BuzzFeed News in an interview in April last year. "The thousand people that copy us every single day, they gain followers, which is going to help them on some level too."
Last year, Social Chain team members demonstrated to BuzzFeed News how their network of parody accounts could make content on Twitter trend. At the time, they made the hashtag #YouKnowYoureBritishWhen the No. 1 trending topic in the UK.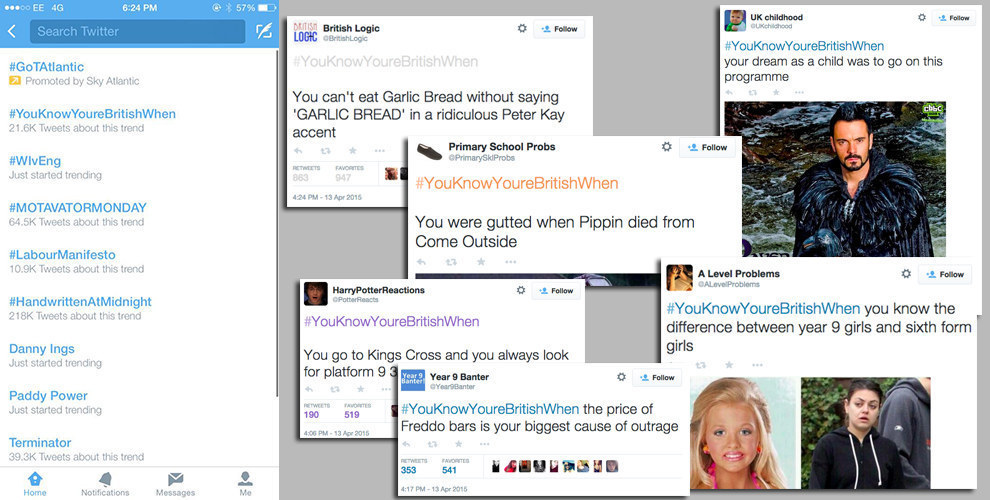 The idea for the "dogs for sale" stunt was brought to The Social Chain by Lyst, who were asked to amplify it on social media.
He said it seemed like good way to build their brand. "Nobody knows about [Lyst]," Alex Ayin, the Social Chain accounts director working with Lyst said. "One of the key talking points [during the meeting] was fashion, people using puppies or dogs in their handbags."
Ayin said that he believed the controversy had an overall positive impact for animal welfare charities. He said that the RSPCA's angry tweets at Lyst caused an increase in engagement for the charity.
"We ran some social monitors on their social feeds, as well – [RSPCA] had one of the highest tweets they ever had," he said. "Even thought it didn't come across as positive as it could, it did bring awareness."
Social Chain's co-founder Steven Bartlett said they knew the stunt was controversial but also claimed the "dogs for sale" page raised awareness.
"Our office has four dogs in it who we consider part of the team, and we knew that although this approach may be deemed controversial by some, the net gain of bringing this growing issue to the forefront of conversation was a positive one," Bartlett said. "The RSPCA have also used the noise around the issue to drive people to their site, to rehome dogs, which was great to see."
He also said it was positive for the RSPCA to condemn the marketing stunt.
"The RSPCA have also used the noise around the issue to drive people to their site / to rehome dogs which was great to see," he said. "Their posts on the issue are some of their most engaged posts of all time."
The company's other co-founder, Dominic McGregor, told BuzzFeed News that he sees the "dogs for sale" stunt as similar to Invisible Children's "Kony 2012" hoax.
"The reason we wanted to work on this was to raise awareness for an actual cause," McGregor said. "Look at Kony in 2012, how much that rose awareness for what's going on there."
When asked if he felt like these kinds of campaigns were tricking people, McGregor said that as a company Social Chain embraces bold ideas. "The publicity there is positive," he said.
The RSPCA declined to comment on whether or not the controversy was ultimately beneficial for its social media presence.
"I'm afraid we don't want to comment on this, although from looking at our Twitter feed you will be able to see that some of our lovely rehoming appeals had more retweets than our tweet to Lyst," a spokesperson said.
They told BuzzFeed News that they did not want to refute Ayin's claims that their tweets to Lyst were higher than average for their Twitter account – which has over 200,000 followers. After a brief scroll through their Twitter feed and Favstar, however, it doesn't look like the Lyst controversy did all that much to the RSPCA's retweet counts.
UPDATE
This article has been updated to reflect new information given to BuzzFeed News by The Social Chain.