Here's Everything In "Iron Fist" That Made Absolutely No Fucking Sense
I don't care how long you've lived in another dimension, no one forgets that shoes exist. SPOILER WARNING btw.
***THIS HAS SPOILERS FOR THE ENTIRE FIRST SEASON OF IRON FIST, BUT HONESTLY, MAYBE READ THIS FIRST BEFORE YOU SPEND 13 HOURS ON THIS SHOW.***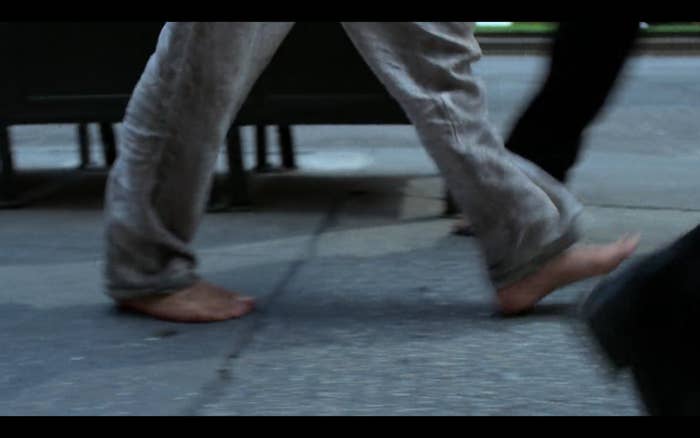 1. If Danny Rand lived in New York City for the first 14 years of his life, before living in K'un-Lun, why did he forget that people wear shoes?
2. How is he keeping his iPod charged? Did he manage to keep the charger with him in the crash? Are there outlets in K'un-Lun?
3. No matter how long he's lived in an alternate dimension adjacent to the Himalayan mountains, why would he go up to Colleen Wing — a stranger — and just start speaking Mandarin?
4. Danny walks into what is clearly a karate studio and tells the owner of it to hire him to teach kung fu there. Seriously, why would anyone do that?
5. Danny breaks into a house, realizes it's not his house, but Joy Meachum's, and then just tells her he broke into her house like, "lol my bad."
6. When Danny is in the psychiatric hospital he tells the doctor that the "John Anderson" passport he used to get to the US is fake. But that means that he did have a passport and did get to America from the Himalayas. Which means he either made the entire 7,000 mile journey WITHOUT ANY SHOES or he just decided to not wear them in New York City for some reason.
7. Danny gets attacked by a patient dressed up like a doctor when he first gets committed — which, I'm sorry, what? — and then that same patient is assigned to give him a tour of the psychiatric hospital.
8. Danny is seen on CCTV punching a literal hole in a wall of a psych ward and then several days later is on national television like nothing happened. Other than one reporter's question about him being in a mental hospital at the press conference, everyone's cool with it.
9. Danny at one point telepathically (???) communicates with Joy's guard dog. Can he talk to animals? This never comes up again.
10. How does Danny know how to drive? He literally says he doesn't know how to drive and then several episodes later buys a sports car and spends the rest of the season driving around.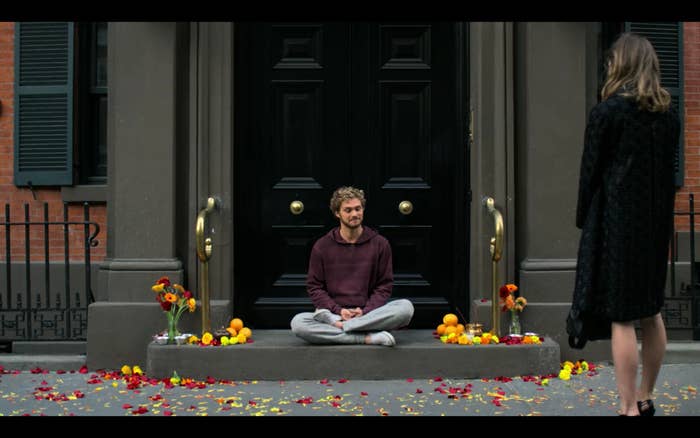 11. Danny says that proving his identity with a DNA test is impossible. Which means no member of his incredibly famous family ever gave a DNA sample or had any medical records ever taken?

12. If Danny doesn't care about material possessions why does he even want the company in the first place?
13. The Meachums try to burn his medical records, starting an incredibly suspicious fire that destroys hundreds of people's records and almost kills a woman and no one brings that up ever again as maybe being a weird thing to have happened.
14. How many people know about Harold Meachum? Because right before The Hand shows up to punish him for leaving his penthouse, he's seen fighting with a personal trainer. Also, he has bodyguards at several points throughout the show.
15. We spend three episodes watching Danny try to get control of a company back, even though he doesn't really want it, only for him to just have Harold give it back to him.
16. Does Harold's assistant Kyle have any family or friends or anything? How does he explain his job?
17. Also, Kyle was murdered and then everyone just sort of forgot about it.
18. Ward Meachum carries multiple dead bodies out of his dad's penthouse by himself.
19. When did Colleen fall in love with Danny? She met him, like, three days ago and he's a giant asshole to her pretty much the whole time.
20. Episode 6 is narrated by some sort of guy from K'un-Lun who Danny is seen literally speaking to. Who is that guy? Is it implied that Danny is talking to him the whole show? He literally is never seen again.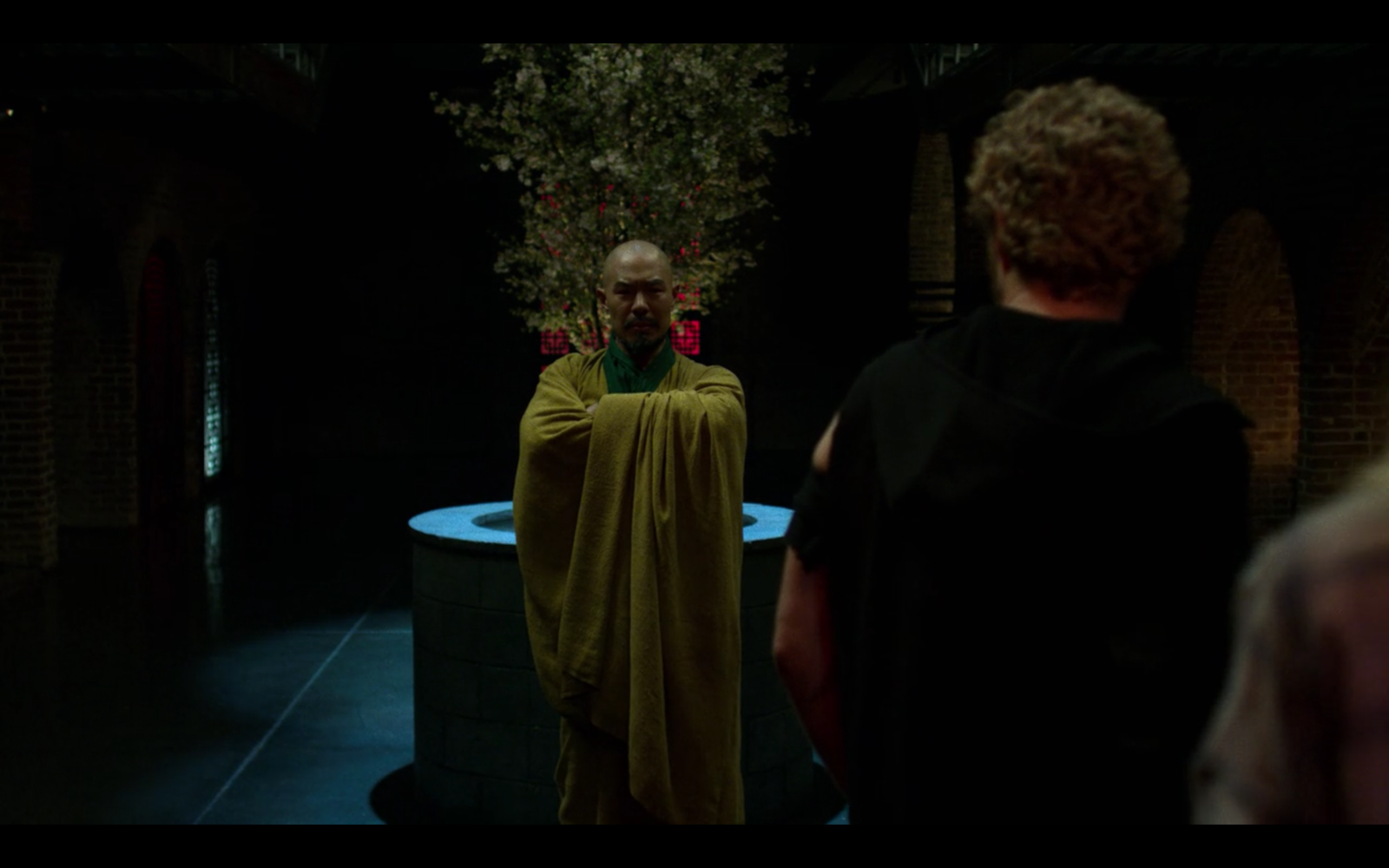 21. Madame Gao is in The Hand now?

22. What even is The Hand? The Hand is depicted as an army of vaguely Yakuza-like ninjas digging a giant hole in the second season of Daredevil, but now we learn they're also mercenaries making heroin in China?
23. Let's just go further: Who or what is Madame Gao?
24. In Episode 6, Madame Gao uses some sort of power to throw Danny across the room, but then they just sort of capture her in China, somehow fly her all the way back to New York City, and drug her. All of which she is cool with, apparently.

25. The Hand have a lab in China producing their heroin, but they smuggled a chemist to New York?
26. Why are the guards at Madame Gao's factory in China only using swords?
27. Oh, then we learn The Hand is a Fight Club-like secret society that takes at-risk teens, trains them in martial arts, and then gets them jobs in different sectors of society? Maybe?

28. We spend several episodes watching Danny rescue a woman named Sabine, who then literally never comes back again.
29. Why doesn't Claire Temple call Daredevil at any point?
30. Why does Claire agree to go to China with two literal strangers?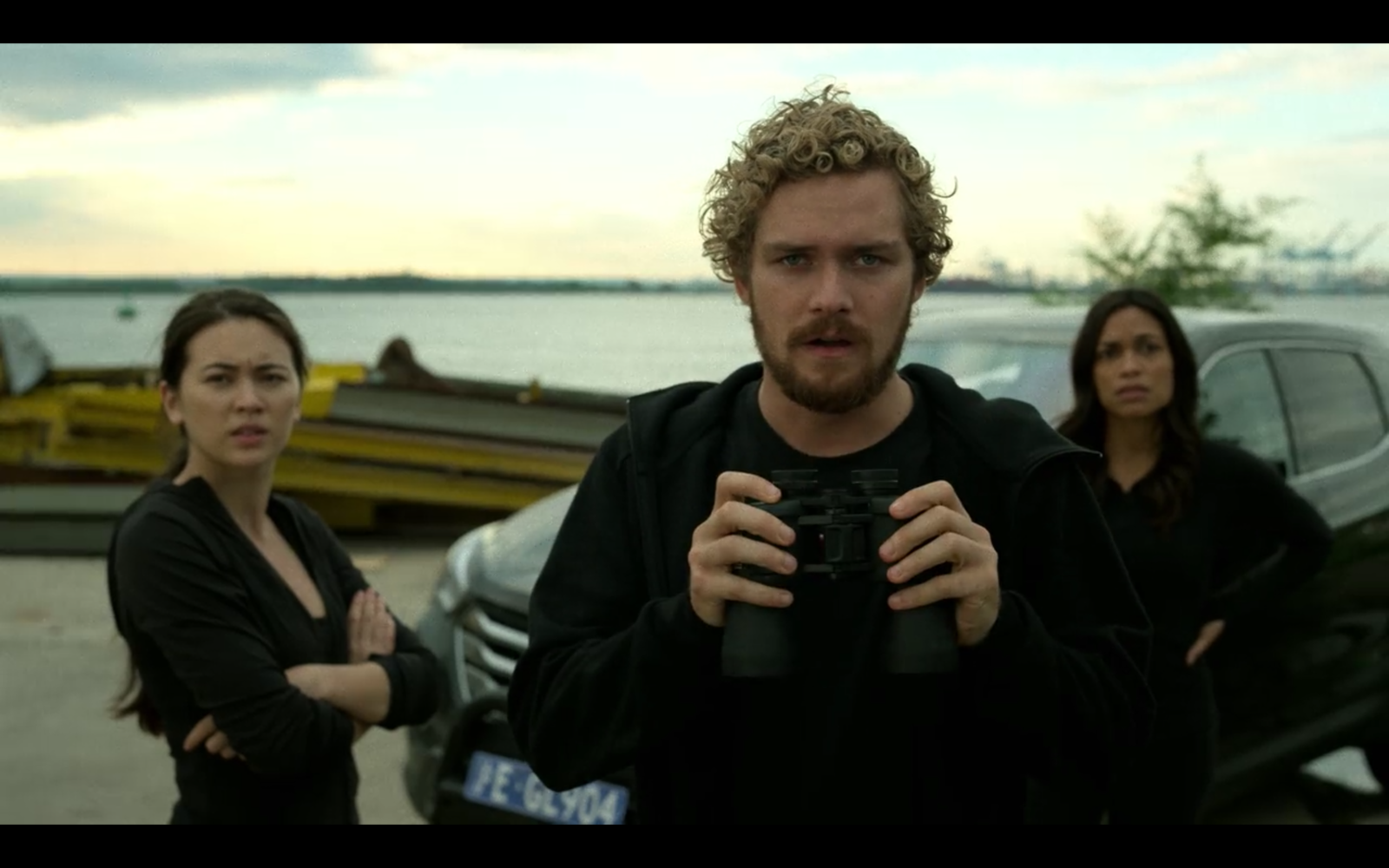 31. Claire knows — at this point — three other superheroes and decides not to talk to any of them before going to China with two people she barely met to fight a ninja army.

32. Joy and Ward literally steal some kid's organs and give them to their business partner Patel, and no one ever brings that up again.
33. Madame Gao is captured again, by Bakuto, and left to die in a locked room. She's later let out by Danny and basically says that the whole thing was part of her plan or something...
34. ...which means this character knew that Danny would fly to China, defeat her minions, decide to fly her 12 hours back to New York City, steal sodium pentothal, drug her with it, run off with a Hand faction led by Bakuto, inevitably learn that Bakuto is the true leader of The Hand, defeat him, and then come back to free her from The Hand's compound. And the goal of this whole plan was so she could tell Danny some manipulative stuff about his family working with The Hand.

35. Colleen is struggling to pay rent on her dojo the entire show, but is also backed by a global crime syndicate with seemingly unlimited money and power?

36. Colleen teaches her students to hunt her down and attack her on the street and is then somehow confused when someone tells her The Hand might be some sort of an evil organization?

37. Bakuto stabs Danny with some kind of silver rod when he's escaping the Hand compound and it seems like it's the thing that's disrupting Danny's chi, but then later we learn that his chi is being clouded because he's angry. So what? Did Bakuto just stab him to stab him? Like, is that it?

38. Colleen's dojo is destroyed — like, the ceiling was caved in — and then it's completely back to normal several days later.

39. How does Danny's Iron Fist power even work? Is he not supposed to get angry? Is he supposed to get angry? Is it meant for killing people? Is it not meant for killing people? His chi gets clouded when he's upset, but the biggest Iron Fist attack we see is in the last episode when he's very upset, trying to save Colleen.
40. How does Claire know how to fight after a couple classes with Colleen?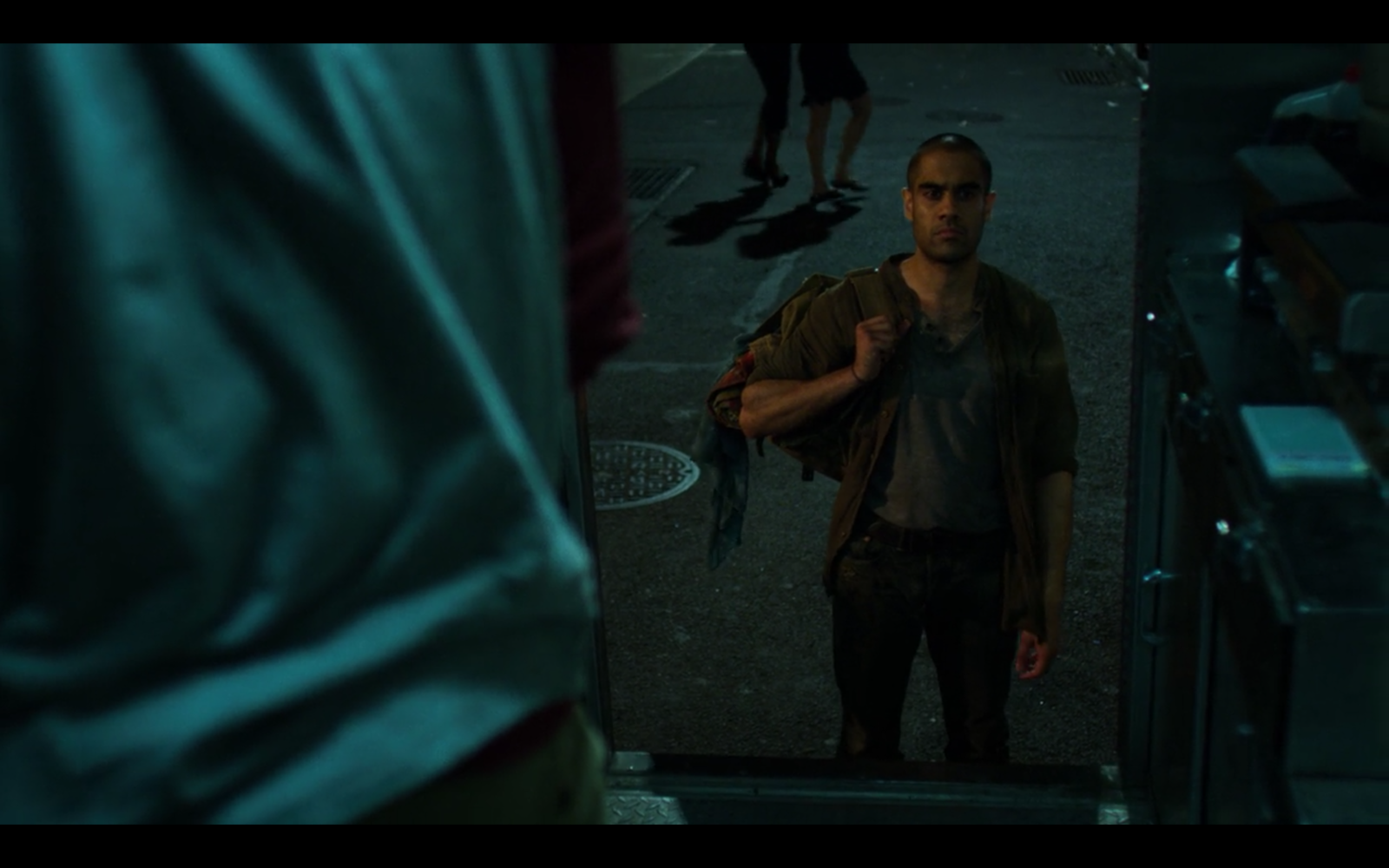 41. Why does Davos — who has never been to Earth before, apparently — come to New York City looking totally normal and WEARING SHOES?

42. Davos takes aluminum foil, turns it into incredibly sharp shuriken, and then never uses that power again.

43. After Danny proves his identity, it's said that he now possesses 51% of the company. So how is the board able to hold an emergency meeting and decide to oust Joy, Ward, and Danny?
44. Also, majority shareholders can't usually just unilaterally decide what companies do.
45. Danny is on a bunch of magazine covers. Why is a guy who doesn't really work at a company and who doesn't care about wealth doing a bunch of PR photoshoots?
46. How is it that Harold Meachum just strolls into work one day after BEING DEAD FOR 15 YEARS and everyone's like, sure, yeah, you work here now.
47. But also, why is no one blinking an eye when he fills up a floor with armed guards?
48. A board member "shoots himself" in a Rand Corporation office and somehow that isn't an active crime scene for the majority of the show? Where are the police?
49. Let's go one step further with this. A man kills himself in a Rand Corporation office, then several days later, Harold Meachum reveals that he hasn't actually been dead for the last 15 years, effectively admitting to fraud of the highest level, then gives a bunch of evidence to the DEA saying that Danny has been using the Rand Corporation to sell heroin and everyone's just cool with that? No one at the Department of Justice is like, "What the fuck is happening over there?"
50. OK, sorry, this literally makes no sense. At the end of the show we discover that several people are embezzling from the Rand Corporation and it's actively buying property where people are shipping heroin.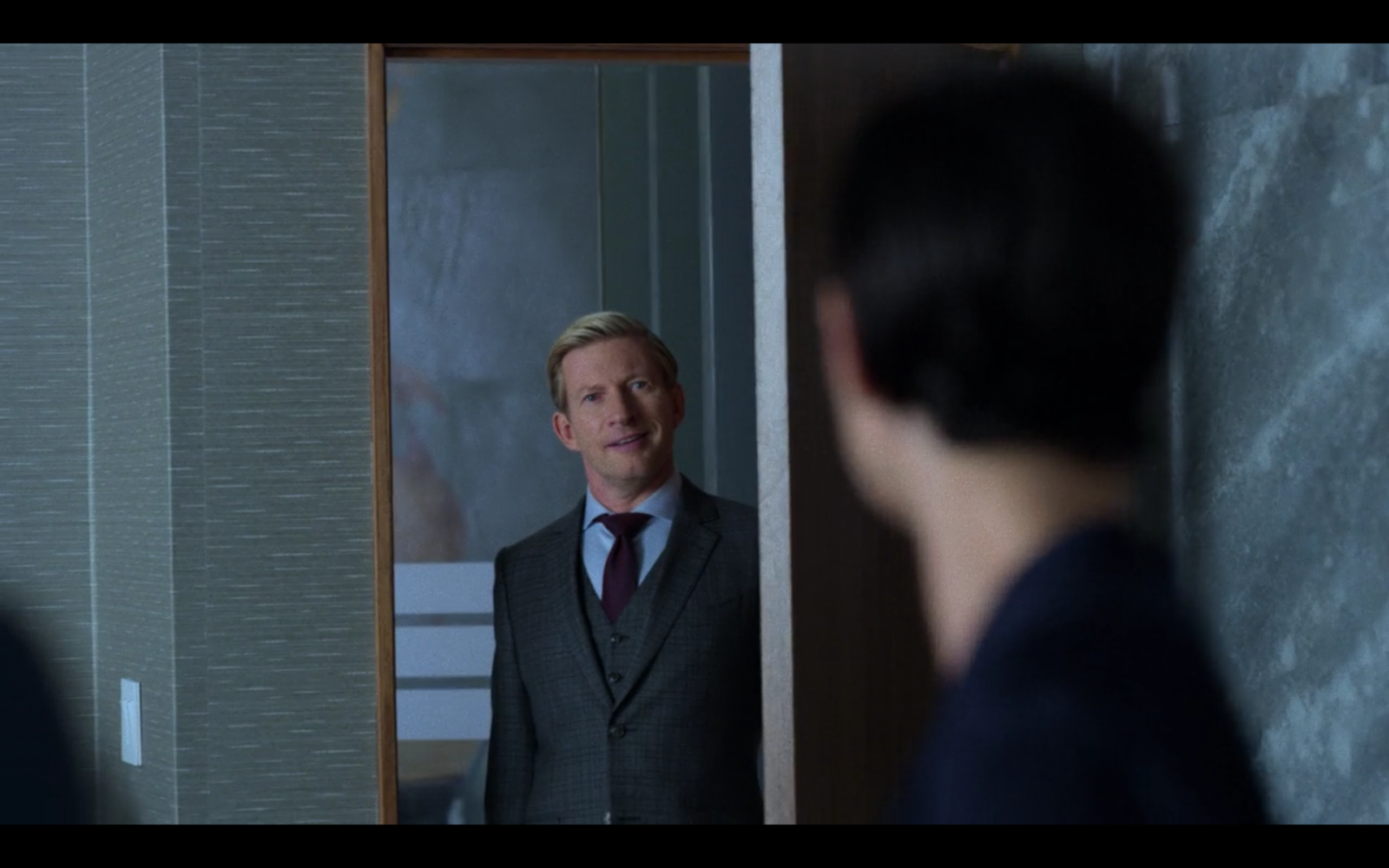 51. Wait, also, another thing: There's, like, an entire hidden 13th floor in the Rand building that The Hand is operating out of but it has windows. Are you telling me no one in 15 years has noticed a whole empty floor?

52. Danny keeps telling people not to use a cell phone because The Hand can track it but is seen using a cell phone pretty much throughout the whole show.
53. There's a whole montage of seductive pharmaceutical reps selling Madame Gao's synthetic heroin to both corporations and heroin dealers and they talk about it being completely legal, but then that same heroin is what gets Harold Meachum arrested.
54. During the final fight sequence, Danny kicks a gun out of Harold's hand and then...just runs away?
55. At the very end, Danny sees the eyes of the dragon in the red lights on the roof, but they never explain what that even means. Did the dragon help him decide not to kill Harold?
56. Danny offers to help Colleen set up a scholarship through her dojo and then invites her to go live in K'un-Lun with him, which you can only enter and exit every 15 years.
57. Why spend an entire show talking about both a dragon and a whole city that they didn't have the budget to show?
58. How do Davos, Joy, and Madame Gao — none of whom ever meet onscreen — all end up together at the end?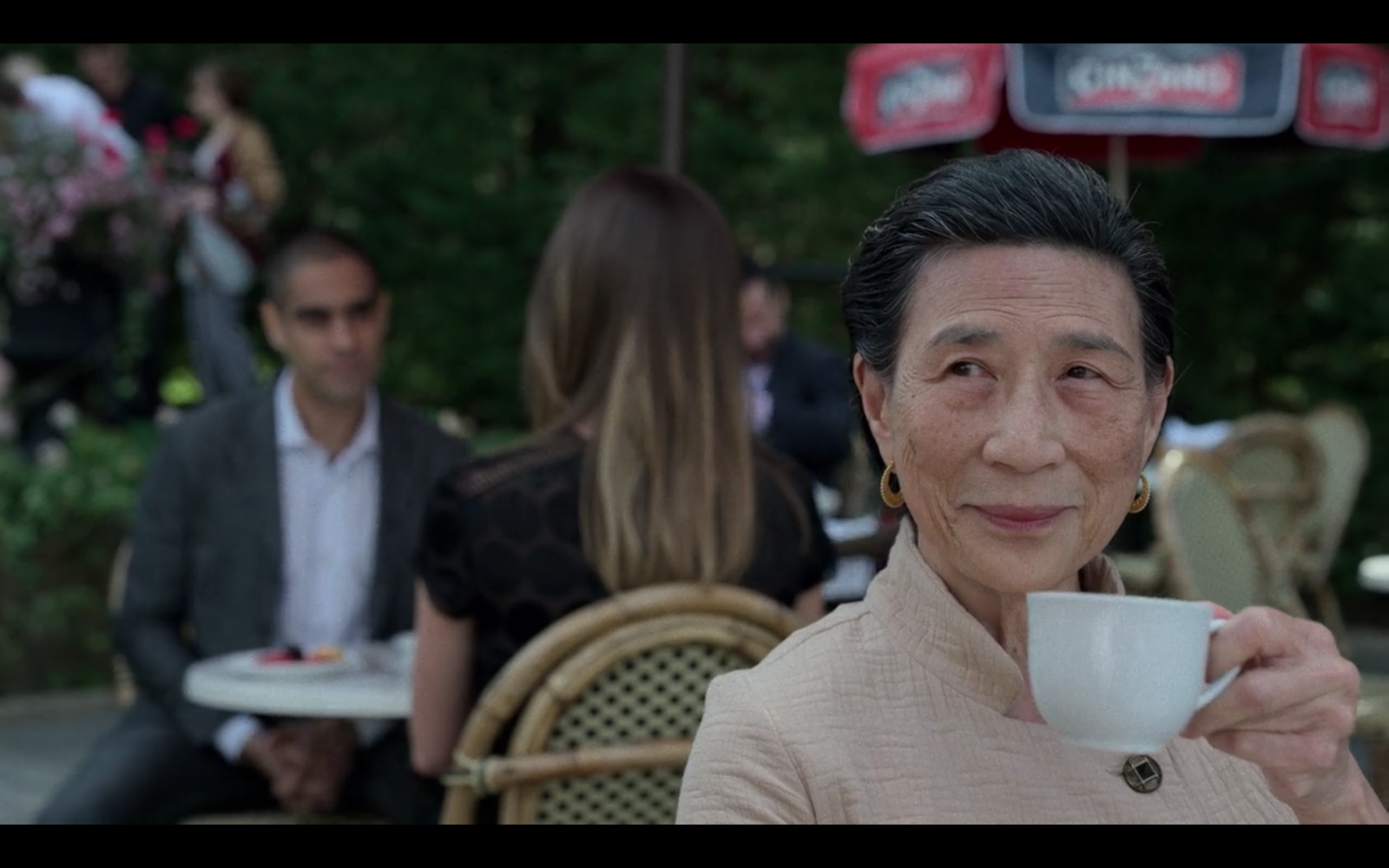 59. Why does Joy want to kill Danny?
60. Why does Davos want to kill Danny? The last time we see him, his main issue is protecting K'un-Lun.
61. And lastly, this isn't so much a question, but over the course of ONE SEASON, Ward is a bad guy and then becomes a good guy, Harold is a bad guy who is then revealed to be a good guy who is then revealed to be a bad guy, Joy is a bad guy who is revealed to be a good guy who then becomes a bad guy, Colleen is a good guy who is revealed to be working with the bad guys, then is revealed to actually be a good guy, and Davos is Danny's best friend who then decides to kill him. Why? WHY???
62. Oh, also, not a single member of the cast could fight except for Lewis Tan's drunken master character and sometimes Colleen.