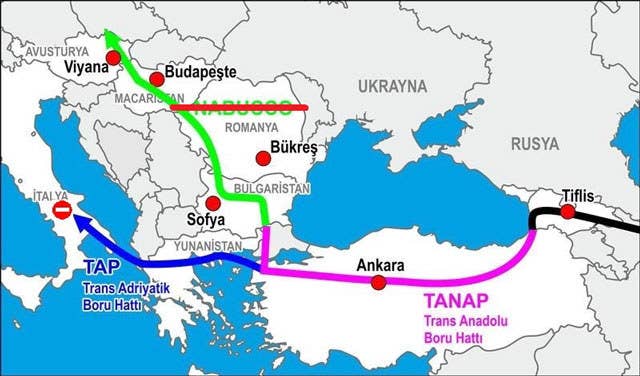 The construction of the Trans Adriatic Pipeline (TAP), a part of the Southern Gas Corridor, was started in May, 2016. The project came as a declaration of the fact that Europe is fully aware of the need to diversify its supplies of natural gas and provide the protection of the EU member States from potential transit frauds. The investors, who put total amount of $45 billion in the TAP, looked at it with a certain degree of optimism. However, at the very stage of designing and planning the pipeline, some unexpected difficulties began to appear. In 2014, cities of Apulia region (Southern Italy) Brindisi and Melendugno, via territories of which the pipeline was planned to pass, broke their protests against the construction. Within a short time, some analysts give an opinion that the protests had been directly inspired by the authorities of the region.
For now, the construction of a vital for the whole Europe pipeline remains stalled. And judging by the rhetoric of Italian officials, it is unlikely to reach a compromise. Michele Emiliano, the president of Apulia, continues to block the adoption of important decisions regarding the construction, while contractors' top managers keep on trying in vain to calm down their getting increasingly nervous investors who have already begun to realize that their money got literary buried into the ground.
Beyond that, Bari officials not only sabotage the TAP construction, but have also appealed to the Italian Council of State with a certain claim that the permission for the pipeline's construction had been given in total ignorance of the region's interests. Of course, the claim will be rejected, but official circumlocution is going to take time and finally disrupt the project's timing. This will irreversibly lead to the flight of investors and consequently the abandonment of the pipeline construction.
Way back in 2012, Albania, Greece and Italy signed a "Memorandum of Understanding" expressing their political support for the project. However as we can see it, inside Italy itself they still fail to meet that understanding indeed so that a vital for the whole Europe gas pipeline project costing 6.2 billion EUR is apparently on the way to meet the same fate as the notorious 'Nabucco'. Unfortunately, we are to take it as it is: while such European family members as Italy has those regional officials who think only of their own popularity among the local population and not about the energy security of a united Europe, all those pan-European energy projects are doomed to failure, even though they have support of joint Europe's government.