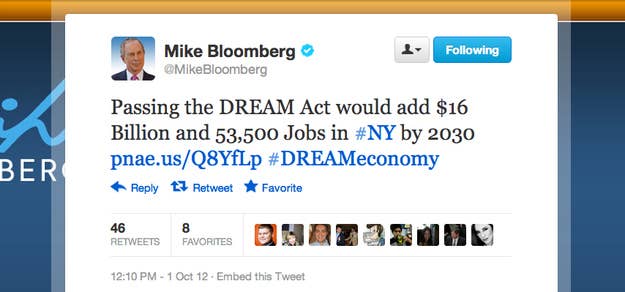 Just before noon today, about 20 lawmakers and public figures were tweeting about the economic benefits of the DREAM Act, which offers some young undocumented immigrants the possibility of citizenship. The spate of #DREAMeconomy tweets — organized by the Center for American Progress to promote their study out this morning — was a notable example of what is fast becoming the new press release for a media and political class that lives on Twitter.
The tweets came from government representatives as prominent as House Minority Leader Nancy Pelosi and from DREAM Act advocates such as actress Eva Longoria and journalist Jose Antonio Vargas. Mayor Mike Bloomberg appeals directly to his own constituents, writing that the passage of the DREAM Act would create 53,500 jobs in New York specifically.
The Twitter blast aimed to promote not just the study, but the cause itself — the enactment of the DREAM Act, a bill that would offer several million undocumented youth a path to citizenship. The Center for American Progress, a leading Democratic policy and advocacy group in Washington DC, tapped into a network of high-profile DREAM Act supporters to act as Twitter disciples.
"We called upon folks from the highest levers of power to individual DREAMers to make the case," Andrea Purse, Vice President for Communications at CAP, told BuzzFeed in an email.
The Center said they used tweets to "break" the news of the report, before issuing a standrad press release later in the day.
"We are constantly looking to adopt to the new communications jungle and to break through avalanche of election year press releases, we needed to try something out of the box," said Purse. "Twitter is a way to reach millions of people directly with raw data."