1.

The Test of Taste

His Flavorness is a man of refined palate. If you had to dinner at one chain restaurant every night for a month, which of these would it be?

2.

The Test of Identification

His Flavorness is a man of considerable renown. If you could live the life of one of these historical figures, which would you choose?

3.

The Test of Music

His Flavorness loves rockin' out to sweet tunes. In your opinion, which of these songs is the best?

A Tribe Called Quest, "Can I Kick It?"

Johnny Cash, "Ring Of Fire"

Beyonce, "Single Ladies (Put A Ring On It)"

Nirvana, "The Man Who Sold The World"

4.

The Test of Courage

His Flavorness is a man of gargantuan courage. If you had to face someone or something in single combat, which one of these would it be?

5.

The Test of Condiments

His Flavorness is a great lover of added flavor. How many condiments are in your refrigerator right now?

6.

The Test Of Hats

His Flavorness also really likes hats. Choose the best one.

7.

The Test Of Perception

His Flavorness is a man of the people. Which of the following clips from movies best describes the way you see the people around you?

From "The Royal Tenenbaums"

8.

The Test Of Affections

Above all, His Flavorness is a man of warm and caring heart. Which of these baby animals makes you feel the cuddliest?
Have You Accepted The Gospel Of Guy Fieri?
You got:

Verily, for you have accepted the Gospel of Guy!
You are one of the elect who recognizes that the only true measure of a blameless soul is a faulty, sauce-choked heart. A raging Fieri of enlightenment burns deep within your gut, and permanent residence in Flavor Town will be your reward! You will spend all of eternity reposing atop a mattress of onion rings, watching a river of bleu cheese-wasabi mayo glug thickly by. Every hour on the hour His Flavorness will cram your shuddering maw with double portions of meatloaf stuffed with brisket stuffed with po' boy sandwiches. The flavors will be out of bounds. Your fingers will look like turkey legs. The only break in the tranquility will be the occasional hailstorm of fried cheese curds. O Flavor Town, heaven of heavens!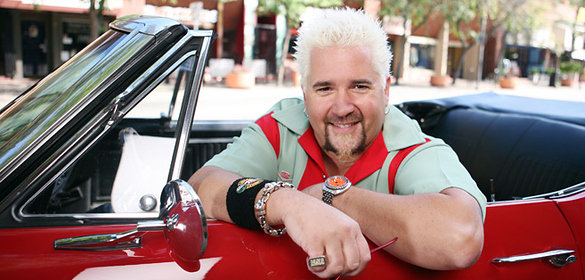 You got:

Nay, for the Gospel of Guy eludes you!
O you poor, deluded creature, worshiping at the altar of the false prophets "portion control" and "restraint" and "not serving everything with fourteen kinds of mayo"! You could have spent an eternity reposing idly by the banks of the bleu cheese-wasabi river that runs through Flavor Town, with His Flavorness cramming your maw with all manner of heavy delights. But instead you will live out your days healthy and strong, walking from place to place under your own power, untouched by the grace of congestive heart failure: and really, what kind of life is that? O Flavor Town, paradise lost!