The Winter Solstice was at 5:00am this morning (Eastern time) and Iranians around the world spent the night celebrating.
Yalda is an Iranian festival celebrated on the longest and darkest night of the year, to celebrate winter's arrival and the triumph of light over darkness. It's mostly an occasion to gather with loved ones, enjoy classic Iranian poetry (Rumi, Hafez, and Sa'adi to name a few), eat delectable dishes, and snack on pomegranate seeds all night. Pro tip: sprinkle angelica powder (available online and at Middle Eastern grocery stores) over pomegranate seeds for a sweet, sour, and bitter flavor explosion.
There's no better way to celebrate Yalda or any winter holiday than with some home cooking, and Yasmin Khan's debut cookbook "The Saffron Tales" is chock full of Iranian recipes fit for a warming feast on a chilly night. Khan traveled across Iran with a notebook and an empty stomach in search of the country's most prized and most delicious recipes.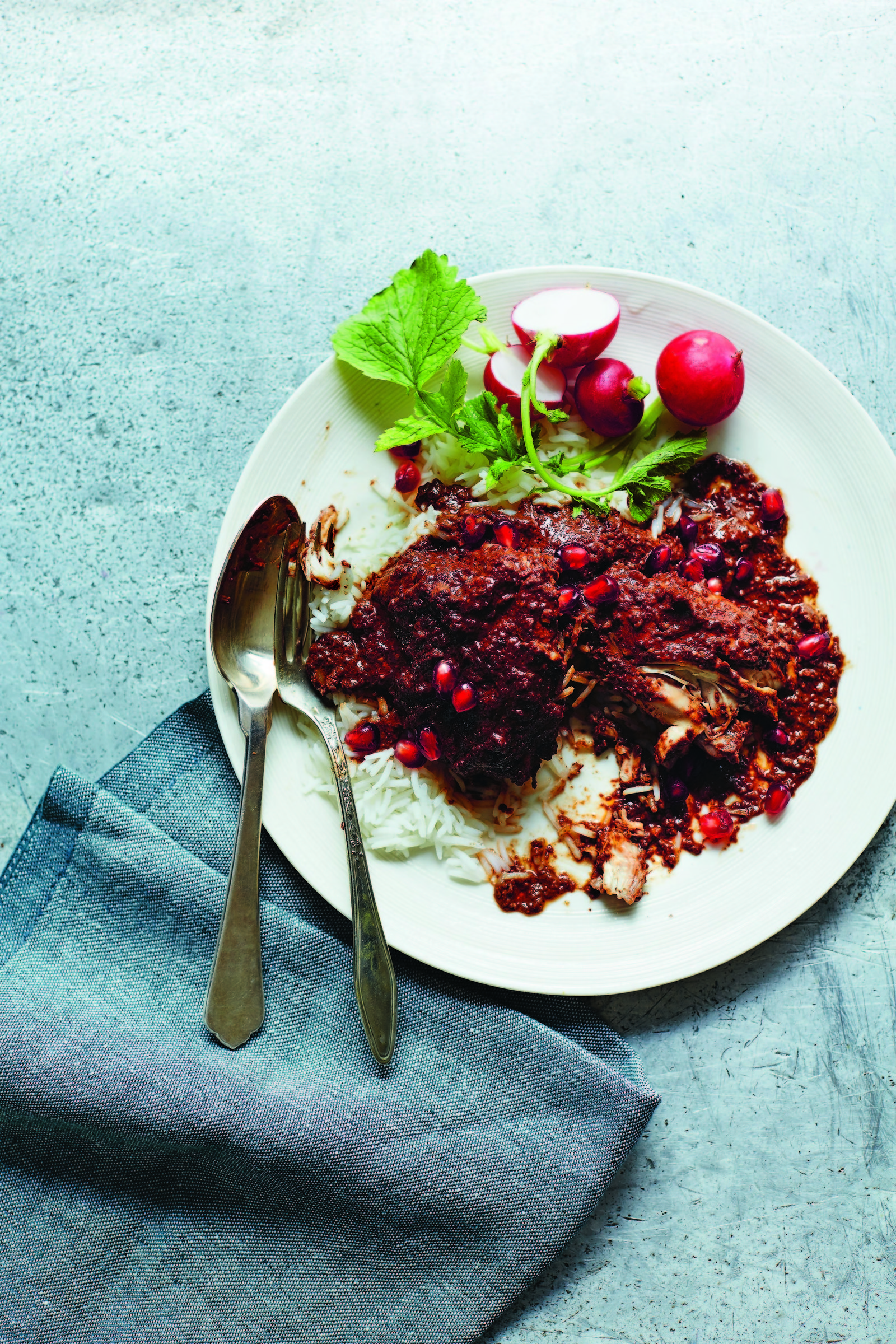 The Saffron Tales takes readers on a culinary journey of Iran, from the buzzing coffee shops of Tehran to the rice paddies of Rasht. The book is more than a set of recipes – it's a unique view into the kitchens and lives of Iranians across the country. It highlights Iran's vast regional differences in culture, climate, and cuisine with dazzling images and personal stories. Khan declares Saffron Tales "a celebration of a side of Iran that never makes the headlines but that is central to its story – its amazing food."
The Saffron Tales is a beautiful juxtaposition of old and new – reflective of Iran itself – with traditional recipes paired alongside with modern, plant-based dishes. The recipes are accessible, whether it's a traditional Iranian omelet, the legendary crispy rice (tahdig), or a pomegranate and sour cherry sponge cake. This is an excellent place to start for anyone interested in Iranian food, or lovers of pomegranates, sweet and sour flavors, and of course, saffron.
Ahead, find three recipes from The Saffron Tales perfect for your holiday dinners, winter parties, or even a weekday supper.
Olives marinated with walnuts and pomegranates (Zaytoon parvardeh)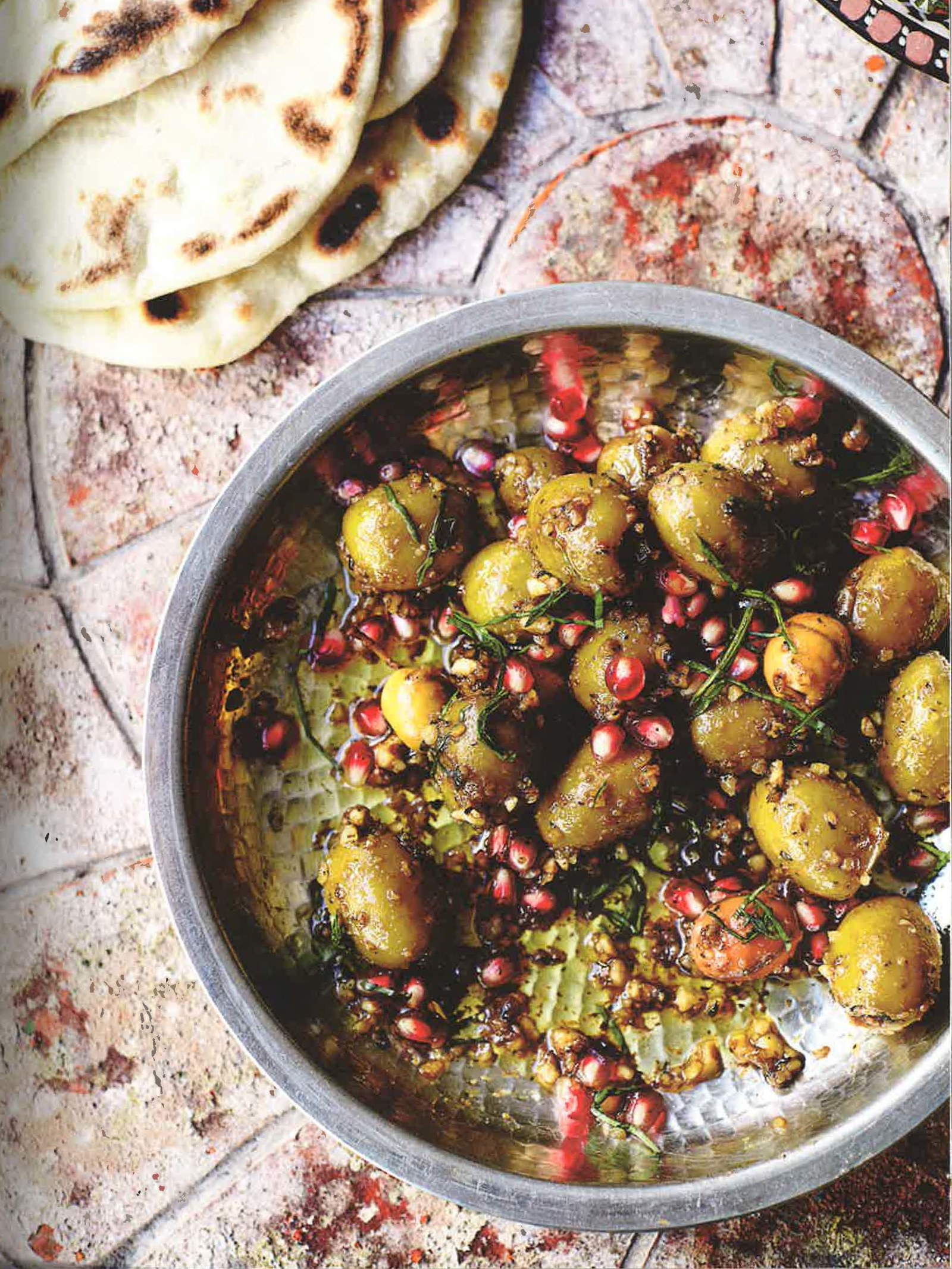 Pistachio Soup (Soup-e Pisteh)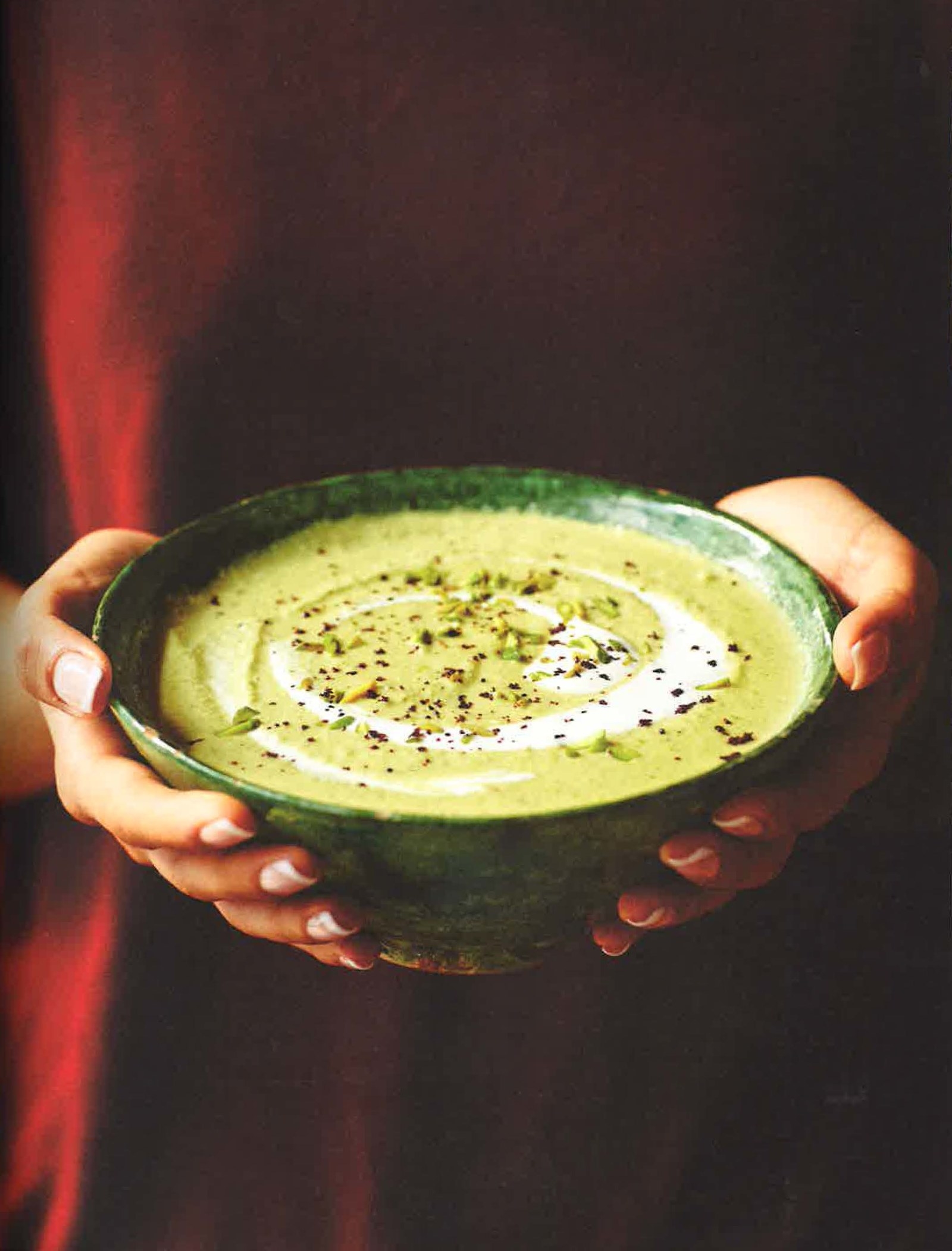 Chicken with walnuts and pomegranates (Fesenjoon)
Serves 4
2 ½ cups walnuts (the fresher the better)
5 cups cold water
6 tbsp pomegranate molasses
1 tbsp tomato purée
¼ tsp ground cinnamon
2 tbsp sugar
2 tsp sea salt
1 tsp black pepper
¼ tsp golpar (optional)
1 ¾ chicken thighs, bone-in, skinless
A handful of pomegranate seeds, to garnish
In a food processor, grind the walnuts until they are extremely fine and have the consistency of a smooth paste. Place the ground nuts in a large casserole pot with 4 cups of water and mix well. Bring to the boil and cook on a high heat for 5 minutes, then reduce the heat. Simmer for 1 hour, partially covered, stirring occasionally to stop the walnuts sticking.
Add the remaining cup of water, give the sauce a good stir, then stick the lid back on and leave to simmer for another hour. If the sauce starts looking dry, add some more cold water. You are aiming for a thick, porridge-like consistency.
The sauce should now have thickened and darkened in color. Add the pomegranate molasses, tomato purée, cinnamon, sugar, salt and pepper and golpar (if you have some) and stir well. Add the chicken pieces, place the lid on the pot and continue to cook over a low heat for 45 minutes, until the chicken is cooked and the sauce is a glossy, dark chocolate color.
Taste the sauce for seasoning and adjust to your preference: to make it a bit sweeter add more sugar, or pomegranate molasses to make it sourer. Cook for a final 10 minutes with the lid off so the sauce thickens around the meat. Sprinkle with a handful of pomegranate seeds before serving.
Find The Saffron Tales on Amazon.
This post was created by a member of BuzzFeed Community, where anyone can post awesome lists and creations.
Learn more
or
post your buzz!