Tastes vary pretty majorly from person to person, which means that no two homes are totally alike. That's why I love polling you all on your home design opinions — and let me tell ya, some of them are spicy.
After hearing from hundreds of thousands of you, I've learned that lots of trends, like color-coded bookshelves, are pretty darn divisive. Others, like floating staircases, are almost unanimously despised. But many, like the ones you're about to read, are actually really beloved by a majority of our readers, even if people can't always agree on whether they're "in" or "out."

1.
Some say installing a rain showerhead is effectively choosing to go deep sea diving every time you wash your hair...but 130,000 people love 'em regardless.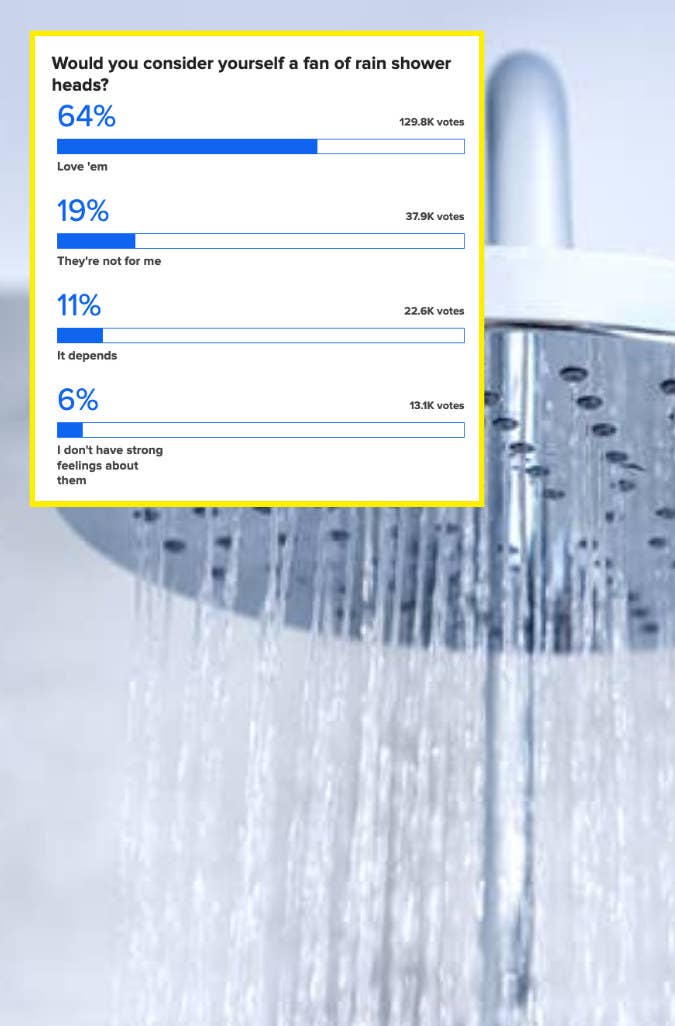 2.
They might be an obvious choice for kitchen renovations, and some might even call them basic, but subway tile backsplashes are clearly the new standard for a reason.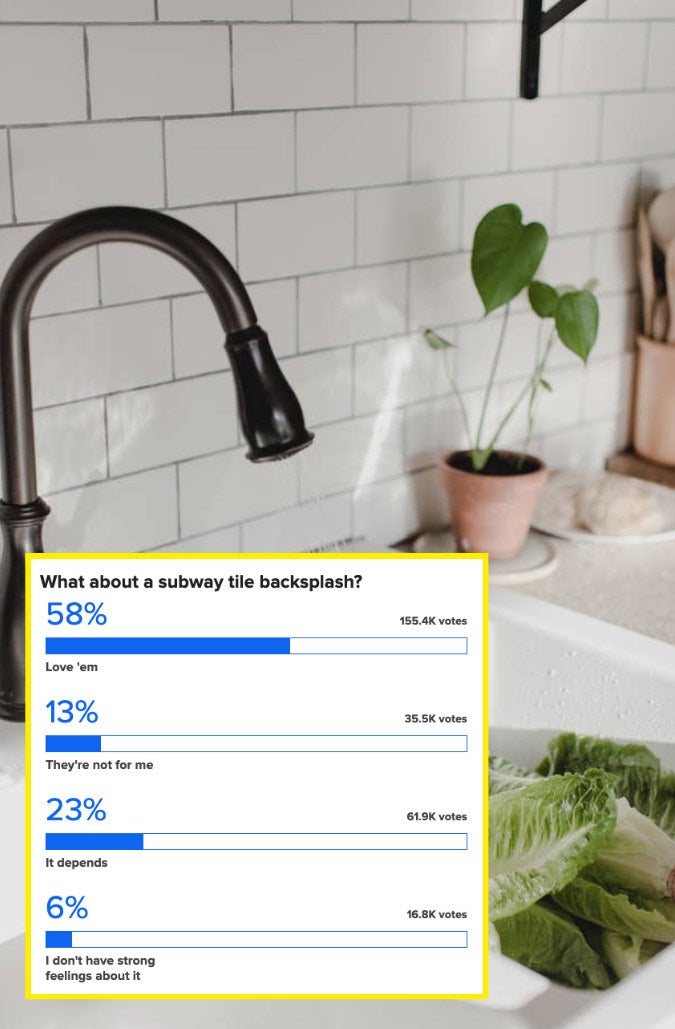 3.
Even though many people want separate rooms back — especially those who live and work from home — it looks as if open floor plans still reign supreme.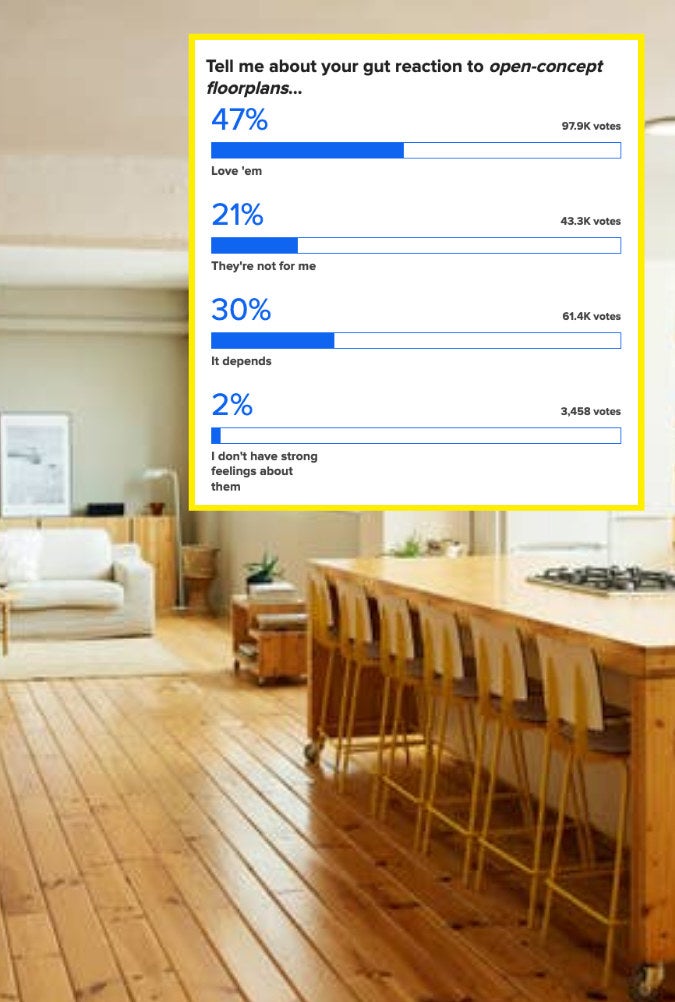 5.
You might think that luxury vinyl plank, wood-look flooring isn't as pretty as legit wood, but 230,000 people beg to differ.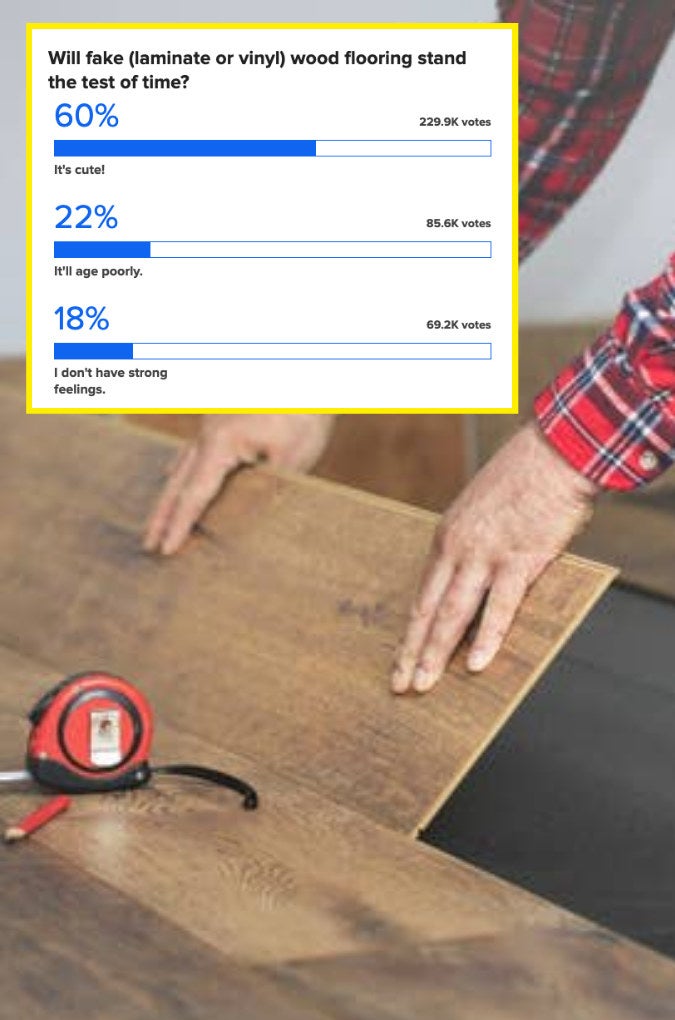 6.
The same goes for painting older surfaces white to give them a modern, fresh look — like fireplaces and wood.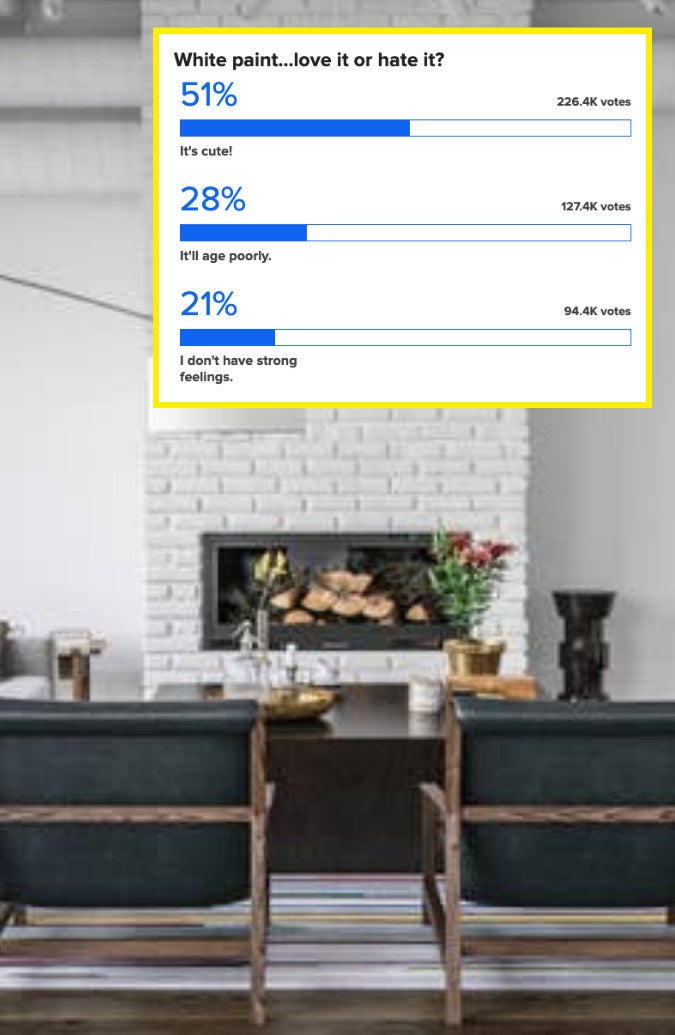 7.
And speaking of fireplaces, I'll be the first to admit that TVs mounted over fireplaces look absolutely epic...neckaches aside, of course.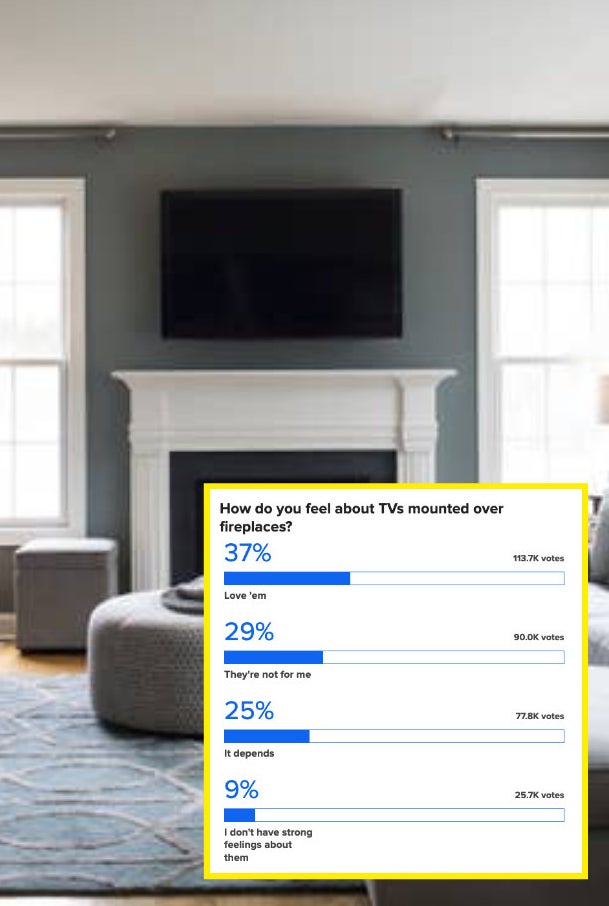 9.
Speaking of all things "farmhouse," so is the hotly debated farmhouse sink.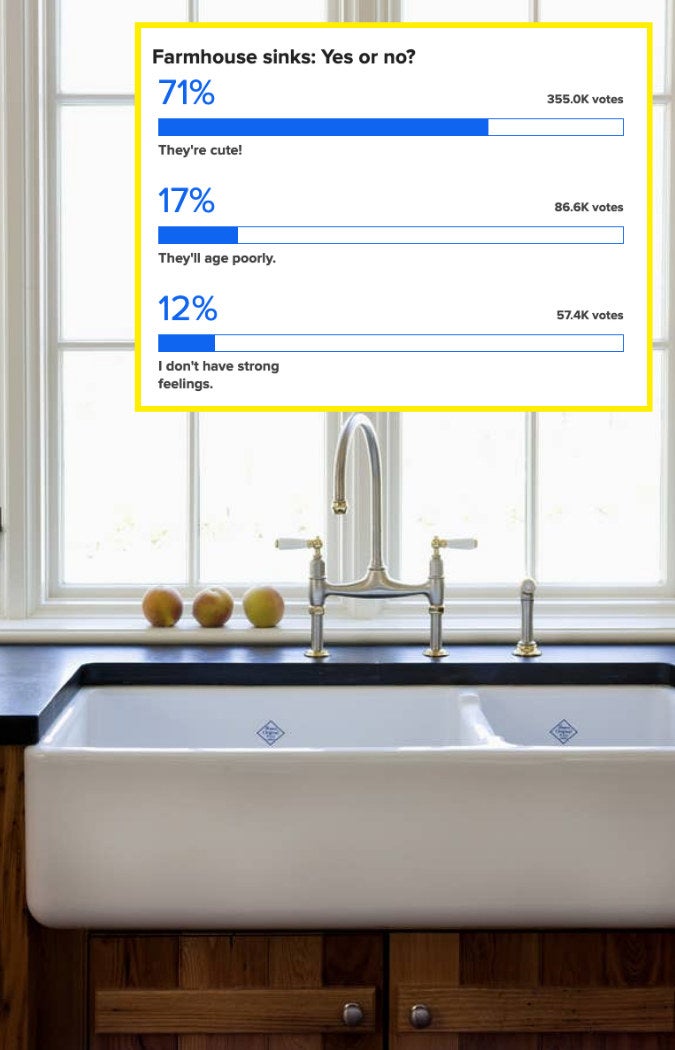 10.
And while we're in the Fixer Upper cinematic universe of home design trends: Whether or not you personally approve of it, it looks as if shiplap is an interior design element that's here to stay.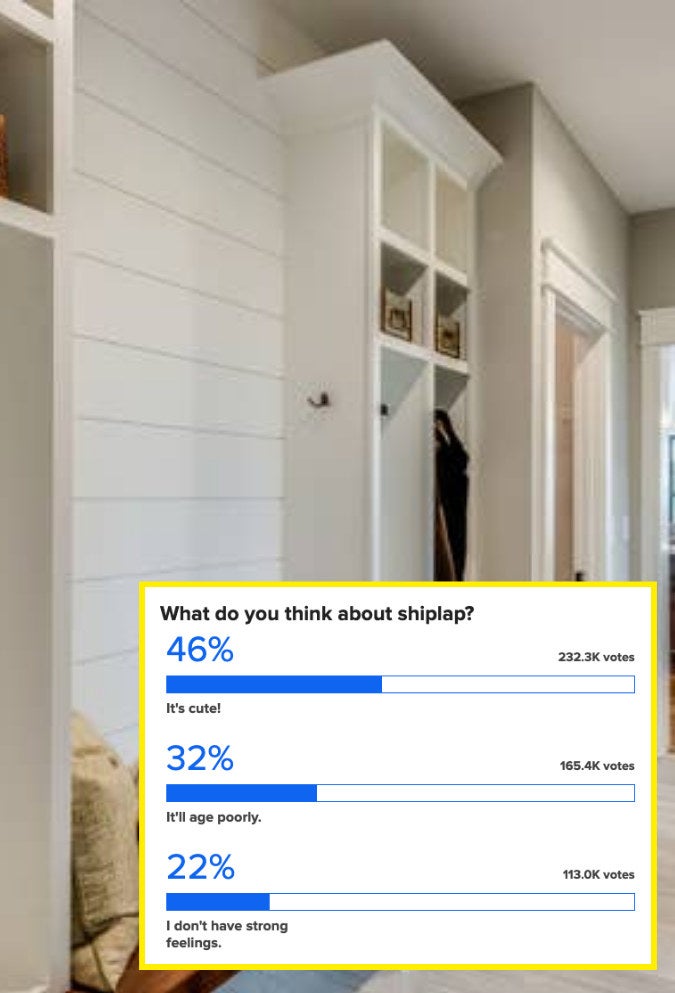 11.
Tufted headboards might give some people "inside a coffin" vibes (if you know, you know), but the love for them still edges out the disapproval.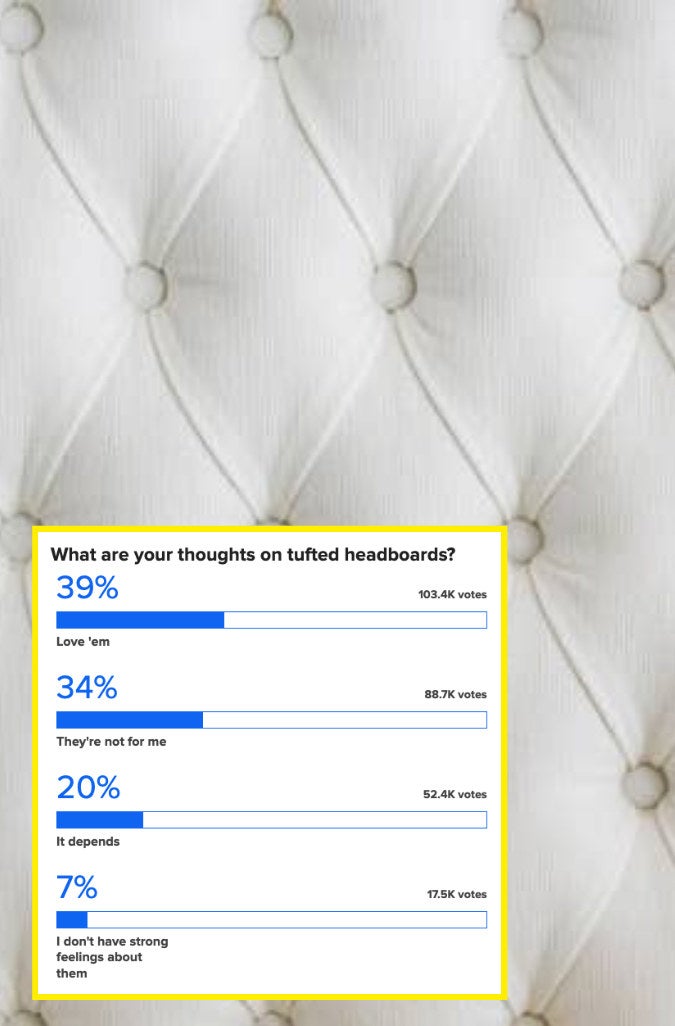 12.
Turn your empty walls into gallery walls, folks.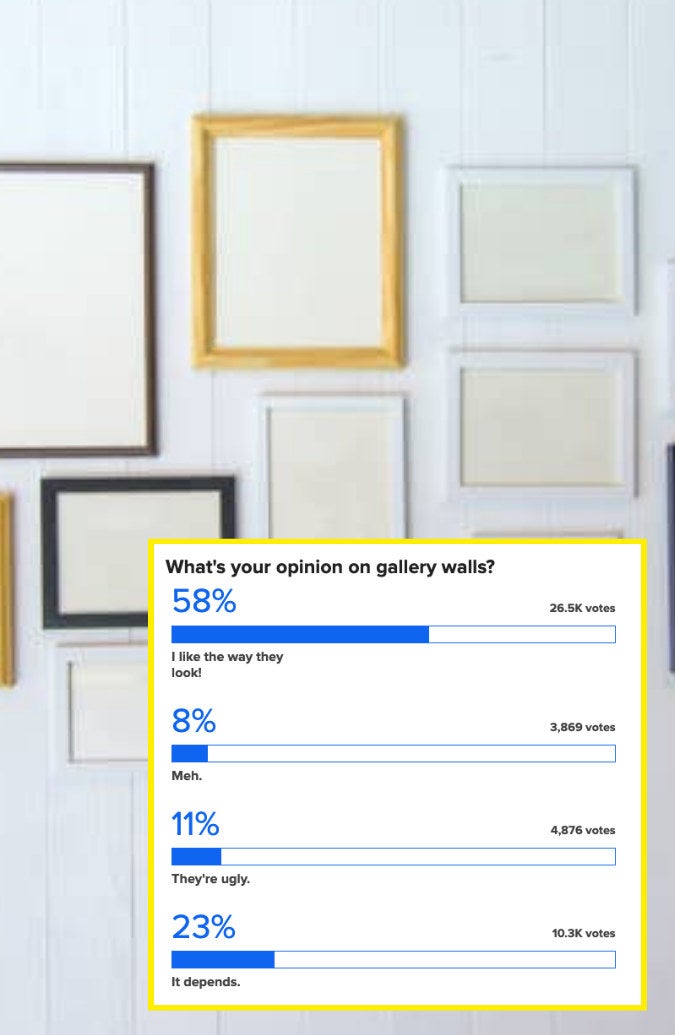 13.
(But if you're not opting for a gallery wall, it appears you should opt for a statement wall instead.)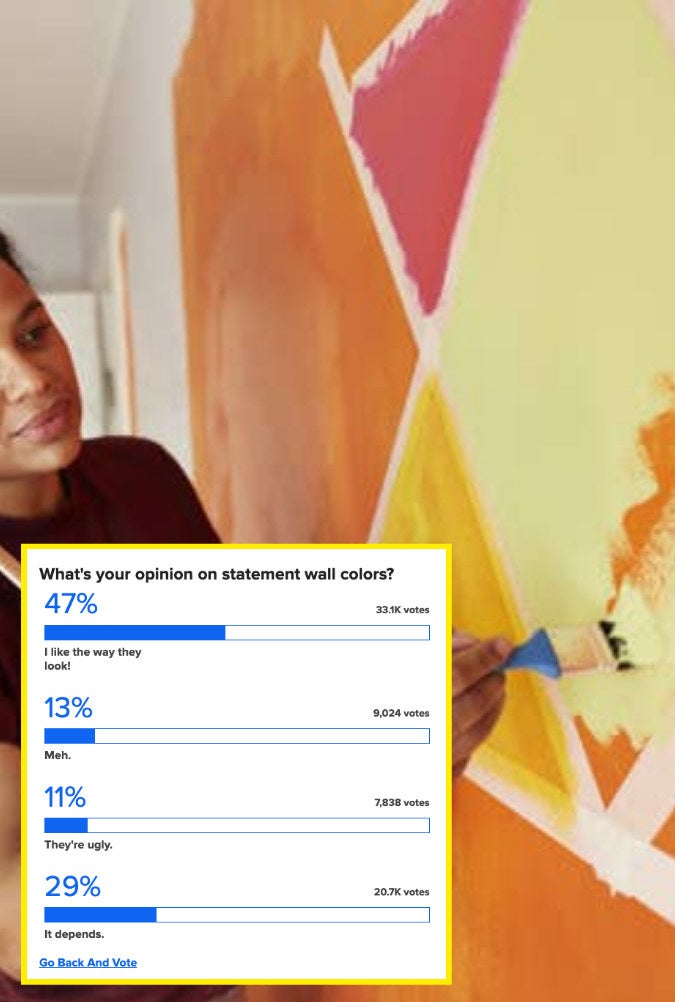 14.
If you thought wood accents were stuck in the '80s, think again — tasteful pops of wood can lend relaxing, nature-inspired texture to otherwise stale rooms.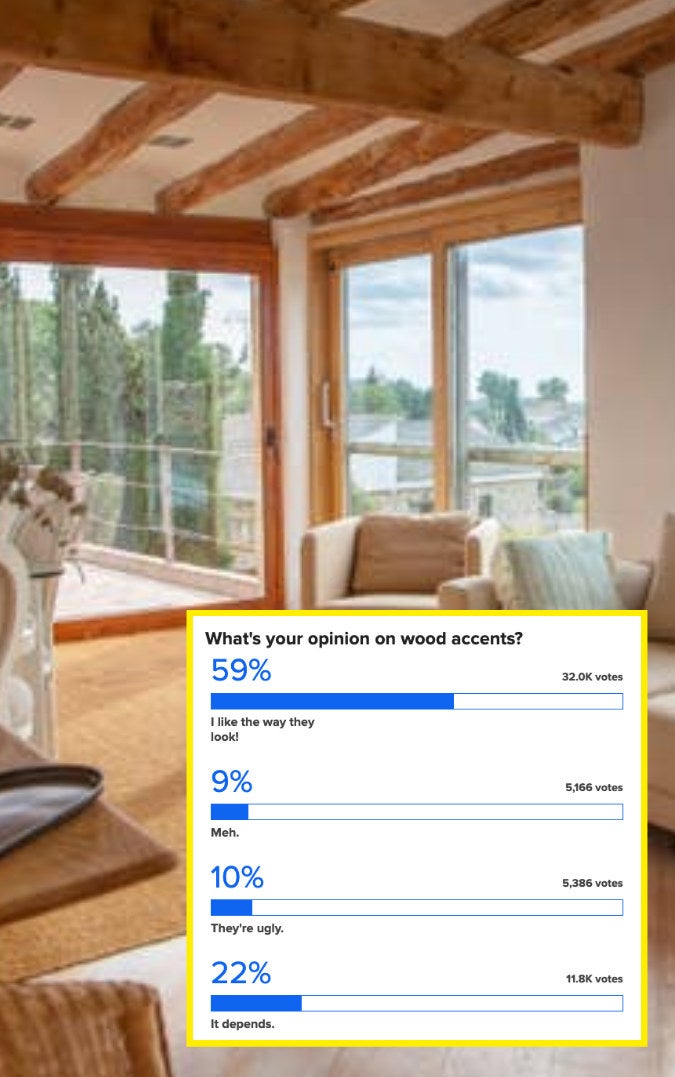 15.
Most experts would say that "nearly indestructible" quartz is the kitchen countertop material of the moment, but granite clearly has stood the test of time.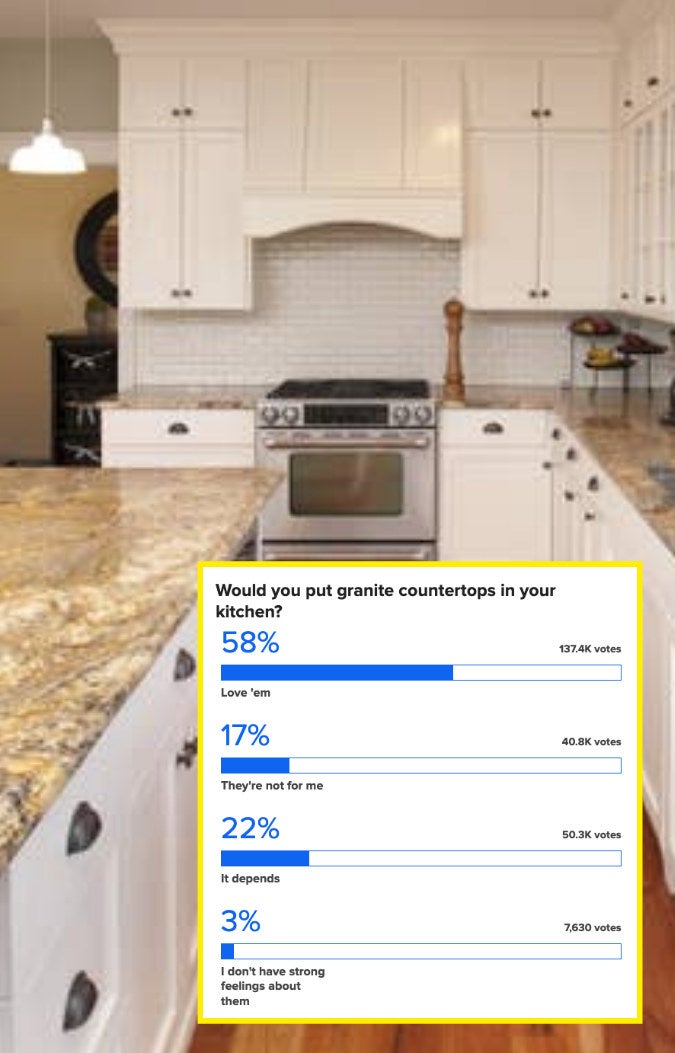 16.
Though it's a considerable cost to add them where they don't already exist, vaulted ceilings have won the hearts of 70% of our readers.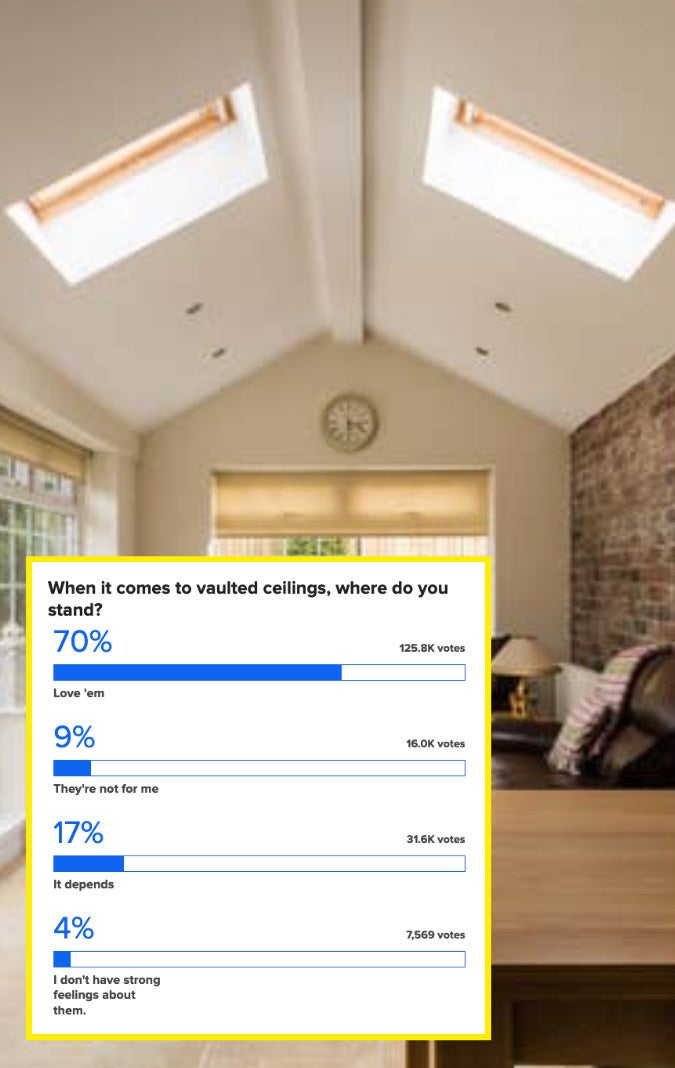 17.
Though they're possibly a nightmare to clean, floor-to-ceiling windows are majorly beloved.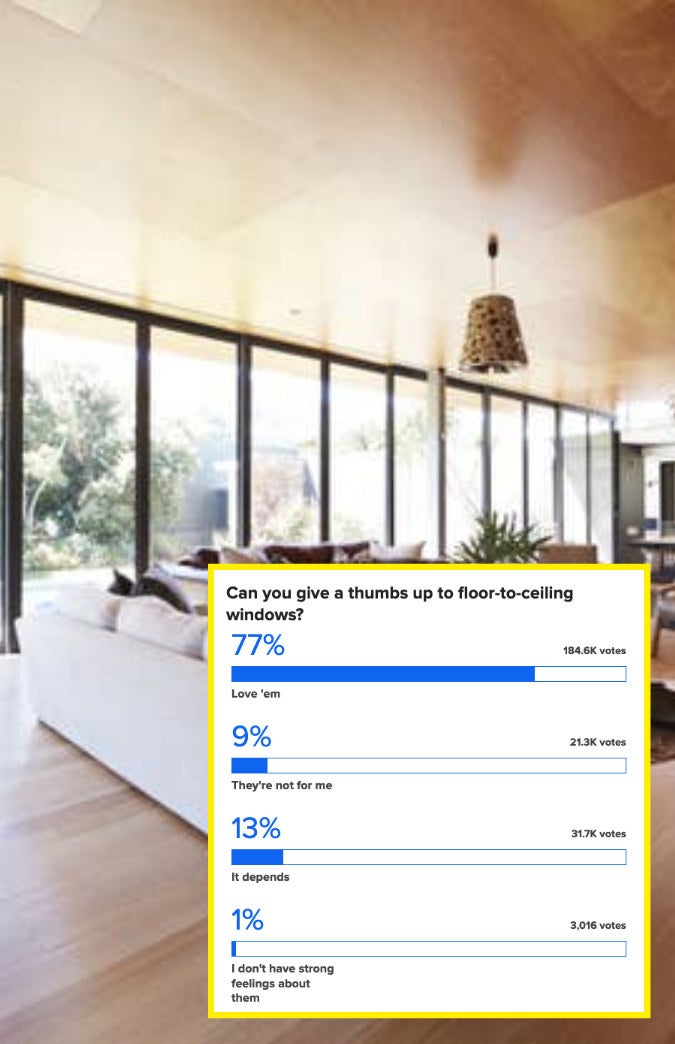 18.
And even though it seems as if everything is becoming "smart" these days, smart lights seem to be a pretty worthwhile investment for most.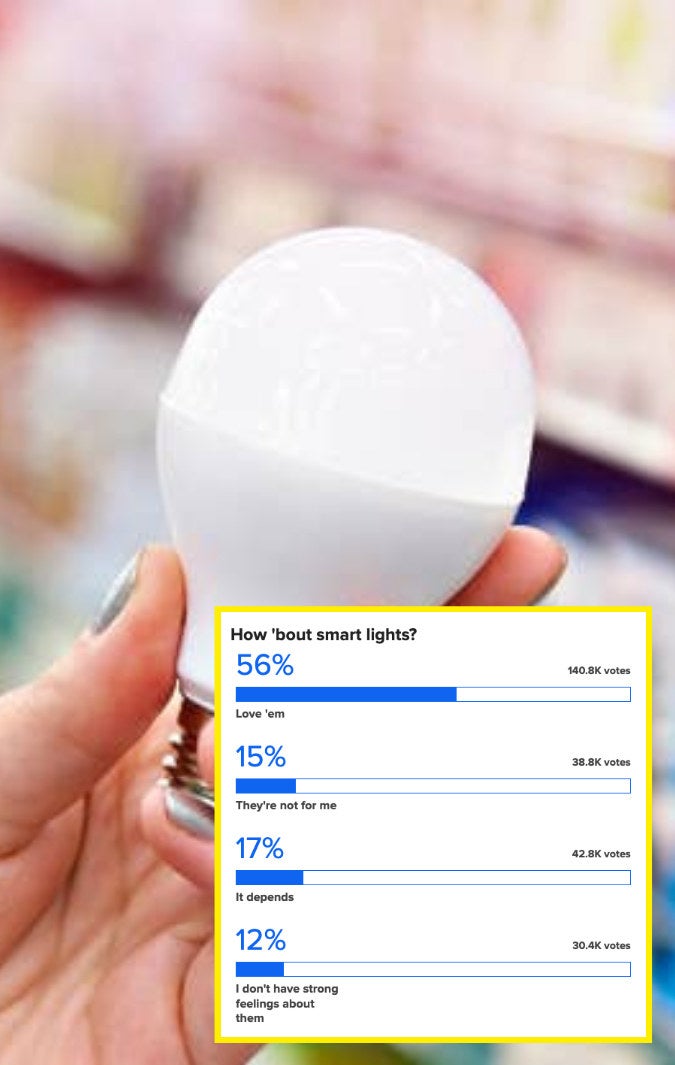 19.
Finally: Yes, stove-top pot fillers are absolutely iconic, and I can't wait to be rich enough to afford one someday.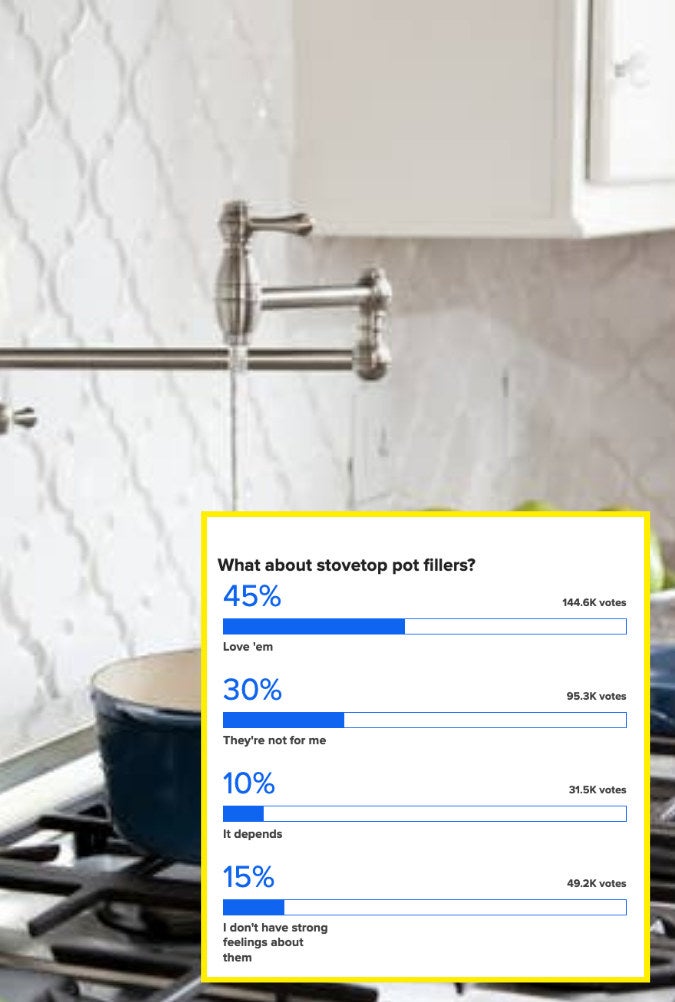 What's your favorite home design trend that you've seen popping up more and more lately? Sound off in the comments below. 👇