Here in America, we've admittedly gone a little wild with our "drinks of the summer." Don't get me wrong: I'll happily imbibe when in the presence of this summer's Dirty Shirley, and I'm also unafraid to admit that the ever-popular Aperol spritz still hits the spot every damn time. If that makes me basic, so be it. But still — hailing one singular beverage as the one to drink in the warmer months does feel pretty darn American...doesn't it?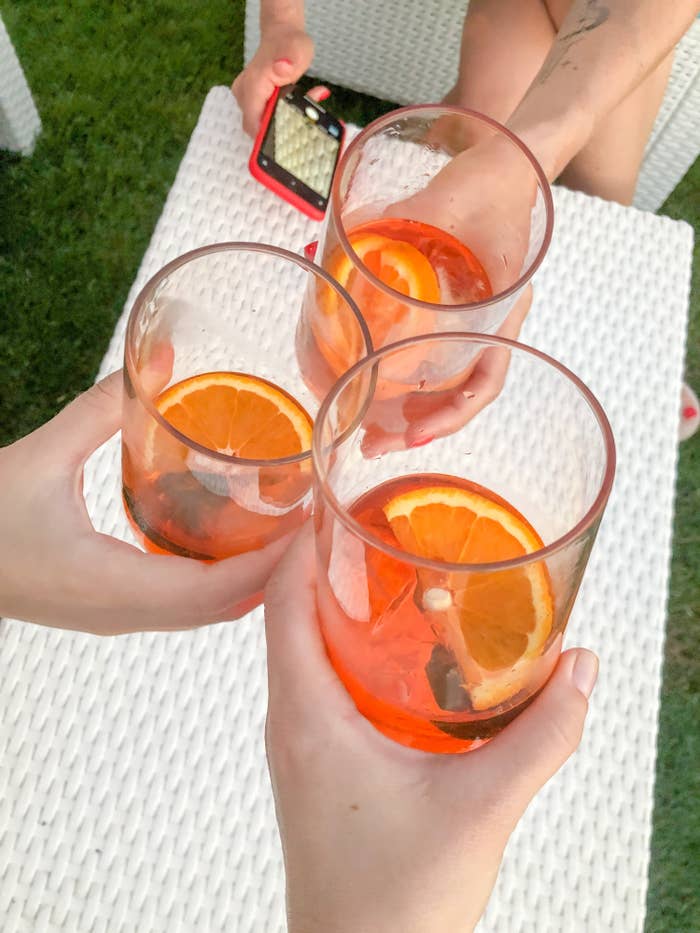 Then, there's France. A country whose perennial food and drink traditions seem to be deeply ingrained within its culture and identity. I've said it before, and I'll say it again: When it comes to food (and drinks!), we just trust the French. OK? So when I stumbled upon one particular TikTok that took a deep dive into a very specific and very summery French aperitif, I honestly couldn't stop thinking about it. The featured drink? Lillet.
If you've never had Lillet, here's the scoop: It's an ~aromatized wine-based aperitif~ — which is basically fancy talk for wine that's flavored and made stronger with a distilled spirit of some sort. The result, if you've never tasted it, is a sweet — but not too sweet — summery sip that's highly drinkable but somehow still clocks in at a notable 17% ABV. (For comparison, your average glass of white wine is closer to 11% ABV.)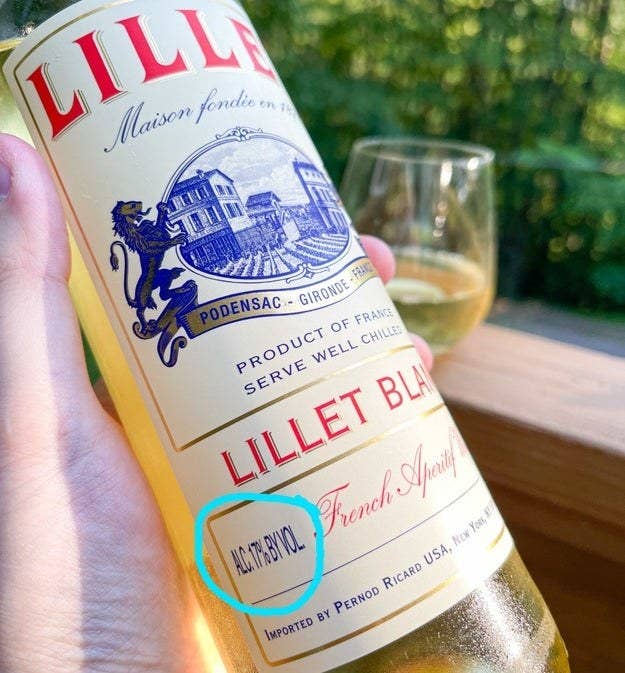 It's super popular over in France, though it's become quite buzzy here in the States thanks to the Lillet spritz and the James Bond–adjacent Vesper martini. For TikToker Claire Dinhut (aka @clairefromwhere) and her family, it's also their "aperitif of choice" to sip during hot French summers.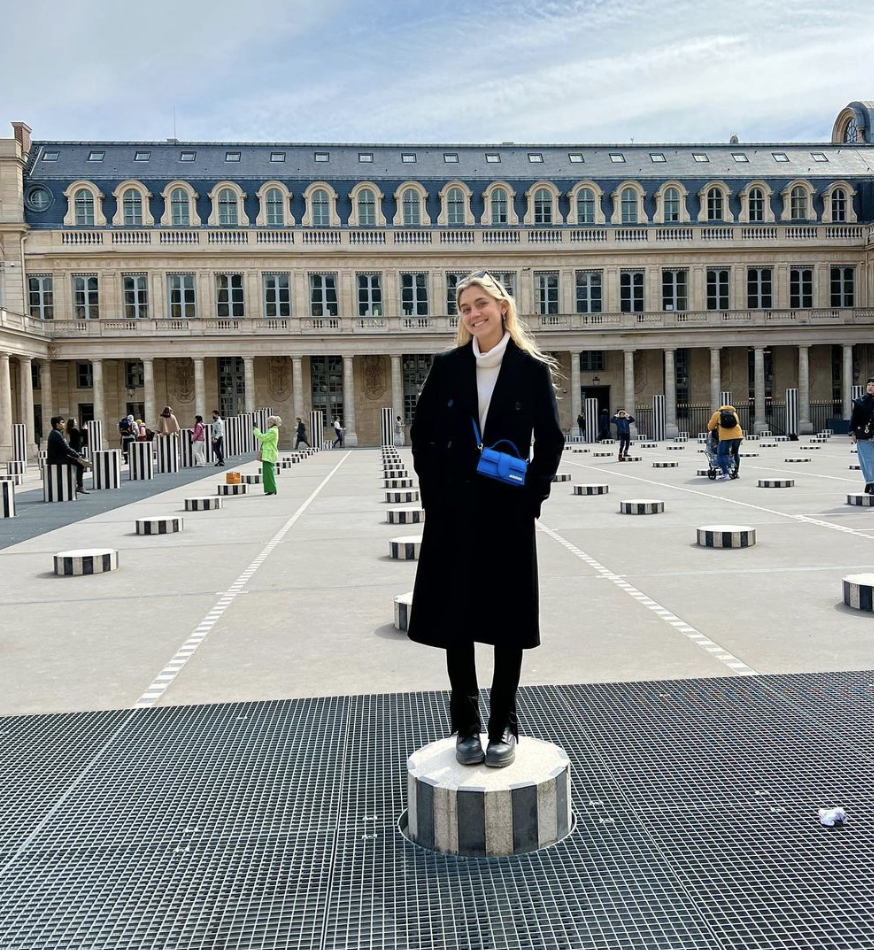 In Claire's viral TikTok, she shares her family's preferred method of serving Lillet Blanc — which, by the way, is not to be confused with Lillet Rosé or Rouge. (As she puts it, her family "simply doesn't mess around" with the other varieties.) In a refreshingly simple twist, they serve it on its own, but "super, super cold...no ice cubes."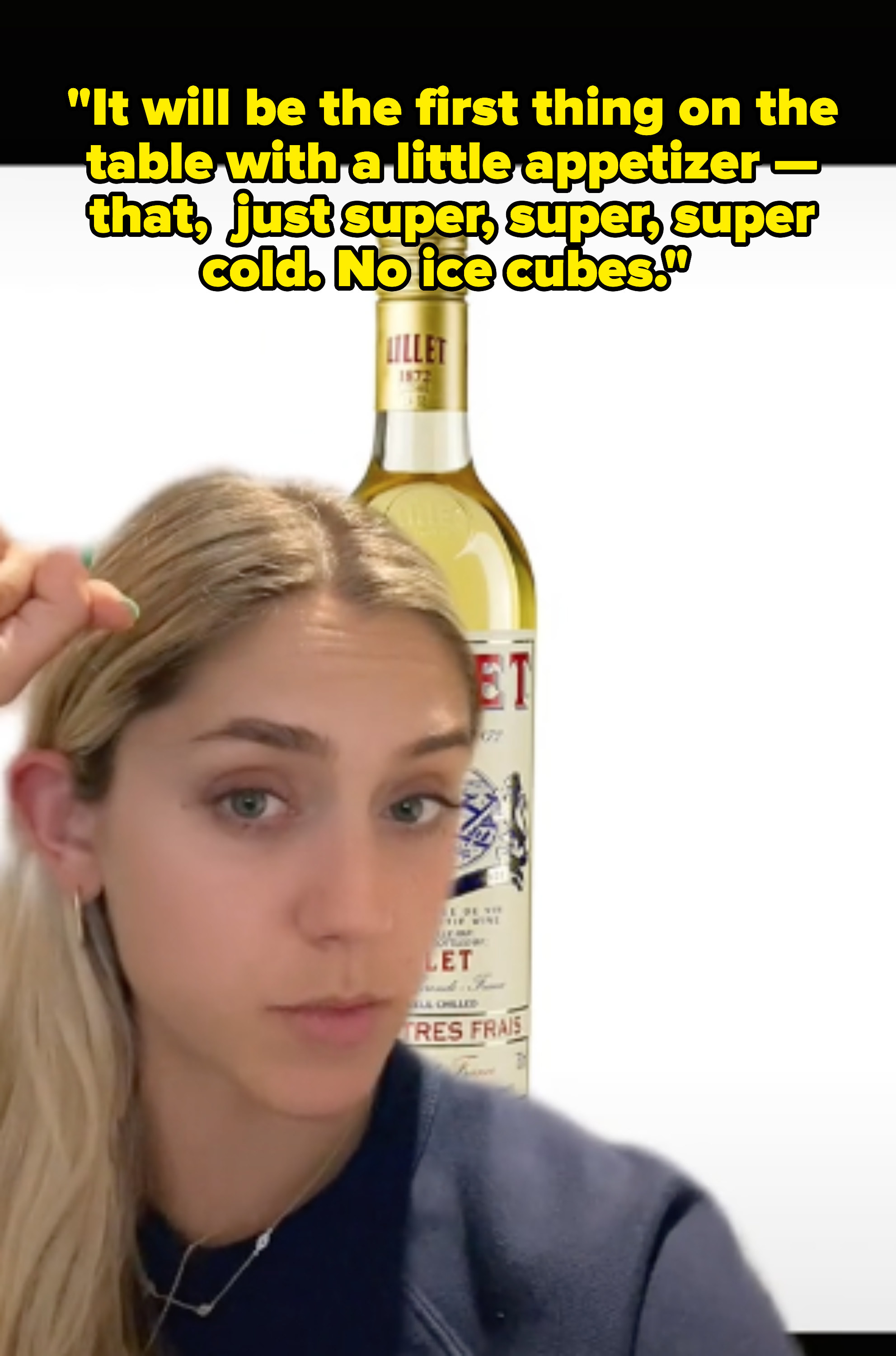 Cold Lillet in a glass, straight up? In a world obsessed with needlessly complicated "craft" cocktails, I'm 100% in. But I have to admit that her family's "secret" addition is what intrigued me about this drink in the first place: "Instead of adding ice cubes to your Lillet," Claire explains in her TikTok, "freeze your orange slices and use those as ice cubes." 🤯
"Lillet Blanc is very, very common in France," Claire told BuzzFeed. "My godmother is from Bordeaux, where obviously wine is king, but Lillet is also huge there." Fun fact: Lillet is actually made with grapes from the Bordeaux area — which certainly explains its popularity there.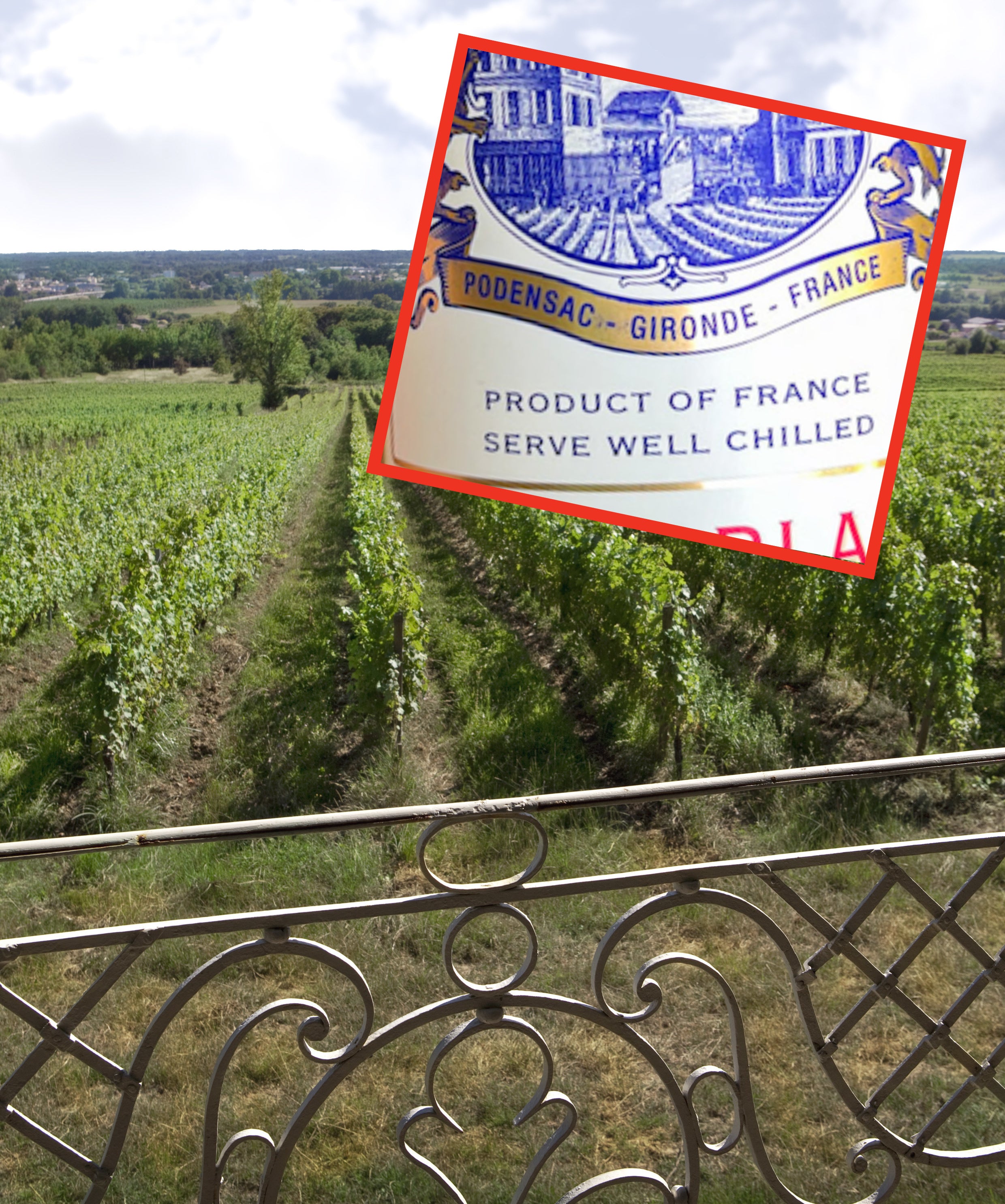 She went on to share that her godmother is the "biggest Lillet fan" ever, so in an effort to not dilute her beloved drink with ice but still keep it perfectly chilled, she just started freezing orange slices. "That's something my family started doing," Claire said, "and it's kind of fantastic because now it's like, OK, I do that with grapes in other cocktails. Now our freezer in France is just sliced up frozen fruit."
With a bottle of Lillet and a big, juicy navel orange in hand, I decided to give this drink a proper taste. It goes without saying that this two-ingredient aperitif is practically impossible to mess up, but there are a few important things to keep in mind — especially when it comes to freezing the orange slices.
STEP #1: Slice and freeze your orange.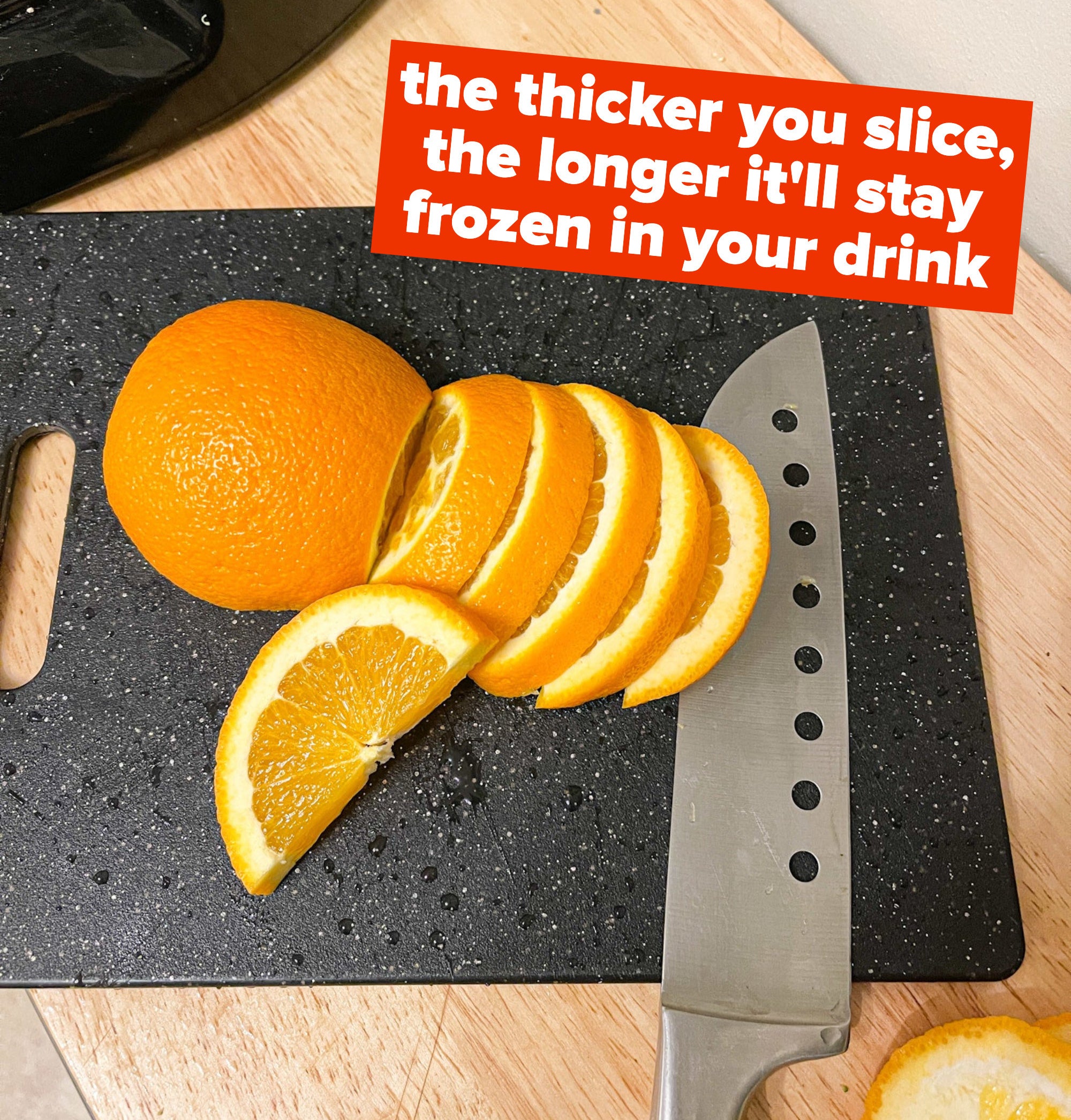 At this point, if you throw your orange slices into a bag and chuck it into the freezer, you will end up with a mass of frozen orange slices that are practically welded together. Delicious, possibly, but certainly not practical for this application.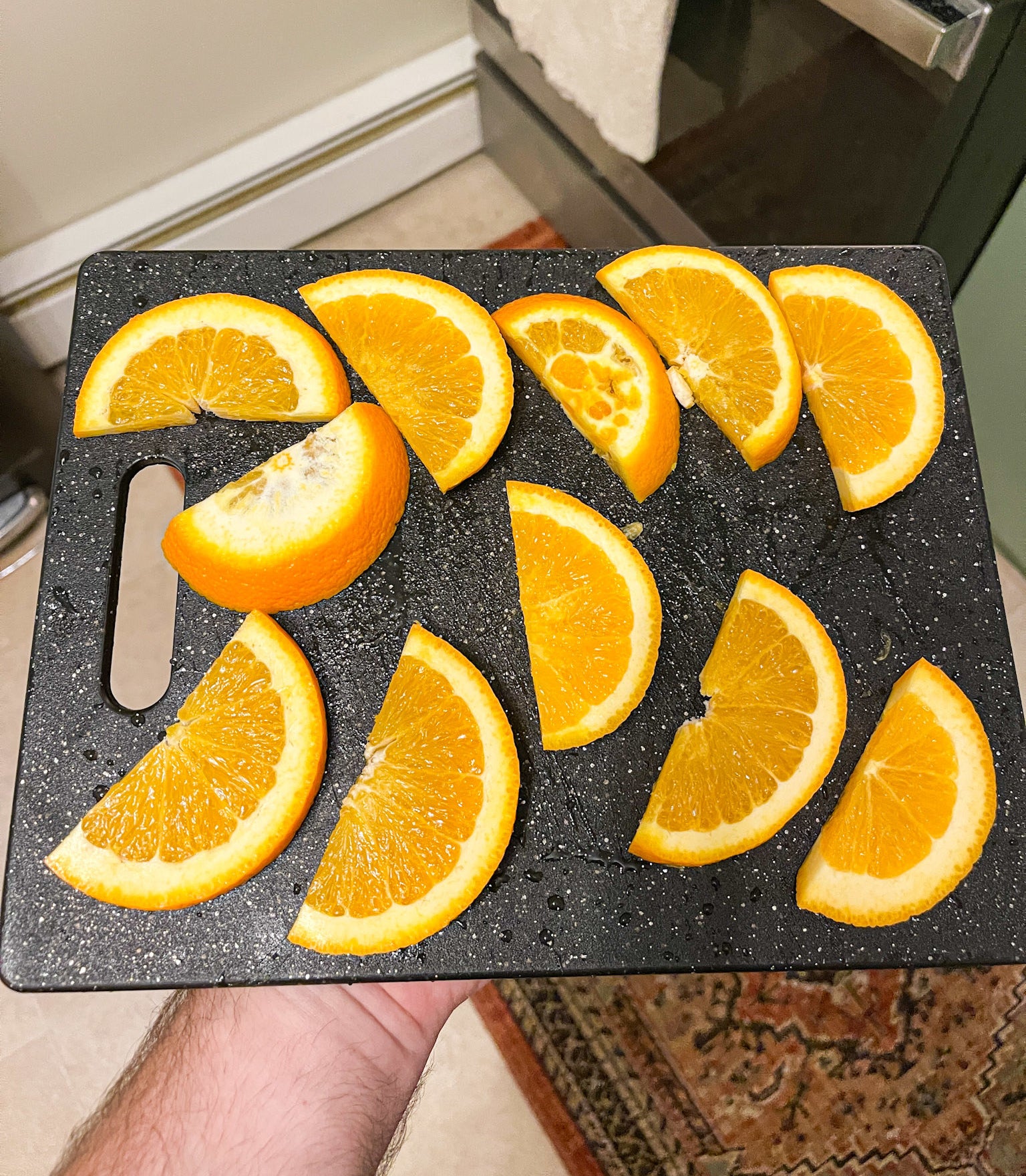 They'll look like this once they're ready to go 👇.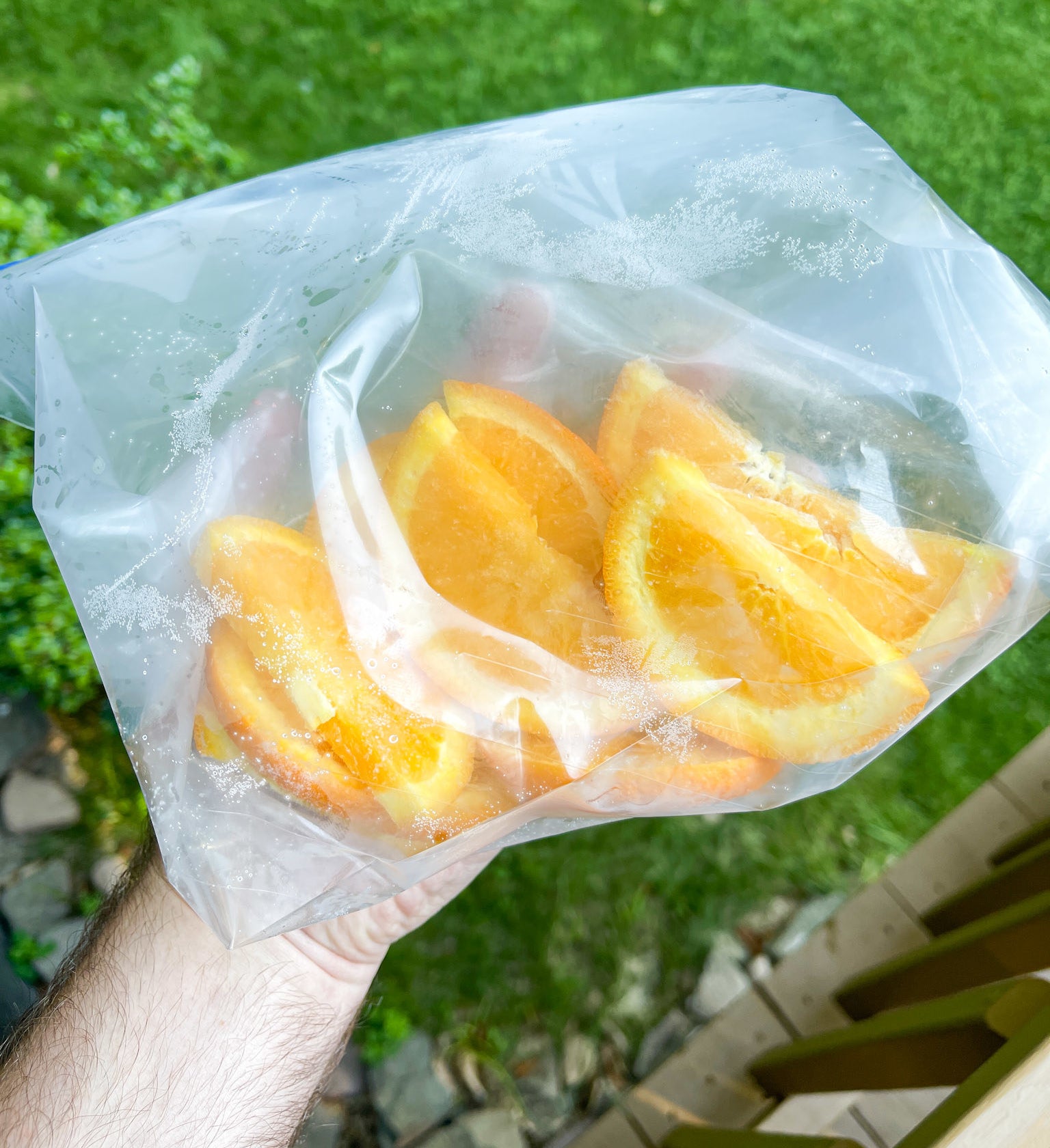 STEP #2: Pour Lillet Blanc into the glass of your choosing.
A warning that bears repeating: Remember that Lillet has a considerably higher ABV than most regular wines — we're talkin' 17% vs. 11% — so please drink responsibly!
STEP #3: Add your frozen orange slice and give it a good swirl.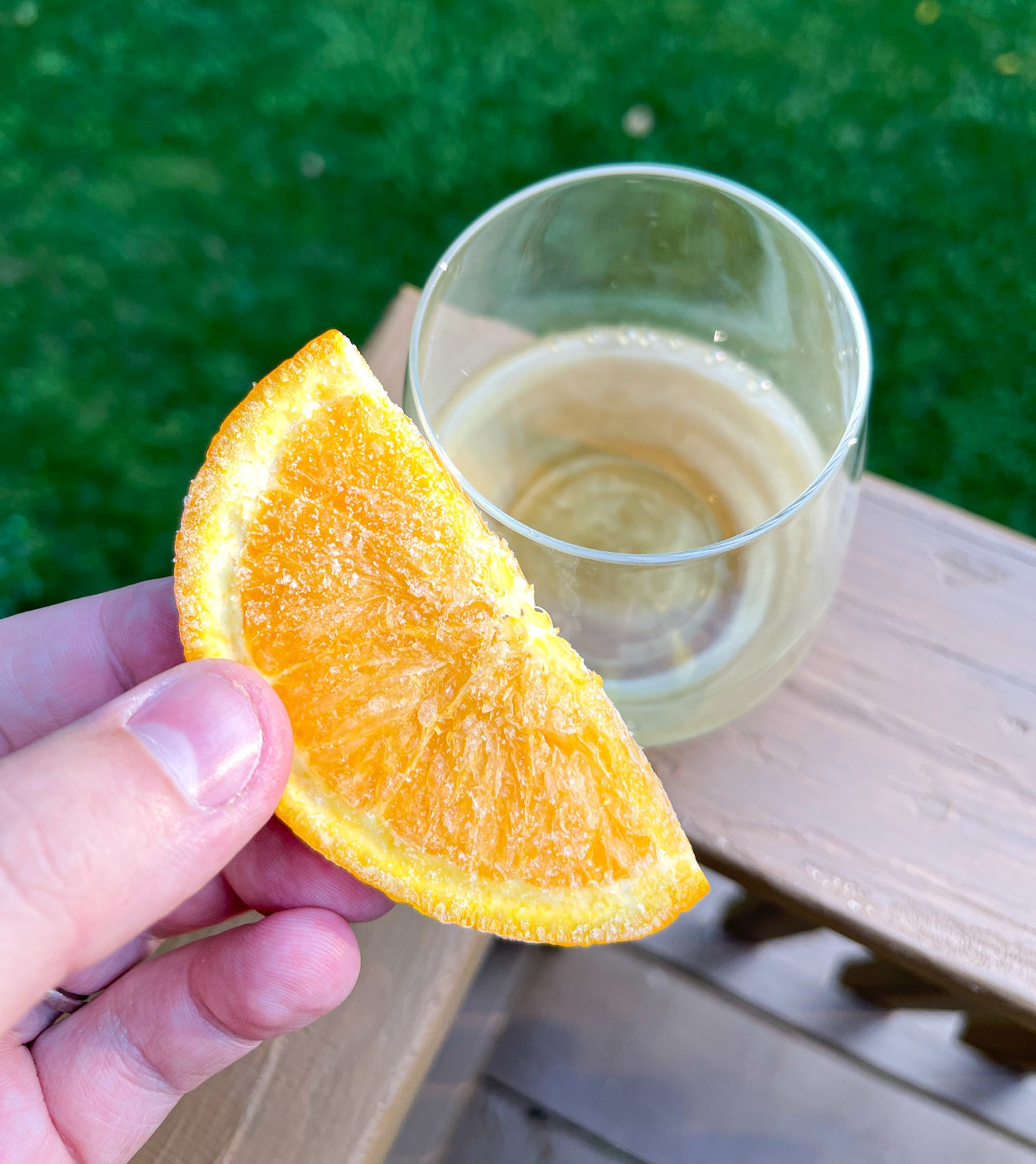 And, well...that's it. (I told you it was easy.)
THE VERDICT: It's just sweet enough, wildly refreshing, and honestly tastes like summer in a glass. For a literal slice of orange (and not an ice cube), I was also surprised at how perfectly chilled my drink stayed as I sipped on it, and I loved how I could taste the orangey notes develop over the time it took for it to thaw.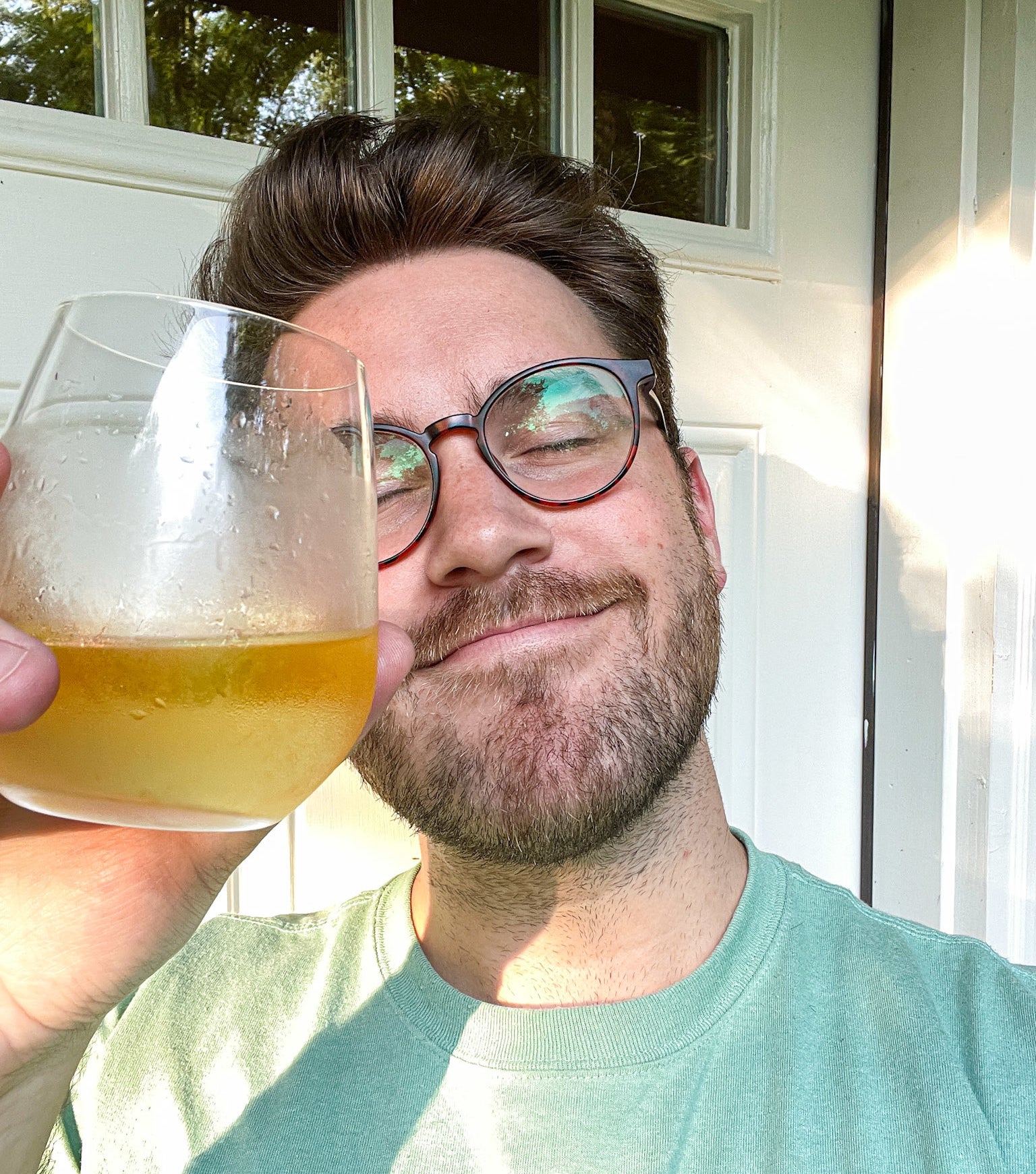 If you decide to whip up a round of Lillet Blanc and frozen orange this summer, there's one consideration from Claire that I find to be of paramount importance: the food you serve it with. It's not meant to be sipped on with a full meal or even a full-out "appetizer" — think of Lillet as the first course, ideally served alongside some incredibly simple snacks to munch on.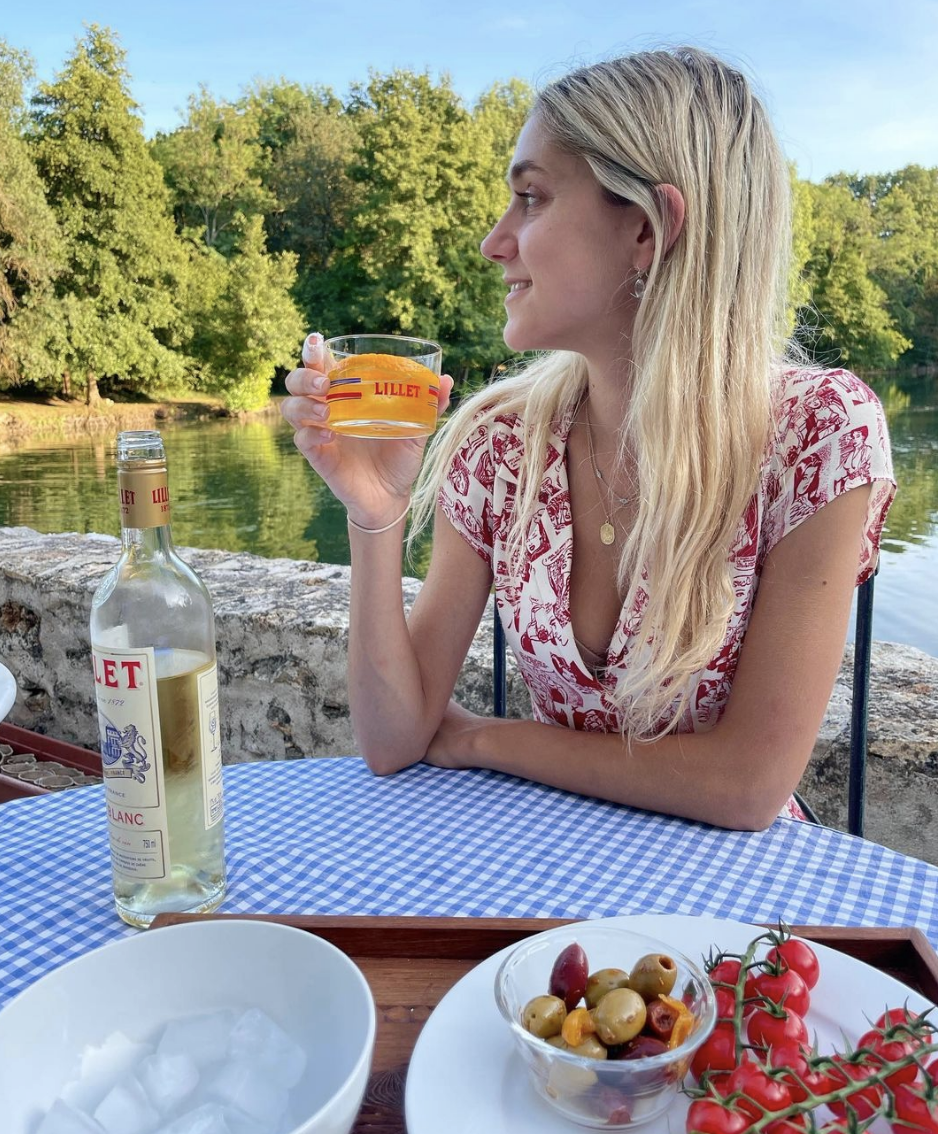 For more French-inspired food and drink tips and tricks, you can follow Claire on TikTok and Instagram.
If you try Lillet this summer, let us know what you thought of it in the comments below! (And if you have another go-to cocktail you always turn to during the hottest days of summer, tell me about it. I'm all ears.)