There's no better feeling than completing a home project entirely on your own — especially when the rewards are 100% worth the effort, time, and money spent to get there. However, just because you can do something yourself doesn't always mean you should...and coming up with the right solution can sometimes be a tricky decision to make.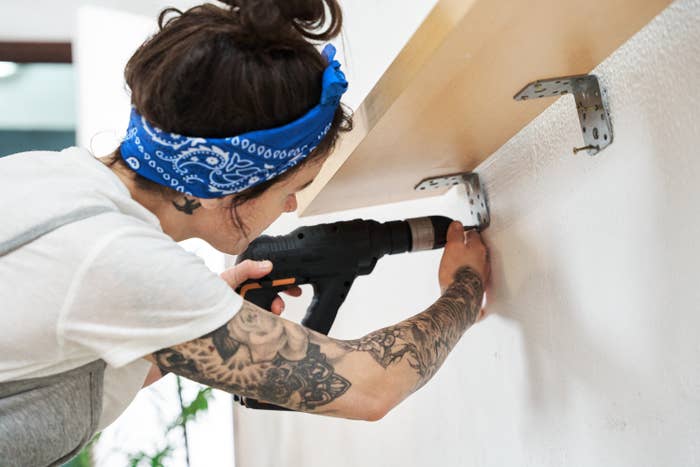 Recently, u/phdentropy asked the DIYers of Reddit to share the home projects they've done that weren't "worth their time" to complete. As a pretty dedicated DIYer myself, it also inspired me to look through comments in the r/HomeImprovement community to find other projects that people actually enjoyed doing themselves — and I even added a few projects I've tackled in my own home (and loved).
For what it's worth, keep in mind that no two people have the same skillset or level of expertise when it comes to home projects, and one's willingness to tackle the projects below will depend on a lot of factors.

If you're not feeling particularly confident about starting a project that could potentially damage your home, it's best to leave it to the experts.

1.
✅ DO IT YOURSELF: Swap out standard light switches for "specialized" ones where they're useful, whether it's a timer switch for a bathroom fan, a dimmer for your living room, or a motion-activated switch for a closet or garage.
"Your light switches can be doing a lot more for you than just turning things 'on' or 'off.' After reading about it on Reddit (and writing a BuzzFeed post including it), I personally replaced the standard light switch that controls my bathroom fan with one that has a built-in timer. For 10 minutes of work (and about $25), it's become one of the most luxurious features of my home, and I honestly just want everyone to do the same. Swapping out light switches is way simpler than you think!"

2.
❌ CALL A PRO: Tiling.
"One of our first ever DIY projects was tiling our bathroom. Now, I see every imperfection when I shower. Since we were stuck working on it mostly on weeknights, I wish we'd just hired someone who would've been able to get it done in a quarter of the time — and with better results."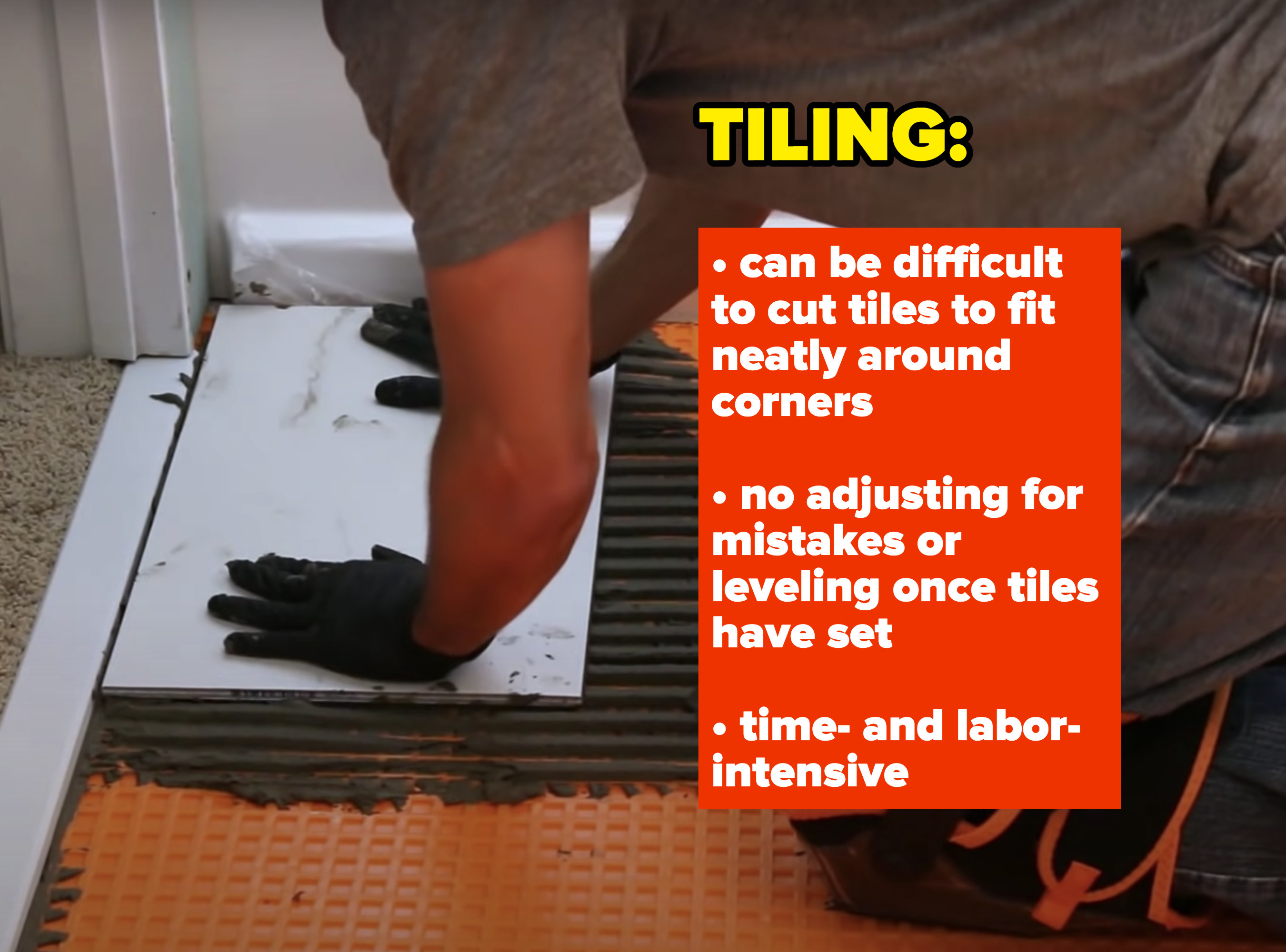 3.
✅ DO IT YOURSELF: Paint your existing kitchen cabinets to match your current aesthetic.
"I paid $100 to repaint my kitchen cabinets, and it was the best decision ever. It's simple, too — all you have to do is clean them, scuff them up with sandpaper, prime them, and paint with two coats."
4.
❌ CALL A PRO: Building a deck.
"If you can manage it, you can absolutely save $10K. If you can't, you'll end up destroying at least $5K in materials, and then have to hire to finish the project."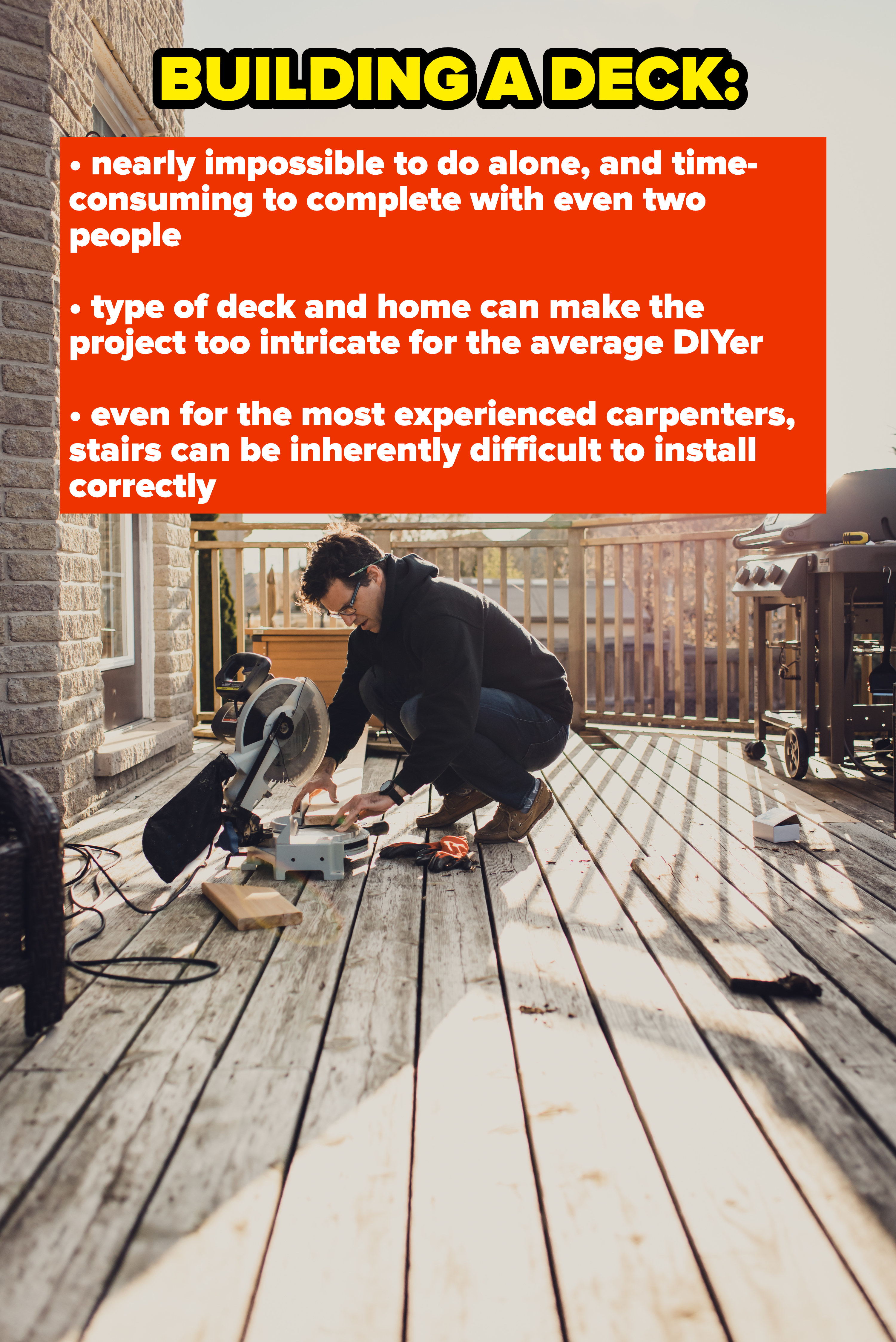 5.
✅ DO IT YOURSELF: Install a keyless smart lock so you never have to worry about misplacing your keys — or leaving your front door unlocked — again.
"I spent just about $100 to get a keyless lock that works with my home automation, and it's amazing. I pull into the parking spot in my condo, and bam, the doors unlock before I even get upstairs! Even when I end up using the keypad, it's easy to use and so worth never having to fumble with keys. It gives me so much peace of mind to know I can just lock it when I'm not home, too."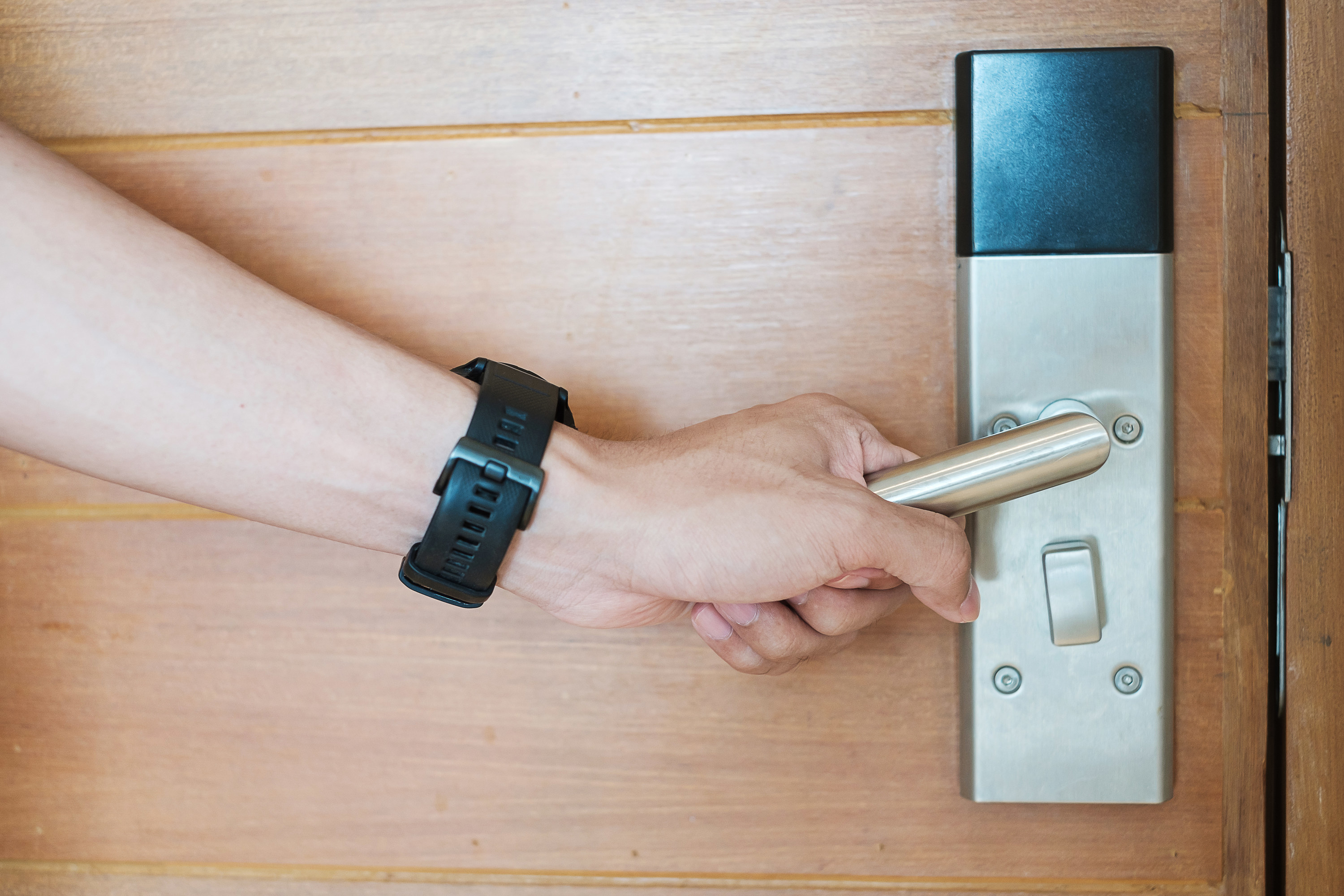 6.
❌ CALL A PRO: Painting the exterior of your home.
"We just had our house painted by a team of painters yesterday. They finished the job in two days. It would've taken me two weeks. I was originally planning to do it, but my wife talked me out of it. Painting the outside of a house can be incredibly dangerous, and she reminded me that any injuries could end with my inability to work (and a loss of income as a result)."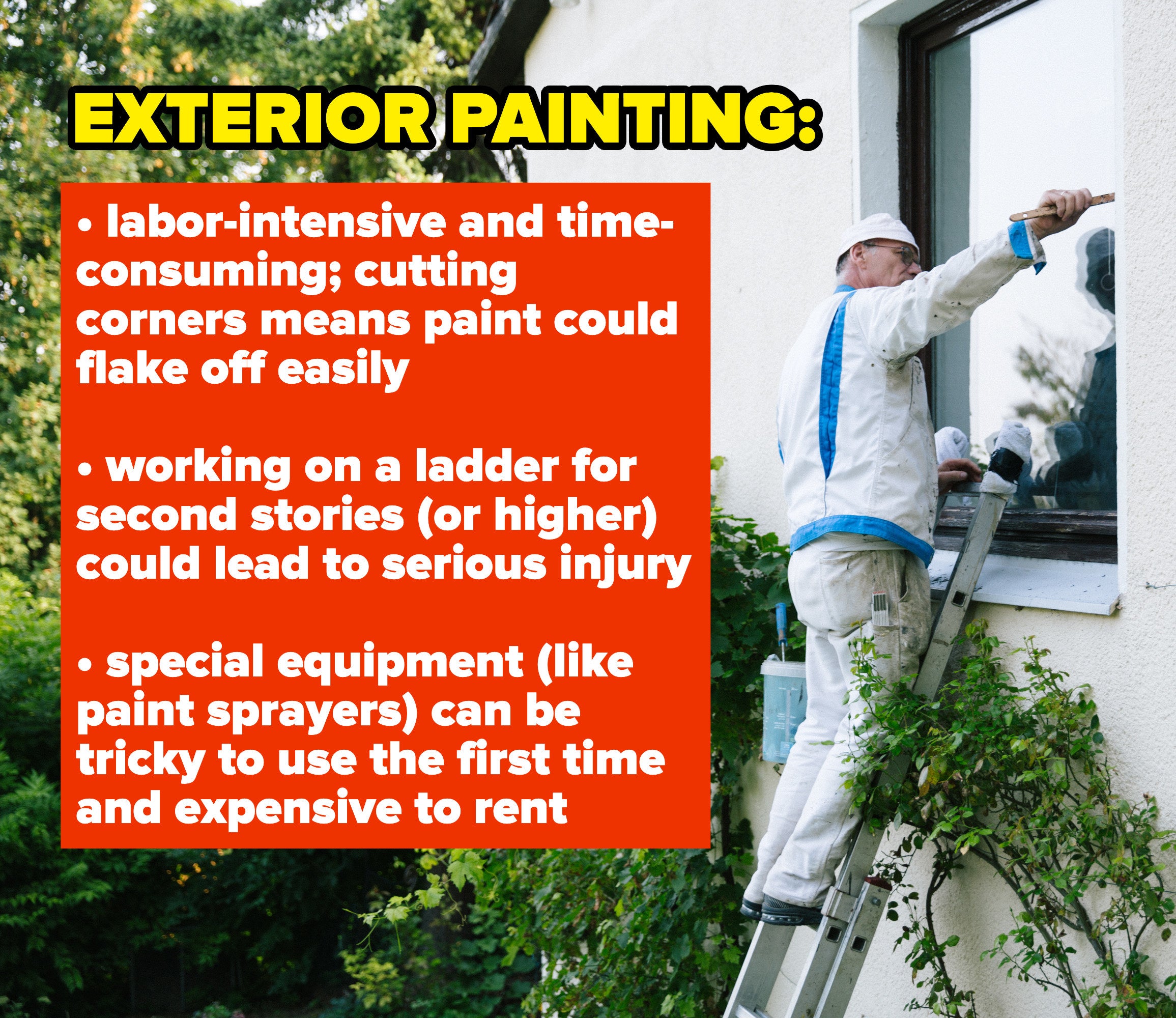 7.
✅ DO IT YOURSELF: Replace your 'boob lights' with a light fixture that'll better suit your space.
"I just replaced our ninth boob light to complete our whole downstairs! Man, did it make my '90s house feel so much more updated — it's ridiculous how transformative it can be."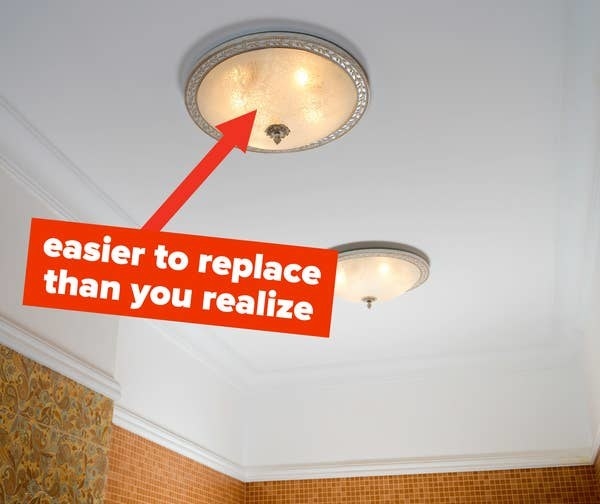 8.
❌ CALL A PRO: Drywall finishing.
"1. Drywall finishing is an art.

2. It's messy as hell.
3. Pros can do it in a few passes without making any mess and needing any additional sanding."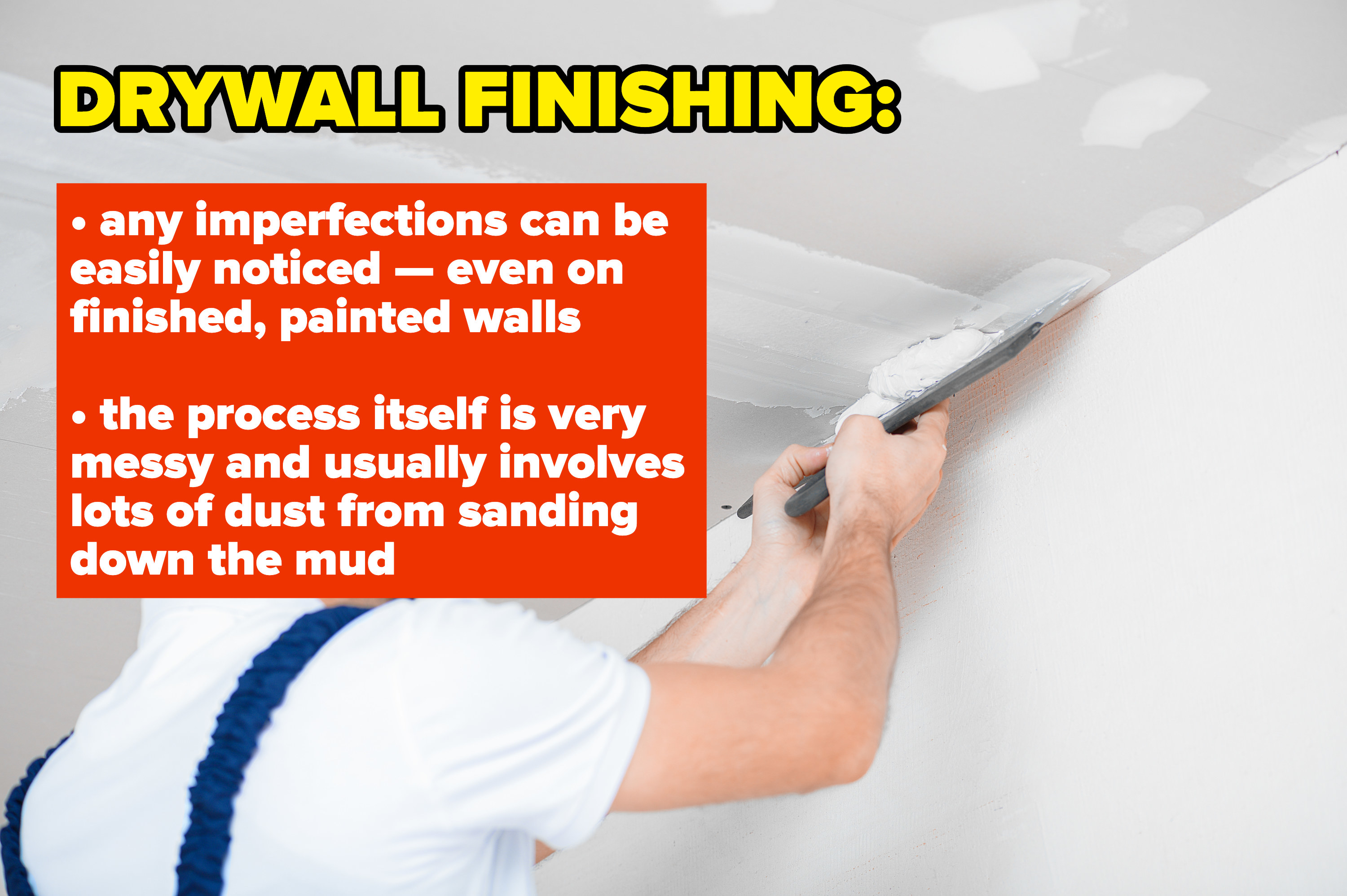 9.
✅ DO IT YOURSELF: Swap your door handles out for ones that you'll actually enjoy turning and looking at.
"As long as you're replacing your pre-existing doorknobs or handles with ones that are the same dimensions — in other words, there's no need to move the notches you'll secure the knobs through — this project can be completed really easily. I'd describe myself as 40% handy, and it took me no longer than 10 minutes per door. You can get as fancy as you want here, but I found that these $26 door handles were all I needed to totally elevate my space. In all honesty, I'm grateful for them every day."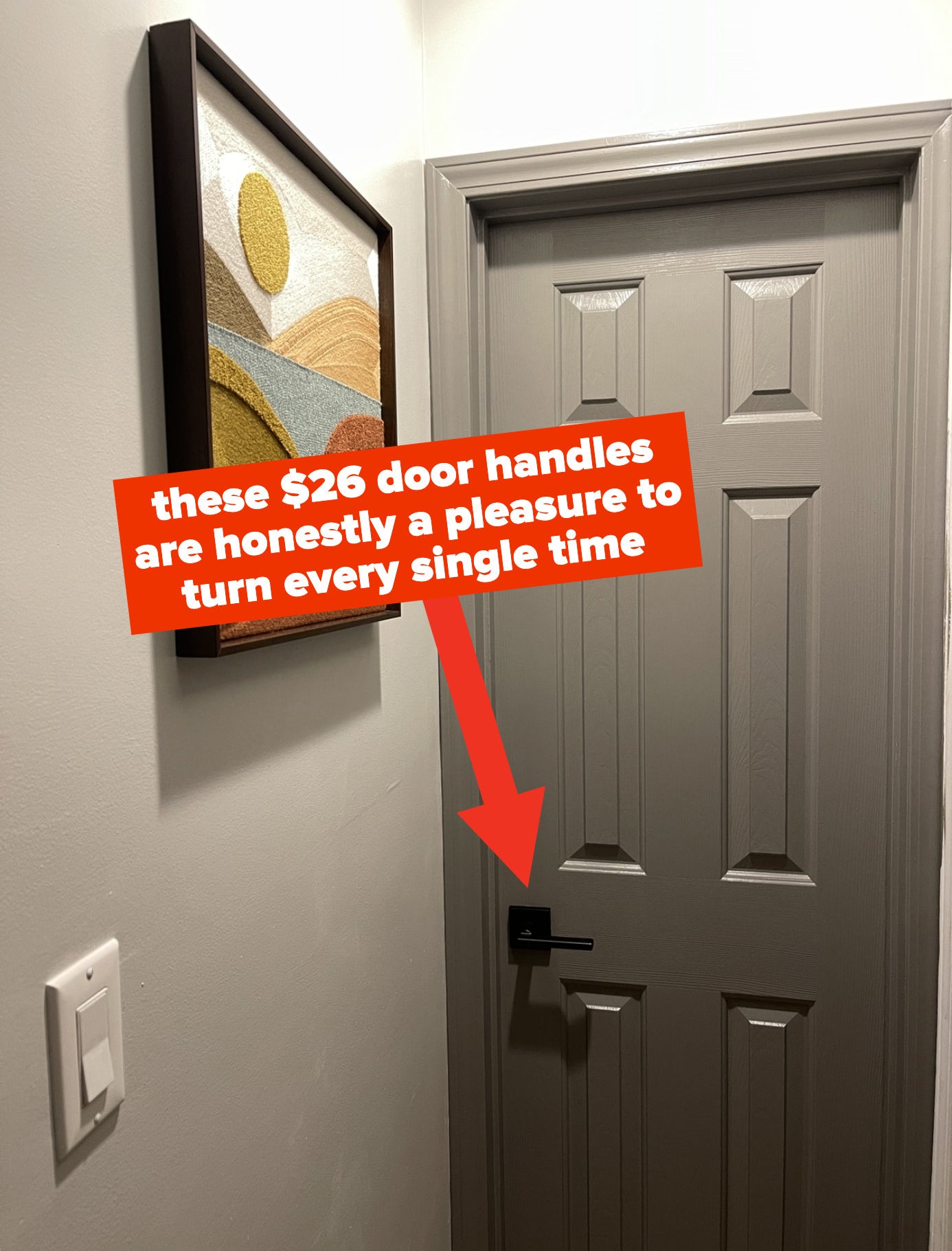 10.
❌ CALL A PRO: Cutting down trees (or even trimming them, in some cases).
"Anyone can put a tree on the ground. Hell, gravity does most of the work. But you're paying money for people to put trees on the ground safely, and without damaging anything they're around. It's a difficult, dangerous job even for the most experienced professionals."
11.
✅ DO IT YOURSELF: Install a smart thermostat to make your existing HVAC system work the way you want it to.
"I upgraded to a smart thermostat about a year ago. I got the Nest one, and with rebates from my utility, it was well under $100. I thought saving energy and being able to adjust the temperature when away from home would be the best feature...but far and above that, I love not having to get off the couch to make an adjustment. So worth it!"

(Note: As long as your current HVAC system wiring offers all the connections you'll need to install a smart thermostat — for the vast majority of smart thermostats, we're talking about C-wires (or "common" wires) — this is a relatively straightforward DIY project. However, if your system needs to be retrofitted in any way, it's best to call the pros.)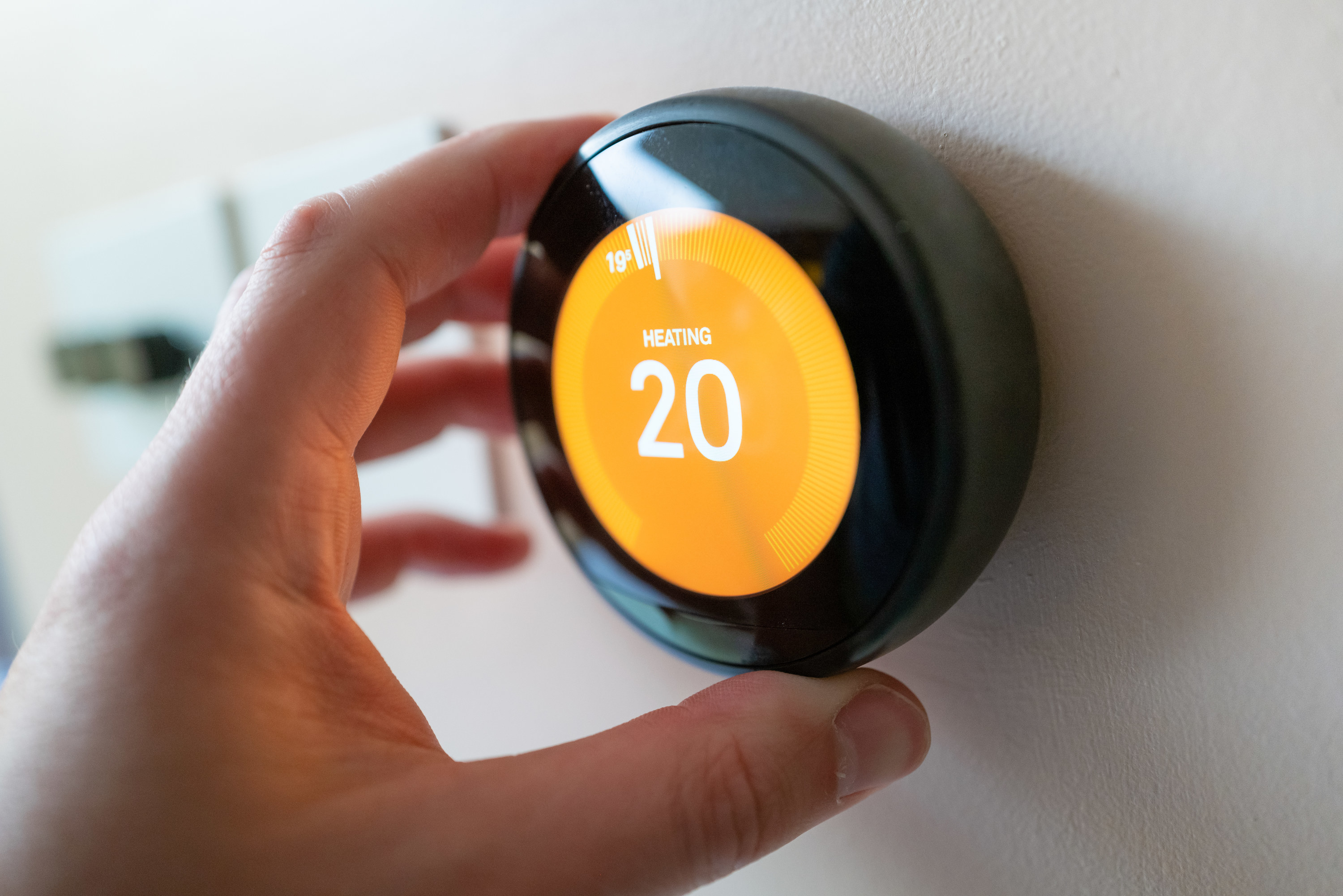 12.
❌ CALL A PRO: Building a stone or paver patio.
"I built a flagstone patio, nothing too large, about 15 by 20 feet. It was the worst weekend of my life. Digging six inches into hard clay soil sucked. Making the ground completely flat sucked. Everything is heavy — the bags of rocks, the bags of sand, the stones — and getting everything totally level at the end was a pain. Never, never again."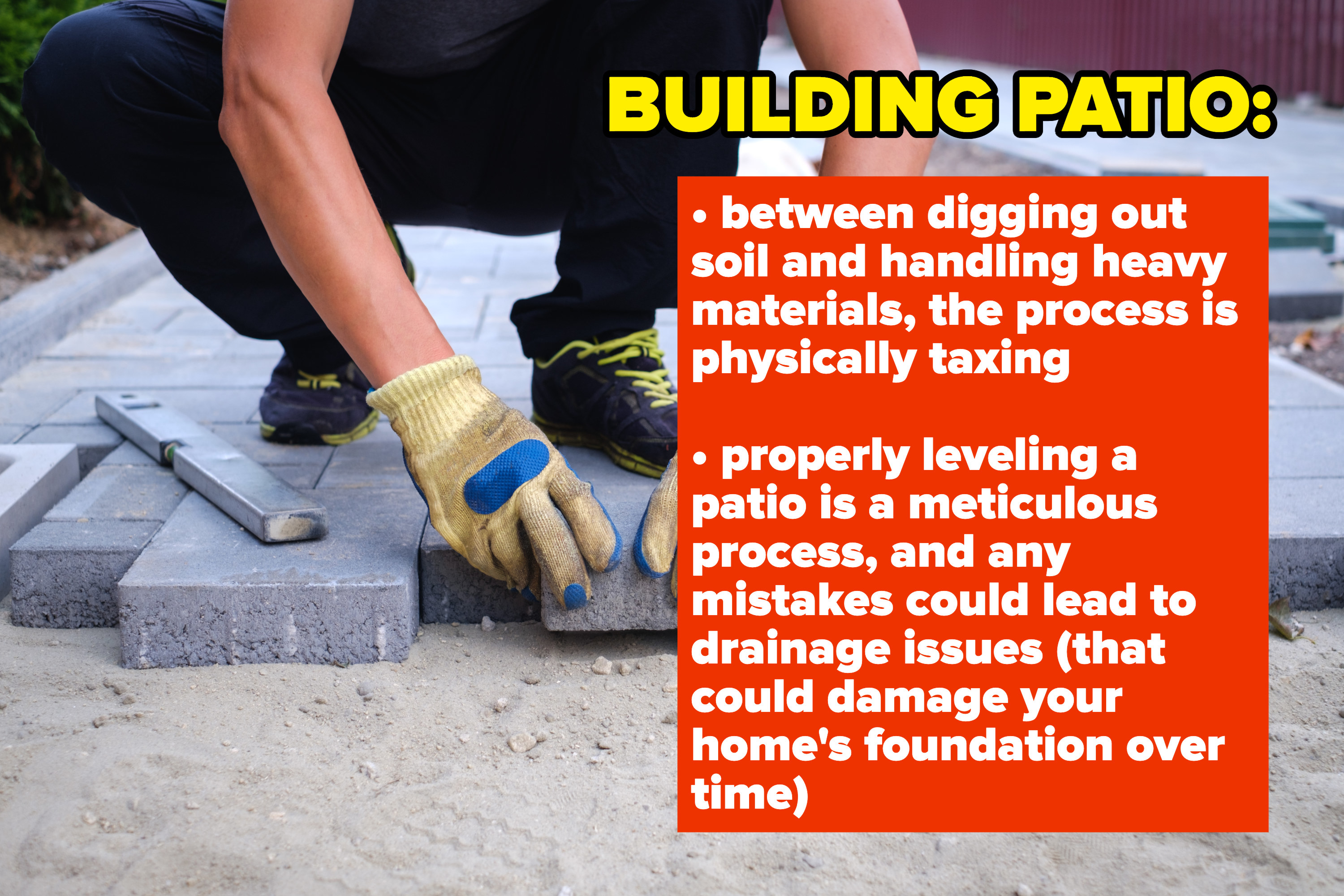 13.
✅ DO IT YOURSELF: Switch out any fluorescent light fixtures with the standard, flush-mount fixture of your choice.
"Getting rid of this fluorescent overhead light in my kitchen was the first DIY project I tackled in my new home, and it was also my first foray into the world of electric work and lighting. I was terrified to do it, but it truly couldn't have been easier. The most time-consuming part was actually re-finishing and painting the area behind the fixture itself. The disassembly of the fluorescent fixture and the installation of the new one were incredibly quick, and now my kitchen is filled with warm, inviting light from energy-efficient LED bulbs."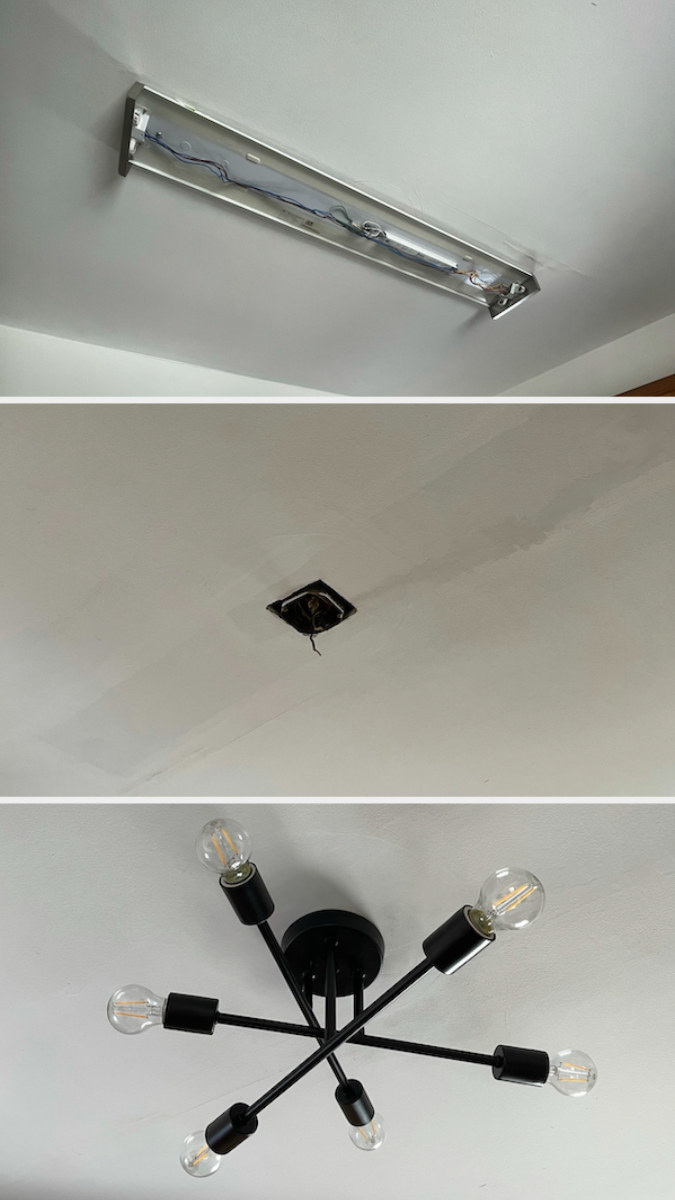 14.
❌ CALL A PRO: Refinishing hardwood floors.
"I refinished the main floor of our home and I was so impressed and satisfied with my work — I felt great about what I accomplished. I had no hesitations at all about going back to rent the sander and do the second floor, but let me tell you: By the time I was done the second floor, I was SO sick of it. I'll never do anything like that again."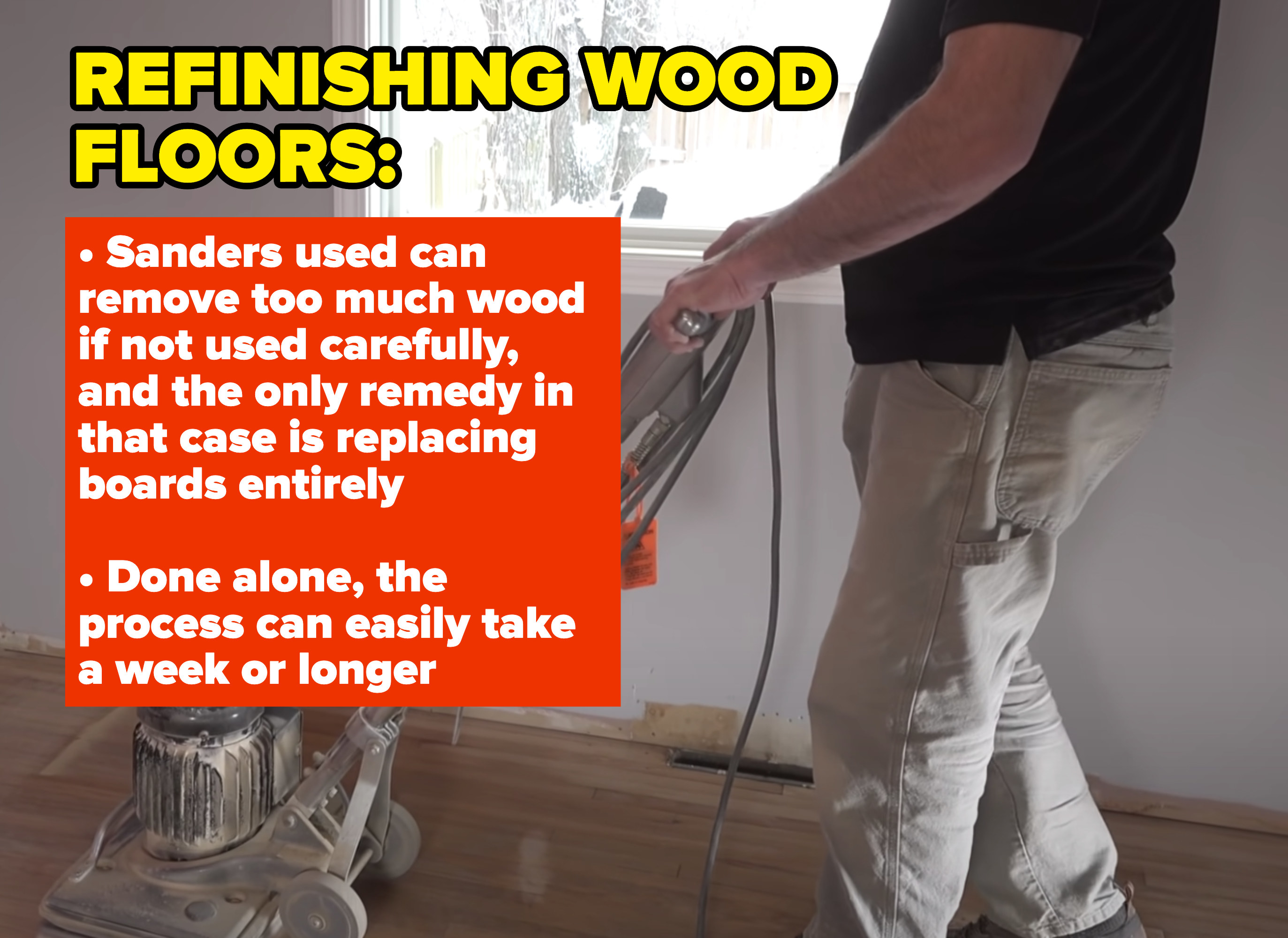 15.
✅ DO IT YOURSELF: Instantly upgrade your existing cabinets by retrofitting them with soft-close hinges.
"Lots of people are obsessed with soft-close drawers, but many don't realize you can retrofit your existing cabinets and drawers with soft-close hinges. When you buy the hardware online, it's really cheap, too."
16.
❌ CALL A PRO: Adding a new fence to your property.
"Holy hell, making a fence is a lot of work! I helped my husband make some post holes last weekend with an auger. We dug about six holes by hand, starting with a post-digger but we have hard pan, rocky, clay soil and it's very hard to dig. We switched to the power auger as a last resort, but even that didn't totally solve our problems. The auger left me bruised, sore, and humiliated."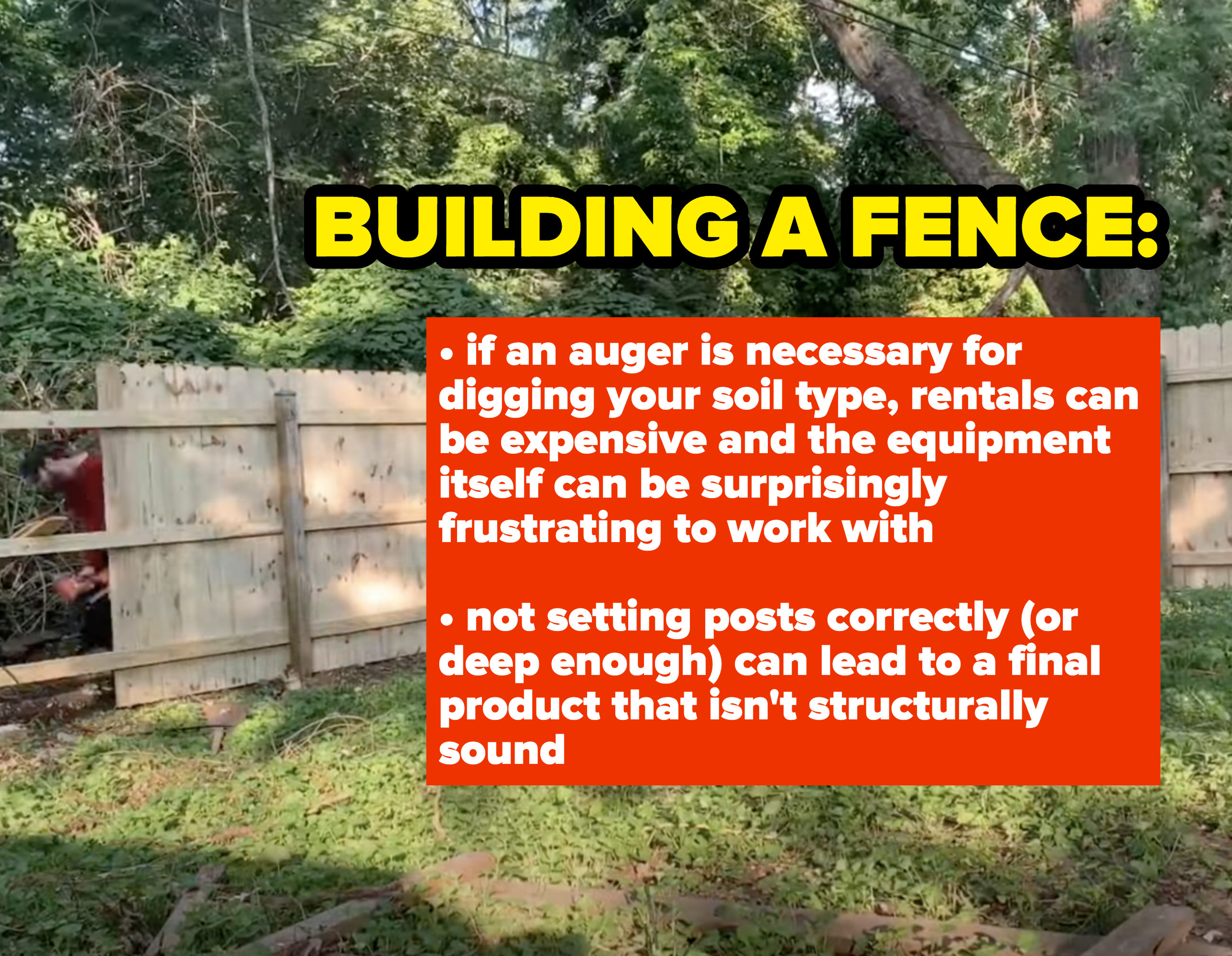 17.
✅ DO IT YOURSELF: Combat high summer utility bills by replacing ceiling lights with fans.
"Installing ceiling fans in every room — even the kitchen and garage — helped significantly with our cooling bills in the summer. Why turn the AC down when you can just turn a fan on?! The $70 Home Depot ones look perfectly fine to me, and they make SUCH a difference in my everyday happiness."
(Note: Before doing this yourself, just make sure your existing outlet box is rated to support a fan, as some will only be able to support the weight of standalone lights.)
18.
❌ CALL A PRO: Remodeling a bathroom.
"I've seen DIY bathroom remodels take between months and years for some fellow homeowners. That's a lot of weekends. Plus, add in the cost of goods and going back and forth to Home Depot or your local hardware store, and it very well might make more sense to just hire it out. Not to mention you're down a bathroom the entire time!"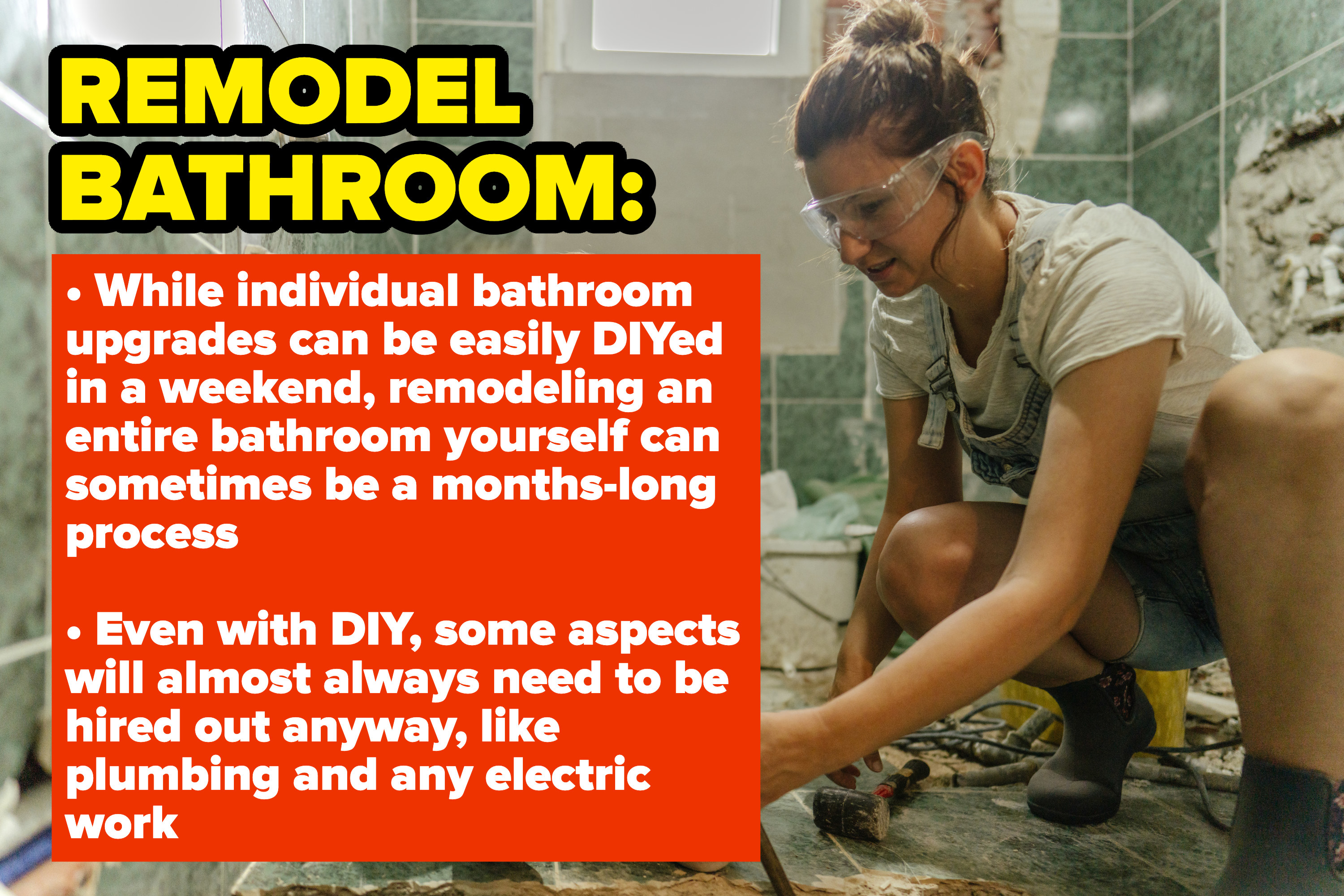 19.
✅ DO IT YOURSELF: Re-insulate your attic to keep your home cooler in the summer and allow less heat to escape in the colder months.
"I insulated the attic for $500 total, and I've easily saved $1,800 in heating and cooling costs since. Plus, the house just feels so much more comfortable, no matter the time of year."
(Note: Since there are many different types of insulation to pick from these days and your choice will likely be influenced by your climate and the type of home you live in, DIY insulation is usually only practical when you're dealing with loose-fill or batts. For more complicated insulation projects, like spray foam, it's best to consult with a professional.)
20.
❌ CALL A PRO: Installing new flooring — no matter the type.
"We re-did the floors of our living room and dining room at our last home and it nearly killed us. With our new house, the first thing we did was hire flooring people! Much less hassle and they completed it in three days, compared to the 3-plus months it took us the first time."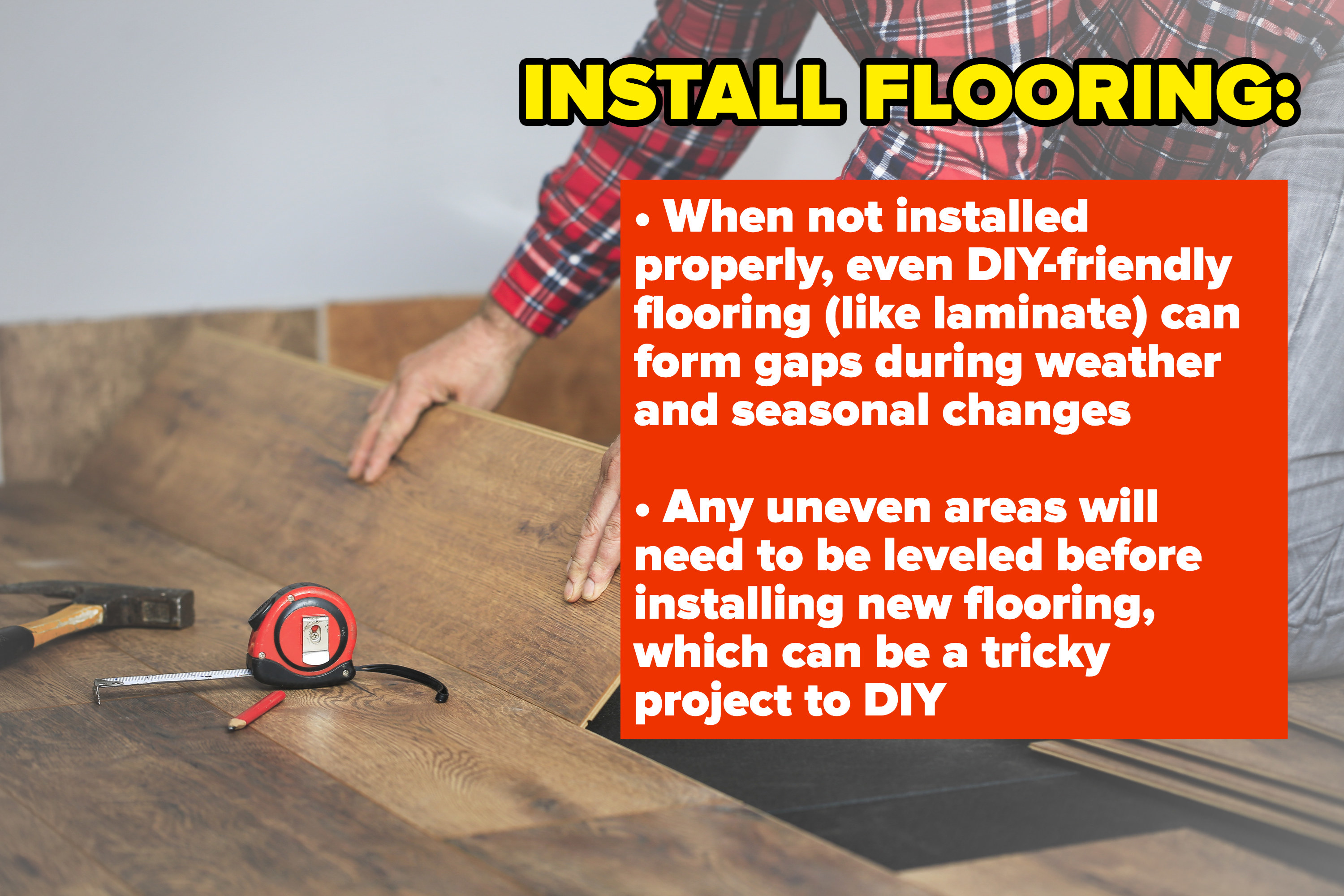 If you've ever done a DIY home project that you totally recommend tackling (or leaving to a professional altogether), tell us about it in the comments below. 👇
Note: Some comments have been edited for length and/or clarity.