As a food writer, I've seen my fair share of food trends become genuinely divisive in their public reception. Not even a month ago, "butter boards" had the internet in an absolute war over whether they were actually cool or just "gross and wasteful trendy bullshit." Come to think of it, I don't think I've ever seen a buzzy new recipe become anything but polarizing in the long run...until I came across this viral dessert on Reddit that everyone — and I do mean everyone — couldn't get enough of.
Behold: Big Mama's "secret" cinnamon roll cake in all her cinnamon-y glazed glory, even though it's...admittedly not so secret anymore.
When I first stumbled upon the recipe months ago, I didn't think much of it. Why? Well, even though I cook and write about food for a living, I juuuuuust don't *love* baking. No judgment, please. It takes a lot for me to bust out ye olde hand mixer, but after closely following the barrage of love and glowing reviews for this cake in the months that followed, I thought it might finally be time to reconsider my stance. Like, we're talking a lot of people vouching for this recipe, folks.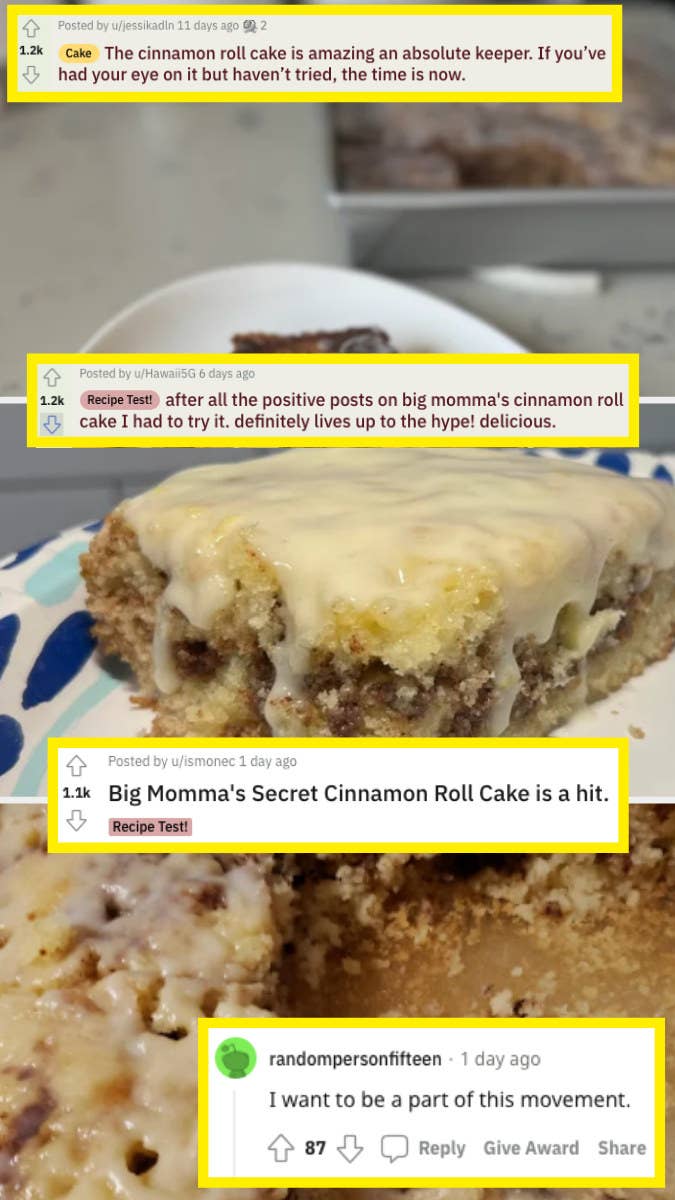 I reached into the furthest, darkest corner of my least-used cabinet, washed the inch-thick layer of dust off of my hand mixer, and decided that it was time to attempt Big Mama's cinnamon roll cake for myself — and I'm so incredibly glad that I did. Truth be told, it was one of the easiest desserts I've ever baked in my own kitchen, and it tasted like it required way more work than it actually did.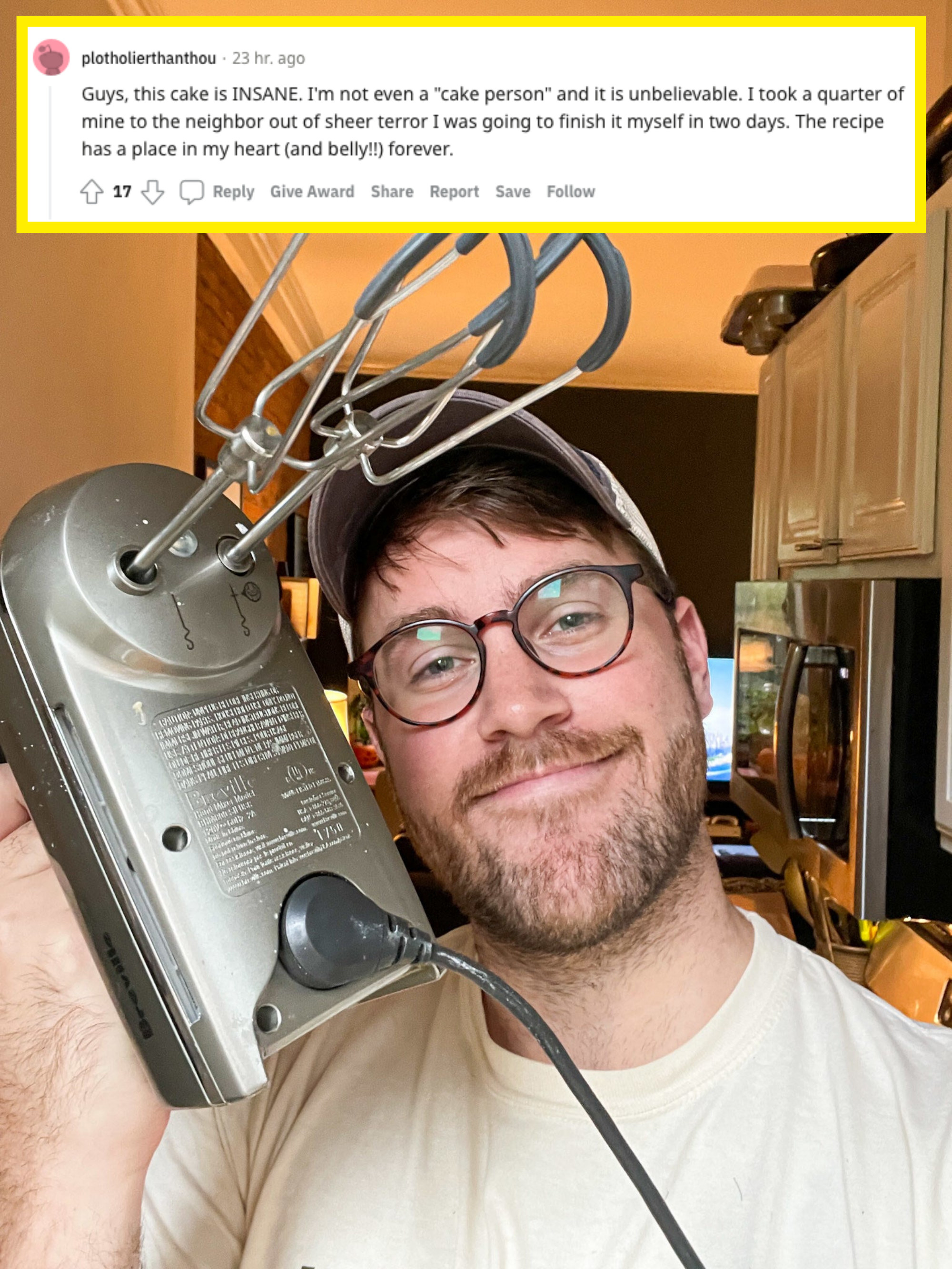 Here's how it all went down.
And before we dive in: It's worth noting that some redditors have asked the original poster questions about some specific details and steps that were left out of the posted recipe, shown below. No shade to the OP, truly! I'm forever in their debt for spilling their Big Mama's secrets in the first place. But as a result, I'll do my best to flesh out the recipe a bit more so no one leaves with any confusion.


First, the ingredients. Thankfully, there aren't many of 'em. There are three components of this cake: the batter, the "filling," and the icing. For the batter, you'll need the following: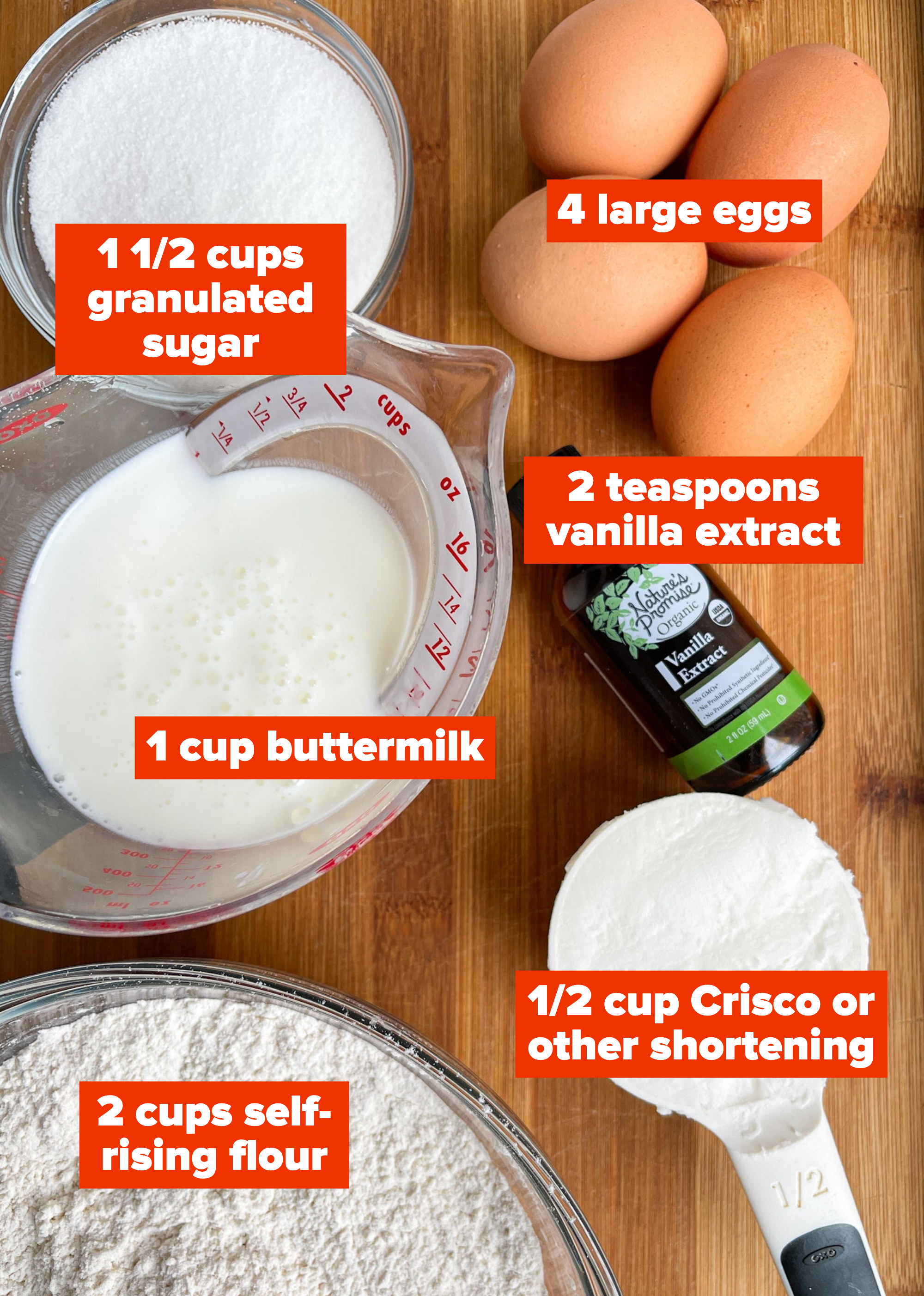 For the cinnamon roll–inspired "filling," you'll just need 1/2 cup of light or dark brown sugar and 4 teaspoons of ground cinnamon.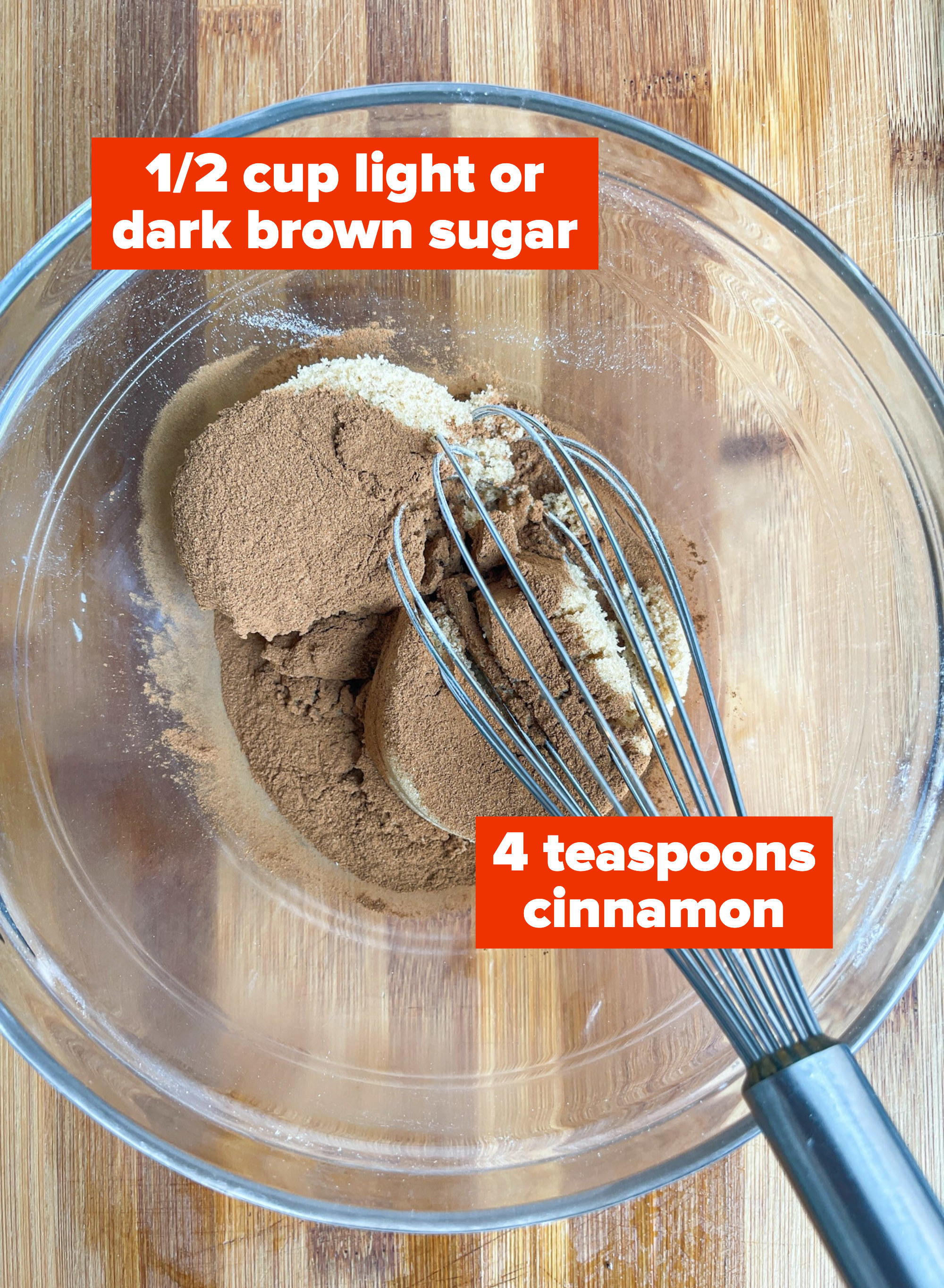 And for that classic icing, you'll only need three more ingredients in addition to that vanilla extract:
STEP #1: Preheat your oven to 350ºF, then cream together the shortening and granulated sugar. Add both ingredients to a large mixing bowl and use a hand mixer to combine them until light and fluffy — which will take about two minutes.
STEP #2: Beat in all four eggs, one at a time. I know it's annoying, but I promise it's the best way to make sure everything gets perfectly incorporated. The mixture will go from stiff and white...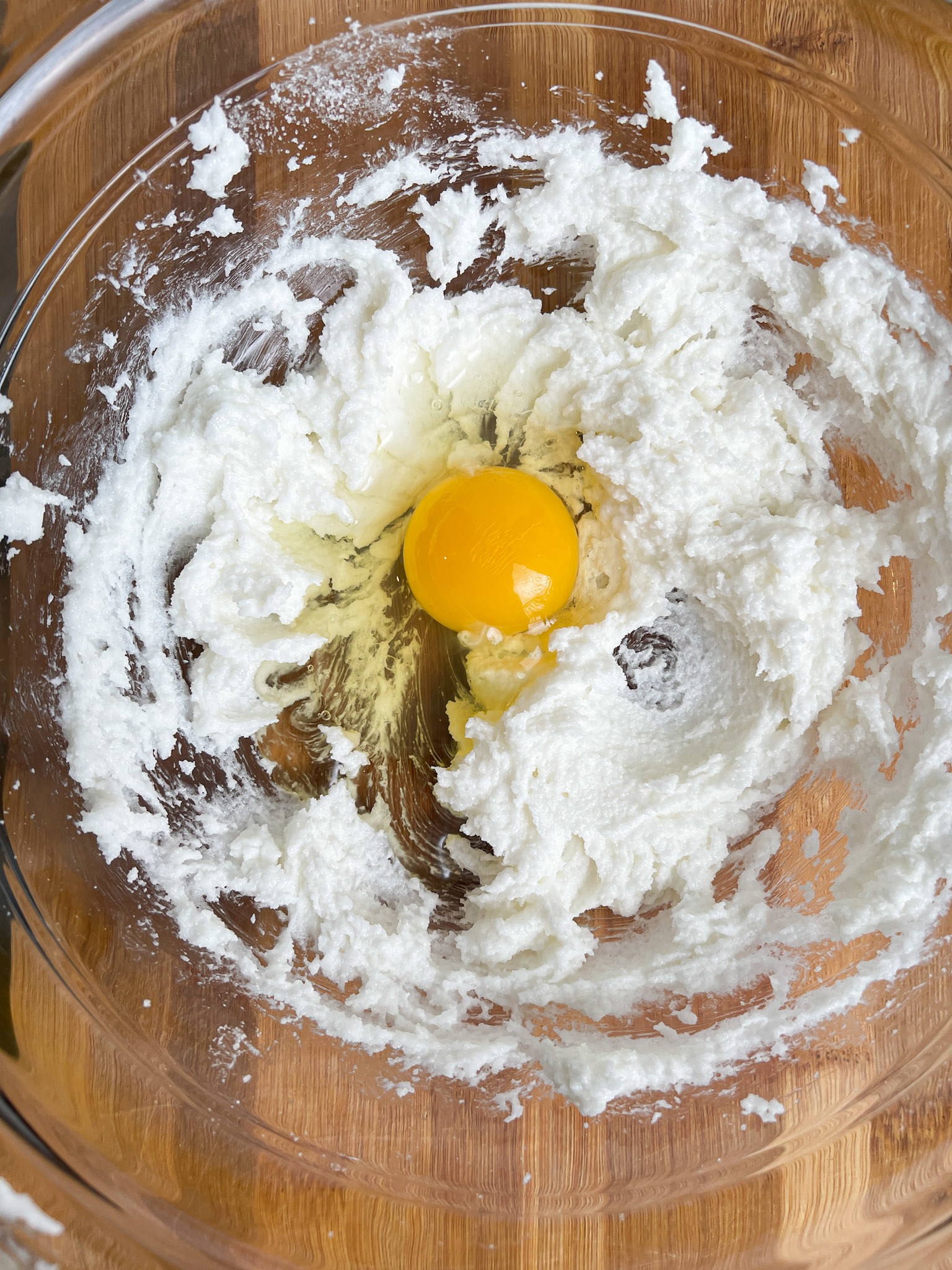 ...to airy and pale yellow by the time you incorporate the fourth egg. Keep the mixer going until the mixture starts to look as frothy as mine did below.
STEP #3: Beat in your remaining wet ingredients, aka 1 cup of buttermilk and 2 teaspoons of vanilla extract. Incorporate just until everything is combined — no need to go wild here.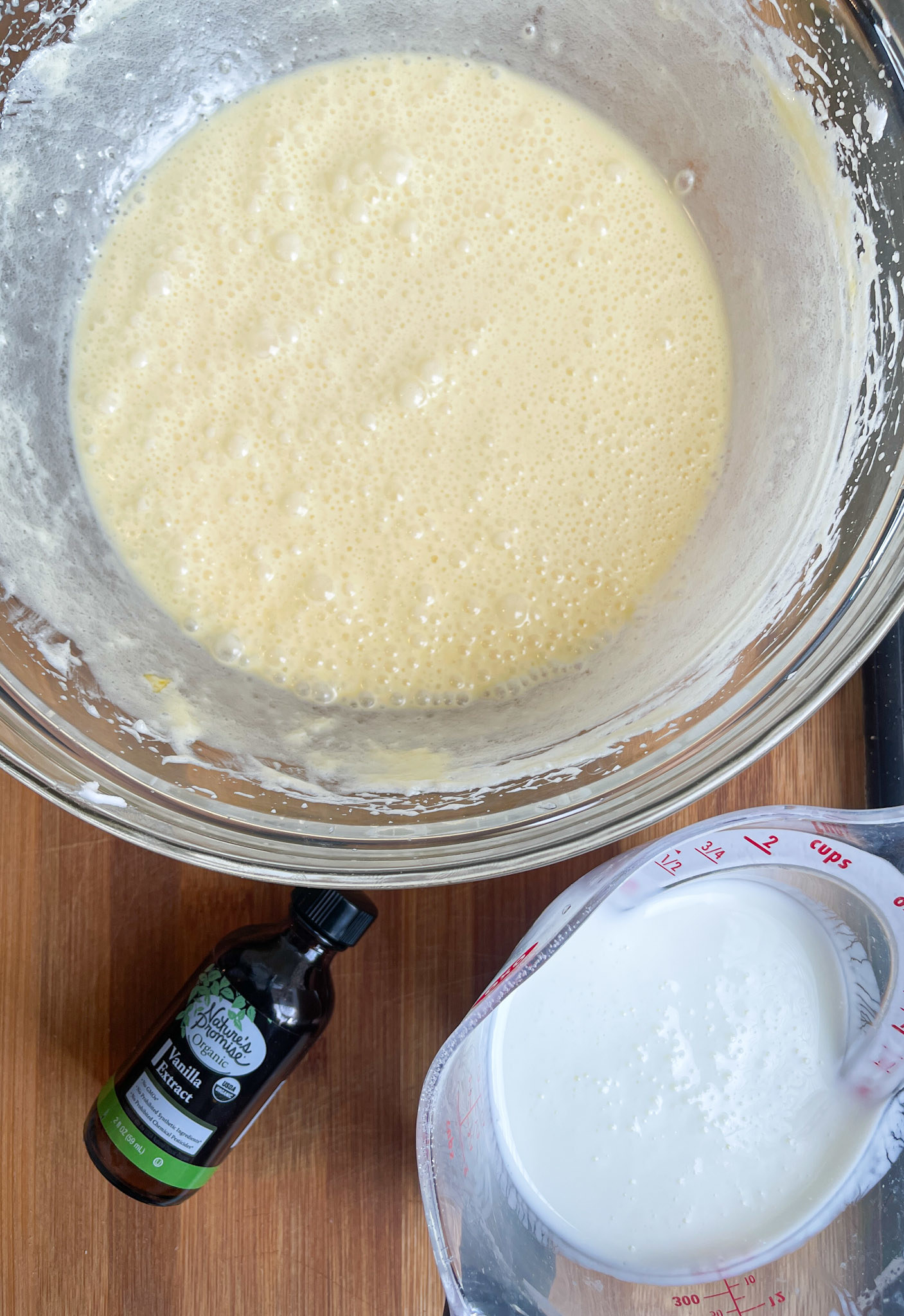 STEP #4: Incorporate your self-rising flour (or your all-purpose flour with baking powder and salt) into the wet ingredients. If you're feeling extra, you can sift the flour in. I did not! And it came out just fine. Either way, only beat the ingredients together for about 30 seconds — just until they're totally combined, and no further.
Cake batter = done.
STEP #5: Make your cinnamon roll "filling" by whisking together 1/2 cup of brown sugar and your 4 teaspoons of cinnamon.
STEP #6: Assemble your layers. This is the fun part! Start with a 9-by-13-inch baking dish and make sure it's well-greased — I used shortening since I already had it out. Since the cake will be served directly from the baking dish, I don't think you need to take the extra step of flouring it, too. Add in half of your cake batter and smooth it across the bottom of the dish with a spatula. Then, sprinkle all of the cinnamon and brown sugar mixture evenly across the top.
Finish the assembly by pouring the last of your cake batter over the brown sugar mixture and smooth it out to the edges of the baking dish.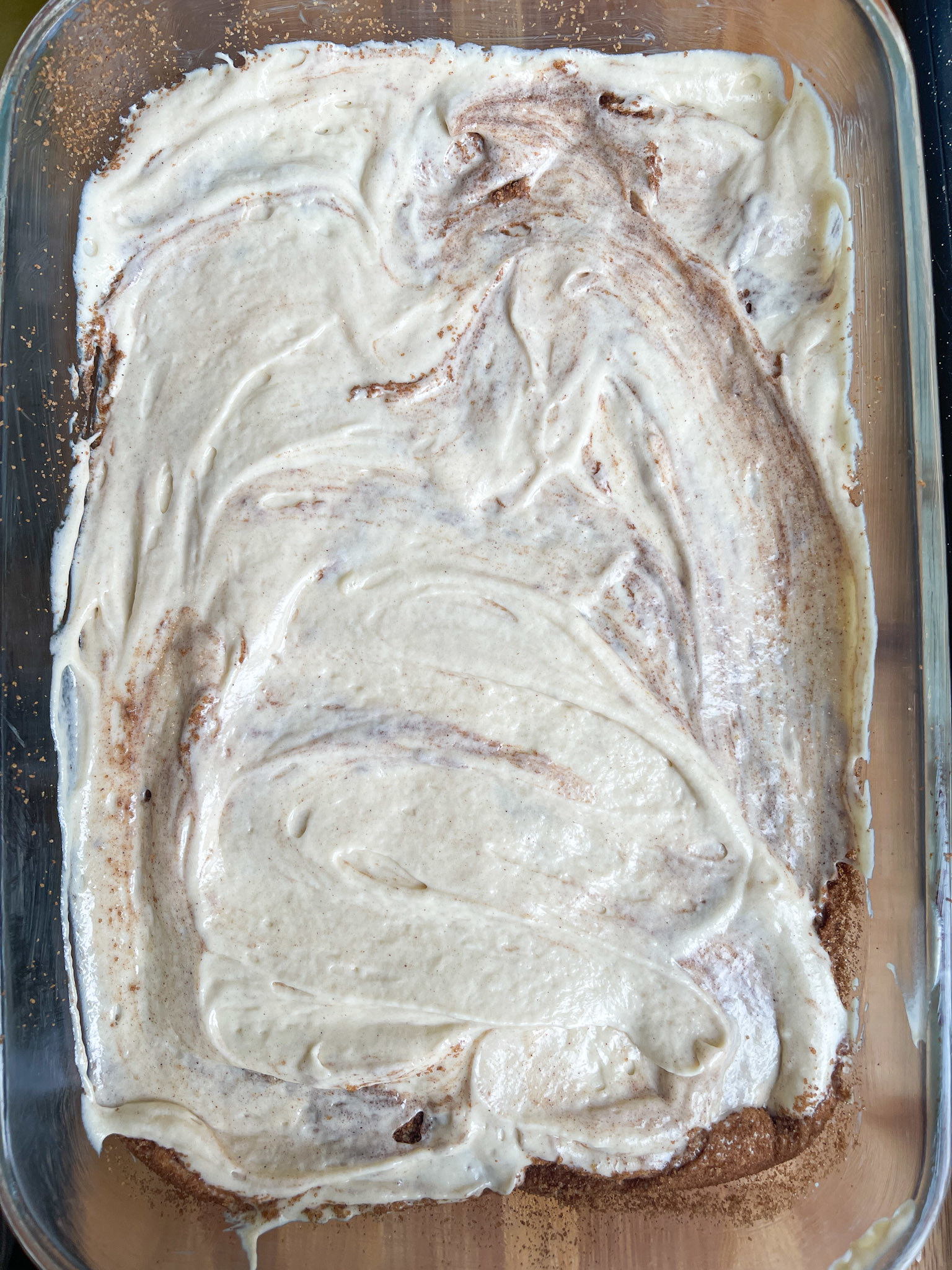 And for the most strangely satisfying hit of serotonin: Use a chopstick or butter knife to swirl the cinnamon-brown sugar mixture throughout the cake batter.
That's all! Time to bake.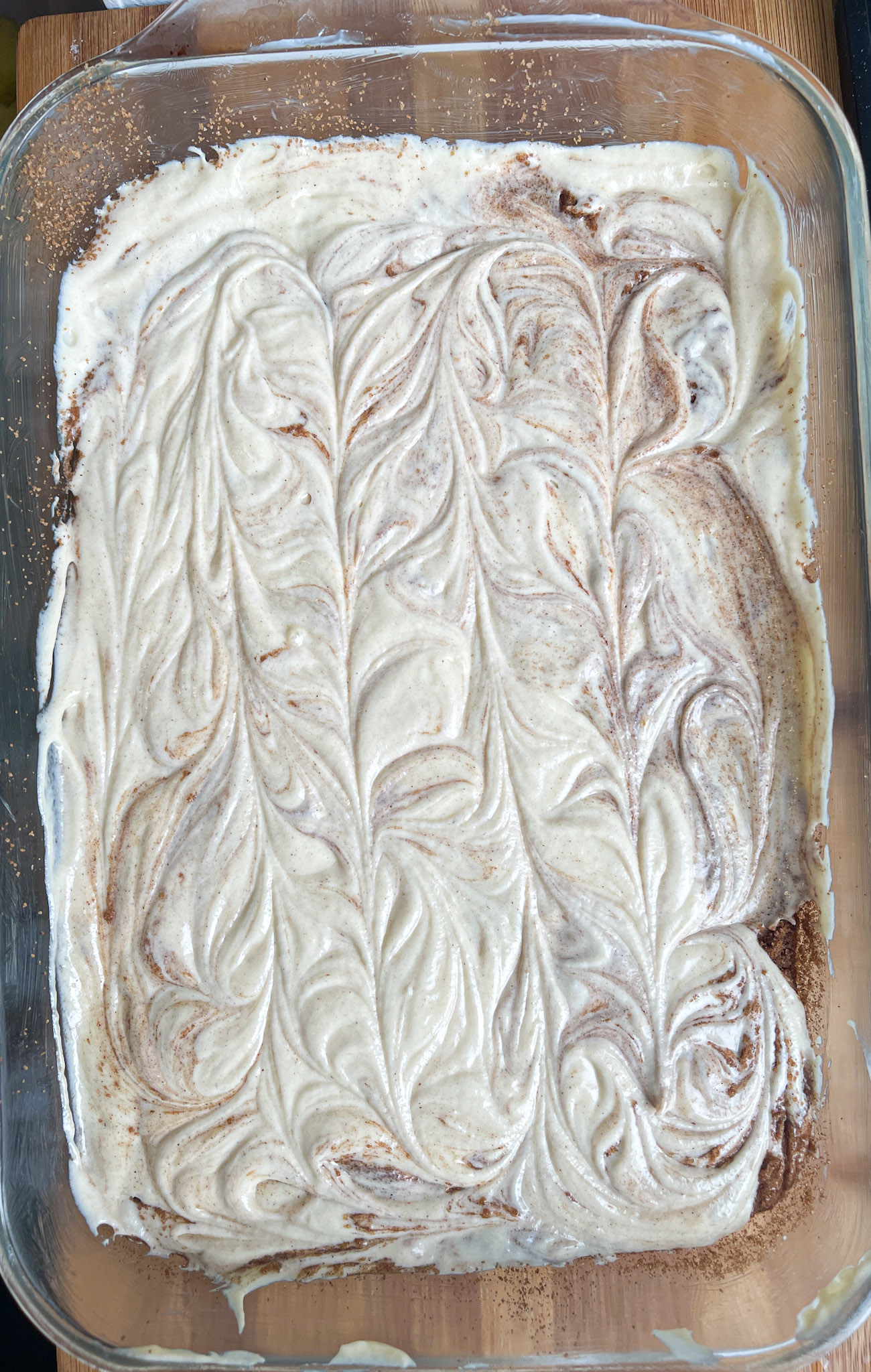 STEP #7: Add the cake to the middle rack of a 350ºF oven. Bake it for 25–30 minutes, or until the cake has puffed throughout, the edges are golden brown, or a toothpick inserted into the center comes out clean.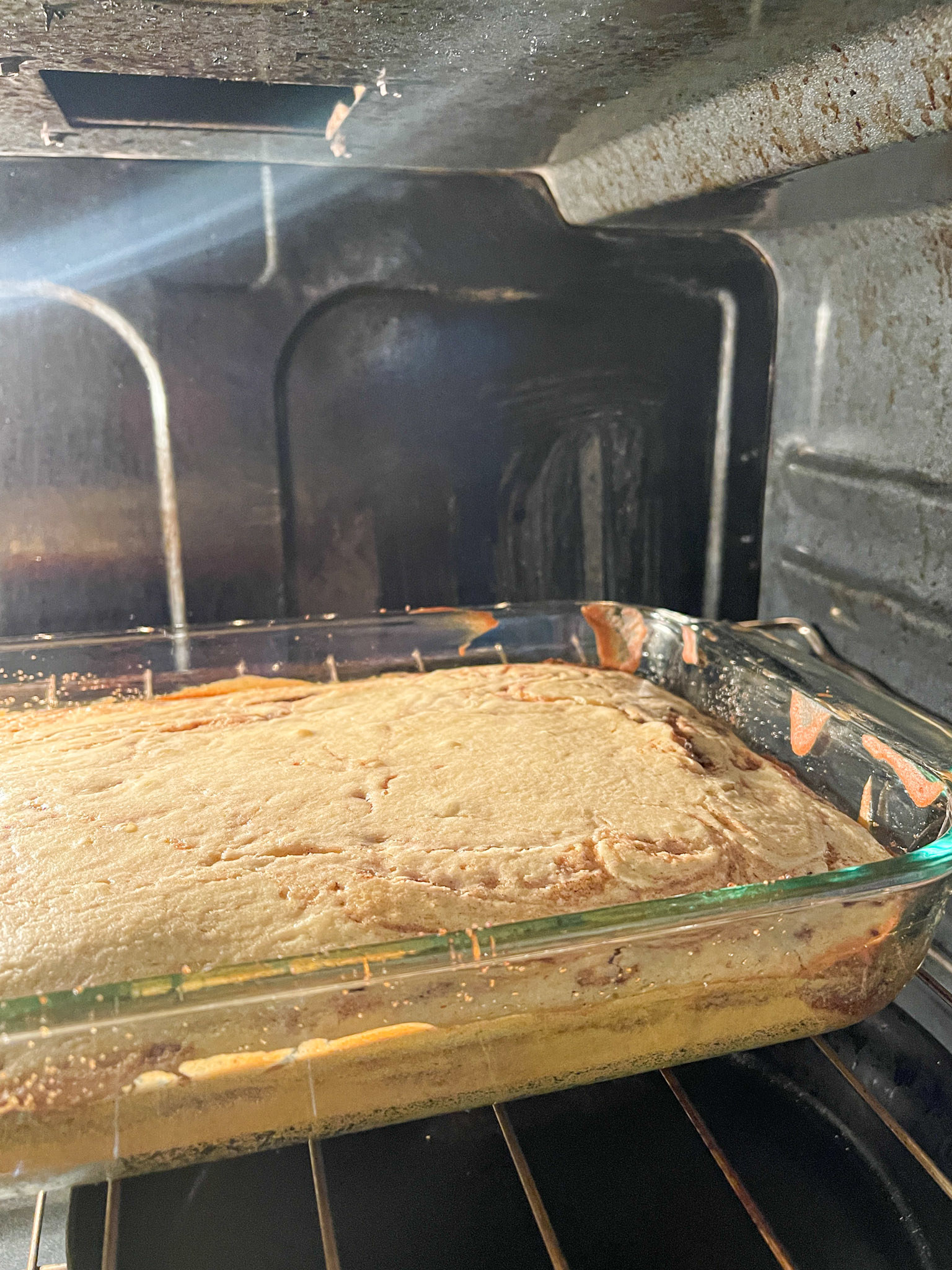 Or, if you're as nervous a baker as I am, you can always just wait until an instant-read thermometer inserted into the center of the cake registers at 200ºF. When you can't trust yourself, trust a kitchen robot.
STEP #8: While the cake cools slightly, prepare your icing. Melt 3 tablespoons of butter and combine with 1/4 cup of warm milk — 30 seconds in the microwave should be plenty. Add in your remaining 1 teaspoon of vanilla extract, then whisk the warm mixture into 2 cups of powdered sugar until smooth, glossy, and contains no lumps.
THE FINAL STEP: It's glazin' time. First, use a chopstick or toothpick to poke holes all over the top of the cake...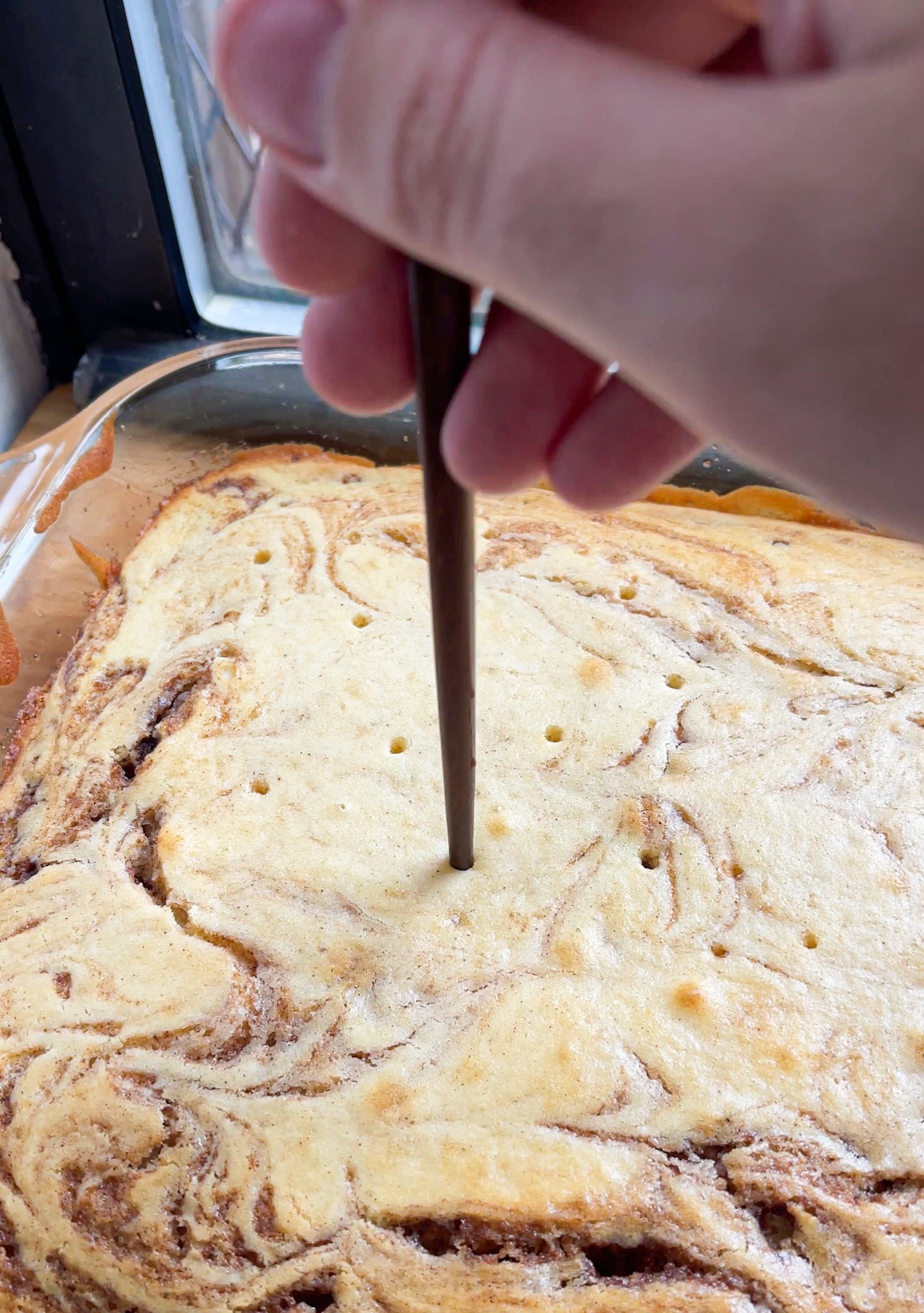 ...then evenly pour that sugary glaze all over.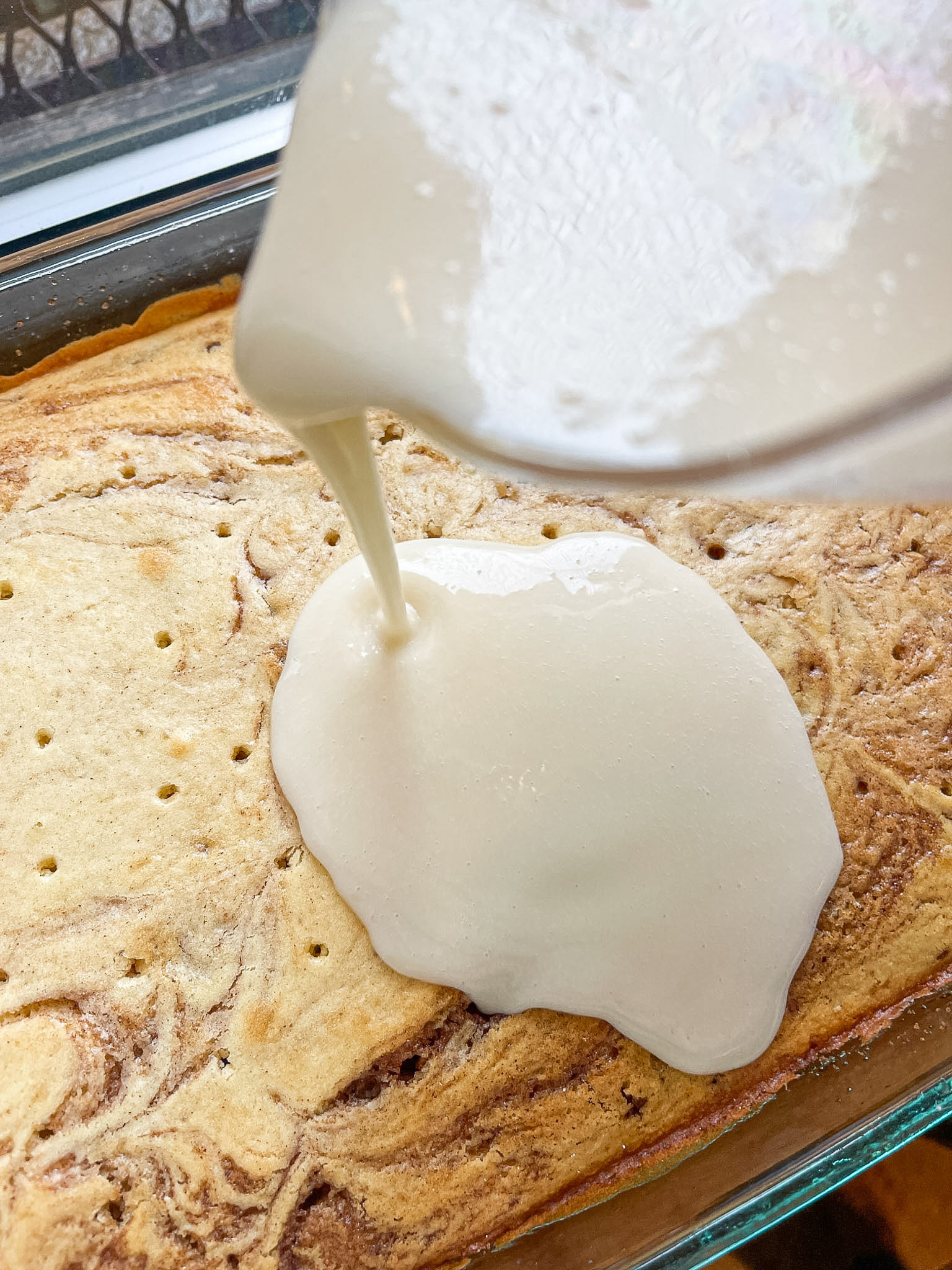 Most of the glaze should soak in in about 10 minutes, but if you notice it pooling at the edges, which you probably will, you can tilt the baking dish around to redistribute the glaze.
After your cake has cooled a little bit — it by no means needs to cool down completely, and TBH, it's better warm — you can finally dig in.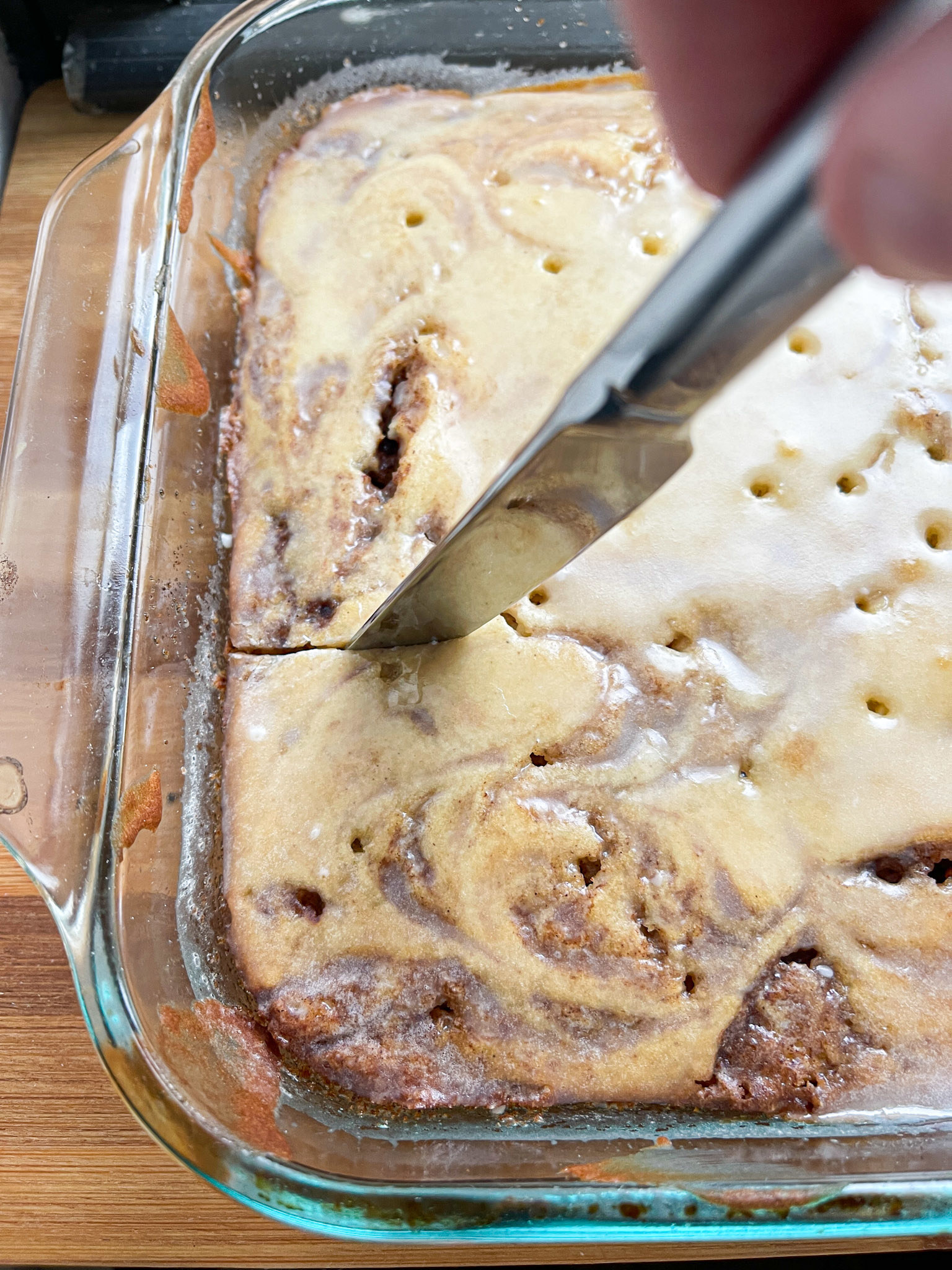 The verdict? Y'all...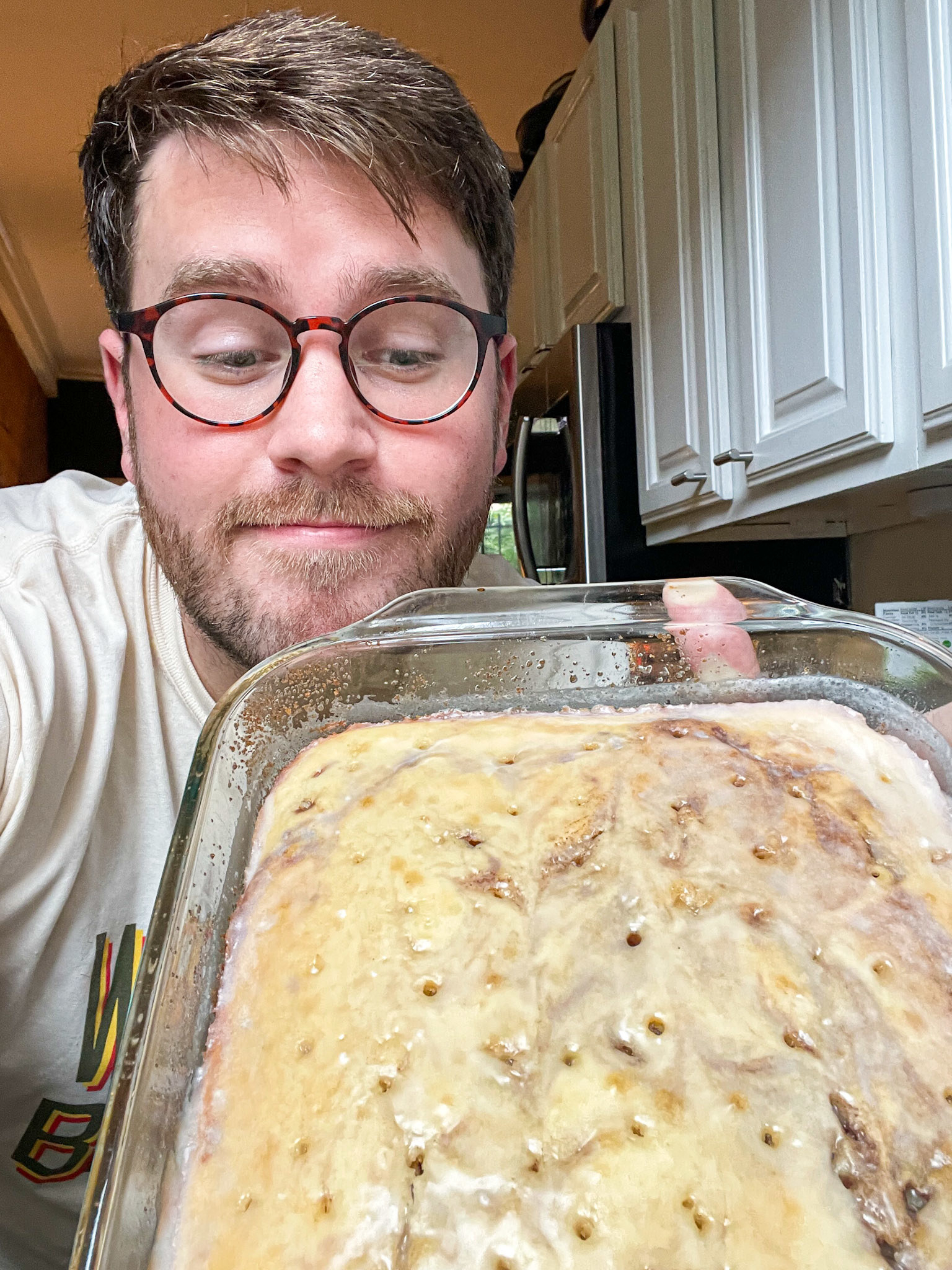 ...this cake is easily one of my new favorite desserts. I'm not just saying that to be hyperbolic. I really, truly mean it. Big Mama's cinnamon roll cake, as the name and many redditors have suggested, tastes *just* like a homemade cinnamon roll — without all the hours of work.
My obsession with this cake boils down to three specific points. First, the flavor of the cake itself is everything.
Second, the crumb was utter perfection.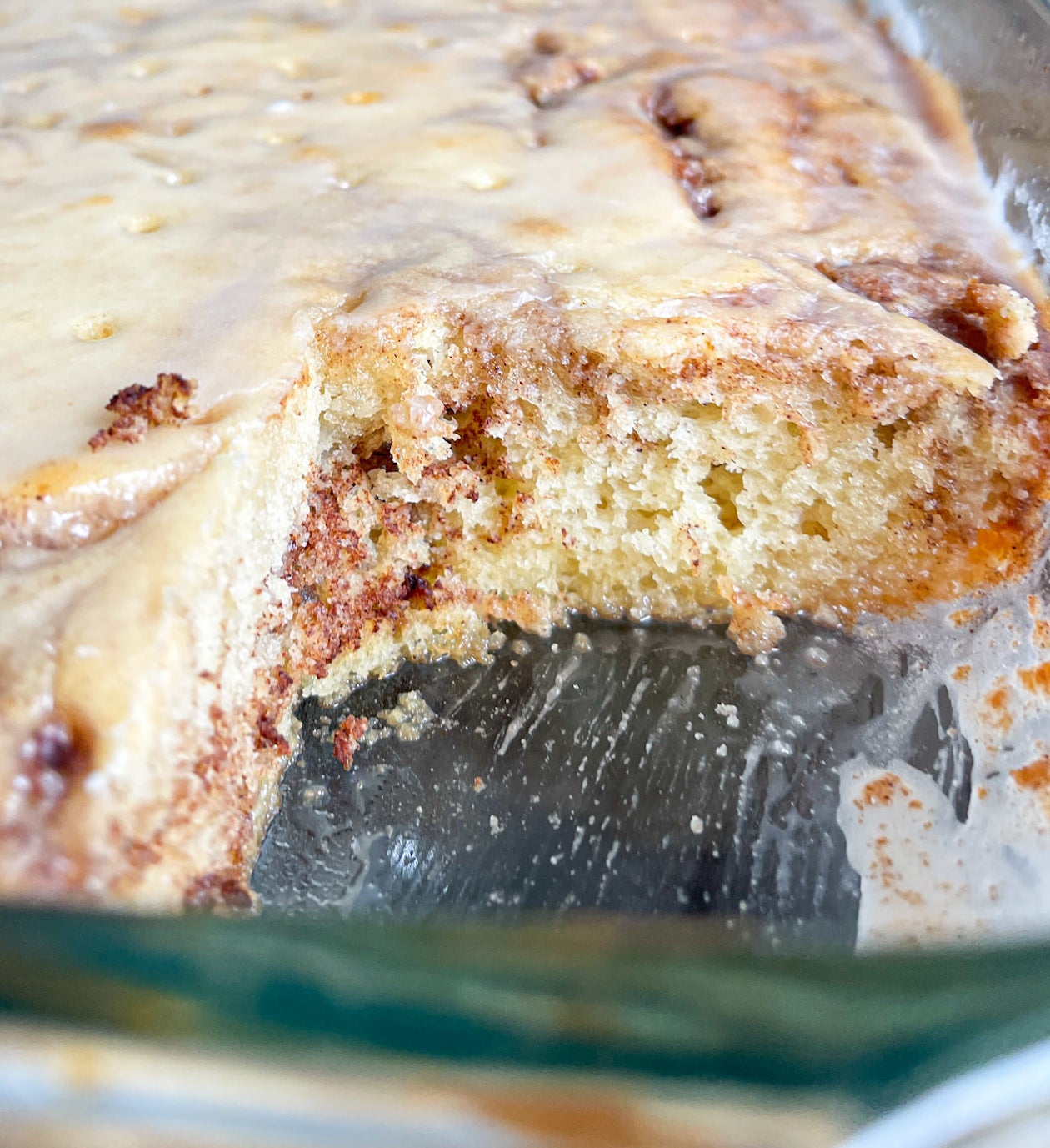 Finally, it was just so darn easy. Since I don't really like baking (remember?), this might actually be the best part of all.
If you feel inspired to make Big Mama's cinnamon roll cake, let me know what you think of it in the comments below. Or if you have any "secret" family recipes you'd be willing to share with us, feel free to tell me about them! 👇