When she's not showing off her pipes on stage, smoking out of one after the show, or clapping back on social media, Bad Gal RiRi is constantly making her mark on the world of fashion and Rih-defining all the rules of style. Take Four Five Seconds to answer the questions below and we'll Rih-veal which of her head-turning looks you would probably wear if you spent a day in her shoes.
What is your favorite thing to do with your clique?

Just Jared

Calling over the glam team to make us up and taking some pics by the pool for the 'gram DUH!

Sliding by Greystone Manor for a night of drinks, dancing, and flirting with Drake

Staying in for an epic slumber party / smoke session (and pillow fight in our underwear of course)

Visiting Paris' Louvre Museum for a day of surveying art and sipping wine

Hosting a glittering charity gala complete with a full orchestra, musical performances, and a killer red carpet look

Hitting up Rodeo Drive for a full day of private shopping, fittings, and presentations

Which member of Rihanna's crew would you want to help you pick out your OOTD?

Dennis Leupold

Melissa Forde (Rih's Longtime BFF)

Leandra Goodridge (Rih's Other Longtime BFF)

Mel Ottenberg (Rih's Stylist)

Yusef Williams (Rih's Hairstylist)

Jenn Rosales (Rih's Manager)

Cara Delevingne (Rih's Fashion Friend)

Which of these patterns would you wallpaper your room with?

YouTube

Via Michaels

Via Michaels

Via Michaels

Via Michaels

Via Michaels

Via Michaels

Via Wallpaper Cave

Via Wallpaper Cave

Via Pinterest

Via Pinterest

Via Michaels

Via Michaels

What is your favorite magazine to read?

Vogue

If you had to describe your style with one Rihanna album title, which would you choose?

Rhapsody

Where would you most likely go to buy new clothes?

Getty Images

Who is your biggest fashion inspiration?

Fashion Gone Rogue

What is your favorite fashion accessory?

Pinterest

a sweater tied around the waist

How do you decide what to wear each day?

Reina Royale

Well I only have a couple of options, so it's a pretty simple decision.

I plan the night before to make sure my morning is as easy as possible.

I imagine what others around me will be wearing and I try to match that.

I ask my friends to help me pick out the perfect ootd.

The process is different each morning, but one thing stays the same: I dress to turn heads.

I try on a bunch of things until something feels right for the occasion.

When do you feel the most empowered by what you have on?

Affinity Magazine

Pretty much always! I stay confident and camera-ready.

Out running errands, just strutting down the street. The sidewalk is a perfect runway!

Just before bed, in my undies, lounging around the house

When I'm getting lots of looks, comments, and compliments on my outfit

When I'm not wearing anything at all. Love the skin you're in!

When I'm doing something daring with my outfit. I like to live life on the edge!
Which Legendary Rihanna Fashion Moment Fits You Best?
You got:

Rihanna @ Terry Richardson Studio
Now THOSE are some Daisy Dukes! You are serving up a whole lot of sassy simplicity and cropping off any unnecessary layers in this summery denim ensemble. For you, fashion is all about those important staple pieces, making a statement with one or two eccentric items, and showing the world the importance of the saying: "less is more". Where Have You Been all my life?!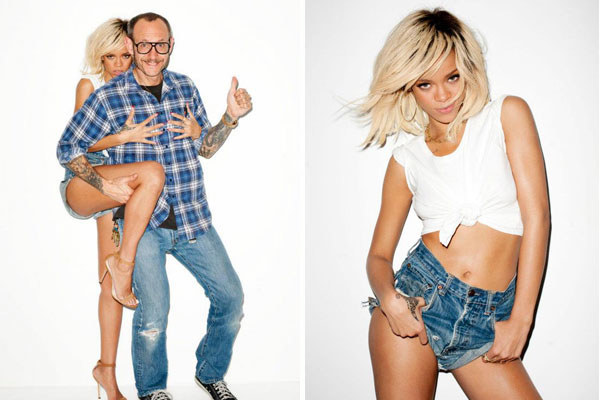 You got:

Rihanna @ Her 28th Birthday Bash
You're looking Phresh Out The Runway (Or should I say catwalk?) in this strappy cheetah-print jumpsuit! For you, its all about effortless sex appeal, having fun with your fashion choices, and an unapologetic attitude no matter what you're wearing.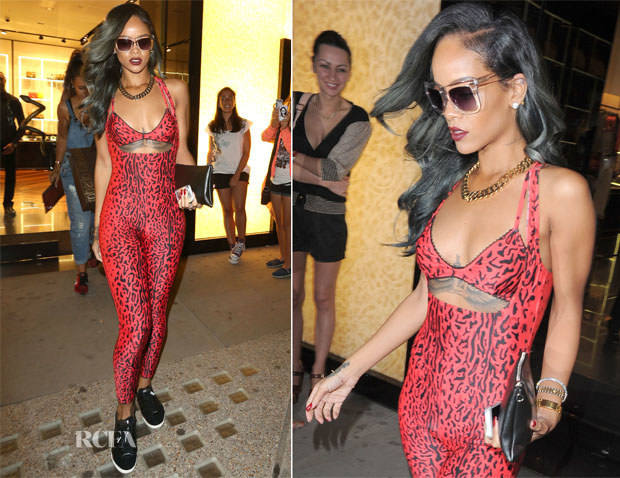 You got:

Rihanna @ The Victoria's Secret Fashion Show 2012
Ooh la la! You really are THAT bitch, working your way down the runway with some of the baddest in the biz. For you, fashion is meant to be sensual yet sweet; flirty yet frilly. Dressed down, lounging around or standing high atop your tallest heels, you're firm in the feeling that it's ok to show a little skin.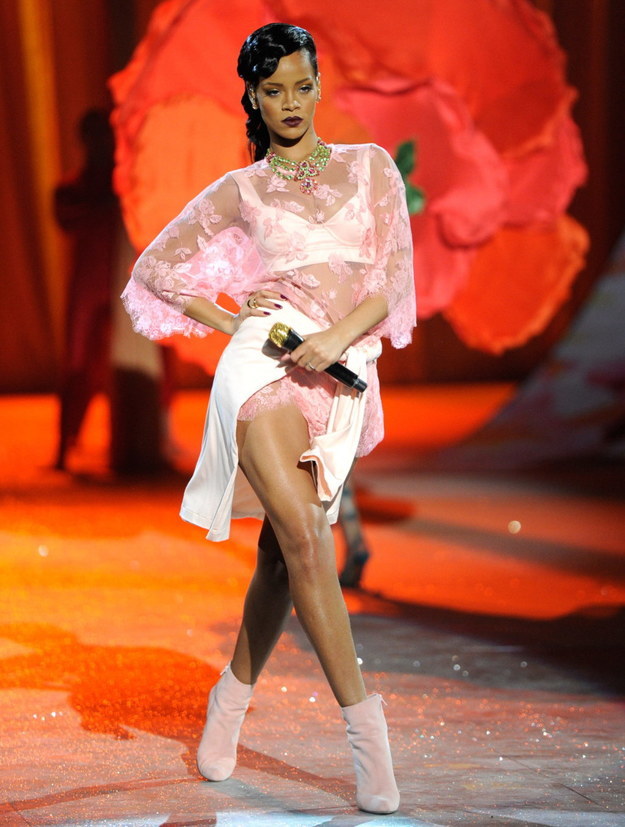 You got:

Rihanna @ The 2013 Grammys
You might've just won a Grammy, but this look deserves a golden trophy of its own! You're the epitome of elegance in this one-of-a-kind Alaia gown. For you, fashion is all about accentuating your best features, showcasing quality designs, and teaching those around you that it's possible to be sexy and sophisticated at the same time.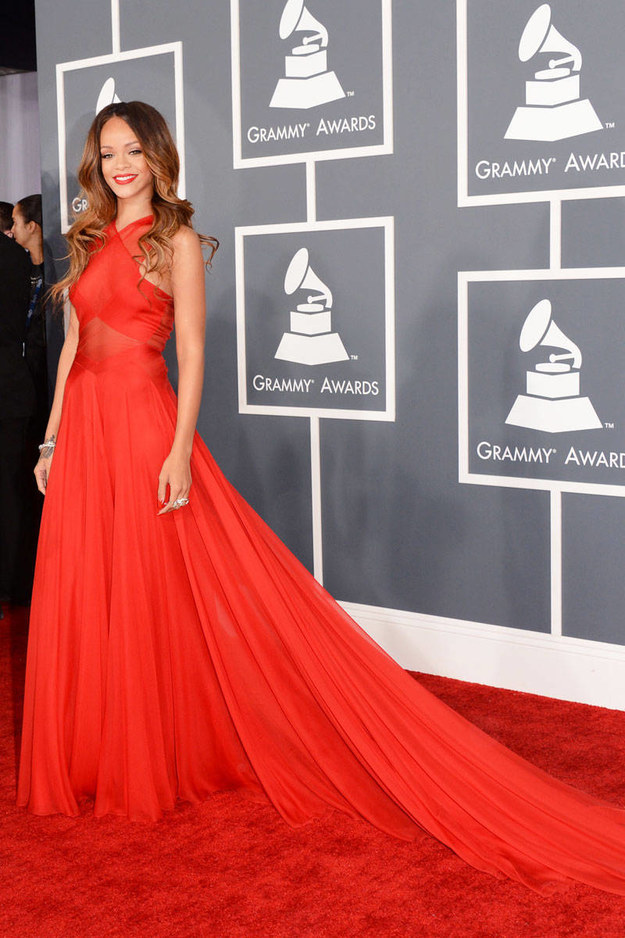 You got:

Rihanna @ The 2014 CFDA Fashion Awards
Damn! You are blinding, shining bright, and scandalous in this epic diamond-encrusted dress created by one of the industry's most daring designers, Adam Selman. For you, fashion is all about wowing a crowd, leaving an impression, and making them want to come back for more. Werrrrrk!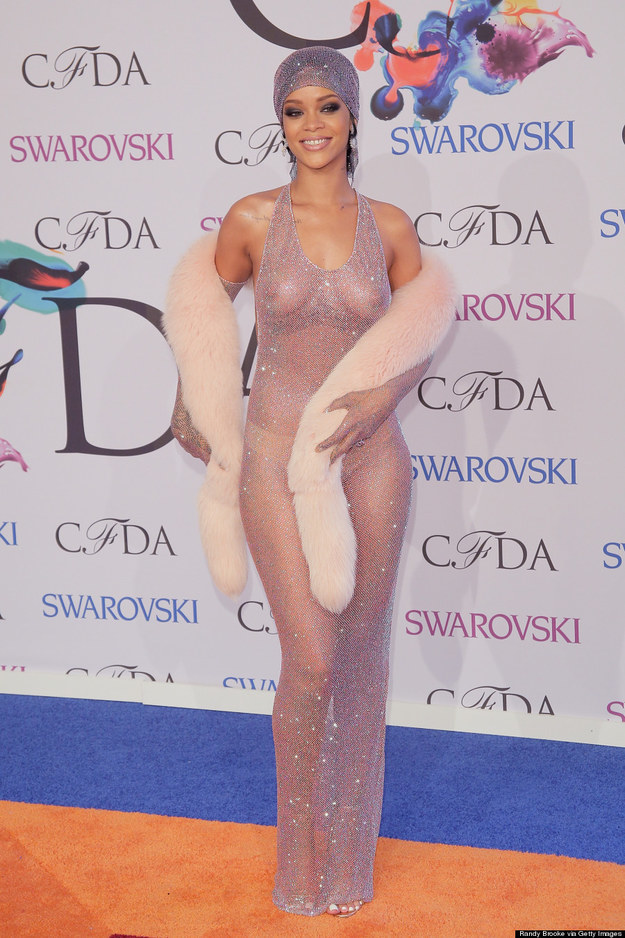 You got:

Rihanna @ The 2017 Met Gala
Oooh na na! What's her name?! I need to know more about this oriental inspired queen. You are slaying the red carpet with this couture Commes des Garcons number. And those heels are a whole 'nother story on their own! For you, fashion is all about mystery, doing the unexpected, and constant evolution. It's your goal to make sure you never wear the same thing twice.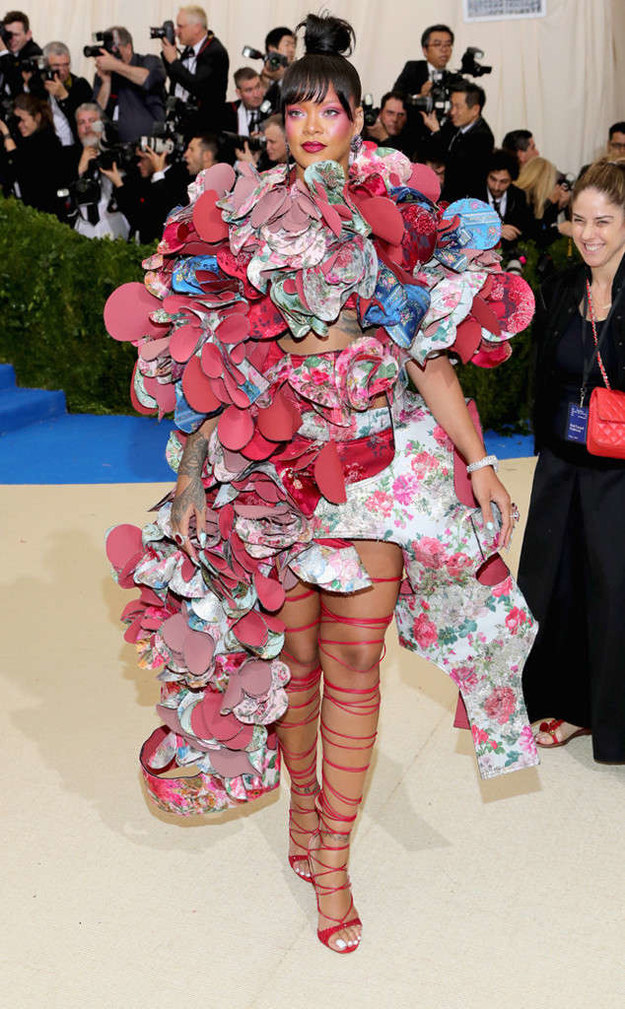 This post was created by a member of BuzzFeed Community, where anyone can post awesome lists and creations.
Learn more
or
post your buzz!