One of the UK's leading women's charities has said the rise in reports of domestic violence in some areas of the UK is "the tip of the iceberg" and that there's an "urgent" need to invest in domestic abuse services.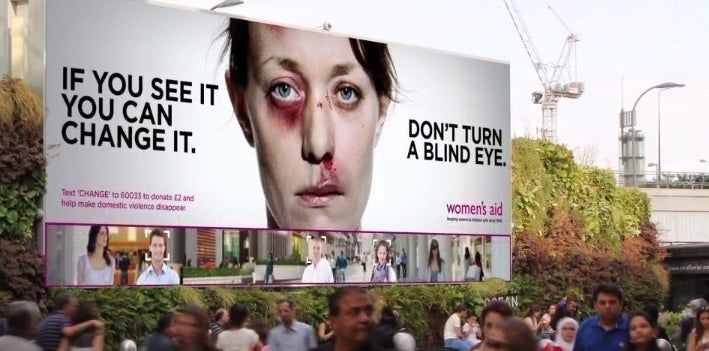 Women's Aid said that while the rise of reports was a positive sign as it implied more people were willing to come forward and speak to the authorities, much more needed to be done.
Last week, Arch North Staffs – a domestic violence charity in Staffordshire – said reports of domestic violence in the county had hit a five-year high, with more than 2,400 reports in one year, and that in some cases they have been forced to turn domestic victims away from refuges.
In Buckinghamshire, reports of rape and domestic abuse had risen for the first time in 10 years, according to the latest crime figures from Thames Valley police. Reports of domestic abuse have increased 35.8%, from 720 reported incidences in 2014-15 to 978 in 2015-16.
Speaking to BuzzFeed News, Polly Neate, chief executive of Women's Aid, said: "Whilst it is encouraging that reports of domestic abuse are on the rise as it shows that more women are coming forward and disclosing, the service provision for them is dwindling. With an average of two women a week in England and Wales killed by a partner or ex-partner, the situation remains dire."
Police said increased confidence, as well as improved systems to record crime, had contributed to the rise in recorded figures.
Olly Wright, spokesperson for Thames Valley police, said: "I'm encouraged that more victims of sexual offences, hate crime, and domestic violence are having the confidence to talk to us about crimes, even if when they have happened sometime in the past.
"Our primary focus must always be protecting those most vulnerable from offences such as domestic violence, sexual offences including CSE [child sexual exploitation] and hate crime."
However, Neate said, a problem facing many domestic abuse services today was that they have had their funding drastically cut.
Earlier this month, Walsall Domestic Violence Forum – a charity that offered support and advice to domestic violence survivors in Birmingham – was forced to close due to a lack of funding. The charity ran helplines and victim support groups, and had been supporting locals since 1992, but lost a "long and hard battle" to secure the funds needed to continue its work.
"We urgently need more investment in domestic abuse services, which is compounded by the fact that more women are disclosing – and this is just the tip of the iceberg," Neate said.
The issue of funding for victims of domestic violence has received high-profile support. Last Wednesday, Labour MP Jess Phillips questioned David Cameron over his commitment to protect refuges for victims of domestic violence.
Phillips said cuts to housing benefits could have significant damage to the funding of refuges.
Phillips told the prime minister: "Already in 2016, at least 46 women have been murdered in the UK. This number would be a lot higher if it wasn't for specialised refuges. I am standing to beg the PM to exempt refuge accommodation from the changes to housing benefit beyond 2017. I don't want a stock answer about the £40million over the next four years. Will he exempt refuges? Will he choose to save lives?"
Cameron said he'd explore all "possible consequences" of the housing benefits policy change.