To any onlooker at Heathrow airport last Friday, Rose and Ahmad looked like any other couple embracing each other at the arrivals gate. He lifted Rose off her feet and swung her around in the air. The pair beamed with happiness.
But they were no ordinary couple: It was the first time Rose had seen Ahmad since they were separated over three years ago as a result of the Syrian conflict.
"Seeing him was nerve-racking, if I'm being honest... it just didn't feel real," Rose told BuzzFeed News. "I couldn't be at peace until I saw him."
After three long years of uncertainty over his safety, and Rose wondering if she'd ever see his face again, the worry continued all the way through Ahmad's journey. Rose feared he would be held at the airport in Lebanon – "they make problems with Syrians" – and was concerned he wouldn't be allowed into the UK. She set her alarm for 3am to confirm he had passed security checks, and again for 5am to see if he had boarded his next flight. But a little after noon, Ahmad walked through the doors into the arrival hall to the warm embrace of his wife and family.
"My parents and sisters stood in Heathrow screaming with happiness as he came out of the door. He keeps looking at me and saying, 'I can't believe we aren't talking over FaceTime!' I don't know how to explain it. I'm really happy."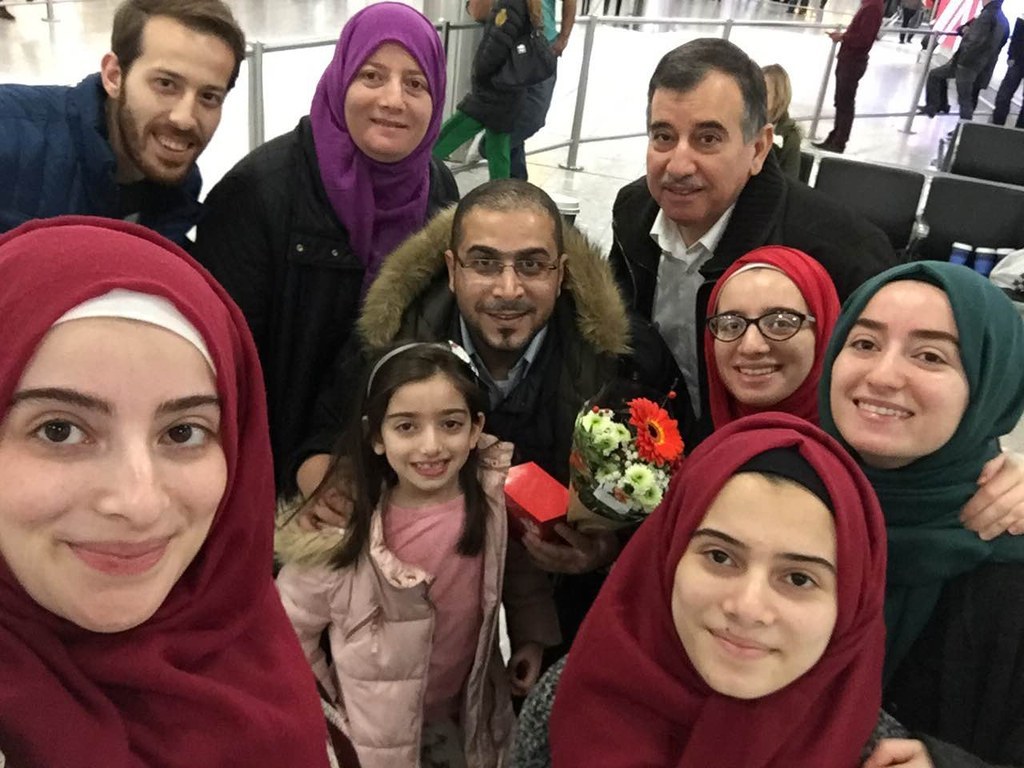 For a relationship dominated by the horror of the Syrian conflict, the couple's story is all the more remarkable for offering a rare happy ending.
British-born and raised in the UK, Rose visited Syria every year, and her family and Ahmad's were close. In 2009, they became a couple and he asked her to marry him but she turned him down. "My education was my priority, not marriage," she explained. "He also lived in Syria, and I still had the whole 'no way will I marry someone living in Syria' mentality!"
When the civil war began, the pair lost touch as both families suffered huge loss. Ahmad's father was killed by the Assad regime, and his sister was killed by crossfire in Homs, leaving behind two young girls. His uncle was among those shown tortured to death and photographed by Caesar, the Syrian military photographer.
Rose spent her time "trying to get the word out" about the government attacking Syrian civilians, using Twitter and Skype to translate and send reports to media and human rights groups. She later continued her work at the Baba Amr media centre in Homs, in "the same besieged area where [Sunday Times correspondent] Marie Colvin was killed".
Ahmed was working at a field hospital nearby. Rose hadn't seen him for years, not since he first proposed to her when she was a student.
"It turns out he was watching me work with my team from afar, and that he wanted to marry me again!" she said.
When the siege ended, Ahmad returned to Damascus to finish his studies as a medical doctor. The pair met again in February 2013, and began preparations for their engagement, but their plans were halted when Rose's uncle and his son were killed by the Assad regime. Shortly afterwards, the couple were separated once again.
"We later went down to Lebanon with our family and my wedding dress," said Rose, "but Ahmad was stopped at the borders and he was told he couldn't leave. We planned to then get married in December, so I could finally wear my wedding dress."
Their December wedding never came. Rose and Ahmad were forced to spend months away from each other in different countries. She continued her pharmacy training, and Ahmad finished his studies and worked in field hospitals across Damascus and Homs in his free time. As a doctor, he was at high risk of being killed, and every day Rose anxiously checked the news to see if he was still alive.
Rose said: "A doctor, who later died under torture, told me just before he was detained, 'A doctor who treats injured is a bigger threat to the regime than someone carrying weapons.' It turns out that was true."
Then, in late 2013, Ahmad was detained in Damascus.
"I knew he was taken because you become a professional at this when working with Syrians. You wait for them to contact you. Nothing. You call their number, and someone answers then shuts down the line. You try again – same thing. You contact the local groups in the area and ask, 'Is there internet? Is there electricity for charging phones?' They say yes. So where is this person? I thought I would never see him again."
For five months, Rose was kept in limbo back in the UK, unaware of whether Ahmad had been killed.
"I can't explain my emotions, I can't explain how I felt. I have so many friends and cousins missing in Assad prisons over three years and it hurts so much."
Eventually in March 2014, Ahmad was released. To this day, he finds it difficult to talk about the torture he suffered while he was detained.
"I look at him with me today and he is still suffering," said Rose. "He can barely stand on his feet, his shoulder dislocates if he lifts too much, his back is still marked, he is in pain all the time. He has never told me the full story – he gives me tiny snippets here and there, and it just makes me freeze. He feels guilty he is now safe and his friends inside aren't. Inside, there were women and children."
On his release, Ahmad's aunt and cousin were detained, and he heard rumours that Assad's forces wanted to take him in for a second time. It was then he knew he had to leave Syria, and with no passport, medical degree, or belongings, he fled to Lebanon and registered with the UN High Commissioner for Refugees and the Red Cross. Eventually, Ahmad and Rose worked towards gaining a spouse visa, and by mid-2015, they were legally married.
"It feels like he will be taken again," Rose said. "I'm so used to barriers and separation... it will take time to sink in. My friends have waited and supported me so much, they stopped me from getting depressed, and they cried and cried when they saw the picture of us at the airport. I was happy to have him arrive safely – not through the sea or in the back of a lorry – as Syrians suffer and die trying to reach safety daily."
Rose is hopeful for their future in England. Her faith and the love of her friends and family are keeping her strong as she begins her new life with Ahmad far from the conflict. Every day she campaigns for Syria, and works with an emergency charity appeal to help people still living in Madaya, a town where residents are sealed off from the outside world and living under a brutal siege. Ahmad, meanwhile, is committed to gaining more qualifications so he can continue to work as a doctor.
"Ahmad used to be called 'one of the best doctors in Damascus'," Rose said. "I hope to bring that name for him here in the UK."
As for their marriage, Rose has no plans for a wedding celebration. She's just happy to be reunited for Ahmad after years of separation.
"I still have my engagement dress that I never wore. I've had it since April 2013 until today. I'll keep it as a memory, both a happy and sad memory. I finally feel free to sleep calmly after all these years."