Men Are Trying To Justify The "Tampon Tax" By Naming Male-Only Items
*Not all men.
Last night, MPs voted against a motion forcing the Treasury to challenge Brussels over the "tampon tax", the VAT that is currently charged on women's sanitary products because they are categorised as "non-essential, luxury" items.
MPs rejected the amendment by 305 to 287 votes. Labour MP Paula Sherriff told MPs: "Frankly, VAT on tampons is the vagina added tax. It is a tax on women, pure and simple."
Despite more than 250,000 British people signing a petition asking the government to stop "taxing periods", the tax remained.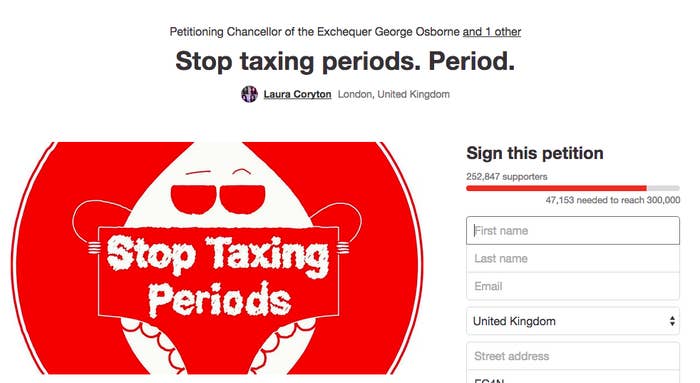 As expected, women were less than impressed by the decision that tampons were still to be classed as a "luxury" item.
Others were angry that those who voted against getting rid of the tax – the majority being men – had rejected scrapping a tax they'd never need to pay.
Some people pointed out that men do not have to pay a tax on male-only items – as there aren't any.
Many reminisced back to earlier this year, when one Twitter user tried to claim "trousers" were a "male only" tax.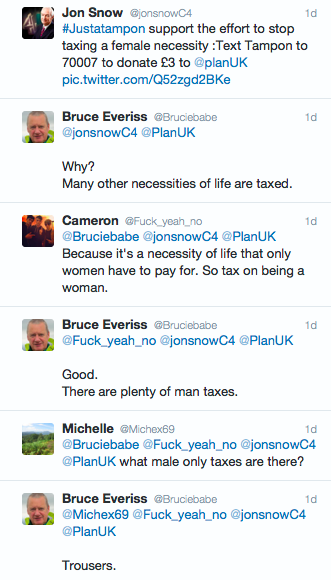 Labour MP Stella Creasy, a vocal opponent of the tampon tax, criticised the decision.
When she asked what men-only items exist, here's what some people threw out as suggestions:
Which led to one man deciding to compare the tampon tax to the ratio of men and women who died during World War II.
The "tampon tax" will next be raised with the European Commission, according to a UK Treasury minister.
CORRECTION
Last month, MPs voted against a Labour motion forcing the Treasury to challenge Brussels over the "tampon tax". An original version of this article incorrectly stated they had voted against scrapping the tax.