A campaign is underway to save Arturo, the last polar bear in Argentina, who has been described as "the world's saddest animal". Arturo currently lives in Mendoza Zoo, the only zoo in Mendoza, Argentina. The 29-year-old bear has been living in the enclosure for more than 20 years. Arturo is believed to be unwell and to have become depressed since the death of his long-term companion, Pelusa, two years ago. Arturo was born in the U.S. in 1985 and arrived in Mendoza in 1993. This is where he lives. Arturo is currently living in temperatures that can climb to as high as 40 degrees. Polar bears like him typically need to live in temperatures at minus 40 degrees. Experts say that his behavior is "abnormal" and fear his mental health is deteriorating. Animal rights campaigners are now desperately trying to get him moved to another zoo that offers cooler conditions. But according to the Sunday People, Mendoza Zoo – where Arturo is currently enclosed – blocked an effort to move him to Assiniboine Park Zoo in Winnipeg, Canada, in February. The zoo did not believe the bear would survive the two-day trip. To avoid making "a big mistake", the medical board decided against it. For Arturo to be moved to Canada, the Canadian Food Inspection Agency requires specific records dating back at least three years. It's been reported that Mendoza Zoo had failed to provide the needed documents. The campaign to have Arturo relocated to another zoo has been building for months, and has driven huge numbers of people to take action. The signatures will be delivered to Argentina's president, Cristina Fernandez de Kirchner. Last week, the hashtag #FreeArturo was trending worldwide as campaigners called for Arturo to be relocated.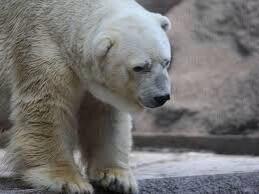 Even high-profile stars such as Cher have voiced their concerns over Arturo.
BuzzFeed has reached out to Mendoza Zoo for a comment about Arturo's health today. As yet there has been no response.