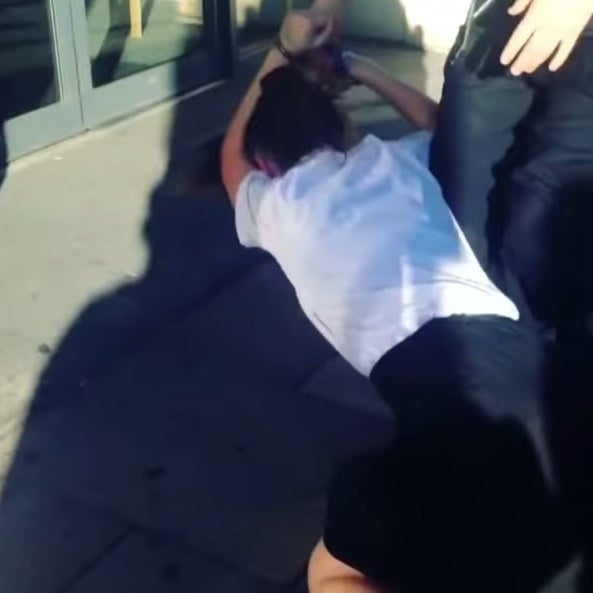 The mother of a 13-year-old schoolgirl who was recorded in a video being dragged on a pavement by a police officer while handcuffed is calling on the Metropolitan police to take disciplinary action against the officer.
Katelynn Murphy King was restrained and handcuffed by a policeman outside Wapping High School in Bethnal Green, London, on 5 October at 4.15pm. She was approached by the officer after a row she had with a 16-year-old pupil from the school.
In a video of the incident that was released by the family on Monday to the East London Advertiser in an effort to put pressure on the Metropolitan police to take action, an officer is seen pulling Katelynn from the floor and pushing her against a wall.
Speaking to BuzzFeed News, Katelynn's mother, Leanne Kin, said the family had complained to police and were informed on Monday that the Independent Police Complaints Commission (IPCC) will pursue an investigation. She described the video as showing the officer as using "unnecessary force" and is calling for him to removed from working with the public.
"I want justice," Leanne King told BuzzFeed News. "He should not be working on the streets of London. I don't want him to do that to another child."
She added: "My daughter is still quite traumatised from that day. She came home crying, and her sister said 'Look what a police officer has done to her', pointing to her bruises. She used to go out with friends after school but hasn't been out since then."
Following the altercation, King says, Katelynn was left with bruises. She was not questioned by the officer or taken to the police station.
The family say the officer threatened Katelynn's twin sister and ordered her to delete the footage from her phone at the time of the incident.
King also heavily criticised the level of force used against her daughter.
"It was a silly girls' argument, and there was no reason for him to use that force – she doesn't go out and cause trouble. You can see in the video, she's not aggressive, she was terrified."
King said this was not the first time she had heard of, or witnessed, police officers using "excessive" force against young people in her area, and that the police and community's relationship has been hostile in the past.
"This shouldn't be happening – we are meant to trust the police," she said. "I don't treat or handle my children like that, so I especially won't allow a police officer to take that force against my child."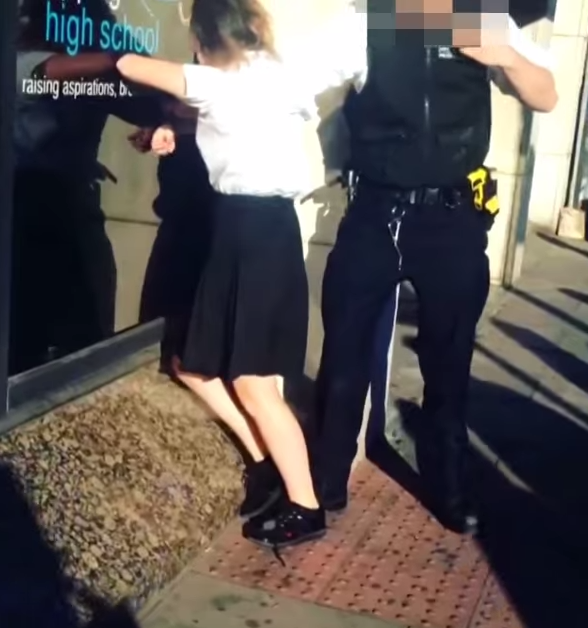 Joan Whittaker, Katelynn's grandmother, told the East London Advertiser: "This policeman wasn't tackling a grown man, this was a little girl of 13. It was extreme force and it absolutely was not justified... She tries to get up and he just drags her like a piece of meat."
The IPCC confirmed it had received a referral from the Metropolitan police on the incident. A statement said: "Following a careful assessment we have decided that the incident should be locally investigated by the Metropolitan police."