Back in 1999, after many successes in theatre and TV roles, Alan Rickman took a role in Dogma, a comedy directed by Kevin Smith.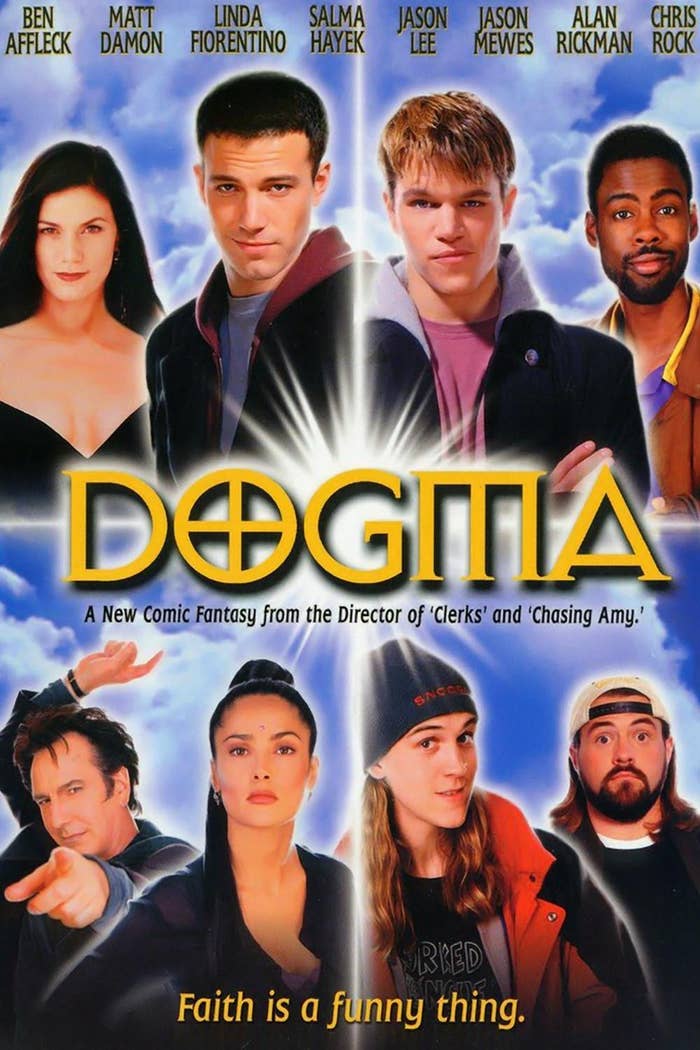 Dogma became a cult classic, and following the death of the beloved actor, many fans of Alan Rickman said his performance as Metatron – the angel who serves as the Voice of God – was how they'd remember him.
In the movie, Rickman's perfect as the disgruntled angel.
How can you forget the moment he tries to explain who he is to Bethany?
Or, er, this moment.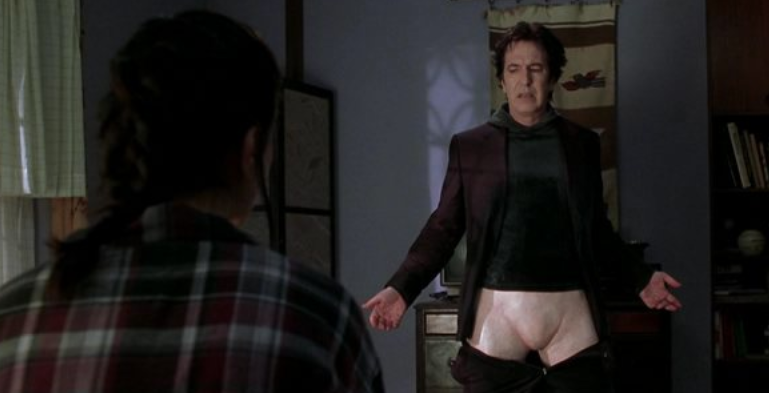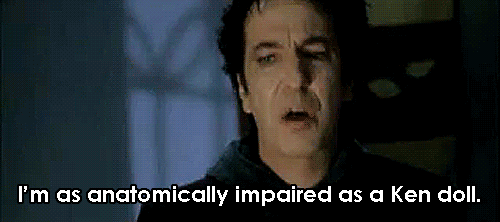 His character captured how we all feel when we're fresh out of ideas – and what to do about it.
Rickman's delivery of Metatron's sarcastic rants are flawless.
In fact, only Alan Rickman could deliver Metatron's sharp insults.
Or silly humour, too.
He even finishes off the movie in style, rocking up with his best pal, God (played by Alanis Morrisette).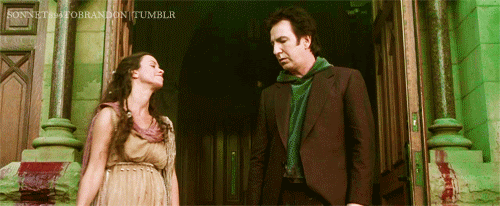 Behind the scenes, Rickman was close pals with the other cast members, such as Salma Hayek and Chris Rock.
Rickman simply embodied his role as Metatron, the angel who gave no fucks.
Director Kevin Smith paid tribute to the beloved actor on Facebook with this post:
One of my favorite people who ever lived has died. The legendary #AlanRickman played Metatron, the Voice of God, in my 4th film #Dogma. Alan was the first non-friend who signed up to the flick, but he became a great friend in record time. In this pic, he holds the Ken doll his Dogma character's lack of genitalia was modeled after. I'll never forget his incredible dulcet tones guffawing at the rubber crotch makeup he was wearing: one of the greatest actors who ever lived, tickled by a cinematic lack of a dick. I loved Hans Gruber the minute I saw #DieHard but I fell in love with the soft-spoken gentle soul who brought Gruber to life. Thank you for lending a hack like me your artistry and your credibility, Alan. You were never Snape to me as much as you were the adult Harry Potter himself: a bonafide wizard who could conjure absolute magic using merely words. He was a HUGE cauldron of win, this man. I'll miss him forever. Rest in Peace, Voice of God. Back to Heaven, where you came from...
Rest in peace, Alan Rickman <3