French Authorities Have Begun Demolishing Parts Of The Calais "Jungle" Refugee Camp
Riot police cordoned off parts of the camp while demolition teams dismantled shelters and tents occupied by refugees and migrants.
French authorities began dismantling tents and shelters in Calais's "Jungle" camp for refugees and migrants on Monday morning in a move volunteers described as the latest drive to relocate people to elsewhere in the country.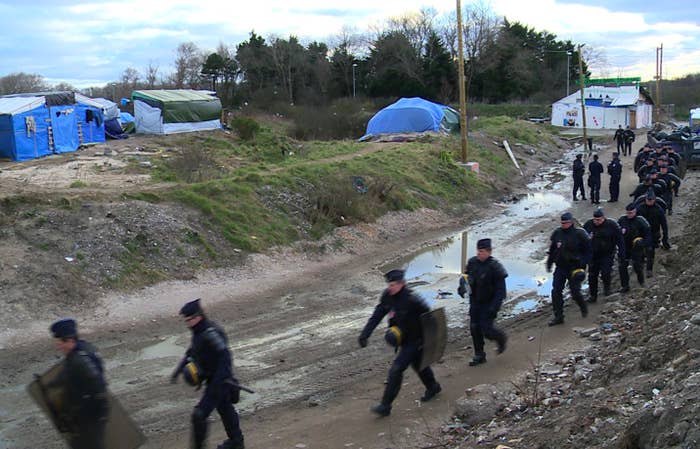 Demolition teams used bulldozers to flatten shelters while riot police cordoned off the area – despite an assurance from France's interior minister last week that these tactics would not be used.
Bernard Cazeneuve made the comments last Thursday after a court in Lille cleared the way for the partial demolition of the camp, which has become home to several thousand men, women, and children from countries across the Middle East and Northern Africa, many of whom hope to reach Britain.
Cazeneuve said he was supported the court decision, but denied force would be used to remove part of the Jungle. "It has never been our intention to send in bulldozers to destroy the camp," he said.
Volunteers in Calais on Monday accused him of breaking his word.
Joe Murphy, who works for the Good Chance Theatre group, said bulldozers had been flattening shelters and tents throughout the day and gas canisters had been deployed to disperse crowds. Several fires have also been reported, but the cause of them has yet to be confirmed.
"It's a distressing sight here – it's not peaceful in the way they promised. The French state lied, they told us they wouldn't use bulldozers, but they're using them to destroy homes. A man was standing on his shelter holding a sign that says 'I came to Europe searching for freedom, but I found none'."
The government said it planned to relocate many of the refugees and migrants to heated container accommodation areas elsewhere in the camp, and the clearance of the southern section would be a "humanitarian operation".
Volunteers inside the camp on Monday told BuzzFeed News that the police presence was "heavy", estimating that around 60 police vans were present as demolition teams dismantled shelters.
Rowan Farrell, a 27-year-old volunteer from Manchester, told BuzzFeed News police arrived around 8.30am. Throughout the morning, a police line had cornered off parts of the camp.
Farrell said that although many of the shelters being dismantled were empty, he saw some people being forcibly removed by police.
"I'm stood with about 50 people, and we're in front of policeman in full riot gear, some with rubber bullets, teargas canisters. Behind them, construction teams are destroying the shelters, they're taking it all down, and we can't do anything about it. Some people had no time to collect their possessions inside the shelters."
Farrell said one of the shelters being dismantled was set up by the Médecins Sans Frontières (MSF) charity, while others were built by camp's inhabitants or volunteers. He said one of the eight distribution areas had been dismantled.
The French government has said it also plans to move people in the camp to reception centres elsewhere in France. Volunteers in the camp say that steps to achieve this have increased this week.
Farrell said that a bus, organised by local authorities, had been taking refugees and migrants to centres across the country once every few weeks – but that now, buses were arriving on a daily basis to relocate people.
"The people here were told 'leave your house now, go to the container camps, or be relocated to other parts of France'," Farrell said. "Not much information is being given to the destination of these buses, other than that they're in France – some of them have no idea where they are going or end up in the middle of nowhere, some are being sent to cities.
"I've heard mixed reports. Some people I know say they're happy in the new place they've been taken to, but others haven't been happy with the new location, so they come back here to Calais."
Charities and volunteers say people have expressed concerns that if they leave the camp, they may be detained, restricting their chances to reunite with family members or reach Britain to seek asylum.