Meet Sophie, a proud feminist and an 8th grade student from Ohio.
For school class photo day a few weeks ago, she wore a T-shirt that had the word "feminist" written across it.
But when the photo was shown to pupils on Monday, she saw the word had been blacked out.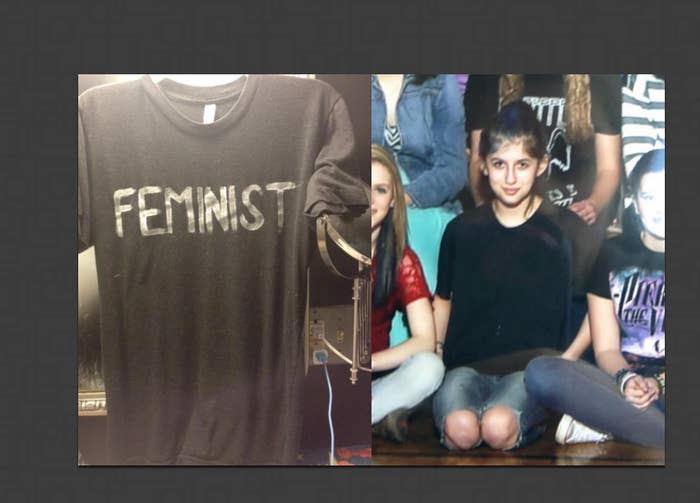 Clermont Northeastern Middle School in Ohio confirmed that they altered the image. They told BuzzFeed News they did so because it was "unflattering."
Ralph Shell, the superintendent at the school, told BuzzFeed News the whole thing was a "joke" and that the students were "in on it."
"The whole thing has been blown completely out of proportion, we took the photo and she was in the front row with the T-shirt on, and it was just not a flattering picture."
"So her parents were contacted and they met with the principal, and they agreed to wipe it out," he added.
A local Fox 19 news report stated that Kendra Young, the school's principal, said the word was doctored from the photo to prevent any unintended controversies.
However, Sophie's mother said she wasn't aware of the incident, and the school had apologised.
Speaking to the feminist website Women You Should Know, Sophie's mother, Christine, said the photographer brought the altered picture to her attention and claimed the school made the decision to black it out because some people might find it "offensive."
Sophie said she and her friends had been campaigning against the action today by wearing "feminist" t-shirts and using hashtags to show support.
On Wednesday, Sophie's mother Christine told Women You Should Know that when she asked the school to apologise to her daughter, they were "dumbfounded."
The school reportedly asked Sophie "what did she want" from the media attention.
Sophie replied: "I want everyone to realise that we NEED feminism. I want you to have someone come into the school and educate everyone about feminism. I want us to show the people that we are working together the make this school and our community and better place for everyone. I don't think that's too much to ask."
BuzzFeed has been in touch with Sophie and will update this post.