Since its launch in 2010, Instagram has grown into a photo powerhouse.
Last December, the company announced that it has 300 million users who upload more than 70 million photos and videos every day.
Attempting to enforce community standards at such a scale will no doubt inevitably result in accidental takedowns and confusion. But the frequency with which Instagram takes down photographs involving the female body and expressions of feminism has provoked controversy – and suggests a broader tension between the network and its users.
Here are eight photos of women that were removed by Instagram for violating its terms and conditions:
1. This photo that showed menstrual blood.
Last week photographer Rupi Kaur posted this photo of a woman lying on a bed with menstrual blood visibly leaking through her trousers and on to her bedsheet.
Shortly afterwards, Instagram removed it because it violated "community guidelines". When Kaur reuploaded the photo – part of a collection exploring societal taboos around periods – it was removed for a second time, and she began an online campaign to call out the company.
Instagram told BuzzFeed News that it has now reinstated the photo and stressed that photos of menstruation do not violate its decency policies.
But Kaur believes this incident reflects a growing problem with censorship on the network. "It's sad in this world that this is still happening," she wrote on Facebook. "I know that some communities and cultures go out of their way to shun and oppress a woman on her period. I guess Instagram is another one of them. Their patriarchy is leaking. Their misogyny is leaking. We will not be censored."
2. This photo showing women's pubic hair.
In January, an Australian agency claimed its photo of two women wearing bikinis and showing pubic hair was removed unfairly. Sticks and Stones said Instagram "censored" the photo, arguing that if it had shown two men, it would not have been removed.
"Unfortunately Instagram has ruled out natural hair that appears on all bodies of women that don't trim their bikini lines," Ainsley Hutchence, the agency's director, told Mic. "This hair occasionally does spill out of the sides of swimwear as it does on men in their underwear. But Instagram seem to be OK with man pubes."
3. This woman's selfie.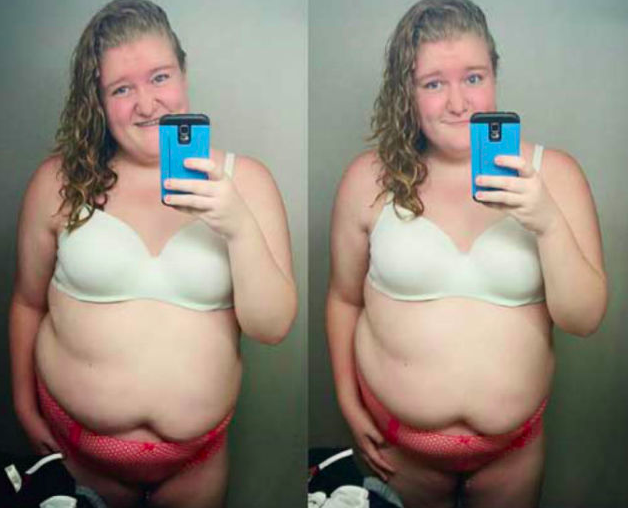 When she was younger, Samm Newman was a victim of severe bullying due to her weight. Like many other bloggers, she used social media platforms such as Instagram to share body-positive photos of herself and compliment other friends' photos using hashtags such as #BodyLove.
But when the 19-year-old student tried to log into her Instagram account one day last summer, she found that it no longer existed.
Newman claimed Instagram deleted her account after it removed a photo of her in a bra and boy's shorts. "My Instagram, it was my safe place because when I was there, I could share anything," she told NBC. "I didn't find them or the bra at all inappropriate. They covered me entirely and I've seen pictures like that all over Instagram."
Instagram apologised to Newman for "wrongly" removing content and said it "worked to rectify the error as soon as [it was] notified".
4. This woman's selfie of her butt.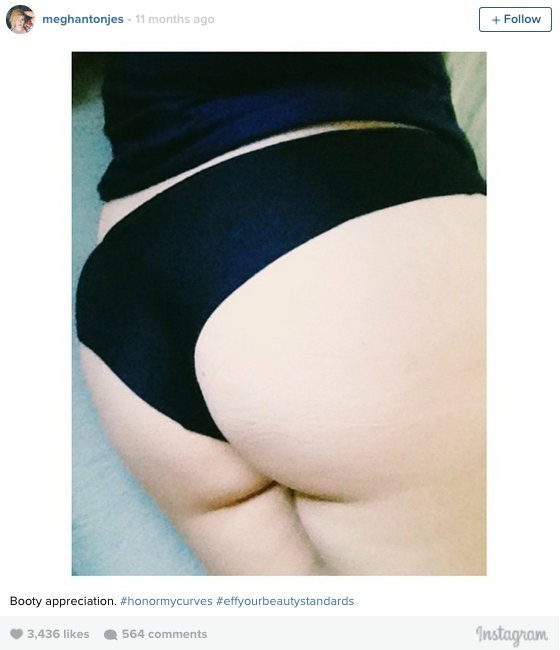 Last May, a photo uploaded by blogger and singer-songwriter Meghan Tonjes was, she claimed, removed by Instagram because it was deemed "mature" content.
Some, including Tonje herself, suggested that Instagram had taken down the post because of Tonje's size, pointing out that the thousands of accounts dedicated to sharing endless photos of women's tanned, toned, "perfect" bums have not been taken down.
"I want you to think of how many big girls you see wearing bathing suits, lingerie, shorts, dresses, tight-fitting clothing who aren't openly mocked," Tonje said on her YouTube channel shortly after the photo was removed. "And now you have the answer as to why a lot of [women] who look like me – and by a lot, I mean not very many – post pictures of themselves showing their thighs or their stomach or parts that other women and other people show proudly and are never questioned on because that's what we're used to seeing and we're comfortable with that."
After an online backlash, Instagram issued an apology. The company said it "tr[ied] hard to find a good balance between allowing people to express themselves creatively and keeping Instagram a fun and safe place".
5. This photo of a jumper with nipples depicted on it.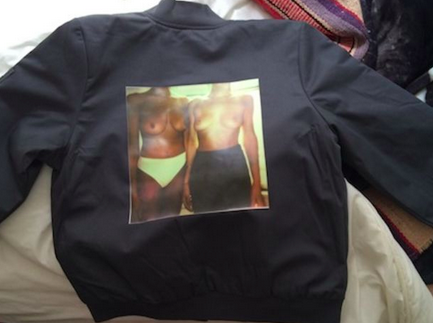 When Scout Willis (daughter of Bruce) was banned from Instagram for sharing a photo of a jumper that featured two topless women, she – like many of the other women who have had their accounts deleted – spoke out.
In a blog post on XO Jane, Willis wrote about being removed from Instagram for posting the photo. "Women are regularly kicked off Instagram for posting photos with any portion of the areola exposed," she wrote, "while photos sans nipple – degrading as they might be – remain unchallenged."
In protest, she took to the streets of Manhattan to walk around topless to highlight the fact that what is legal under New York state law is not allowed on Instagram.
After Willis's topless protest, the CEO of Instagram, Kevin Systrom, made it clear that "partially nude" and "nude" photos were not acceptable on the website and were a direct violation of the network's terms of service.
"You may not post violent, nude, partially nude … pornographic or sexually suggestive photos," he said. "We are happy to reinstate her account without the images that don't meet our policies."
Willis's campaign was supported by the #FreeTheNipple campaign, which fights for women to be allowed to go topless in public. A spokesperson for the campaign told BuzzFeed News that Instagram is fighting a losing battle.
"[Instagram's] parent company Facebook already caved concerning deleting the accounts of mothers who post 'breastfeeding selfies'," she said. "Whatever laws and policies protect men ... should also protect women. It's that simple."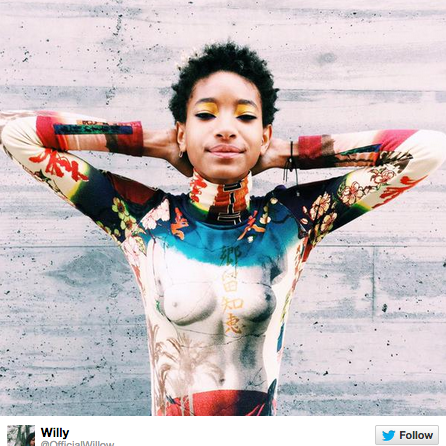 6. This photo of a conversation a woman had on Tinder.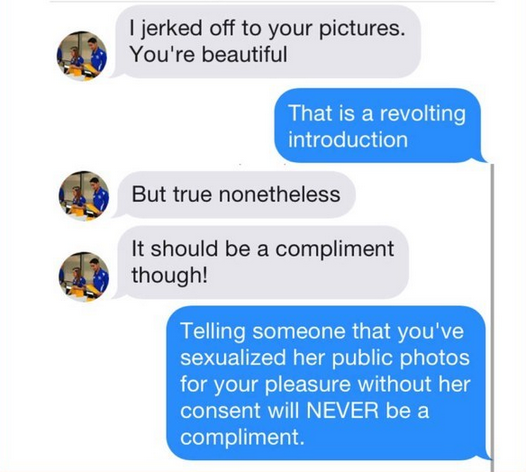 Last year, 24-year-old waitress Laura Nowak had her entire feminist-themed Instagram account deleted after using it to post Tinder messages such as the one above.
As BuzzFeed News reported earlier this year, Nowak conducted an experiment on Tinder in which she sparked up conversations about respect, consent, and feminism on the dating app to see if she could "normalise" discussions about those issues.
Her Feminists on Tinder project, which shared screenshots of conversations she had with men on the dating app, became hugely popular on Instagram, and women began sharing their own conversations and experiences.
But earlier this year Instagram deleted the account with no notice. When Nowak reinstated the account it was deleted a second time, despite Nowak's belief that it did not violate any guidelines.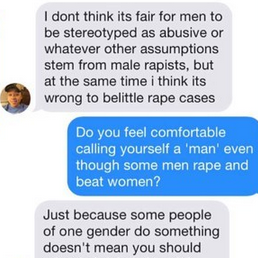 Screenshots from the deleted account.
Instagram's actions enraged users and supporters of Feminists on Tinder, who believed it was proof of "selective enforcement of policies". Supporters pointed to countless other similar active accounts that could be deemed to violate Instagram's terms of service. Supporters shared photos on Instagram of themselves asking why the company had deleted the feminist account but allowed "hateful" and "abusive" accounts to remain active.
"My account promotes respect towards women on online dating sites and highlights misogynistic attitudes towards women without using the names or contact info of the men in the post," Nowak told BuzzFeed News. "It fosters a respectful community."
Instagram eventually apologised to Nowak for the "inconvenience". The company did not suggest that she broke any specific guidelines. Instead, it told Nowak that "the issue we were having hasn't affected your photos".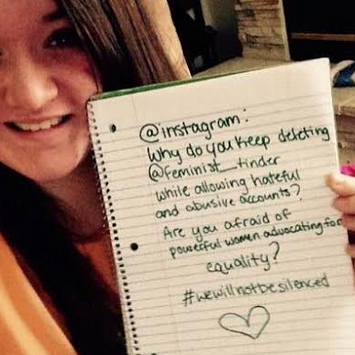 7. This photo a mother shared of her child.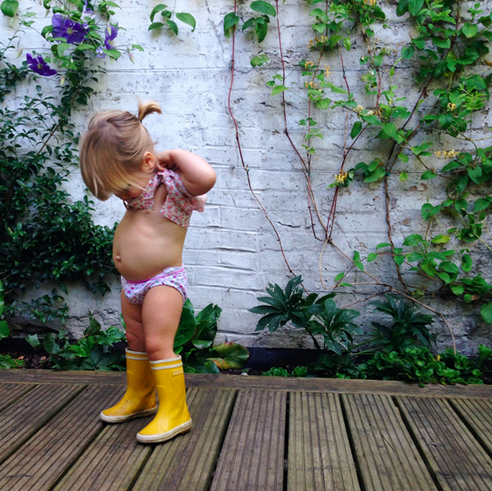 It's not just body-positive underwear photos and feminist experiments that have been taken down by Instagram. Last year, the service also took down photos of toddlers deemed to be showing too much skin.
Courtney Adamo, a store owner, mother, and popular blogger, reported that her Instagram account was deleted after provoking complaints that her photo of her child showing her belly violated community standards of nudity.
"Yesterday evening my Instagram account was disabled due to 'violating the community guidelines'," Adamo wrote. "I received five different emails from Instagram to notify me of these reports [of 'inappropriate' images] and to tell me they had removed images from my feed. They don't tell you which images they're referring to, and even though I looked back through all my old photos, I was never able to decipher which photos were removed ... I went back to reread the guidelines; I read the entire page twice and was positive that I had not violated any rules. Unless a baby's belly is considered 'nudity'…but surely it isn't! She is a BABY! It is no different than a photo of a baby wearing a nappy, or a little boy in swim trunks, and to entertain the idea that it is even remotely inappropriate is a disgusting thing in itself."
When she reuploaded the photo of her daughter, her entire account was disabled.
Again, Instagram later apologised. A spokesperson said: "We try hard to find a good balance between allowing people to express themselves creatively and having policies in place to protect young children.
"This is one reason why our guidelines put limitations on nudity, but we recognise that we don't always get it right. In this case, we made a mistake and have since restored the account."
8. This photo of a mother breastfeeding.
Photographer Heather Bays – a mother from Toronto – uses Instagram to share her professional portraits of mothers and babies. Last spring, she posted a black-and-white photo of herself breastfeeding her daughter, Audrey.
"I posted the photo because my daughter is 20 months old, so she's weaning right now," Bays told CTV News. "These days are very sentimental."
After the photo went up, Instagram disabled her account.
"Breastfeeding photos are allowed on Instagram, although those that also contain nudity are not," a spokesperson from Instagram said in a statement after Bay's account was disabled. "Accounts may be temporarily disabled by our automated systems, but are quickly restored upon further review."
To patrol images, Instagram told BuzzFeed News, it has a trained team around the globe who review them to make sure they meet community guidelines.
Instagram would not specify whether its employees actively search for violations, but it did say that the vast majority of the reports flagged to Instagram reviewers come from members of the community – hundreds of thousands of reports per week, according to the spokesperson.
Instagram said that when it comes to removing photos, the company is more proactive with some types of photos than others, especially when it comes to keeping children safe and preventing real-world harm.
The spokesperson stressed that Instagram strives to make as few mistakes as possible, and that when it does become aware of them it learns from them and tries to respond quickly and appropriately. However, they were keen to point out that many users believed their content was removed for a different reason than was actually the case.
While the company is obviously inundated with takedown requests and offending photos, its answers point to a number of unaddressed problems.
For example, it failed to address the issue of whether reviewers from different cultures and countries respond to photos differently, and whether strict plans are in place to tackle trolls who actively try to censor non-offensive and/or feminist photos.
Instagram also didn't address the biggest complaint from users who've had photos taken down, which is the lack of any concrete explanation about exactly why the takedown happened.
While the company appears committed to its current standards, there may be a chance that the company will alter its guidelines in the future. Last June, Facebook, Instagram's parent company, changed its policy on nudity and obscenity, in particular to allow exposed nipples in breastfeeding photos.
For now, though, some are concerned that Instagram – which has given hundreds of millions of people a window into the worlds of others – might be reflecting mainstream norms and double standards rather than allowing its users to express themselves freely. In particular, in its earnest attempts to build a safe, all-ages community, the network could be censoring its largest user base: women.
Thumbnail credit: Instagram.com/freethenipple/
Instagram has updated its policy on nudity to make its guidelines more "transparent" for its users.
Speaking to Tech Crunch, Instagram's director of public policy Nicky Jackson Colaco said: "The policies are exactly the same as they were, but we're trying to give people a more transparent document."
Here is the update they share on their website:
"We know that there are times when people might want to share nude images that are artistic or creative in nature, but for a variety of reasons, we don't allow nudity on Instagram. This includes photos, videos, and some digitally-created content that show sexual intercourse, genitals, and close-ups of fully-nude buttocks. It also includes some photos of female nipples, but photos of post-mastectomy scarring and women actively breastfeeding are allowed. Nudity in photos of paintings and sculptures is OK, too.
People like to share photos or videos of their children. For safety reasons, there are times when we may remove images that show nude or partially-nude children. Even when this content is shared with good intentions, it could be used by others in unanticipated ways. You can learn more on our Tips for Parents page."