On Sunday evening, the 15th anniversary of the September 11th attacks, Elexus Jionde, a 22-year-old history graduate from Charlotte, North Carolina, tweeted: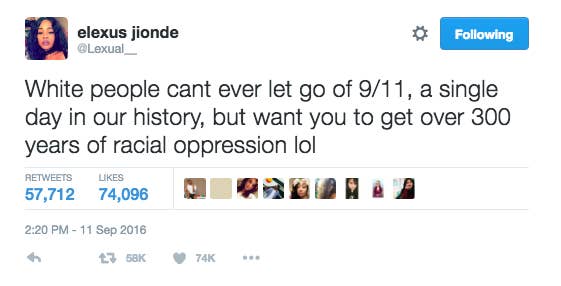 When the tweet went viral (50,000 retweets in less than 24 hours), Jionde decided to add to it, detailing key parts of black history in the US. Her goal was to highlight periods of racism and injustice that she believed should be remembered in the same way as 9/11. To give the tweetstorm continuity — and to make her tweets easily discoverable — Jionde threaded them together by replying to each tweet as she published it. (You'll find the full thread — which is made up of 49 tweets detailing many other examples of racial inequality in US history, and asking for them to "not be forgotten" — here).
Here are some sample tweets from Jionde's tweetstorm: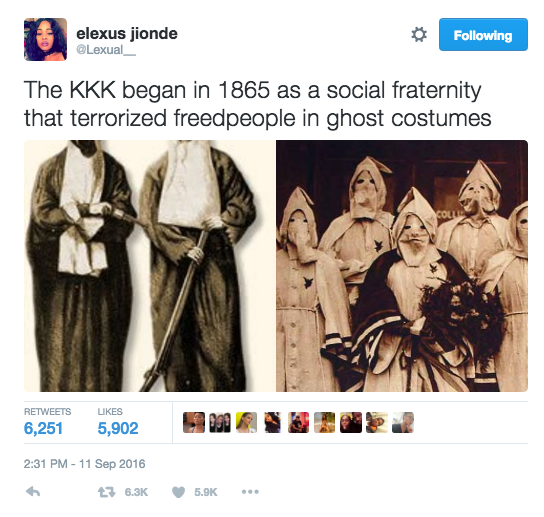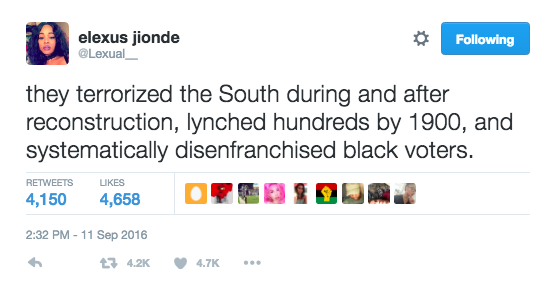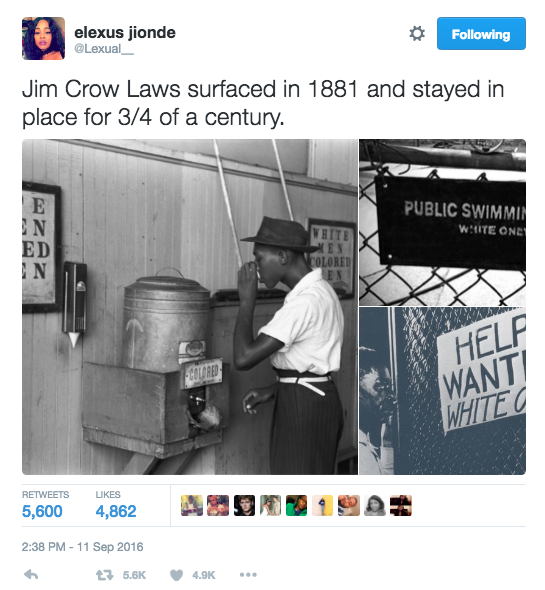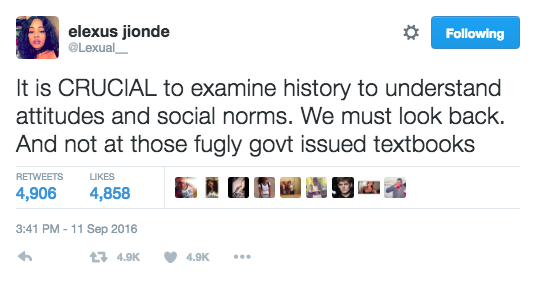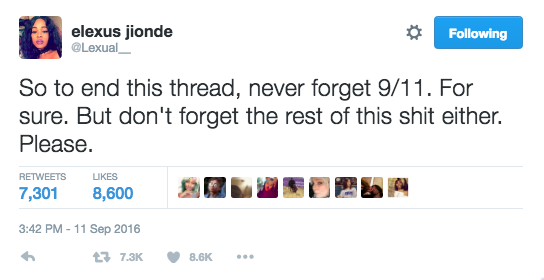 Jionde's tweetstorm on black history prompted a largely positive response. However, it also triggered an onslaught of harassment, including racist comments and death threats.
Jionde says she reported the abusive tweets to Twitter, but they were not immediately removed.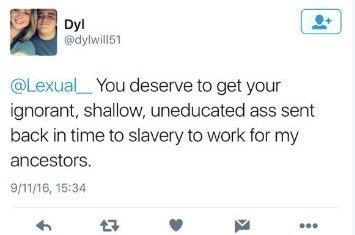 Jionde first noticed that the threading in her tweetstorm was broken roughly 12 hours after publishing the tweets.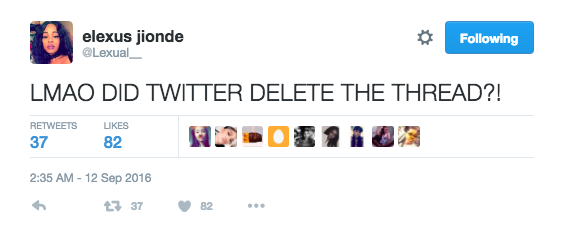 Although Jionde's tweets remain in her feed, the lack of a thread made it much more difficult for users to read her tweetstorm in its entirety and understand its context.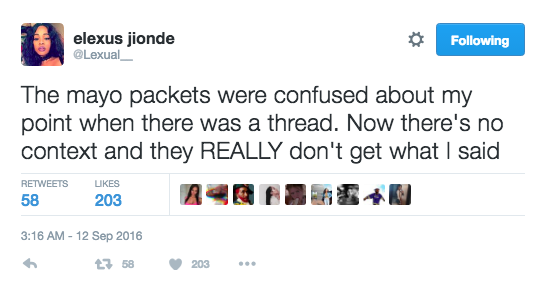 Twitter first introduced its threading feature in 2013 and updated it in 2015 to make conversations easier to follow. Since then, a growing number of people have used the feature to link their tweets into mini essays or tweetstorms. With longer tweetstorms, threading often provides necessary and easy-to-find context.
Jionde says that once the thread link between her tweets was removed, the harassment became relentless.
"Once the first tweet became disembodied from the rest, the harassment poured in," Jionde told BuzzFeed News. "I've received death threats, racist jokes, and a lot of tweets regarding my future children having cancer. That [first] tweet has since gone viral, and without the 40+ tweets accompanying it, there are people in my mentions telling me that I'm a disgrace to my race and country for saying 9/11 only killed white people, when that isn't what I said at all."
According to Jionde, several people also attempted to hack her Twitter account; she received more than 10 texts asking her to reset her password. She says she alerted Twitter several times to the harassment, noting the removal of the thread, but has yet to receive a response.
Jionde added that she's not angry or fearful but that the experience has been a reminder of the vitriol swirling around on Twitter. "I'm just fully cognizant of the fact that the people in my mentions saying black people aren't oppressed and that Black History Month is a consolation prize while also calling me a 'disgraceful rag headed coon' can vote and serve on juries."
Amid the abuse, Jionde has amassed a number of supporters who argue that the removal of the thread from her tweetstorm encouraged harassment.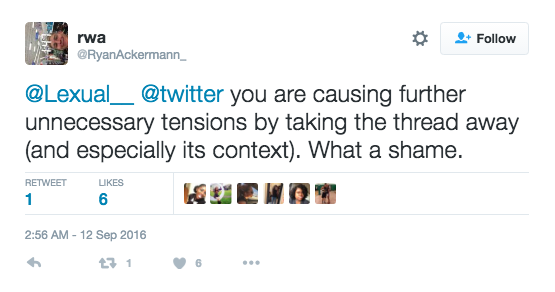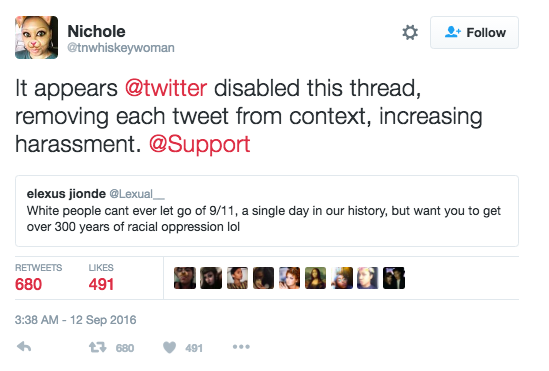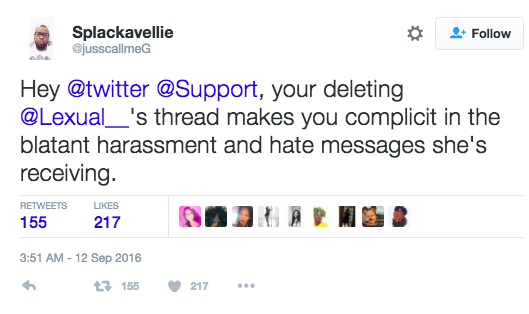 Jionde believes that her thread being disabled was "no accident," and she has accused Twitter of deliberately removing the thread.
"I believe Twitter deliberately unconnected the thread to deprive people of context," Jionde told BuzzFeed News. "Some will say that it was some sort of system glitch or whatever, but I personally believe they disabled my thread because someone in the office was offended over the first tweet."
Twitter outrightly denies this, suggesting that the problem could be the result of a bug. "We can confirm that no proactive measures were taken to remove specific replies from this thread and are looking into this, in the event that a bug may have impacted it," Twitter's head of communications, Kristin Binns, told BuzzFeed News. "Keeping conversations intact is very important to us and makes Twitter the dynamic platform that it is." Twitter has not yet answered questions about its failure to reply to Jionde's request for assistance or to her abuse reports.