A Teen Accidently Sent A Jamie Oliver Recipe Instead Of Her CV When Applying For A Job
This is the stuff of nightmares.
Heather McNab, an 18-year-old from Bridge of Allan, Scotland, recently applied for a job as a lettings and sales negotiator for an estate agent. After applying for the role, she received this email: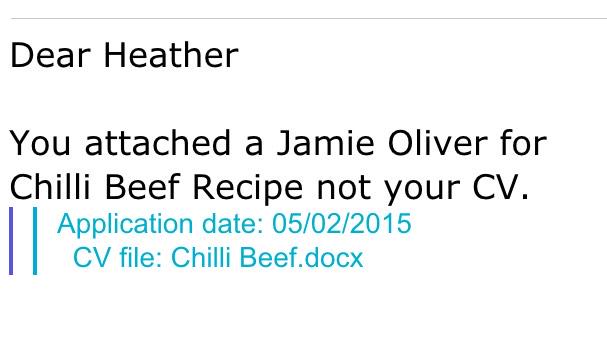 McNab told BuzzFeed News that the reaction to her tweet – which has been retweeted thousands of times in a few hours – has been great.
"People keep replying to the original tweet, telling me how it's made their day and they've never laughed so much in their life, and that's so good to hear, especially how I was so unbelievably embarrassed at first," she said.
"There's also a lot of people saying things like 'you should have got the job if you promised to make the chilli' and if only they were right, because I'm starting to believe they may not see me as a viable candidate now."
Note to all jobseekers: Be sure to send the right document and not a recipe by your favourite TV chef.