A Teacher Who Came Out To His Whole School Received A Beautiful Note From A Student Four Years Later
The former student said the teacher helped "challenge the ignorance of so many people".
In 2010, Watford Grammar School teacher David Weston bravely came out as gay to the entire school during an assembly. Four years later, a former pupil got in touch with Weston with this touching note.
The former pupil, who is heterosexual, described Weston's announcement as inspirational, and said it had had a "positive impact on the school" and "challenged the ignorance of so many people today".
Weston was so moved by the note he shared it on Twitter.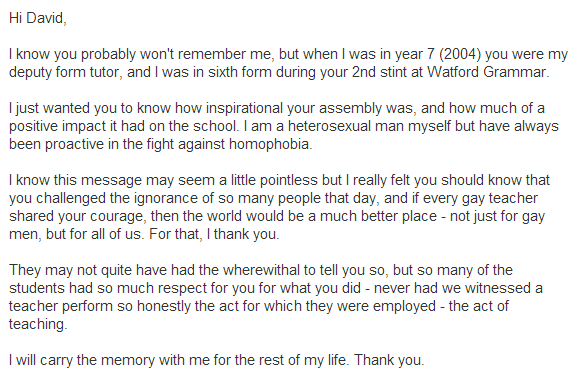 David,I am overwhelmed with happiness at the response that this message has received – but let me remind you that it is your courage which people are picking up on, not my small act of kindness. I am overjoyed that your assembly is receiving the recognition it deserves.
Weston told BuzzFeed that the reaction to his tweet and story has been wonderful, and that it "shows how accepting people are".
"I nearly didn't share it, but thought maybe it would help other teachers who are afraid of revealing their sexuality," he said. "But I've heard from a number of people who are already openly gay and have entirely positive and comfortable reactions from pupils and colleagues alike."
He was prompted to come out after receiving a life-saving liver transplant following a four-year illness, he said.
He described that time in his life as "awful", as his illness appeared as his mother was dying of lung cancer.
But as Weston was recovering in hospital, he was inspired by the biopic Milk, in which Harvey Milk – the first openly gay politician in the US – tells his friends they must come out because the more of them that do so, the less people will be "afraid."
Weston has since left teaching to set up his own charity, the Teacher Development Trust, to help children succeed in life and study.
"I was happy I'd made a difference to a few. I just got on with teaching, then left in 2012 to set up a charity to help my fellow teachers grow and develop in what is a relentlessly tough, albeit rewarding, job."
He said he feels immensely humbled that his tweet has become so popular, and hopes his story will help other gay teachers follow his actions.