A Schoolgirl Started A Facebook Campaign To Find The Men Who Brutally Attacked Her
The 16-year-old girl and her family posted photos of her horrific attack on Facebook in an effort to catch the men responsible.
When 16-year-old Amy Maddison returned home with a bloody face after being attacked by a gang of men, her horrified family started a Facebook campaign to track down the culprits.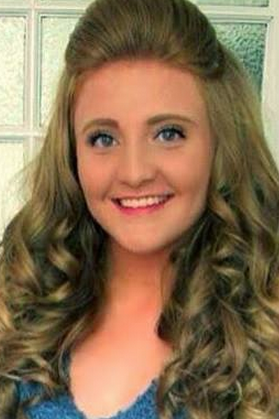 The sixth-form student from Scarborough, North Yorkshire, was attacked by the group of men just yards from her house after she had been out for a meal.
At first they hurled insults at her, but she ignored them and sped up her walking. They then pushed her face against a wall and beat her as she lay on the floor. She was left with a bloody nose, a swollen lip, and painful injuries across her body.
Amy said of the unprovoked attack: "They started to kick me. I burst into tears when I realised I was just going to have to take it."
Amy's mother, Wendy, decided to take photos of her injuries and post them on Facebook, asking friends and family to share the shocking snaps. She says that at least 3,000 people have now seen the photos. She left the following comment on Facebook: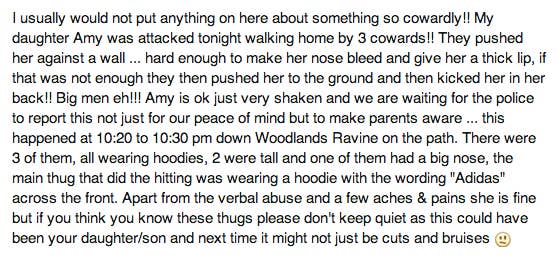 The first suspect is described as being aged around 6ft 2in tall with a slim build. He was wearing an orange and yellow hooded top and black tracksuit bottoms with stripes on the lower half of the leg and white trainers.The second man is also around 6ft 2in tall, with a slim build and was dressed in dark trousers and a hooded top with white trainers.The third man is shorter with a slim build and was wearing a purple and blue hooded top and black Adidas tracksuit bottoms with stripes down the legs.