Watertown Jubilant After Capture Of Bombing Suspect
"I'm very relieved," said a Watertown resident.
by
,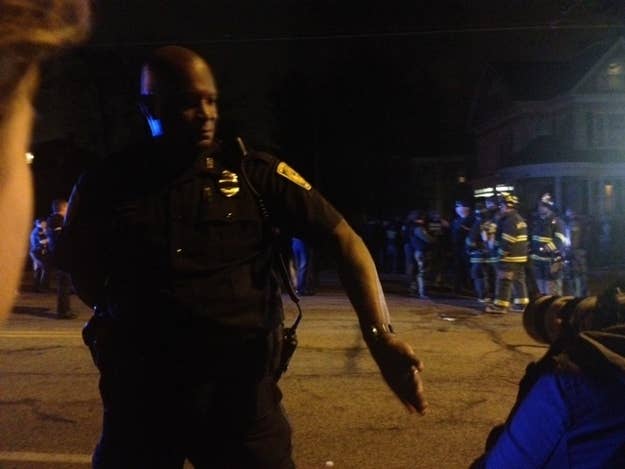 WATERTOWN, Mass. — The fear that has permeated all daily life in the Boston area this week evaporated on Friday as a lone police officer started cheering on the street in Watertown, marking the end of the days-long hunt for the marathon bombing suspect. The message was clear: we got him.
Officer Tyrone Powell, of the Newton, Mass., police department, was the first officer to start clapping and cheering after the authorities had finally apprehended Dzhokhar Tsarnaev, 19. Tsarnaev, along with his brother Tamerlan, allegedly killed three and injured over 150 during the Boston Marathon, as well as allegedly killed an MIT police officer. The pair engaged in a violent shoot-out with cops in Watertown early Friday morning, during which Tamerlan was killed. Late afternoon Friday Dzhokhar was discovered hiding in a boat, on dry land in the backyard of a Watertown house.
After nearly two hours it was confirmed Dzhokhar was taken into custody. The officers' reaction prompted the crowd, hundreds of Watertown residents who waited outside for three hours on Friday, to celebrate.
"It's unbelievable," said John Hawes, a retiree in Watertown who has been living here with his wife Emily Barclay for 35 years ("we're newcomers to Watertown," Barclay joked).
"I'm very relieved," Barclay said. "My husband used to work at MIT, so we were very upset when that officer was killed."
"We can't speak highly enough of the Watertown police department and the fire department, and all the other agencies that have been here," Barclay said.
Watertown, like most other northwest Boston suburbs and Boston itself, had been in a state of lockdown today as authorities sought the suspect.
"It was really stressful," Mimi Dequesada, 49, said of the lockdown. "It was scary. We had troopers speeding up and down our street all day."
"I'm just so proud of the Watertown police," Dequesada said. "We come here to be safe and they make it safe."
By the time the suspect was captured, about 200 people were gathered near the home where Dzhokhar was found. A few blocks down, 200 more were gathered at a cemetery. Most of them were residents of the surrounding neighborhoods, coming out to see what all the police commotion was about. But many people had driven to the scene purposefully. They saw news stations broadcasting it and wanted to be a part of the action. Many of them — maybe a fourth of the crowd — were teenagers.
"I slept with a golf club by my bed all night," said Jared, a 16-year-old baseball player at Watertown High. He came to the scene wearing all of his gear — the Red Raiders' 10 p.m. game against Arlington High had been canceled.. Earlier that day, while he was trapped at home during the shelter-in-place order, he killed time with Call of Duty: Modern Warfare.
"It's kinda funny, because tonight was like a real-life video game too," he said.
One woman drove from Bellingham, a town about 45 minutes southwest of Watertown, and brought her teenage son and two of his friends to watch.
"We were on our way here when we heard on the radio that they got him," 15-year-old John Beane said. "It was such a relief. And I'm happy that he's not dead because he deserves to be in jail forever. Someone who blows up an 8-year-old deserves that."
"I'm feeling good. I think everyone's feeling good," a state trooper said as the crowd dispersed.