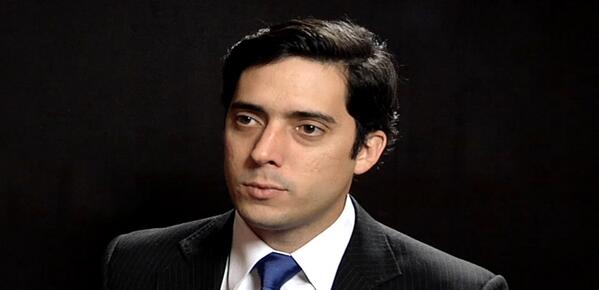 This post has been updated to reflect that Diamanti's lawyer has said he has been released on probation.
WASHINGTON — The family of a Venezuelan human rights activist who was arrested this week has been left almost entirely in the dark about his situation and whether he has been charged with any crime.
Rodrigo Diamanti, the head of the Venezuelan human rights organization Un Mundo Sin Mordaza ("A World Without Censorship"), was detained at the Caracas airport on Wednesday and taken away, his sister Claudia told BuzzFeed on Friday. The family believes that Diamanti is being held in the Helicoide, a facility run by SEBIN, the Venezuelan intelligence service. Neither the family nor lawyers have been able to see him.
Diamanti is one of the creators of the "SOS Venezuela" online campaign, which was used by the opposition to call attention to the country's crisis on social media and has now become a main slogan of the protests. He was on his way to visit Claudia and to take care of some tasks in preparation for his studies for a master's degree at Harvard, which are to begin in August.
"When it happened, there wasn't a lot of information," Claudia Diamanti said. "We know that there are no charges against him, and that's why we believe he has to be freed very soon." According to his sister, no warrant was presented for Diamanti's arrest.
According to Diamanti's lawyer, Nizar el Fakih, the authorities can hold him for 48 hours before either freeing him or presenting him before a court. Fakih said he presumes Diamanti will be taken to court sometime Friday. Un Mundo Sin Mordaza tweeted on Friday that Diamanti was being taken to the Palace of Justice to be charged with "unknown crimes." On Friday night, Fakih tweeted that Diamanti had been released on probation and banned from leaving the country.
Diamanti's arrest represents a renewed crackdown on civil society as anti-government protests in Venezuela drag into their fourth month. While many student protesters and some political leaders have been arrested during the unrest, human rights activists like Diamanti have so far not been targeted to the same extent.
On Thursday, Venezuelan security forces rounded up hundreds of student protesters and broke down camps they had set up in Caracas. The government said it had arrested 243 protesters. Last week, Diamanti's office was raided by the intelligence services in the middle of the night and ransacked. The guard there at the time was arrested. These photos taken by Diamanti and shared with BuzzFeed show what his office looked like the next day:
Earlier this week, Human Rights Watch released a searing report about Venezuela's human rights situation that accused the government of illegally detaining and abusing protesters. Human Rights Watch recorded some instances of torture by security forces.
The situation in Venezuela has spurred some action on the part of the U.S. Congress, which is considering sanctions against Maduro government officials in both the House and Senate. A sanctions bill in the House passed the House Foreign Affairs Committee on Friday.
Claudia Diamanti said Friday that the family was surprised by the arrest and that Diamanti had not mentioned that he was worried he would be detained.
"I want to highlight who my brother is and what he is to me. He's a defender of human rights, especially freedom of speech — music, arts, photography," Claudia said.
"He's my little brother, I'd very much like him to be free to have the life that's in front of him," Claudia said. "I'm a very proud sister. And I hope that he's being treated well, at least."
Rosie Gray is a reporter for BuzzFeed News and is based in Washington, D.C. Gray reports on politics and foreign policy.
Contact Rosie Gray at rosie@buzzfeed.com.
Got a confidential tip? Submit it here.