Um, The BBC's China Editor Just Suggested That Chinese Authorities Shut Down Her Live Interview
It comes ahead of the Chinese party conference this week, as the BBC's editor discussed the security restrictions placed on the capital.
Listeners to this morning's Radio 4 Today programme were treated to just part of a morning bulletin from the BBC's China editor Carrie Gracie.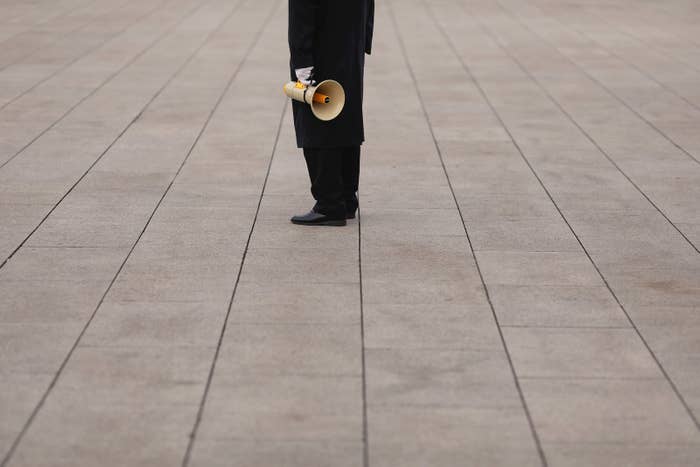 Gracie's report, at around 6.45am this morning, was abruptly cut off, shortly after she had given a rundown of the intense security restrictions faced by Beijing residents ahead of the Communist party conference tomorrow.
The conference – a twice-in-a-decade event – starts tomorrow. Officials have been flocking to Beijing, the capital, in preparation for the hoopla that is expected to demonstrate support for leader Xi Jinping.
Security and surveillance have been tightened, with drivers waiting 90 minutes to reach the city centre and 70-minute waits on the city's subway. Authorities have shut down the comment section on the transport system's website. Presenter John Humphries asked Gracie why Chinese authorities were taking such a hard line...and then the line went dead.
The connection was later reestablished, with Humphries asking: "You were telling me about the huge security measures that were in place and then suddenly you were cut off, vanished… There couldn't have been a connection, could there?"
"I think there could," Gracie said. "Of course we can't say for certain, John, but I would observe that a lot of phone calls recently have been cut off as soon as we are talking about anything sensitive.
"The Chinese Communist state is increasingly sophisticated when it comes to all of this of course, it has big private tech giants in its tech sector and it coopts them to a very large degree.
"In fact that is one the biggest stories in China right now: the control by the party of what is supposed to be private. These big, sophisticated tech giants are now being deployed to deal with the censorship demands of the Chinese state on an ever closer and more detailed level. We probably know already that our TV work that we do in China is largely blacked out, Chinese audiences can't watch it. Censorship of all kinds is growing here."
Gracie went on to state that people in China with "liberal political views" have become "non-persons" under Xi Jinping's control. "The international media is under heavy pressure too, naturally," she said.
The BBC has been contacted for further comment.