Volunteers on a university campus have handed out copies of a booklet that draws comparisons between Nazism and "Middle Eastern ideology".
The 32-page booklet, copies of which were placed on a Friends of Israel stall on the University of Exeter's Streatham campus during a week-long "Israel Peace Week" campaign, claims the "Nazis directly influenced Middle Eastern attitudes".
The publication, available online, is produced by the US-based organisation StandWithUs. It also contains a number of anti-Semitic cartoons from 1930s Germany and juxtaposes them with similar-style cartoons published in Arabic publications over the past 20 years.
Specifically, the booklet quotes the Palestinian military organisation Hamas, quoting sections from Hamas's Charter, which was put together in 1988 and broadly outlines the organisation's aims at that time. The booklet quotes the Charter as saying: "There is no war going anywhere, without having their [Jews'] finger in it."
Cameron Rose, a second-year physics student, told BuzzFeed News he was shocked when he encountered the "vomit-inducing" booklets last Monday.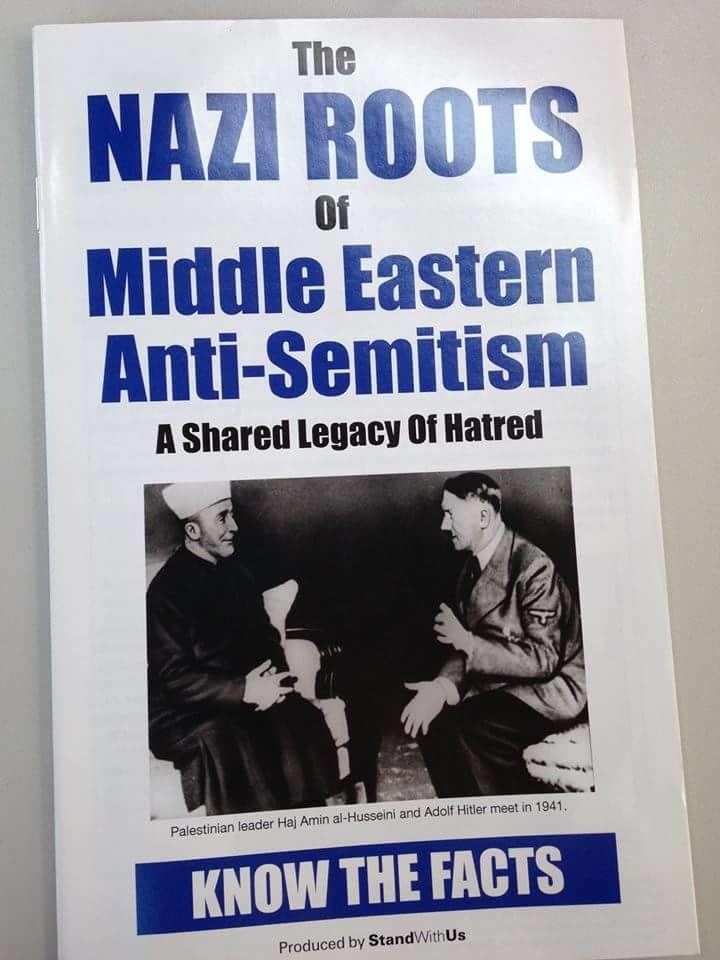 When Rose, 22, asked one of the "middle-aged" volunteers what the booklets were about, he was told, "'Oh, well I think it's pretty obvious what it's about. I know a bolted-on rhetorical question when I see one,' then [he] shooed me away."
"Anti-Semitism should be fought every time it raises its wretched head, but to use it to justify the demonisation of Palestinians and Arabs is vomit-inducing," Rose said, before continuing: "I've never seen that level of propaganda before."
A spokesperson for the student group Friends of Palestine, which had been operating a stall nearby, told BuzzFeed News the booklets were "an uneducated attempt at trying to demonise Palestinian rights activists".

The spokesperson added: "The Palestinians are not anti-Semites, and neither are their supporters. To demand freedom and dignity for the Palestinians is not anti-Semitism."
The Friends of Israel society, a student body that raises awareness of anti-Semitism and campaigns for a better understanding of Israel, also condemned the booklet. In a statement it said it was unaware it was being handed out, and that it believes it were distributed by outside volunteers, and not their students.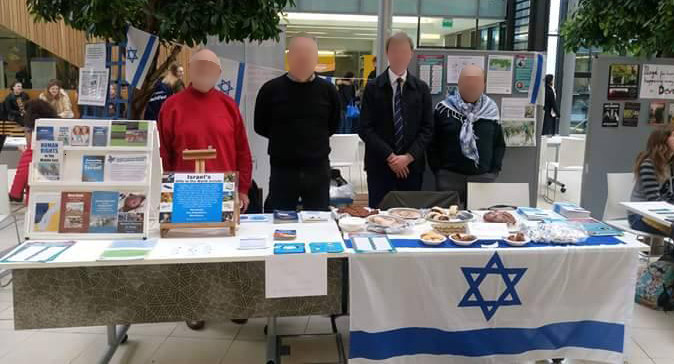 "This leaflet is not the kind that Exeter Friends of Israel condones or would distribute," a spokesperson said in a statement to BuzzFeed News.

Exeter University said an investigation by the university guild, responsible for student societies, had also found that FOI was unaware of the distribution of the booklets.
In a statement to BuzzFeed News, a university spokesperson said Exeter had an "unwavering commitment to tolerance, respect, and inclusivity". They continued: "Even one incident of discrimination, racism, anti-Semitism, or harassment is one too many."
The appearance of the booklets comes as Exeter launches a formal investigation into anti-Semitism on campus. Earlier this year, students discovered a swastika carved on to a door inside student halls of residence.
It also follows a wider spate of anti-Semitic incidences across British university campuses. In February, at least four universities had identical anti-Semitic leaflets placed in official buildings in the space of a few days.
StandWithUs, in a comment to BuzzFeed News, emphasised their desire to promote peach and understanding between peoples through education.
"Instead of condemning the booklet, which is demonstrably true about the historic support by Palestinian leadership of dangerous racism which is sadly echoed today, the Exeter Friends of Palestine Society – who condemned it – should join with us to condemn extremism and promote initiatives that support coexistence between Arabs and Jews in Israel, of which there are many," they said.
They also rejected any claims the booklet was "anti-Muslim", instead pointing out the cartoons contained within were anti-Semitic. "We are glad to support initiatives such as the "Israel Peace Week" at Exeter university and promote the coexistence and understanding in the region," the statement continued.
BuzzFeed News has contacted Exeter University's student guild for comment.
Looks like there are no comments yet.
Be the first to comment!