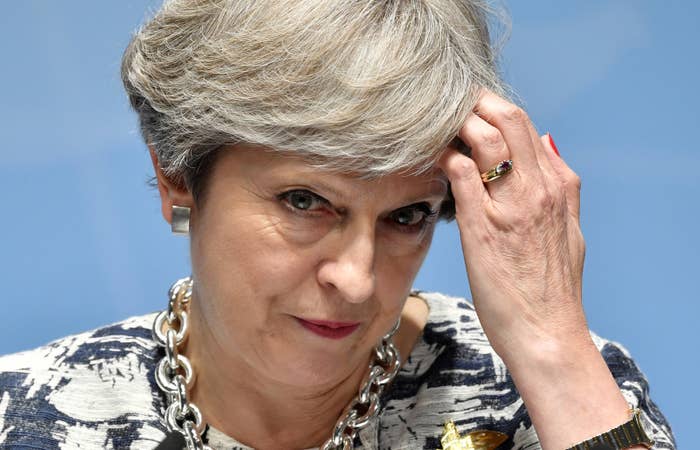 The prime minister will ask opposition parties to "contribute, not just criticise" in her first major speech since losing the Conservative majority in the last election.
Theresa May will also launch a major 10-month review into casual and low-paid work (known as the gig economy) by Matthew Taylor, a former adviser to Tony Blair.
Speaking on Tuesday, May will say that although "the result of last month's general election was not what I wanted, those defining beliefs remain".
"My commitment to change in Britain is undimmed; my belief in the potential of the British people and what we can achieve together as a nation remains steadfast; and the determination I have to get to grips with the challenges posed by a changing world never more sure."

She will go on to ask opposition parties in the House of Commons to "come forward with your own views and ideas about how we can tackle these challenges as a country".
"We may not agree on everything, but through debate and discussion – the hallmarks of our parliamentary democracy – ideas can be clarified and improved and a better way forward found."
She will say that she is "convinced that the path that I set out in that first speech outside Number 10 and upon which we have set ourselves as a government remains the right one".
The speech follows a weekend of speculation that allies of David Davis, the Brexit secretary, are trying to force a leadership challenge, with Andrew Mitchell, a former chief whip, reportedly telling a dinner of Conservative MPs that May is "dead in the water". The story was dismissed by justice secretary David Lidington as "self-indulgent gossip".
Taylor's review into the gig economy was commissioned last year when May became prime minister.

BuzzFeed News investigations into Hermes, Asos, and Deliveroo – all gig economy operators – have exposed some of the lack of safeguards to which many part-time workers in the industry are exposed.
The Taylor review is expected to stop short of calling for a minimum wage for those working in the gig economy – however, it may propose strengthened rights for gig workers, as well as bettering the tax system of the self-employed.
May will launch the review as she reaches out to MPs in tacit acknowledgement of her newly fragile parliamentary position. Having called a snap election in April, the Tory leader ran a disastrous campaign that saw her lose her seemingly unassailable polling lead, and election results saw her already slender majority in the Commons vanish.
Subsequently, there have been rumours of May having to face off a leadership battle, but top Tories have – so far – been staunch in their support of the PM.
Meanwhile, Labour leader Jeremy Corbyn has said his party remains on an election footing, urging his MPs to back him as May's government "has no mandate and no legitimacy".