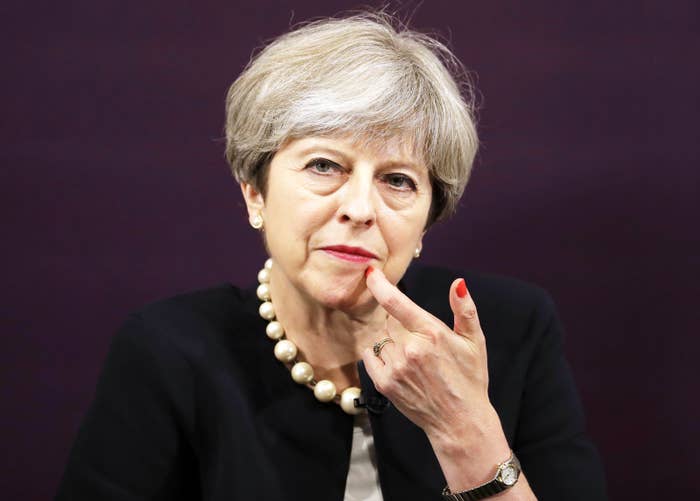 Theresa May has admitted that she shed a "little tear" when she was told the results of the exit poll that heralded the Conservatives' lost majority in the recent general election.
The prime minister, speaking to BBC Radio 5, was pressed by presenter Emma Barnett on her reaction to the disastrous poll ahead of the results last month.
"I was shocked at the result that had come through in the exit poll. Took a few minutes for it to sort of sink in, what that was telling me. My husband gave me a hug and then I got on the phone to CCHQ, the Conservative party, to find out what had happened," she said.

"I felt, I suppose, devastated really because, as I say, I knew the campaign wasn't going perfectly, but still the messages I was getting from people I was speaking to but also the comments we were getting back from a lot of people that were passed on to me were that we were going to get a better result than we did."
Pushed again on whether she cried – the subject of rabid speculation in the aftermath of the result – the prime minister replied: "Yes, a little tear. Yes. At that moment."
More of the interview focused on how the PM never intended to step down following the result, with May citing her sense of public service. She also defended calling the election in the first place: "I think it was the right thing to do at the time."
May's comments followed her speech earlier this week, her first major address since the election results. In it, she called on MPs from all parties to "contribute, not criticise" – a staggering climbdown from the woman who once invited comparisons to the Iron Lady.

She made much of her intention to reach across the aisle to Corbyn's Labour party in order to make a success of Brexit.
Challenged on her perception of Corbyn – May notably said he had "poor judgment" – the PM said she had been impressed by his work as a local constituency MP, in the wake of the terror attack near Finsbury Park Mosque in north London.
"I saw a Jeremy Corbyn there who was a good constituency MP, working with those people," she told the BBC.
The interview with the notoriously press-shy prime minister comes on the first anniversary of May's triumphant arrival into Number 10, shortly after the UK referendum, having seen off a field of (at the time) higher-profile MPs to secure the role.