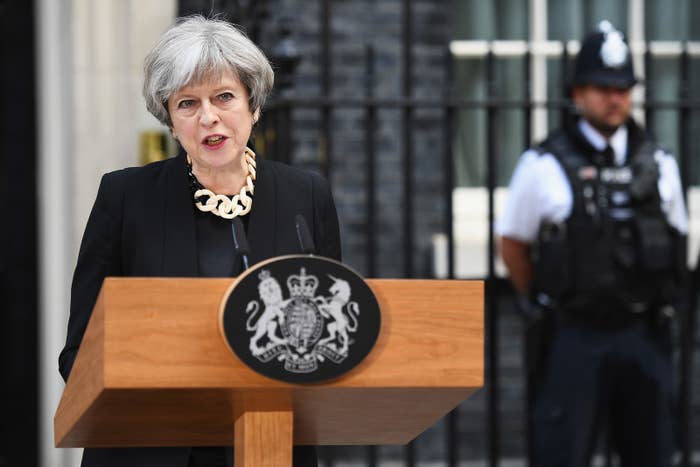 Labour leader Jeremy Corbyn has called on the prime minister to resign over her record as home secretary overseeing a reduction in police funding, in the wake of the London Bridge attack.
It adds to wider political criticism of Theresa May's speech shortly after she chaired a Cobra meeting on Sunday, in which she said "it is time to say enough is enough". She said difficult conversations needed to be had about extremism, as well as giving new powers to police and counterterrorism officers.
This morning, speaking to ITV News, Corbyn called on the PM to resign over her record on policing numbers.

Last night Corbyn accused May of attempting to "protect the public on the cheap" and said "the police and security services must get the resources they need, not 20,000 police cuts".
Three days ago Corbyn promised 10,000 more officers on the streets, criticising May's record as home secretary from 2010 to 2016, when the size of the police workforce fell by 13%, according to figures released by the Home Office.
The call to resign came as May spoke to reporters following a speech in Whitehall on Monday. "It's also about the powers you give police and I've been responsible for giving the police extra powers to combat terrorism," she said.
May maintained under her leadership they had been protecting counter-terrorism policing, they had "provided funding for an uplift in armed policing", and from 2015 they had protected police budgets.

"I do think that we need to take a much more robust approach to dealing with extremism in this country," she said, and that she had laid out a counter-extremist strategy as home secretary. "But I think that overall we have seen too much tolerance of extremism in our society."
Culture secretary Karen Bradley, speaking on the BBC's Today programme on Monday morning, floundered as she attempted to defend the Conservative record on police numbers and funding, eventually admitting that numbers had fallen.
"We have seen reductions in police numbers across the board," Bradley said, after being challenged repeatedly about falling armed police numbers in the wake of cuts to the service when May was home secretary.
Bradley also said officials were working with technology firms to ensure there were no safe spaces for extremism online. Pushed on whether that meant no more end-to-end encryption, she said the government had been attempting to work with tech companies to shut down these spaces.

On the subject of Apple refusing to allow governments access to encryption services used by customers, she told listeners "if we work together and recognise the problem, we can do it".
Metropolitan police commissioner Cressida Dick, speaking on both Sky News and the BBC this morning, refused to be drawn on specific resources, but said "any police leader would always want more resources".

"We need to look right across the strategy and resourcing of the police and beyond," she said. "We need to step up a gear and look at what we now need to do differently in the face of what does appear to be again a changing threat."
Speaking on the BBC moments later, Dick said police recruitment was on track for "highly trained, highly equipped, highly mobile officers". But she rejected suggestions that officers equipped with a "side-arm" would be better, telling listeners: "I simply don't think that is a sensible response."
In an interview with the Evening Standard, the May said her government was "protecting police budgets". She said: "I note that today the commissioner [Cressida Dick] has said the Metropolitan Police are well resourced."
The prime minister is also facing accusations that her government "suppressed" a report, commissioned under then-PM David Cameron, that examined foreign funding of extremist groups.

Corbyn said the government needed to have "some difficult conversations" with Gulf nations, such as Saudi Arabia, which is accused of fuelling extremist ideologies.
"We have to get serious about cutting off the funding to these terror networks, including ISIS here and in the Middle East," he said.

Liberal Democrat leader Tim Farron said May was "ignoring her own record of wrong choices, both as home secretary and prime minister, and continuing down the wrong path".

Writing in The Guardian, he said the PM was right to discuss the challenges of online extremism but that the issue would not be solved by "political gimmicks or by banning particular technologies".
Like Corbyn, Farron called on May to release the foreign funding report, and said there was a real need to have "difficult and embarrassing conversations" with allies such as the Saudis, in order to root out sources funding Islamic extremism.
Meanwhile, Steve Hilton, former director of strategy for Cameron, also condemned May's record. In a series of increasingly angry tweets, he said the PM had "presided over a system that had failed so lamentably".
"Theresa May responsible for security failures of London Bridge, Manchester, Westminster Bridge. Should be resigning not seeking re-election," he continued.